We'll talk about the Acer Predator Helios 500 in this article, a full-size 17-inch gaming laptop and direct follow-up of the Predator 17 line.
This is the kind of laptop you should look for if you don't want to compromise on performance or the overall gaming experience, but you're also conscious about your budget and rather not spend much on fuss and portability.
In fact, this is the opposite of exquisite and compact, it's bulky and heavy, is made out of plastic, plastered with lights, branding elements and stickers, and lacks some of the fancy features of other options out there, but it does deliver on the performance, cooling, screen, IO and keyboard departments, and a mid-tier configuration with a 6 core i7 CPU, overclockable GTX 1070 graphics and a 144 Hz GSync IPS screen can be found for as low as $1600 if you're willing to wait for periodic sale offers (or about $1800-$1900 most of the time).
We've spent time with a higher-end version of the Predator Helios 500, built on the Core i9-8950HK CPU, with 32 GB of RAM and hybrid storage, and the article bellow gathers our impressions on this laptop, with the good parts and the quirks. We'll also compare its performance to that of the more accessible i7-8750H variant, and tell you which is the better value buy, so read on if you're interested in this Helios 500, no matter the targeted configuration.
Specs as reviewed
| | |
| --- | --- |
| | Acer Predator Helios 500 PH517-51 |
| Screen | 15.6 inch, 1920 x 1080 px, IPS, 144 Hz, GSync, matte |
| Processor | Intel Coffee Lake-H Core i9-8950HK CPU |
| Video | Nvidia GTX 1070 8 GB |
| Memory | 32 GB DDR4 2666 MHz (4x DIMMs) |
| Storage | 256 GB M.2 PCIe SSD (Intel 760p SSDPEKKW256G8) + 1 TB 2.5″ HDD (Toshiba MQ04ABF100) |
| Connectivity | Wireless AC (Killer 1550i ), Bluetooth 5.0, Gigabit LAN (Killer E2500) |
| Ports | 3x USB-A 3.1, 2x USB-C Thunderbolt 3, HDMI 2.0, DisplayPort 1.4, LAN, SD card, mic&earphone, Kensington Lock |
| Battery | 74 Wh, 330 W brick |
| OS | Windows 10 |
| Size | 428 mm or 16.85" (w) x 298 mm or 11.73 (d) x 38.7 mm or 1.52" (h) |
| Weight | 8.8 lbs (4 kg) + 2.4 lbs (1.1 kg) power brick, EU model |
| Extras | 4-zone RGB backlit keyboard, HD webcam, 2.1 speakers |
Design and first look
Like already mentioned in the intro, the Predator Helios 500 is thick, large and heavy. At nearly 9 lbs and an extra 2.5 lbs for the charger, it's not going to be that pleasant to lug around, and it's not going to even fit inside most backpacks, but these are aspects you'll just have to accept if you're interested in one of these.
The Helios 500 is also built entirely out of plastic, but the good quality kind, with a soft matte finishing that seems fairly scratch-resistant and does a pretty good job at hiding smudges. The lid and interior are dark blue, and the bottom and screen bezel are black. The bezel is humongous, btw, as Acer had absolutely no intentions of following the actual trends of slim bezels and reduced overall footprints with this laptop.
Despite using plastic for the build, I can't complain about the quality or craftsmanship. The lid is thick and sturdy, the interior only bulges in the middle of the keyboard when pressed hard and all the parts fit well together. The thickness does take its toll on the everyday experience though, as the front lip sits higher than on most other existing laptops, and corroborated with the pointy corners, will dig into your wrists when using the laptop on a smaller desk, without ample arm support.
I can live with that, but I can't understand the design decisions. This laptop is a Christmas tree, and not the nice kind.
For starters, there's a huge Predator branding on the lid and a chunky logo beneath the screen, but at least the lid-logo is no longer lit and they gave up on the light-bars we've seen on the previous Predators. Inside there's a plethora of stickers and lights. You should definitely peel off those stickers, but there's no way to turn off the glowing Power Button, the set of 6 function keys to the top-left, or that status LEDs, which are the largest and most annoying I've probably ever seen on any laptop. These three make the experience of watching a movie on this laptop pretty much appalling.
Otherwise though, the Helios 500 is pretty functional. The screen is hold in place by a tough hinge, but it can be lifted and adjusted with a single hand, and goes back to about 140 degrees, enough for desk use. The laptops sits tight on the desk thanks to the large and grippy rubber feet on the bottom, and down here you'll also notice the speaker cuts on the sides and the subwoofer in the middle, as well as the ample in-take grills.
The cooling abilities are one of this notebook's main selling points and as a result, it gets ample intakes on the bottom, sides and on top of the keyboard, as well as ample exhaust on the back, all corroborated with an elaborated internal implementation of fans and heatpipes. We'll talk about it and its performance in a further section.
With all the space around the edges, this Helios also excels at the IO department, which includes pretty much everything you'll want from a modern laptop, from USB-A and C ports with Thunderbolt 3 support, HDMI and DisplayPort for video output, a card-reader and a Kensington lock that might come in handy at LAN parties. These are nicely spread around the sides, and the video exits and DC-IN plug are conveniently placed on the back and won't interfere with your mouse, no matter if you're a leftie or rightie.
There are actually two Thunderbolt 3 ports on this laptop, and as far as I can tell they share a PCIe 4x connection, so each gets access to 2x lines. Unfortunately I don't have an eGPU or other TB3 accessories that would allow me to further look into this matter and properly test for speeds, so take this with a grain of salt.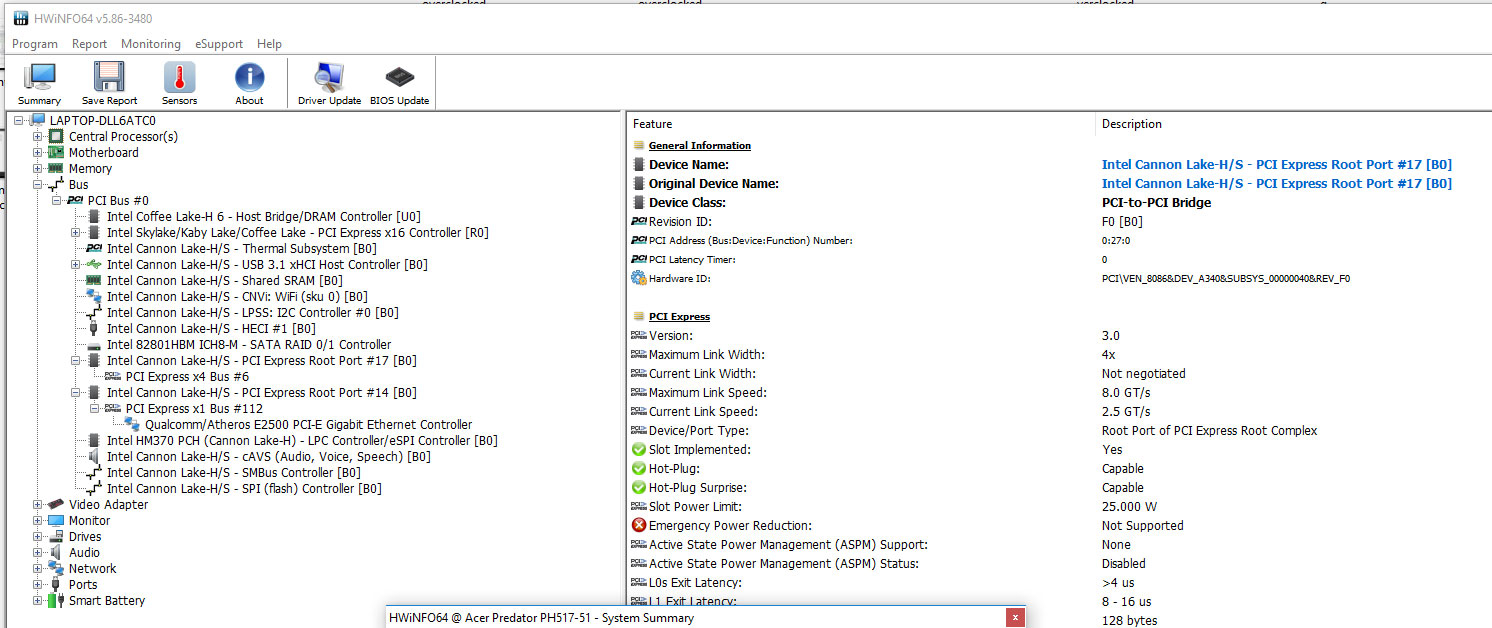 Keyboard and trackpad
There's a pretty good keyboard on this laptop, but at the same time a pretty standard one with rubber-dome switches and four-zone illumination, so no per-key lightning or mechanical switches as on other modern gaming machines.
Regardless, this is a quick typer with a fairly good feedback, but the keys' travel is fairly deep and the actuation all the way at the bottom, so you have to press these firmly to register each stroke. For me, that would translate in either reduced speed when looking for improved accuracy, or good speed, but with a significant amount of missed strokes. Keep in mind I'm accustomed to short-travel keyboards, so your experience might differ if you're coming from a regular computer or an older laptop.
That aside, the layout is pretty standard, with nicely sized and spaced main keys, a full-size NumPad section and spaced out arrow keys. The arrows and WASD keys are also visually highlighted, and Acer went with blue border for these. In fact, the entire laptop has a blueish scheme, from the color of the interior to the color of those pesky status LEDs and power button, to these accents on the keys and the framing around the touchpad.
The Helios also gets a set of customizable function keys at the top-left side, and each can be set to perform a particular task or launch a particular app from the included Predator Sense software, where you can also adjust the keyboard's illumination. This is very basically implemented though, as you can only set a certain color to each of the four zones, but otherwise there are no effects and merely a single, fairly dim, brightness level.
A large touchpad with mechanical click buttons sits centered beneath the Space key. It feels like a plastic surface, but it's smooth and it's Precision certified, thus handles everyday swipes, taps and gestures flawlessly. Even the click buttons are soft and quiet, so Acer pretty much nailed the experience here, even if most people won't probably care as they'd have a mouse connected all the time.
The trackpad also gets an LED framing, which of course lights up in blue. It's just as obnoxious as the other lights on this laptop, but this one can be switched of by hitting FN+F9.
The one thing that's missing on this laptop is a finger sensor, and you'll just have to enter your password each time you log in, as there's no IR camera option either.
Screen
Acer offers the Predator Helios 500 with either a FHD 144 Hz or an UHD 60 HZ screen, both with mid-level IPS panels and GSync support. We have the former option on our review unit, the one that actually makes more sense on such a gaming laptop anyway.
This is a fairly nice screen in terms of brightness, contrast and colors, and the average user should have little to complain about, especially as he'll probably keep the computer mostly indoors. Here's what we got with our test sensor (Spyder4):
Panel HardwareID: AU Optronics AUO319D (B173HAN03.1);
Coverage: 98% sRGB, 72% NTSC, 75% AdobeRGB;
Measured gamma: 2.3;
Max brightness in the middle of the screen: 271 cd/m2 on power;
Contrast at max brightness: ~720:1;
White point: 8600 K;
Black on max brightness: 0.38 cd/m2.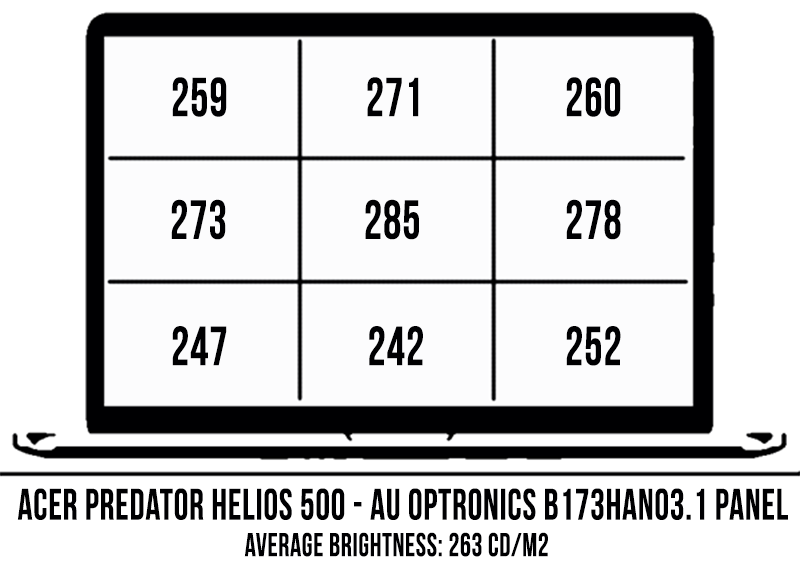 Calibration is not bad out of the box, but you can use this color profile to adjust the slight White Point and Gray level imbalances.  you'll still have to accept the uniformity issues, present towards the lower-left corner on our sample. The build is otherwise pretty much flawless, as we haven't noticed any sign of screen bleeding or pinching around the bezels on our test model, but other reviewers mention bleeding on their samples, so that's still a lottery.
Standard characteristics apart, let's not forget this is a 144 Hz panel with fairly fast response times, which make it such a good option for gamers, especially when GSync is also part of the mix and takes care of any rogue stuttering and tearing that might still be noticeable on a standard 144 Hz screen in older games that run at high refresh rates.
As for the UHD screen option, that's a bit brighter and richer, and you can find all about it from this article. It's a 60 Hz panel with slower response times though, so not as nice in fast-action games, but with GSync the overall experience is still pretty good. Don't expect to be able to play all the recent titles at extreme settings with a GTX 1070 configuration though.
Hardware, performance and upgrade options
The Helios 500 is available in a multitude of hardware configurations, and we had one of the higher tier options for this review, with the Core i9-8950HK processor, 32 GB of RAM, Nvidia GTX 1070 8GB dedicated graphics and dual-storage.
Before we get to the elephant in the room, the i9 processor, we should also mention this laptop gets 4x memory DIMMs for up to 64 GB of RAM, as well as two M.2 PCIe storage slots and a 2.5″ storage bay.
Two of the RAM slots are easily accessible by removing the service tray on the belly, hold in place by two Philips screws. The other two are behind the motherboard and require a complete disassembly to get to them. Beneath the service tray you'll also get easy access to the two M.2 slots, as well as the 2.5″ bay, which is however hidden behind the battery. The battery is not attached with any screws, you can just gently lift it up of its slot in order to get to the plastic cover on top of the 2.5″ bay, remove the two screws and reach to the actual HDD.
Thus, the RAM and storage are fairly accessible on this laptop, but everything else is not. The entire back, hold in place by a multitude of screws, needs to be taken apart to get to the cooling, and the motherboard needs to be taken out to get to the RAM slots on top. However, while you might want to get to the cooling in order to repaste the CPU/GPU, I doubt you'll need to get to the RAM slots.
OK, so let's talk about the i9-8950HK processor inside this notebook. As explained in this article, it's a higher clocked version of the more common Coffee Lake Core i7-8750H that motorizes most other gaming laptops of the moment, with an unlocked multiplier that allows room for overclocking. Acer makes the whole process of overclocking very easy through the Predator Sense app, where you can choose between three different profiles, but you can also tackle overclocking yourselves with software like Intel XTU. However, the included Overclocked profile is finely tuned by itself and I doubt you'll be able to get much better performance yourselves. Here's what these profiles do:
Normal – CPU undervolted at -125mV, 6-core Max Turbo at 4.2 GHz, 65W Turbo Boost Power Max, 80W Turbo Boost Short Power Max;
Faster – CPU undervolted at -125mV, 6-core Max Turbo at 4.3 GHz, 80W Turbo Boost Power Max, 90W Turbo Boost Short Power Max;
Overclocked – CPU undervolted at -125mV, 6-core Max Turbo at 4.4 GHz, 80W Turbo Boost Power Max, 90W Turbo Boost Short Power Max.
The Faster and Overclocked profiles raise the CPU's Turbo Boost TDP threshold, undervolt the CPU and raise the Max Turbo frequency. The CPU remains stable even at lower voltage levels, but the performance actually decreased in our tests, as for some reason the CPU clocked lower at -130 mV and below.
We've tested the CPU on Normal and Overclocked and logged the performance and behavior. For multi-core loads we run the Cinebench CPU test for 10+ times in a loop, and here's what we got.
On the Normal profile, initial scores of around 1300 points were returned, and these stabilize at around 1250 points after several runs, with the CPU's frequency settling at around 3.7 GHz, temperatures at 80 C and the TDP at the set limit of 65 W. Details below.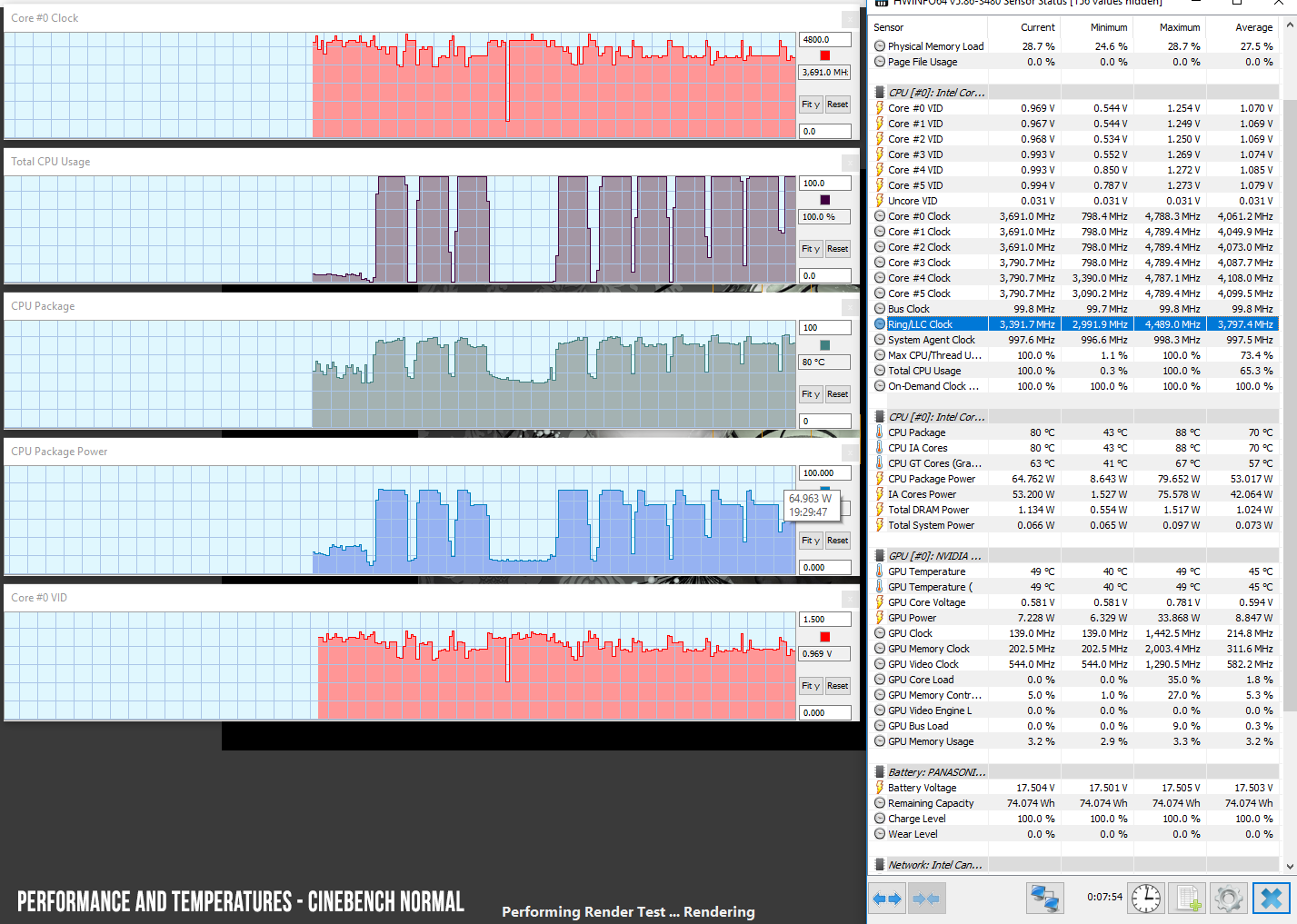 On the Overclocked profile, initial scores of above 1350 points were recorded for the first 2-3 runs, which then settle at around 1320 points for concurrent runs, with the CPU stabilizing at higher 4.0 GHz frequencies and 80 W TDP, but also higher temperatures of around 91-92 C.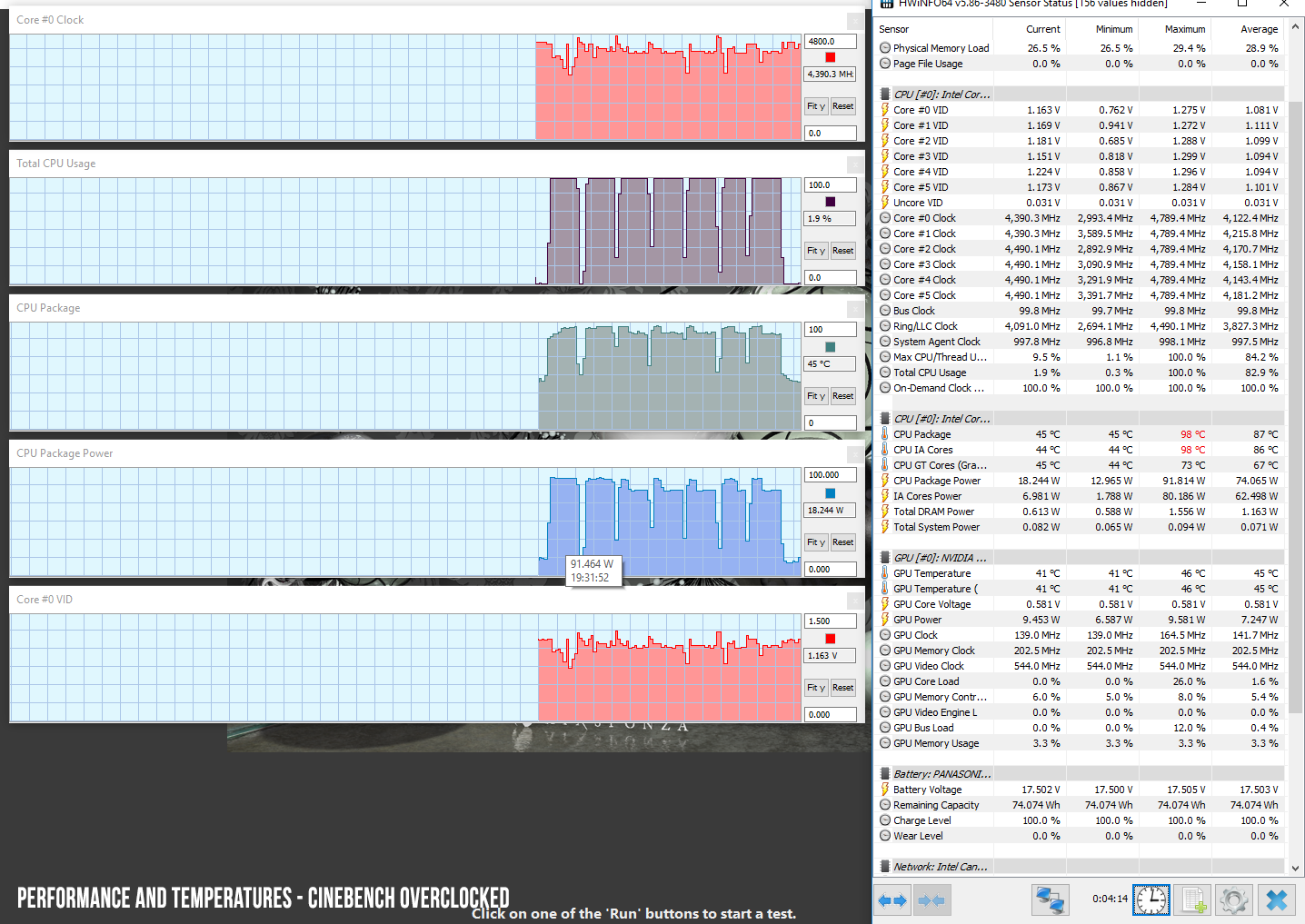 In conclusion, the Overclocked profile allows the CPU to run at higher frequencies and with higher package temperatures in continuous multi-core CPU loads, but not at the set target of 4.4 GHz.  The fans are also louder once you switch to the Overclocked profile, so I'd recommend sticking to Normal with everyday use and only switch to Overclocked when truly needed.
The panel allows to individually overclock the CPU and GPU, thus if you're running games, it's probably best to keep the CPU on normal and just overclock the GPU, in order to keep temperatures at bay, but you should take your time and experiment with these settings to find out which offers the best balance between performance and noise/temperatures (we'll further talk about these in the next section) on your unit.
We ran our standard set of benchmarks on this unit and here's what we got:
3DMark 11: P19636 (Graphics: 23223, Physics: 13705);
3DMark 13 – Fire Strike: 14179 (Graphics – 15423, Physics – 18121);
3DMark 13 – Time Spy: 5788 (Graphics – 5583, CPU – 7318);
PCMark 08: Home Conventional – 5145;
PCMark 10: 4656;
PassMark: Rating: 6524, CPU mark: 15651, 3D Graphics Mark: 13405;
GeekBench 3.4.2 32-bit: Single-Core: 4642, Multi-core: 23754;
GeekBench 4.1.1 64-bit: Single-Core: 5570, Multi-core: 23479;
CineBench R15: OpenGL 111.65 fps, CPU 1254 cb, CPU Single Core 183 cb;
x264 HD Benchmark 4.0 32-bit: Pass 1 – 201.94 fps, Pass 2 – 76.57 fps.
We also ran some of them with both the CPU and GPU on the Oveclocked profile:
3DMark 13 – Fire Strike: 15593 (Graphics – 18798, Physics – 17259);
3DMark 13 – Time Spy: 2355 (Graphics – 6145, CPU – 6960);
GeekBench 4 64-bit: Single-Core: 5505, Multi-core: 24142;
CineBench R15: OpenGL 122.95 fps, CPU 1356 cb, CPU Single Core 190 cb;
x264 HD Benchmark 4.0 32-bit: Pass 1 – 210.88 fps, Pass 2 – 80.65 fps.
We can take the following out of these results and the HWinfo logs:
overclocking the CPU leads to improved performance in tasks that primarily focus on the CPU and don't put much stress on the GPU;
in combined CPU + GPU tests, the CPU scores are actually lower on Overclocked, due to the fact that it reaches higher temperatures and thus has to clock down;
overclocking the GPU however leads to significant gains, as it's able to run and higher clock speeds and the cooling does a great job at keeping temperatures at bay.
We've actually noticed high CPU temperatures in some of our gaming tests as well, which is why we advise to keep the CPU on Normal while playing games. That aside, while the CPU does not clock down in our tests, it does run at temperatures in the high 90s in some titles, which I don't feel comfortable with on the long term. Details below, on the both the Normal and Overclocked modes.
The actual gaming numbers are excellent for a GTX 1070 configuration though, even with the high CPU temperatures, as you can see below (on FHD resolution and maximum graphics settings):
| | |
| --- | --- |
| | Helios 500 OC |
| Bioshock Infinite | 161 fps |
| FarCry 5 | 97 fps |
| Rise of the Tomb Raider | 111 fps |
| Shadow of Mordor | 125 fps |
Bottom point, the Predator Helios 500 is an excellent gaming laptop, as it delivers better frame-rates than most other GTX 1070 laptops on the market and benefits from the 144 Hz screen with GSync.
However, the i9-8950HK processor is not necessarily something we can recommend based on our tests. On one hand, if you're primarily interested in playing games, there's definitely better value in the i7-8750H configuration, which will be able to run towards the maximum potential of the i7 CPU on this laptop and match the i9 configuration's performance, with lower temperatures and at least a $200 price cut.
On the other, the i9 could be worth buying if you're primarily looking for a workstation computer and plan to run software that can benefit from multiple high-frequency CPU cores, but with reduced simultaneous GPU loads. In this case we'd estimate a roughly 5-10% performance increase with the i9 configurations over the standard i7s, and it's up to you if that's worth the extra money or not. Follow this link for more details on the i9-8950HK processor and benchmark comparisons with the i7-8750H and the other high-performance alternatives on the market, including the AMD Ryzen variants, which might even better fit the requirements for such CPU-intensive loads with a limited GPU component.
Emissions (noise, heat), Connectivity and speakers
The Helios 500 implements a complex cooling solution with two fans and a multitude of heatpipes, helped by the spacious interior and ample air intake/output grills.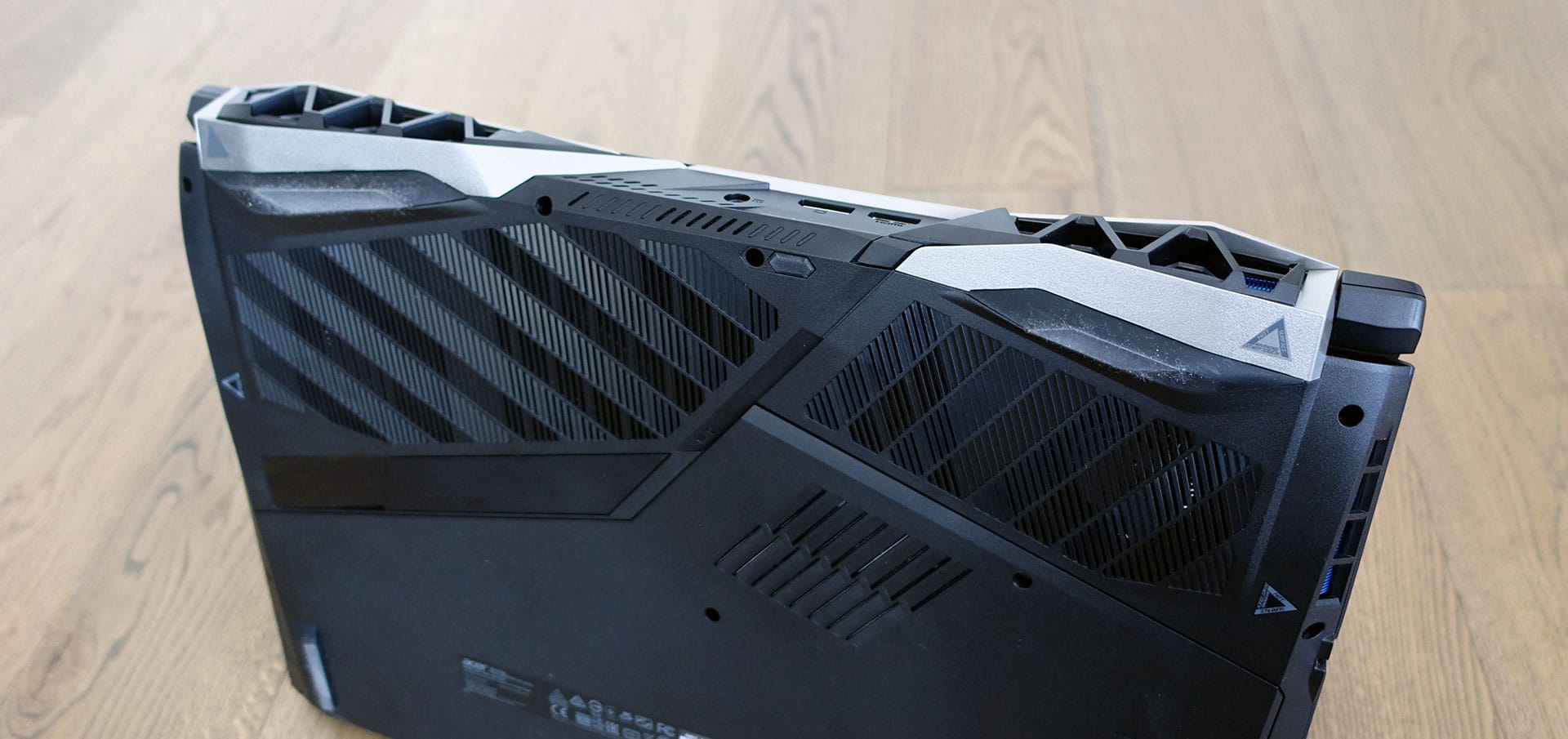 The CPU actually gets a smaller fan and fewer heatpipes on its side, and these might not be enough to keep the i9 CPU at bay when running at up to 80W TDPs, hence the recorded high temperatures. I'd reckon repasting might help, and perhaps even applying liquid metal instead, but these will void warranty and should only be performed by enthusiasts who know what they're doing.
Getting to the cooling isn't very simple either, as it requires removing the battery and taking the whole back part aside. We didn't get to do it on our sample, so the image bellow is courtesy of Dave Lee on Youtube.

Let's further talk about the fan's behavior. You can set them on Automatic from Predator Sense, on Max, or custom tune their speed. I'd recommend keeping them on Auto and CoolBoost disabled with daily use, which means that they'll keep off most of the time, but with occasional pulses for one split second, perhaps two or three times an hour. You can also just custom set them at 0 rpm to prevent this issue. You will still hear the mechanical HDD when accessing information, and we also noticed some slight electronic noise coming from somewhere beneath the Enter key, but it's not present not all the time, so for the most part this laptop remains quiet with daily use.
With games you can either keep the fans on Auto, which will push noise levels to around 52-53 dB at head-level, which means you'll require headphones to properly cover it up, or you can adjust the rpm manually to find a better sweet-spot between noise and temperatures. We measured much friendlier noise levels of only around 45-46 dB while having the CPU fan at 3300 rpm and GPU fan at 2700 rpm, with a slight increase in external temperatures, no impact on the CPU's internal temperatures and a roughly 10 degrees increase in GPU temperatures, but still to only about 70 degrees Celsius.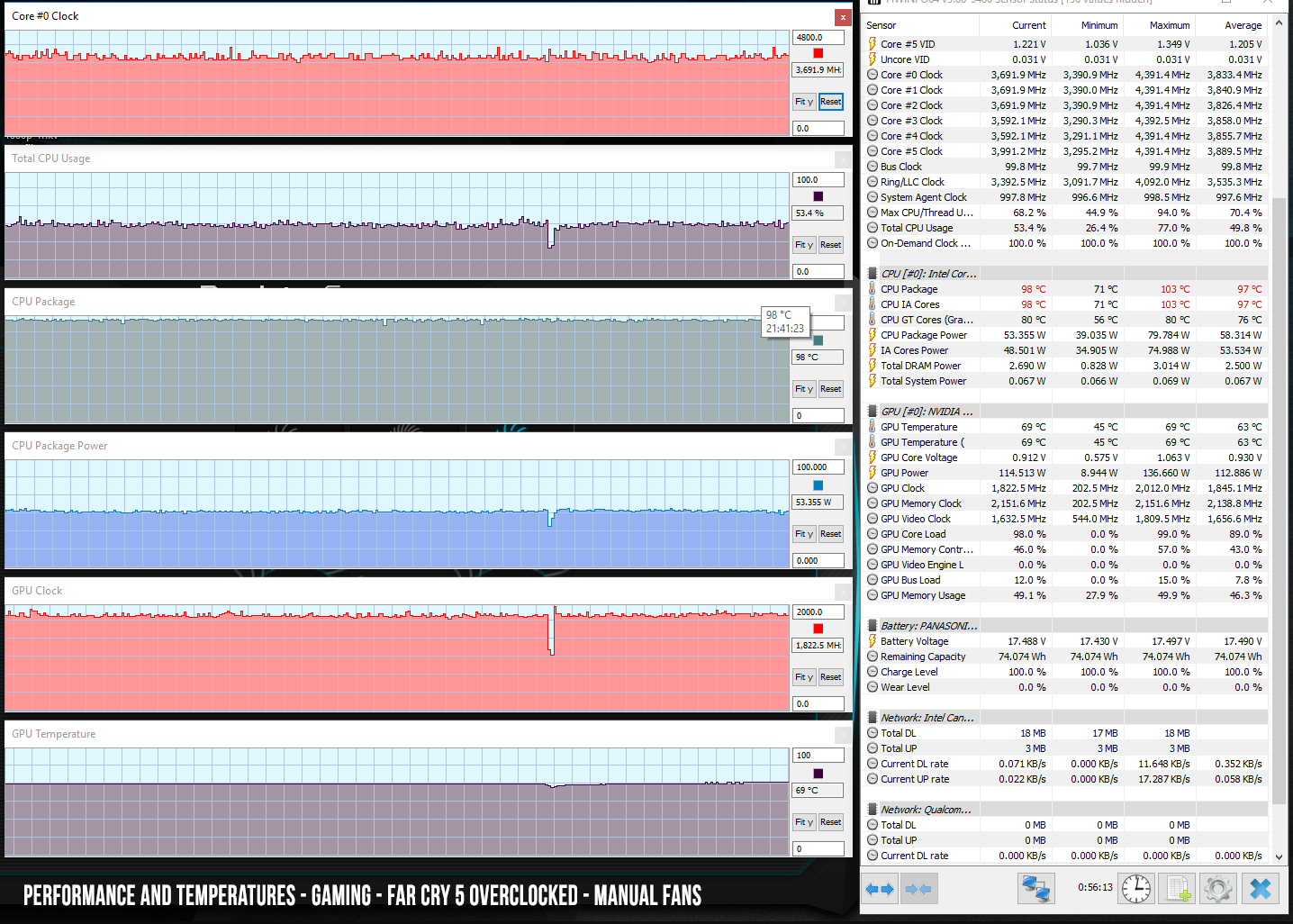 Unfortunately the CPU runs at 98-99 degrees Celsius in CPU intensive games like Far Cry 5 or Witcher 3, both on Auto or on manual, and in fact even when setting the CPU fan at maximum rpm. That's not the case with all games though, as you can see in the logs mentioned in the gaming section above.
As far as outershell temperatures, here's what to expect. The exhaust grills towards the back and sides reach higher temperatures, but I doubt you'll get in contact with them anyway.
*Daily Use – Netflix clip in EDGE for 30 minutes
*Load, Auto Fans– playing FarCry 5 for approximately 30 minutes on ultra FHD settings, fans set on Auto
*Load, Manual Fans– playing FarCry 5 for approximately 30 minutes on ultra FHD settings, fans set on manual, 3300 rpm CPU and 2700 rpm GPU
For connectivity there's Wireless AC, Bluetooth and Gigabit Lan on this laptop. Acer went with a Killer configuration for both the wireless and the wired connection, and the included Killer 1550i proved a solid performer even further away from the router, but still not as fast as some of the other modern implementations, at least with our standard consumer-grade router and overall setup.
The audio department is where the Predator Helios 500 actually shines. It bundles a 2.1 implementation set with two well-sized speakers and one small subwoofer, and they're actually quite loud, at about 80-81 dB at head-level, with rich sound coming out of them that covers the entire spread fairly well, even on the lower end where most other laptops suffer. Of course, this is still a notebook sound system, so you should properly adjust your expectations, but it's better than most and will do fine for everyday use, multimedia and gaming.
Acer also puts a webcam and set of microphones on this computer, at the top fo the screen, where they belong. The image quality is rather mediocre even in properly lit rooms, but that's definitely no surprise, for some reason good cameras are still extraordinary exceptions on today's laptops and even half-decent ones are hard to come by.
Battery life
The Predator Helios 500 comes with a 74 Wh battery, which is actually smaller than what the competition offers and every little bit extra would have helped with this kind of hardware.
With GSync onboard, the Nvidia GPU is active all the time, and corroborated with the i9 CPU and 144 Hz screen, you should pretty much expect about 2.5 hours of everyday use, 3 of video and one hour of gaming on this laptop.
Here's what we got in our tests, with the screen set at 30% brightness, roughly 120 nits:
24 W (~3 h of use) – text editing in Google Drive, Better Battery Mode, screen at 30%, Wi-Fi ON;
25 W (~3 h of use) – 1080p Youtube fullscreen in Edge, Better Battery Mode, screen at 30%, Wi-Fi ON;
25 W (~3 h of use) – 1080p Netflix fullscreen video in Edge, Better Battery Mode, screen at 30%, Wi-Fi ON;
25 W (~3 h of use) – 4K fullscreen .mkv video in the Movie app, Better Battery Mode, screen at 30%, Wi-Fi ON;
29 W (~2 h 30 min of use) – browsing in Edge, Better Performance Mode, screen at 30%, Wi-Fi ON;
70 W (~1 h of use) – Gaming – Shadow of Mordor, Maximum Performance Mode, screen at 30%, Wi-Fi ON.
This laptop comes with a bulky and heavy 330 W charger and a full-load takes almost two and a half hours, with up to 80% in about one hour and a half.
Keep in mind that the i7-8750H configurations ship with a slightly smaller and lighter (by about .5 lbs) 230W power brick, which is still enough to ensure the power necessities of that variant. The i9 configuration however requires up to 240-250W in full-load, hence the bigger capacity brick.
Price and availability
The Acer Predator Helios 500 is available in stores all over the world at the time of this review.
The base configuration comes with a Core i7-8750H processor, GTX 1070 graphics, FHD 144 Hz screen, 16 GB of RAM, a 256 GB PCIe SSD and a 1 TB HDD, for $1899 in the US, EUR 1999 in Germany and £1799 in the UK, but you can periodically find it for less (I've seen it at $1599 in the US).
Higher specked versions include up to 32 GB of storage, 512 GB SSDs + 2 TB HDD, as well as the Core i9-8950HK processor and an UHD 60 Hz screen. As already discussed in the performance and screen section, the best value is in the base i7 / FHD version.
Those interested in CPU performance should also check out the AMD Ryzen 7 2700 + Radeon Vega 56 configuration, it's available in Europe for around EUR 2000.
Follow this link for updated prices and configurations and the time you're reading the article.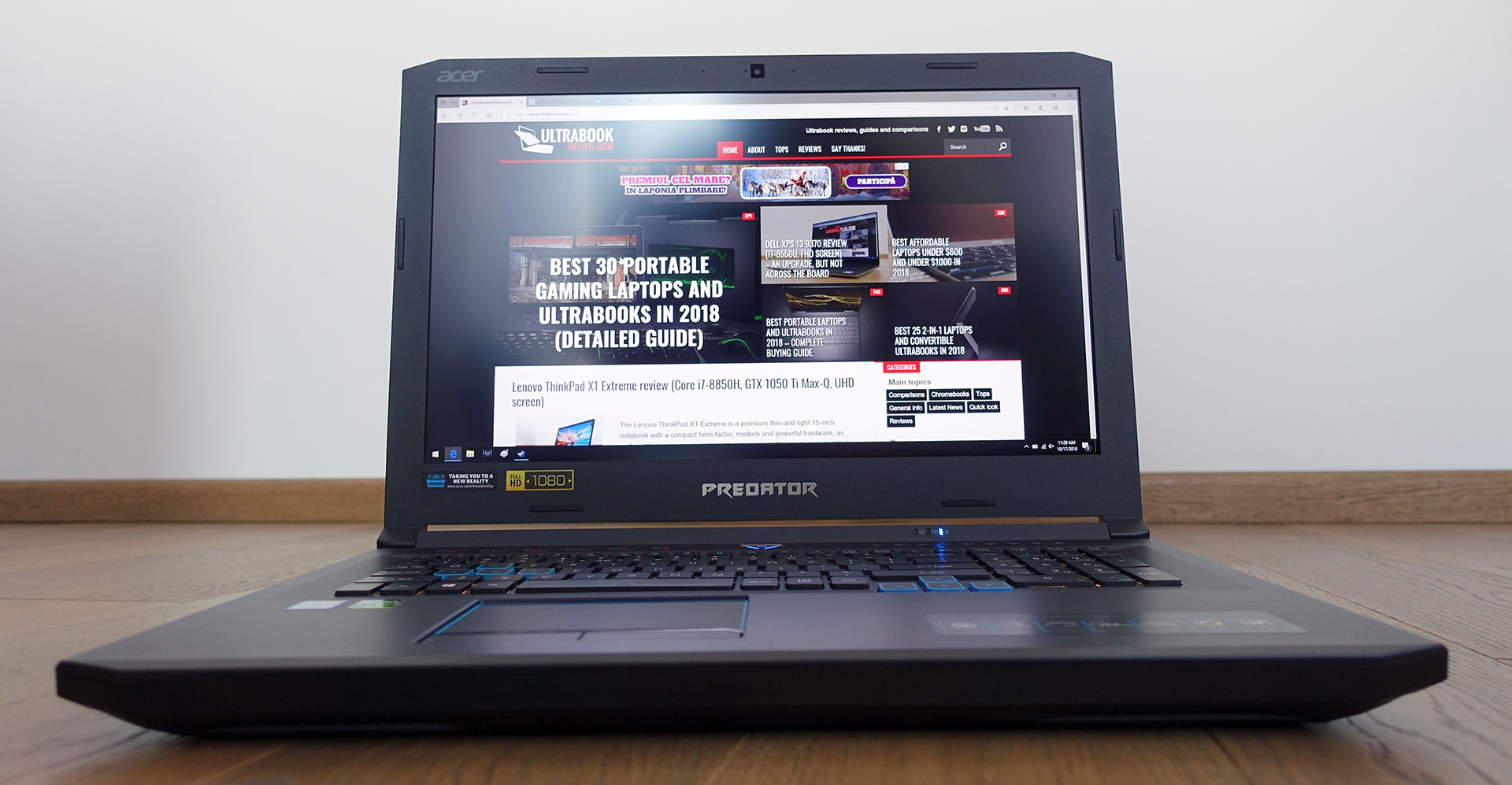 Final thoughts
The Predator Helios 500 is all about performance in demanding loads and games, where the experience is enhanced by the capable keyboard and cooling implementation, the 144 Hz GSync screen, the punchy speakers and the complete IO. It's also about selling at a competitive price in its niche, as it's cheaper than its direct competitors with the same traits and hardware specs, like the Alienware 17, MSI GT75 Titan or the ASUS G703GS, each with their fare share of strong points and quirks. The HP Omen 17 is one of the few exceptions that sell for less, but it lacks an RGB keyboard and is outperformed by the Predator in games due to the more capable cooling and overclockable graphics chip.
At the same time the Helios 500 is bulky, heavy, and obnoxiously plastered with all sorts of lights that can't be switched off, stickers and Predator branding elements, so it's not the kind of laptop that would be accepted in stricter business environments. Or the kind most would consider nice looking either.
I would also stay away from the Core i9 configurations or the UHD screen, you'll pay a significant premium for those and will actually degrade your gaming experience due to the lower refresh rate, longer response times and higher temperatures, without an increase in framerates. Like already mentioned, the i9 processor would help in those specific tasks that can benefit from multiple high-performance cores, but even in that case there's probably better value in one of the AMD variants with the 8-core Ryzen 7 desktop CPU.
Potential buyers might also want to check out some of the lighter and slimmer i7/GTX 1070 alternatives on the market, like the Asus ROG GL703GS/GL704GS, MSI GE73 Raider or even the Sager NP8375 / Clevo PA71ES. They're not as fast as the Helios 500 and definitely run hotter and noisier, but the performance is within 10-15% and for some, that might be a trade off worth making for a much more portable computer.
That's about it for our review of the Acer Predator Helios 500. It's great at what it does, but it's not for everyone, especially at this point when the market offers a multitude of more compact and still well balanced products. Let us know what you think about it and get in touch in the comments section below if you have anything to add or any questions, we're around to reply.