This article gathers all our impressions of the late-2018 update of the Acer Swift 3 15-inch laptop.
The Swift 3 is Acer's entry-level series of standard clamshell laptops and includes entry and mid-range devices for budget-oriented shoppers. The 2017 15-inch Swift 3s are some of the best-value devices in the $600-$800 price bracket in the last year, so we'd expect the 2018 iteration to attract a lot of attention as well.
The Swift 3 2018 (code name SF315-52) builds on its predecessor and gradually improves on some aspects. It's a smaller computer with a slightly improved build, a matte IPS screen, the performance to handle everyday use and some occasional gaming, as well as fairly good battery-life on each charge.
It still has its share of quirks you'll have to accept, but there's plenty of value in this computer and unless you loose at the quality-control raffle (something you have to consider when shopping for a mid-range notebook these days – we'll talk about it at the end of the article), I'd expect many of you to be happy with this 2018 iteration of the Acer Swift 3 15-inch.
You'll find out why below, as well as who is this laptop for, where it shines and what could make you look elsewhere.
Specs as reviewed
| | |
| --- | --- |
| | Acer Swift 3 SF315-52G |
| Screen | 15.6 inch, 1920 x 1080 px, IPS, non-touch, matte |
| Processor | Intel Kaby Lake-R Core i7-8550U CPU |
| Video | Intel UHD 620 + Nvidia MX150 2GB (optional) |
| Memory | 16 GB DDR4 (2x DIMMs) |
| Storage | 128 M.2 SATA SSD (80 mm) + 1 TB 2.5″ HDD |
| Connectivity | Wireless AC (Intel AC 7265), Bluetooth 4.1 |
| Ports | 2x USB-A 3.0, 1x USB-A 2.0, 1x USB-C 3.1 gen 1, HDMI, SD card-reader, mic/headphone, Kensington lock |
| Battery | 48 Wh, 65W charger |
| Size | 360 mm or 14.17" (w) x 243 mm or 9.56" (d) x 17 mm or 0.66" (h) |
| Weight | 4.00 lbs (1.82 kg)+ .70 lbs (.32 kg) charger and cables, EU version |
| Extras | backlit keyboard, HD webcam, fingerprint reader |
Acer also offers this exact same laptop without the MX150 graphics as the Swift 3 SF315-52 sub-series (without the G at the end). Both are available in multiple CPU (KabyLake-R, Whiskey Lake later on), RAM and storage configurations.
Design and exterior
This 2018-update of the 15-inch Swift 3 subtly, but at the same time considerably, improves on last year's version. It's more compact, lighter, better built and more carefully crafted.
For starters, the entire outer-shell and inner deck are now made out of bushed aluminum and available in a few colors (we have the gold variant here, with silver, blue or red alternatives in some regions). The build feels sturdier, with very little flex in the keyboard-deck and an acceptable degree of bend in the lid, which doesn't seem to put any pressure on the screen, so you won't have to pamper this one in daily use. A sleeve would be recommended though, as aluminum tends to scratch fairly easily.
Acer also tapered the edges around the inner deck and lid, so they're not as aggressive on the fingers and wrists, but they're still not completely blunt and there are still some sharp joints between the bottom panel and the sides that you'll feel when grabbing this Swift. Other than that though, Acer did good here. Even the plastic frame around the screen color matches the rest of the body for a unitary design. On the other hand, the large piece of plastic between the hinges remains black, like on the original Swift 3 series.
The hinge is strong and keeps the screen well in place. At the same time, you can open and adjust it with a single hand, and it allows the display to lean back flat to 180 degrees, something those of you who use your laptop on the lap or while lying on the sofa or bed will greatly appreciate.
The Swift 3 SF315-52 has also lost a fair bit of weight compared to the SF315-51 versions (1.8 vs 2.1 kg), is more compact (360 x 243 mm vs 370 x 255 mm) and marginally slimmer as well (17 vs 19 mm), without any compromises on practicality.
The hinge works well and the interior is sturdy, as mentioned before. The laptop also sits nicely on the desk thanks to the large rubber feet on the bottom, there's a full-size keyboard/clickpad, a spacious palm-rest and a fair set of ports, with pretty much everything you'll need: 3x USB-A ports, one USB-C connector, HDMI and an SD card-reader. There's only HDMI 1.4 and no Thunderbolt 3 support, but you won't get those with other laptops in this price range either.
All in all, the Swift 3 SF315-52 looks and feels like a proper mid-range 2018 laptop, with a nicely balanced design, build and practicality. It's still a mid-range laptop though, so it doesn't get the premium materials and craftsmanship of the more expensive options, nor some of their features.
Keyboard and trackpad
The keyboard is pretty much identical to the one on the previous generation, and that's mostly fine, as it's a fast and fairly reliable typer once you get used to it.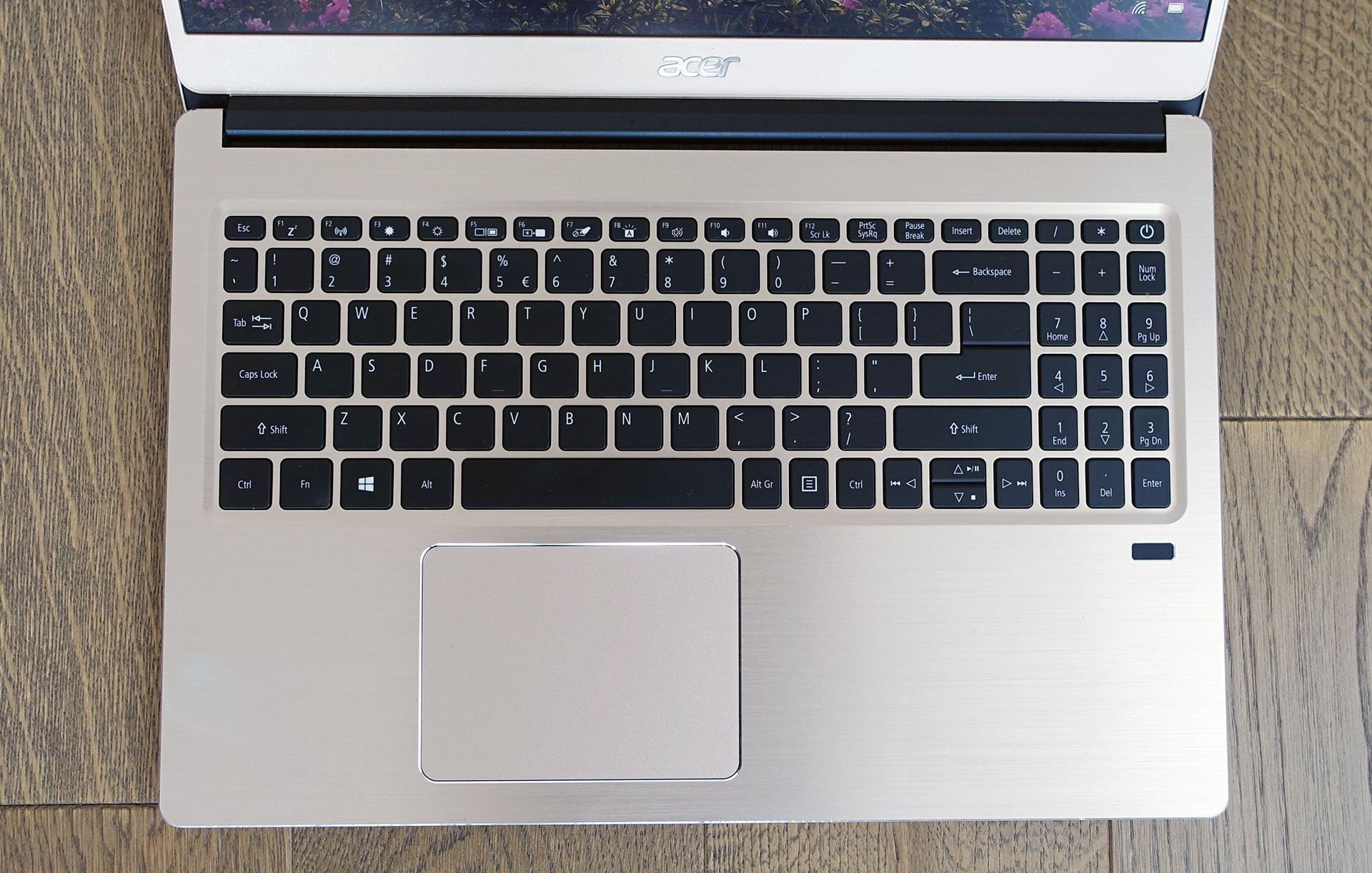 The keys are pretty firm, but they're at the same time soft and actuate with little effort, and that's going to feel somewhat weird at first, as the feedback does not always provide the confidence that your hit actually registered. If you're willing to give it some time and you're used to this kind of short-stroke keyboards, I'd expect you'll get along well with this one. For me, it's one of the fastest and most comfortable typers I've got my hands on, but its peculiar feedback does lead to a fair bit of missed strokes.
I also have some nits with the layout. The main-set of keys are well sized and spaced, but the arrows and NumPad section is cramped and the Power Button is integrated as the top left key. That aside, there's also no indicator for when CapsLock and NumLock are active, which can get annoying at time.
This keyboard is also backlit, with white LEDs and just a single illumination level.
The clickpad sits beneath the Space key. It's properly sized and it's a plastic Elan surface ( Acer also uses a Synpatics surface on some versions) with Precision drivers. It worked well with everyday use, swipes, gestures and taps, and even the physical clicks are fairly quiet and soft, so not much to complain about here.
Acer also puts a finger-sensor on this Swift 3 15-inch, and it works fine with Windows Hello. You should however make sure to properly test it (and upgrade the drivers to the latest available version) if you decide to get one of these laptops, people have been complaining about gimmicky finger-sensors on previous Swift 3 iterations. You also shouldn't expect this to work as quickly or smoothly as for instance the finger-sensor in your phone, as you might have to swipe the finger over it, not just place it over.
Screen
Unlike the previous versions which got a glossy non-touch screen, the 2018 Swift 3 SF315-52 now gets a matte 15.6-inch screen with an IPS panel. Our test unit uses the AU Optronics B156HAN02.1 panel, similar to what other manufacturers use on their products (Asus VivoBook F510, Dell Inspiron 15 5000).
This is an average-quality panel, pretty much what you'd expect in this class, with decent viewing angles, blacks and contrast, as well as fairly mediocre color-coverage. Acer's implementation is however dimmer than this panel's implementations on other products, as you can see below (recorded with Spyder4 sensor), so you'll have a hard time using it in bright light:
Panel HardwareID: AU Optronics B156HW02 (B156HAN02.1);
Coverage: 68% sRGB, 49% NTSC, 51% AdobeRGB;
Measured gamma: 2.5;
Max brightness in the middle of the screen: 205 cd/m2 on power;
Contrast at max brightness: 860:1;
White point: 6500 K;
Black on max brightness: 0.24 cd/m2.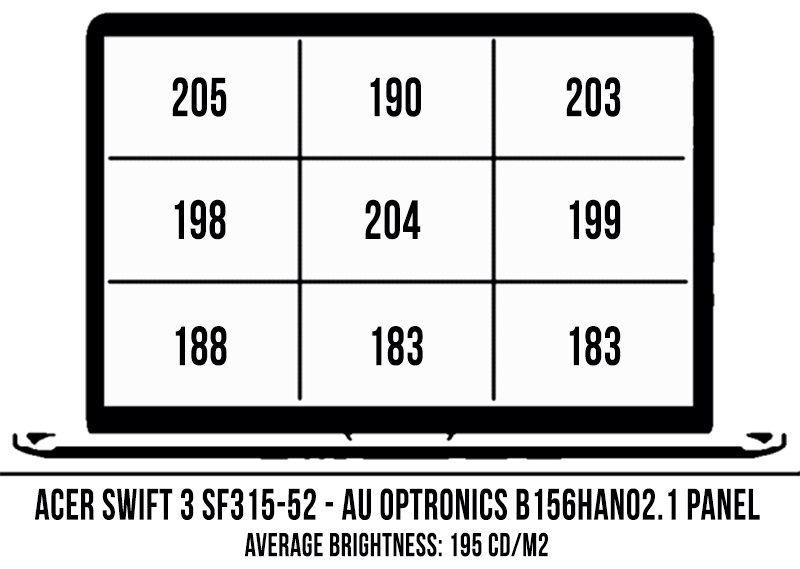 The screen is pretty well calibrated out of the box, but you can address the slight gamma and gray-level imbalances with this improved color profile.
I'll also add that I didn't notice any light bleeding on our test unit, even if the lower half is about 10% darker than the mid and upper half. It also doesn't use any kind of PWM for brightness adjustments, so those of you sensitive to flickering won't have to worry about this aspect either .
Hardware and performance
We tested a higher-end configuration of the Swift 3 SF315-52G, with the Core i7-8550U CPU, 16 GB of DDR4 RAM, dual storage (256 GB SATA SSD and 1 TB 2.5″ HDD) and the full-power 15 W version of the Nvidia MX150 graphics chip.
Lower end models are also available, with the Core i5-8250U CPU, 8 GB of RAM and either SSD or HDD storage. Whiskey Lake updates should also be available in the near future. The M.2 slot is limited to SATA speeds only.
If you opt for a lower-end configuration you can upgrade the storage, RAM and wi-fi module. Getting inside is fairly easy, you'll have to take out the back panel that's hold in place by a handful of Torx screws, all visible around the sides. You'll need a plastic tool to pry the belly off the sides, as the two are hold together by some stubborn plastic clips.
Inside you'll notice that the SSD and HDD are easily accessible, but the CPU, GPU and RAM are hidden behind a metallic radiator, which is also hold in place by two Philips screws and a lot of tape. It comes off fairly easily, but we chose not to completely remove it on our test unit. Careful when peeling off all that tape and keep in mind that the BIOS battery is also taped to this shield.
Our test unit is a pre-production sample so you should take our findings with a grain of salt and look into other reviews as well that properly analyze the hardware's performance.
With that in mind, out of the box our sample was somewhat power-limited, with the CPU clocking down aggressively beneath the 15W TDP of the KabyLake-R platform in demanding loads, but undervolted at -100mV this behavior was corrected. That's why we conducted all our tests on the undervolted profile, which performs closer to the platform's abilities and closer to how the retail versions should perform.
Our Swift 3 handles everyday chores easily, while running cool and quiet.
A Core i5 configuration with the Intel HD graphics will suffice if you're only going to use the computer for browsing, movies, text editing and such basic tasks, and you should only step up to the i7 if you're planning on running some demanding work loads as well.
We test the CPU's performance in such loads by running Cinebench R15 in a loop. The i7-8550U performs pretty much as expected, clocking up to maximum Turbo Boosts for a short period of time and then settling at around 2.8 to 3.0 GHz and a package power of around 15 W for the reminder of the test. The CPU reaches temperatures of up to 80 degrees Celsius and then settles to around 65-70 C, and the behavior is consistent across multiple concurrent Cinebench runs, returning scores around the 600 points mark.
This suggests there's enough headroom for improved performance on the retail versions with a higher thermal threshold that would allow the CPU to get closer to 90+ degrees Celsius before dropping to lower frequencies.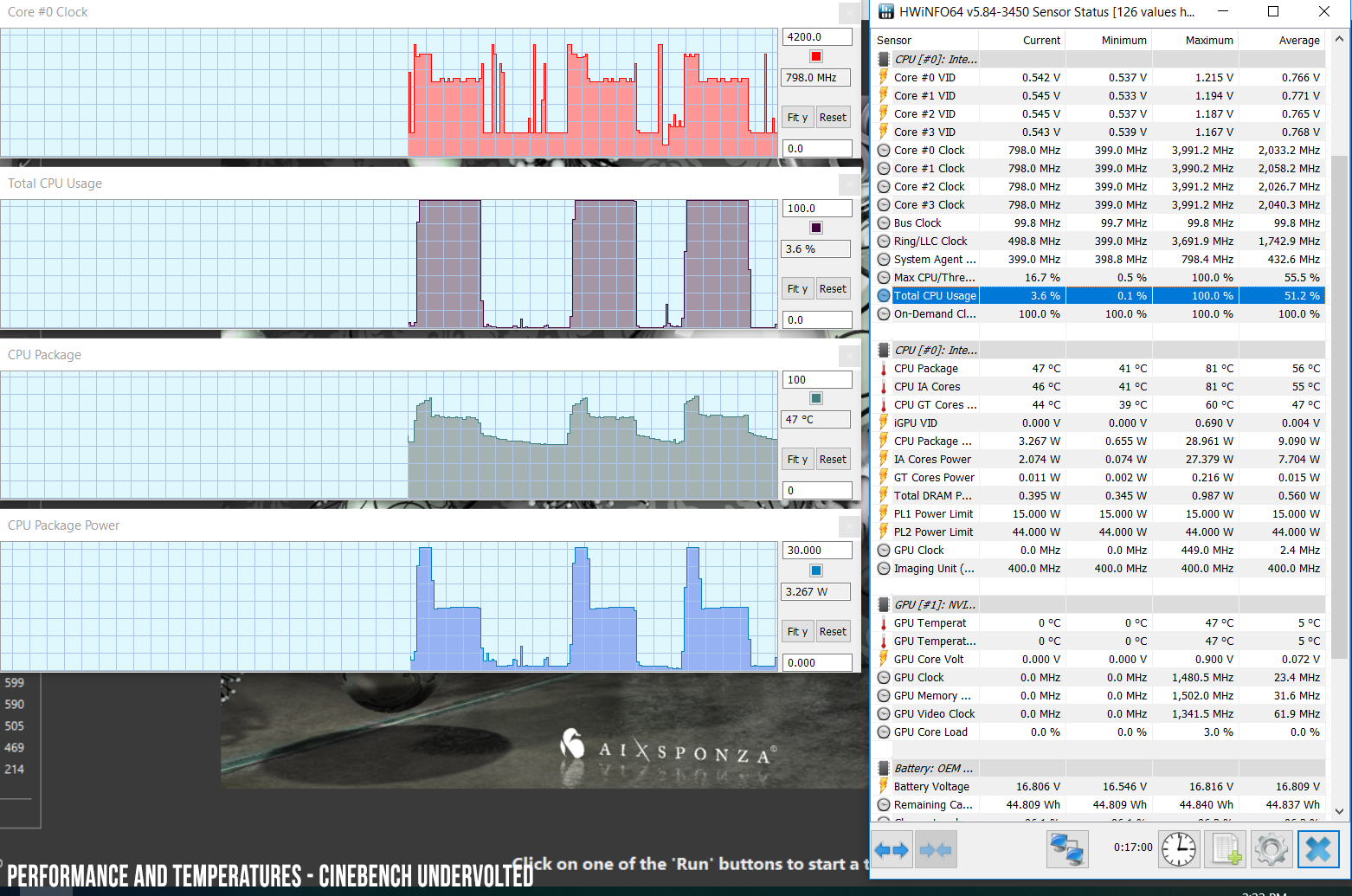 The GPU is fairly aggressively limited as well. It only goes up to about 70 degrees Celsius on our unit and clocks-down in demanding gaming sessions in order to stay within this limit, but keep in mind our implementation is pre-production and final retail versions should do better.
Still, our unit performed well, just not at the best of the MX150 chip's abilities, as it clocked down to around 1200 MHz in the more demanding titles (FarCry 4). For comparison, the same chip averaged around 1400 MHz in the 14-inch Swift 3 SF314-52 tested in the past, and this 2018 update actually gets redesigned cooling. That's why we're not going to get in depth about gaming results, as I feel our results are skewed. You can however find the HWinfo logs for Shadow of Mordor and FarCry 4 below.
I'll also post the benchmark results, if you're interested in these, but once again I muss stress to take them with a grain of salt and expect improved scores on the final versions:
3DMark 11: P4853 (Graphics: 4662, Physics: 6857);
3DMark 13 – Fire Strike: 3217 (Graphics – 3528, Physics – 10291);
3DMark 13 – Time Spy: 1106 (Graphics – 998, CPU – 2883);
PCMark 08: Home Conventional – 3472;
PCMark 10: 4007;
PassMark: Rating: 4124, CPU mark: 9756, 3D Graphics Mark: 2674;
GeekBench 3.4.2 32-bit: Single-Core: 3972, Multi-core: 14059;
GeekBench 4.1.1 64-bit: Single-Core: 4829, Multi-core: 15448;
CineBench R15: OpenGL 95.97 fps, CPU 604, CPU Single Core 173 cb;
x264 HD Benchmark 4.0 32-bit: Pass 1 – 159.00 fps, Pass 2 – 35.86 fps.
Noise, Heat, Connectivity, speakers and others
As mentioned earlier, the 2018 Swift 3 gets a redesign interior and redesigned cooling, with still a single fan, but two heat-pipes shared by the CPU and GPU. The components are however covered by a metallic shield, and I'm not sure if this actually helps with heat spread or rather it doesn't, by blocking air-flow on top of these heat-pipes and the components. It would be hasty to draw conclusions based on this pre-release sample, so we're not going to.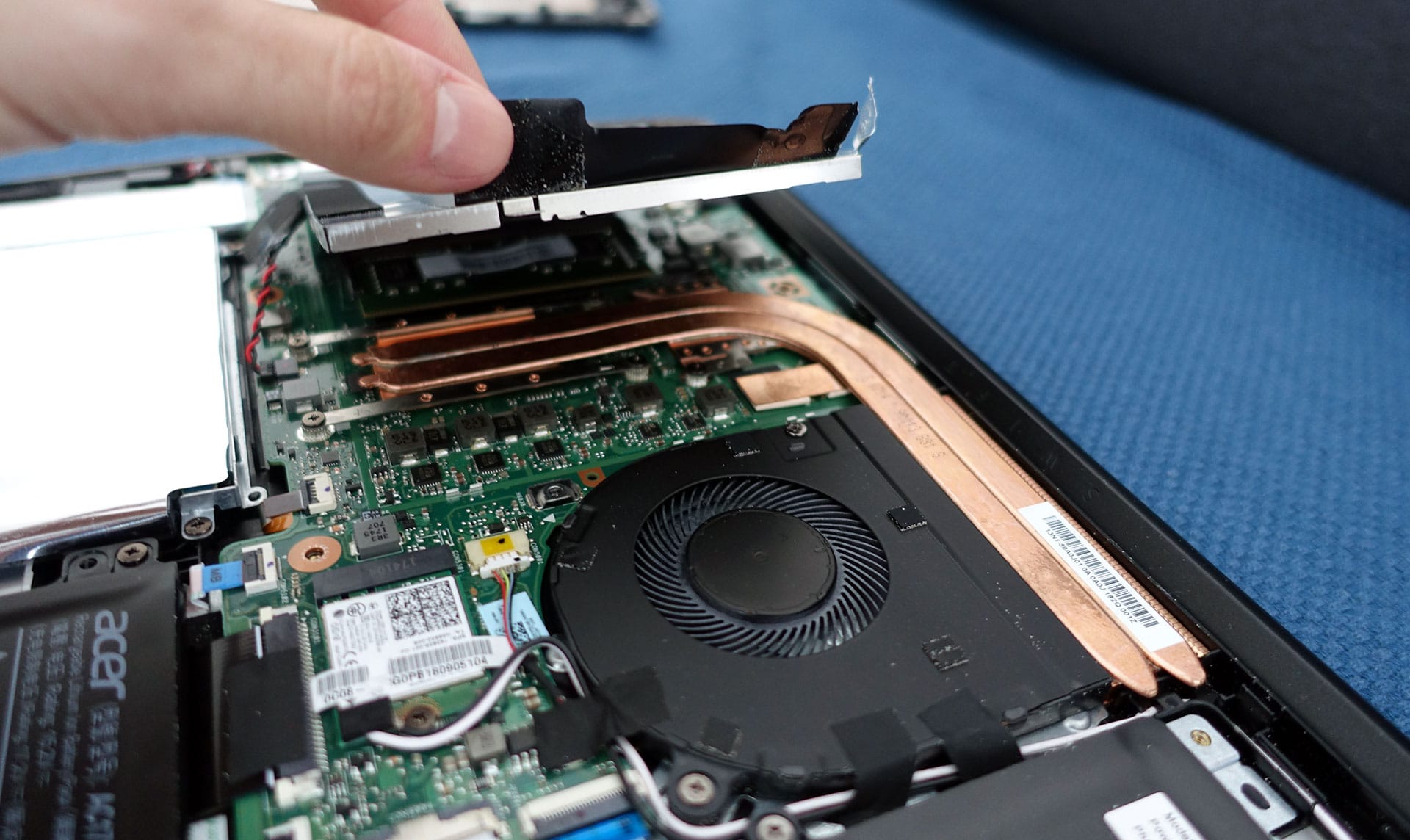 With everyday use, the Swift 3 SF315-52 actually runs cooler and quieter than its predecessor, so the new cooling design shows its strength. The fan remains silent for the most part and only kicks on with heavier multitasking, but you'll hardly ever hear it even in a quiet room.
With games the fan ramps up, but remains quiet, averaging around 40-42 dB at head-level. Both the components and outer-shell stay within normal temperatures, with the bottom panel reaching temperatures in the high 40s in certain spots, so gaming on the lap is not going to be a choice.
*Daily Use – running a Netflix video in EDGE for 30 minutes
*Load – playing Far Cry 4 for 30 minutes
For connectivity Acer stuck with last-year's generation Intel 7265 AC module and Bluetooth 4.1. It's not as fast as some of the modern Wave 2 variants, but it handles everyday use perfectly fine, without any drops or other issues.
The speakers seem a bit smaller than what Acer used on the previous iteration, but they sound about the same. That means they're about average in volume (peaking at about 78 dB at head-level) and the sound coming out is clean, with fair mid and highs, but not very much on the lower end.
The webcam is not bad, compared to what other OEMs put on similarly priced laptops. It sits at the top of the screen, where it belongs, flanked by far-field microphones, and takes clear and fairly detailed pictures, but with a lot of grain even in good light.
Battery life
There's a 48 Wh battery inside the 15-inch Acer Swift 3 Sf315-52, which on one hand is averagely sized for this day and age, but at the same time bigger than what many other manufacturers put in their mid-tier 15-inchers.
Paired with the dim screen and efficient hardware implementation, this laptop actually squeezes plenty out of this 48 Wh battery. Here's what to expect, with the screen set at 50%, roughly 120 nits of brightness.
7 W (~7 h of use) – text editing in Google Drive, Better Battery Mode, screen at 50%, Wi-Fi ON;
5.5 W (~8 h 45 min of use) – 1080p fullscreen video on Youtube in Edge, Better Battery Mode, screen at 50%, Wi-Fi ON;
5.5 W (~8 h 45 min of use) – 4K fullscreen .mkv video in the Movie app, Better Battery Mode, screen at 50%, Wi-Fi ON;
5.5 W (~8 h 45 min of use) – Netflix fullscreen in Edge, Better Battery Mode, screen at 50%, Wi-Fi ON;
9.5 W (~5 h of use) – browsing in Edge, Better Performance Mode, screen at 50%, Wi-Fi ON.
This particular configuration comes with a standard 65 Wh power brick and a full charge takes around 2 hours. The Swift 3 does not charge via USB-C.
Price and availability
The 2018 updates of the 15-inch Swift 3, code-name SF315-52 (with Intel HD 620 GPU) or SF315-52G (with Nvidia MX150 graphics), are available in most regions at the time of this post, September 2018.
The high-end variant with the i7-8550U processor, 8 GB of RAM, 256 GB SSD and the MX150 graphics goes for around $900 in the US and around 1000 EUR in Germany/France.
Lower end variants with the i5 processor and Intel graphics are also available, starting at around $700. Follow this link for updated configurations and prices at the time you're reading the article.
Acer also offers a few smaller 14-inch variants of this laptop, the Swift 3 SF314-54 with the 25W MX150 graphics, or the more premium and portable SF314-55 and 56 variants with the Max-Q version of the MX150 chip.
Final thoughts
The Acer Swift 3 SF315-52 is a good all-round 15-inch laptop, well suited for students and everyday users who just need a simple and not very expensive laptop for everyday use and some occasional games.
If you're not into games, the UHD 620 versions of this laptop are the ones for you, or even the smaller 14-inch variants mentioned above. If you're into gaming, keep in mind the MX150 GPU can only do so much, so you must decide if the ability to play games at FHD resolution with medium graphics settings will suffice, or you'd rather step up to a GTX 1050 laptop instead, you can find some options within similar price-ranges.
All in all, the 15-inch Swift 3 2018 is a budget computer with a nicely designed and built chassis, a fast keyboard, a matte IPS screen, good performance and good battery life. The aggressive pricing remains however its main selling point and the reason why you'd have to accept some of its quirks: the dim screen, the average speakers, Wi-Fi speed and IO. I'd also recommend reading other detailed reviews if you're planning to run more demanding tasks and games on this computer, in order to find out how the retail versions actually perform in these cases.
And there's one other aspect to consider: quality control. QC can be problematic with entry and mid-level laptops these days, which means you can end up with a flawed device, that's why I only advise you to buy from places that have a good return policy, in the eventuality you loose as the QC raffle.
As far as competition goes, there are a few other 15-inch laptops built on Core U and MX150 graphics out there, listed in this article. Each have their pros and cons, and most of them are more expensive, but the updated Acer Aspire 5, Asus VivoBook Slim S530 or the Lenovo IdeaPad 330 are some of the better alternatives you should check out.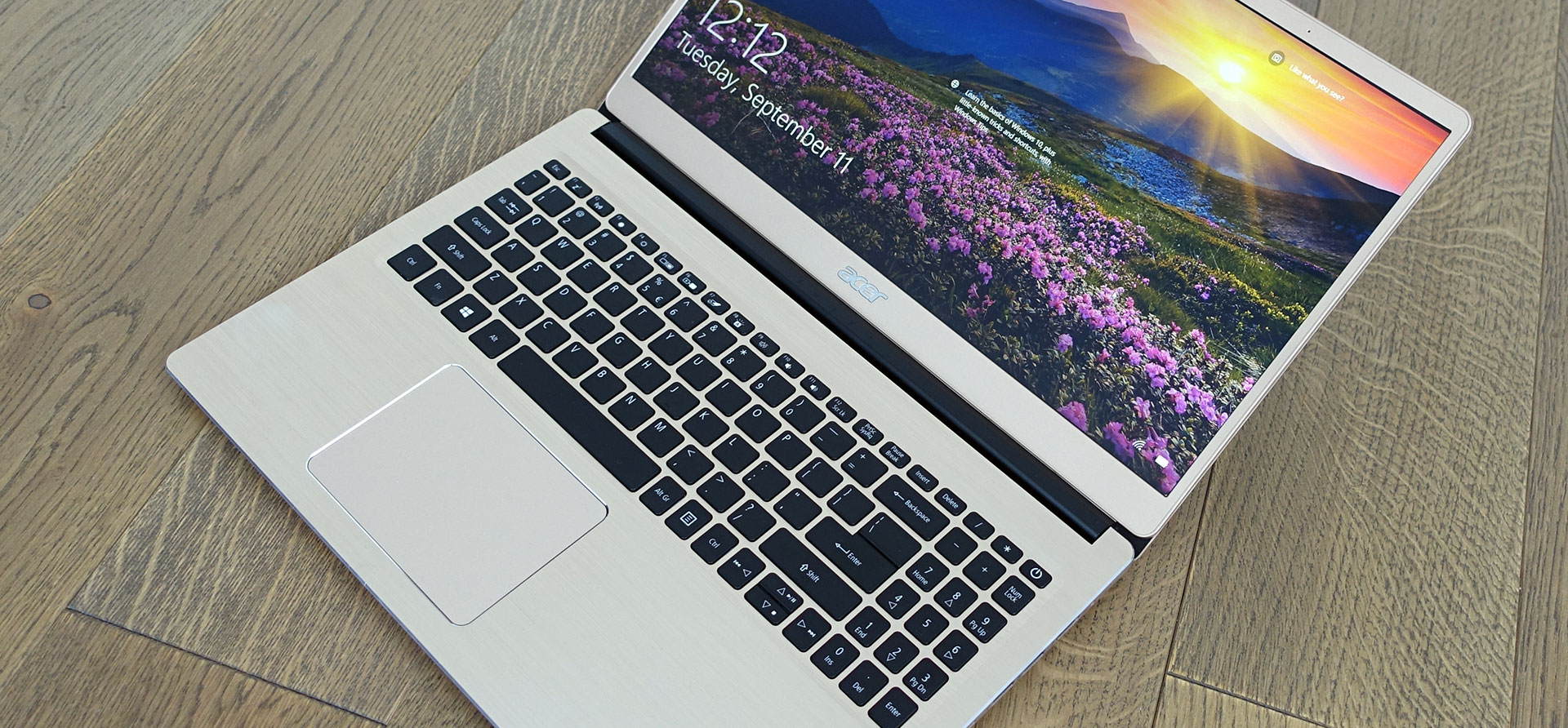 That's about it for our review of the 2018 Acer Swift 3 15-inch. Let us know what you think about it and get in touch in the comments below if you have anything to add or any questions, we're around to help out if we can.