This article is my review of the 2022 Asus ROG Zephyrus DUO 16 GX650, with impressions and results gathered while using this laptop over the last two weeks.
My review unit is the top configuration available at this point, built on an AMD Ryzen 9 6900HX processor and RTX 3080Ti graphics, with the UHD+ dual-spec main display option, but we'll also discuss the mini-LED display and the other configuration options throughout the article.
The Duo 16 is a unique performance/gaming laptop at this point, one that offers two high-quality displays and highly powerful hardware specs in a premium chassis. At the same time, this generation refines the previous 2020 and 2022 Duo 15 models, addressing some of my complaints with them.
From the beginning, though, I think it is crucial to understand that the dual-screen design is the primary reason to consider the Zephyrus DUO 16 over the other options out there with similar capabilities, but this format also comes with some drawbacks that you will have to understand and accept if you're going to decide on a Duo.
We'll cover them down below, alongside all the other important details that you should know before jumping on one of these.
Specs sheet- Asus ROG Zephyrus Duo 16 GX650
2022 ASUS ROG Zephyrus DUO 16 GX650RX
Display
16-inch, 16:10, non-touch, matte, IPS with 100% DCI-P3, 500-nits,
dual-spec panel – UHD+ 120Hz 3ms or FHD+ 240Hz 3ms, with Pixel Acceleration
+ secondary 14-inch, 3840 x 1100 px, IPS, non-glare, touch, 400-nits and 100% sRGB
QHD+ miniLED main display option also available
Processor
AMD Rembrandt, up to Ryzen 9 6900HX, 8C/16T, up to 90W TDP
Video
Radeon + Nvidia GeForce RTX 3080Ti Laptop 16GB (up to 165W TGP with Dynamic Boost)
with MUX and Adaptive Sync (no GSync on internal display)
Memory
32 GB DDR5-4800 RAM – up to 64 GB (2x DIMMs)
Storage
1 TB SSD (Micron 3400 drive) – 2x M.2 PCI 4.0 x4 slots
Connectivity
WiFi 6E (Mediatek 7922) 2×2 with Bluetooth 5.2, 2.5Gigabit LAN (Realtek RTL8125)
Ports
2x USB-A 3.2 gen1, 1x USB-C with DP (dGPU) and power delivery – left side, 1x USB-C gen2 with DP (iGPU) – right side, HDMI 2.1, LAN, micro SD card reader, audio jack
Battery
90Wh, 280 W power adapter, USB-C charging up to 100W
Size
355 mm or 13.98" (w) x 266 mm or 10.47 (d) x 20.5 mm or .81" (h)
Weight
2.5 kg (5.5 lbs) for the 3080Ti model,
.95 kg (2.1 lbs) for the 280W charger, EU version,
.40 kg (.88 lbs) for the 100W USB-C charger, EU version
Extras
rubber-dome per-key RGB backlit keyboard with NumPad, HD IR webcam, 6x speakers
The laptop is also available with a QHD miniLED option for the main screen, as well as in RTX 3060, RTX 3070Ti and RTX 3080 dGPU configurations.
Here's a list of the exact Duo 16 configurations that will be available in stores this year (some might be exclusive to select markets):
ROG Zephyrus Duo 16 GX650RX – Ryzen 9 6900HX, RTX 3080Ti (165W ), 4K dual-spec screen, 280W charger;
ROG Zephyrus Duo 16 GX650RS – Ryzen 9 6900HX, RTX 3080 (165W), 4K dual-spec screen, 280W charger;
ROG Zephyrus Duo 16 GX650RW – Ryzen 9 6900HX, RTX 3070Ti (150W), QHD+ screen, 280W charger;
ROG Zephyrus Duo 16 GX650RM – Ryzen 9 6900HX, RTX 3060 (140W), QHD+ screen, 240W charger.
Design and construction
For the most part, the 2022 ROG Zephyrus DUO 16 is the same idea as before: a mid-sized laptop with two displays: a 16-inch 16:10 main screen and a secondary half-size screen positioned on the upper part of the chassis, called a ScreenPad Plus. This pushes the keyboard and the clickpad down to the front of the laptop.
The two displays offered are the main selling point of the series, alongside the powerful internal specs. The overall ergonomics are impacted by this format, though.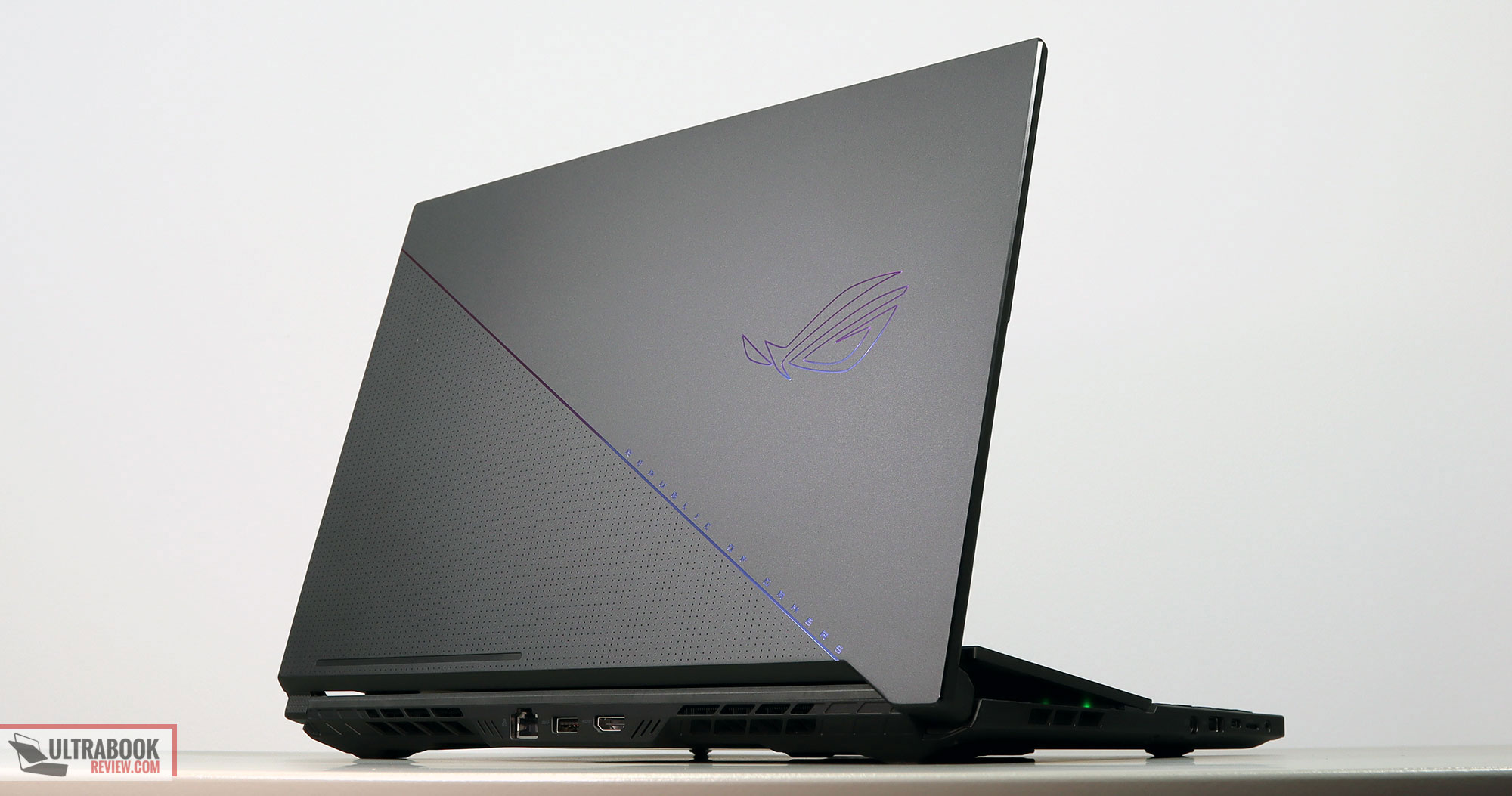 Having the keyboard positioned at the front of the laptop means that you'll pretty much have to use this on a spacious desk, and less so on the go, or on the lap. It also makes the clickpad narrow and different than what other laptops offer. Furthermore, with the dual-displays, this computer is heavier than other options with similar specs, and the battery life is impacted, so overall I consider the Zephyrus DUO primarily a desktop replacement series and not a performance ultraportable, like the other members of the Asus ROG Zephyrus family (such a the 16-inch Zephyrus M16 reviewed here).
A novelty for this 2022 generation is the way the secondary screen moves when you open up this laptop.
Previously, it just tilted up at a limited angle, but now it swivels to the back and tilts towards you at the same time, which results in this secondary screen ending up more steeply inclined towards the user and allowing for a better viewing angle. Alongside the implementation of a 16:10 main display with this generation, this mechanism also minimizes the gap between the two screens, with only a few mm of bezel space in between them now in the standard use position. Previously, this space between the screens was thicker and more inesthetic.
At the same time, there's extra space now between the secondary screen and the laptop's chassis, so you'll need to be extra careful not to get any debris, cables, or objects caught in between the two parts. The mechanical sliding/tilting mechanism is also more complex now than in the past, so a possible reliability concern long-term. Asus claims the system is tested and vetted for many thousands of actions, but this sort of design requires you to be much more careful in daily use than with a standard clamshell laptop.
A novelty for the 2022 Zephyrus are the updated speakers, now a total of 6 on this notebook, with two up-firing tweeters and an extra set of dual-force canceling speakers – this is the same kind of audio solution that's also implemented on the Zephyrus G15/M16 series, and one of the better audio systems available in a Windows laptop right now.
Aside from these aspects, the 2022 Zephyrus Duo is mostly similar to the 2021 model. This is still a premium all-metal computer with still a black theme and limited branding elements, plus a somewhat cleaner lid now.
There are no obnoxious RGB elements here, except for a subtle glass panel under the ScreenPad, which is lit up by the keyboard's LEDs and allows to peak at the internals in a cool way. I resent the unnecessary always-on red light in the power-button key, though, which cannot be disabled. This bothers me when using the laptop at night.
You'll also want to peel off those stickers on the ScreenPad to get the pristine looks intended with this series, and keep a cleaning cloth around, as the black materials can smudge easily. Not having an arm-rest, though, there's almost nothing to smudge on the interior, aside from the narrower keyboard deck and the keycaps.

Practicality is good here as well, with grippy rubber feet providing excellent stability on the desk, and the hinge mechanism properly keeping the two displays in place as set-up, while at the same time allowing to open the main screen with a single hand without lifting up the base.
That's helped by the fact that the Duo 16 is a fairly heavy build, at 2.5 kilos / 5.5 lbs. In comparison, the Zephyrus M16 is 1 lb lighter.
However, clamshell computers such as the Lenovo Legion 7 or the MSI GE66 Raider are just as heavy, if not heavier, while implementing similar specs. They seem more compact with daily use, though, due to how their screens are positioned on the main chassis closer to the users, despite the fact that the Legions and the Zephyrus Duo 16 are otherwise almost the exact same footprint.
The images down below illustrate the Duo 16 right next to the 16-inch Legion 5 Pro.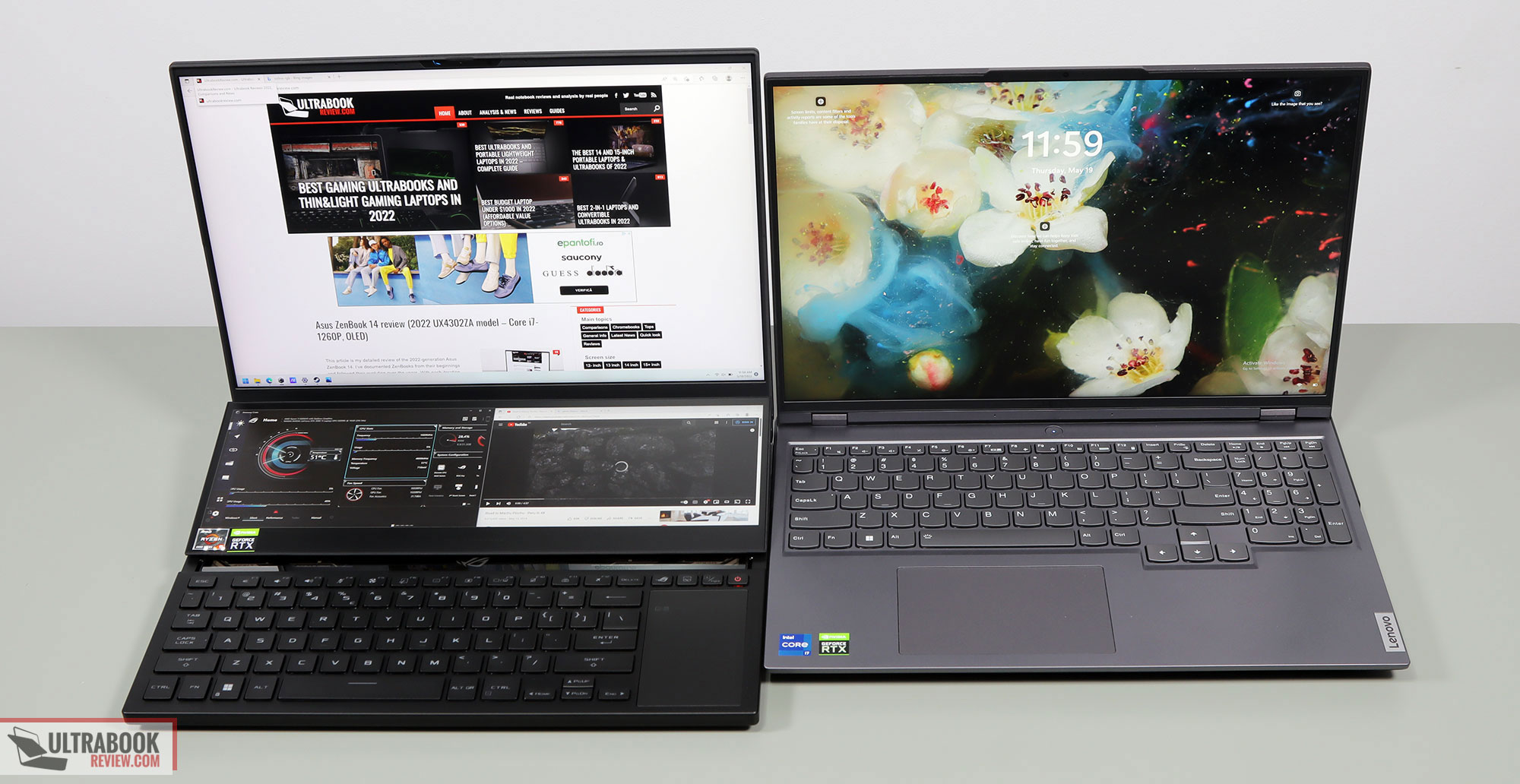 The thermal design is also a unique selling point for the Duo, and it's called AAS Plus 2.0. Most of the fresh air goes into the two fans through the gap underneath the ScreenPad, and only some through the underbelly of the laptop, and that allows for good thermals with the laptop sitting on a desk. Traditional designs that draw air from the bottom struggle with this sometimes, as the rubber feet tend to choke up the fans in most cases, but that's not an issue here.
As far as the IO goes, Asus spread it around the sides and the back. Many ports is still placed on the front side of the left edge, cluttering that area when connecting peripherals to the USB-C and A ports, and the power plug is also still placed here, which is even more annoying. I wish Asus would have been able to send this to the back, next to the HDMI and LAN ports.
As far as the USB-C ports go, the one on the left edge supports charging and DP (dGPU connection), while the one on the right is data and video only, with an iGPU connection. I appreciate having the choice between iGPU/dGPU video outputs.
There's no Thunderbolt support here, or USB 4.0 at this point. USB 4 might be add3d later through an update, but as of right now, I don't have any details about it. I'll also mention that a full-size card reader would have made a lot of sense in this design, but instead, there's only a micro SD card reader offered.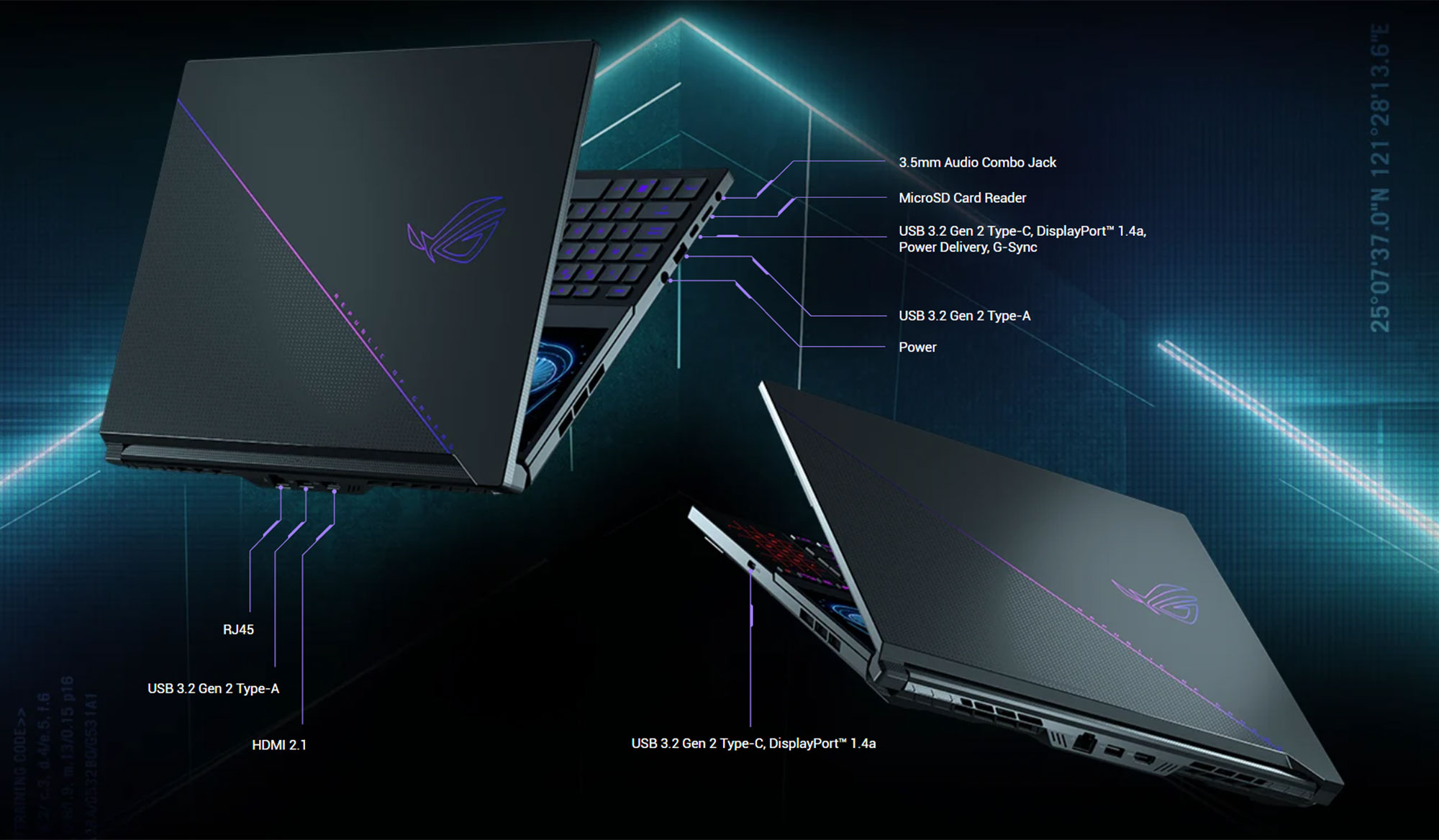 All in all, the 2022 ROG Zephyrus DUO improves on the previous models in a few ways, but it's still the same overall format that I find alright while having the laptop on a desk, but limited otherwise. Plus, this format with the front-shifted keyboard makes the Duo 16 feel like a smaller-screen computer in everyday use, as I'll further explain in the next section of this review.
Keyboard and trackpad
The keyboard on this 2022 ROG Zephyrus DUO is almost the same layout that Asus offers with the 2022 ROG Strix G15 and Scar 15 models.
It's a rubber dome implementation with good feedback, quiet actuations, nice feeling keycaps, and per-key RGB control. There's little to complain about this keyboard as a whole.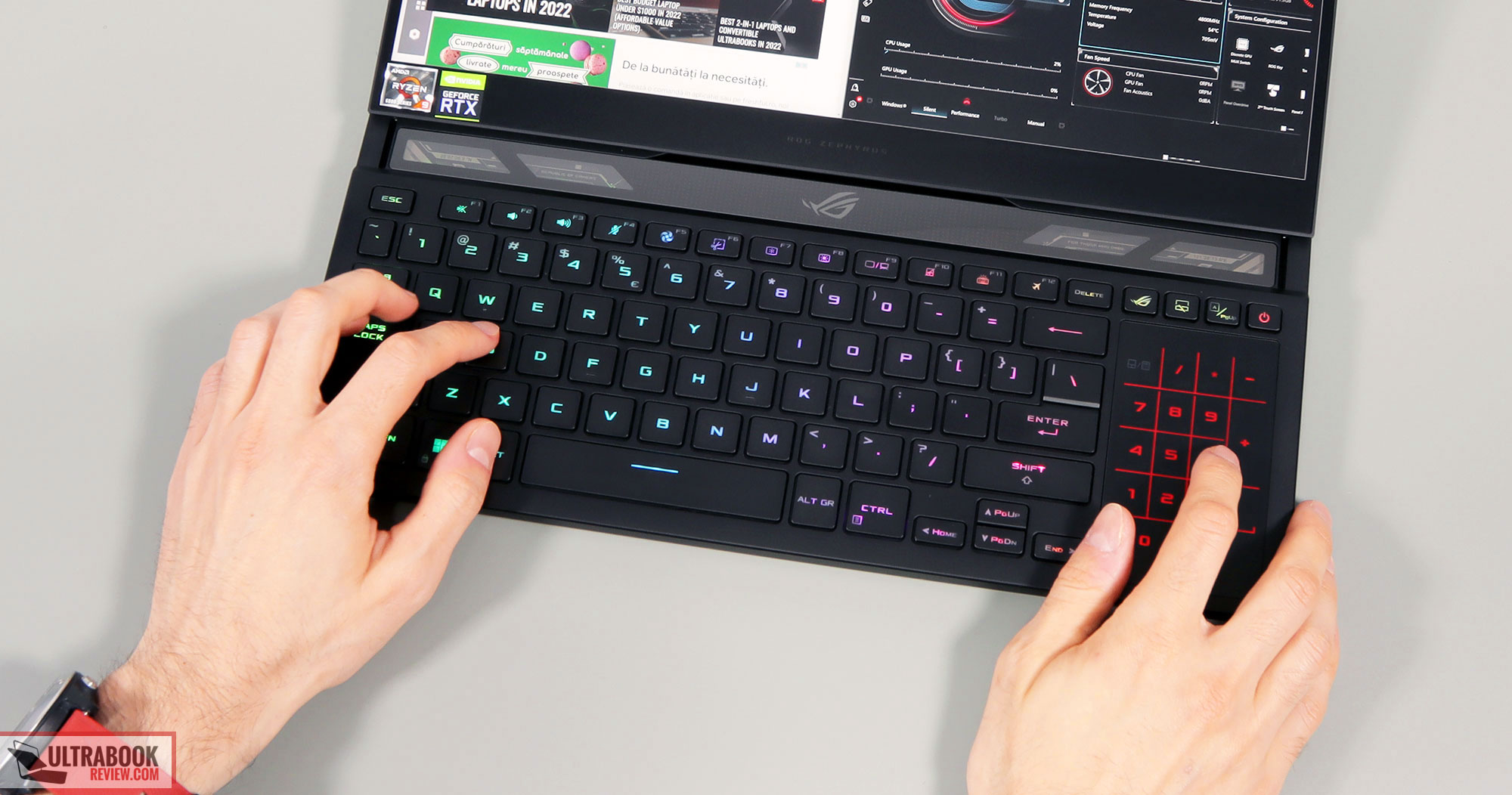 What makes this unique is the positioning on the front of the laptop, which makes typing on this keyboard similar to typing on a PC keyboard.
Asus even includes a rubber arm-rest, which I found useful, even if it doesn't attach magnetically to the laptop and dirts up easily. This thing is made out of black rubber, but it whittens up with use and ends up looking rather gross. It's also difficult to clean – I washed it under running water to bring it back to its black color.
Asus offer much nicer armrests with their PC keyboards (one of them is illustraed down below), and they could have included something better with this premium laptop as well.
Anyway, I actually enjoyed typing on this keyboard design more than on the Scar/Strix laptops, but you have to place the laptop on an ample desk that ensures proper arm support. In cramped spaces, this is hardly comfortable to use.
Plus, because the keyboard is shifted to the front, this means that you'll have to push the laptop further away from you to get your hands in the right place over the keys, so the screen is going to end up about 12-15 cm further back from your eyes than with a regular design, such as let's say the Zephyrus M16. Thus, using this Duo feels a lot like using a smaller sub-15-inch screen laptop as a result, and I think this aspect is very important for your to acknowledge and accept here.
This picture down below better explains what I mean, with the 16-inch Legion 5 Pro next to the 2022 Zephyrus Duo 16.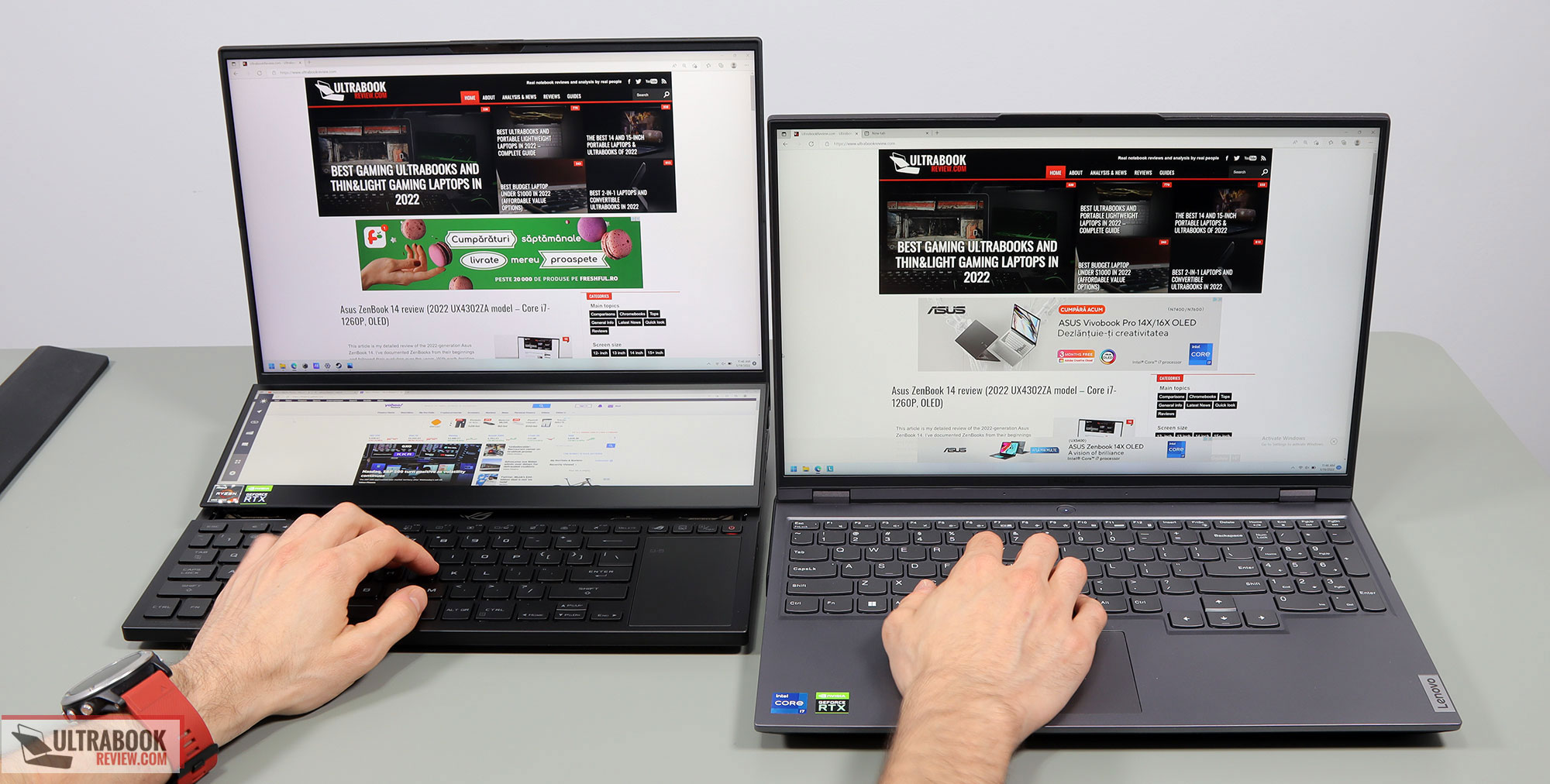 As for the clickpad, well that's narrow and placed on the right side of the keys. Compared to the previous generation, the surface is larger now as Asus ditched the physical click buttons for a glass clickable implementation that occupies the entire available space.
It takes some time to get used to this clickpad being placed where it is, but it kind of grows on you once you do, as it's pretty much where you'd normally have your mouse on. The narrow portrait orientation just lacks the space required for the gestures and the overall practicality that's possible with the large clickpads implemented on standard designs these days. At least the surface is solid, responsive accurate, and doesn't rattle badly with taps.
You'll still most likely end up hooking a mouse to this laptop, though.
Finally, there's no finger-sensor implemented here, but you get an IR camera at the top of the screen, next to the webcam and microphones.
Screen
Asus offers two main display options for the 2022 ROG Zephyrus Duo 16 series, all 16-inch, 16:10, matte and non-touch:
mini LED QHD+ 165Hz 3ms with, with 1100+ nits of brightness, HDR1000, and 100% DCI-P3 colors.
IPS dual-specs UHD+ 120Hz 3ms or FHD+ 240Hz 3ms, with 500+ nits of brightness, and 100% DCI-P3 colors.
Alongside, these are paired with the secondary 14.1-inch ScreenPad Plus, which is a half-UHD format with an anti-glare finishing and touch/pen support.
This review unit is the UHD+ main display, which is excellent for everyday use, gaming and creative workloads. It doesn't get nearly as bright as the mini-LED panel, though, and lacks its zone-dimming capabilities. The contrast isn't amazing, either.
Here's what we got in our tests, with an X-Rite i1 Display Pro sensor:
Panel HardwareID: BOE BOE0A19 (NE160QAM-NX1);
Coverage: 99.8% sRGB, 87.1% AdobeRGB, 98.4% DCI-P3;
Type: 8-bit;
Measured gamma: 2.19;
Max brightness in the middle of the screen: 520.74 cd/m2 on power;
Min brightness in the middle of the screen: 25.26 cd/m2 on power;
Contrast at max brightness: 1010:1;
White point: 6800 K;
Black on max brightness: 0.51 cd/m2;
PWM: No.
The panel comes pre-calibrated out of the box, with a Pantone validation, but the White Point could be further calibrated. Color uniformity is patchy in the lower left part of this sample, though, and I also noticed some light bleeding along the bottom edge and the same lower-left side. These aspects vary between units, and you'll want to make sure to properly check for any issues on yours, especially if you plan to use this for color-accurate work.
The main particularity of this display is the ability to select between two working modes, which is an option in Armory Crate (it's somewhat hidden, as it's on the second screen in the System Configuration tab, the one that allows control over the MUX, Hybrid modes, ROG key, touchpad etc.)
By default, the panel is set as UHD+ 3840 x 2400 px resolution and up to 120 Hx refresh rate. However, you can opt for the secondary mode that switches to an FHD+ 1920 x 1200 px resolution with now 240Hz refresh rate.
A technology called Pixel Acceleration makes this possible, which groups every 4 adjacent pixels together and speeds up the refresh.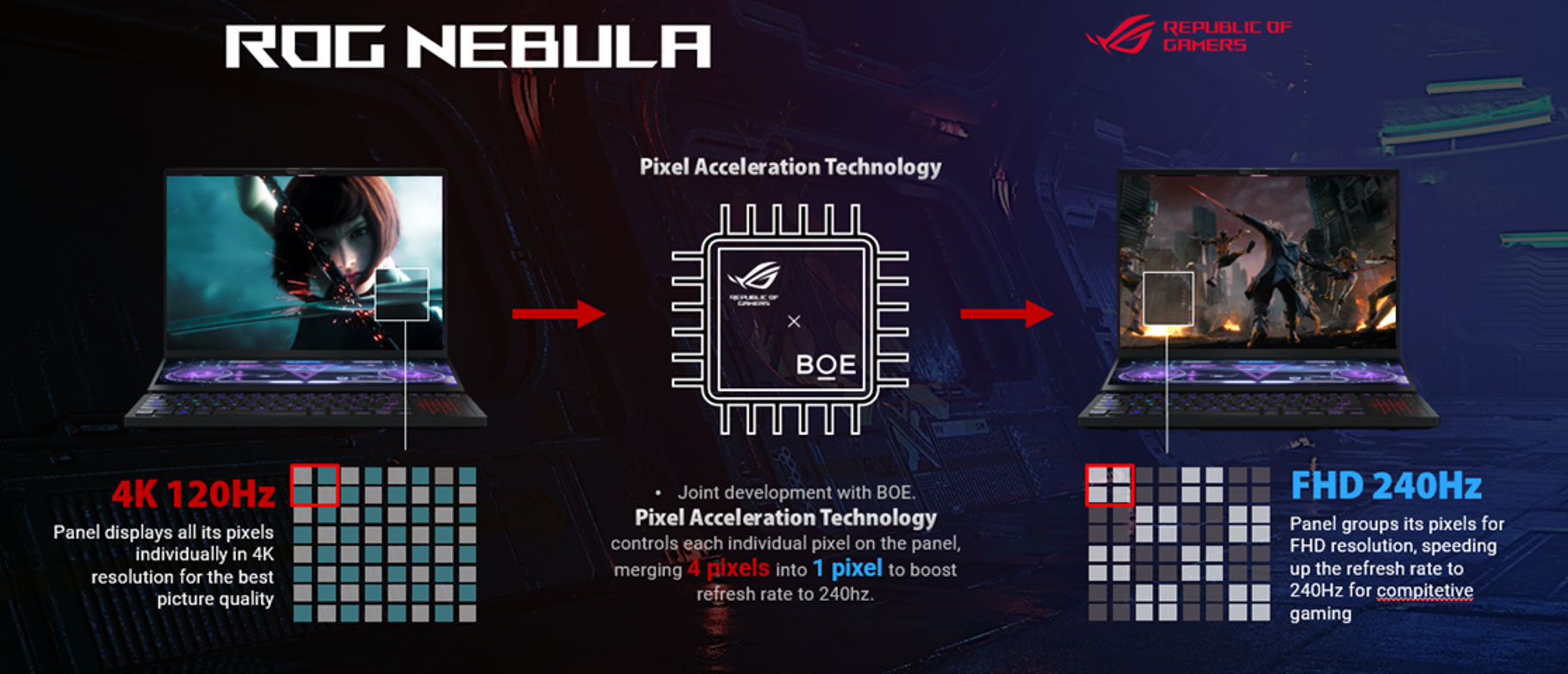 At this point, this is a proprietary technology developed by BOE and Asus, and is only available on this laptop. The main benefit is the fact that the image quality remains sharp at FHD+ resolution, without the slight fuzziness that you would normally get if you would set up a UHD+ panel at a lower non-default resolution. The secondary benefit is the higher refresh, which will come in handy if you're playing high framerates titles on this computer. The powerful GPU with a MUX helps that as well.
As for the mini LED display option, I'm going to update you about it in the near future, once I get the experience it. I've already asked Asus for a Zephyrus Duo sample with that display, and it should be here in the next weeks. That same mini-LED panel is also going to be offered with the ROG Flow X16 convertible gaming laptop.
I must also mention the secondary ScreenPad, which hasn't changed from the previous 2021 Zephyrus Duo. It's still a half 16:9 panel with half 4K resolution, and an IPS panel with 400-nits of brightness and 100% sRGB color coverage.
Panel HardwareID: BOE BOE0A68 (NV140XTM-N52);
Coverage: 96.3% sRGB, 69.8% AdobeRGB, 72.2% DCI P3;
Measured gamma: 2.13;
Max brightness in the middle of the screen: 366.62 cd/m2 on power;
Contrast at max brightness: 1015:1;
White point: 6600 K;
Black on max brightness: 0.36 cd/m2;
PWM: No.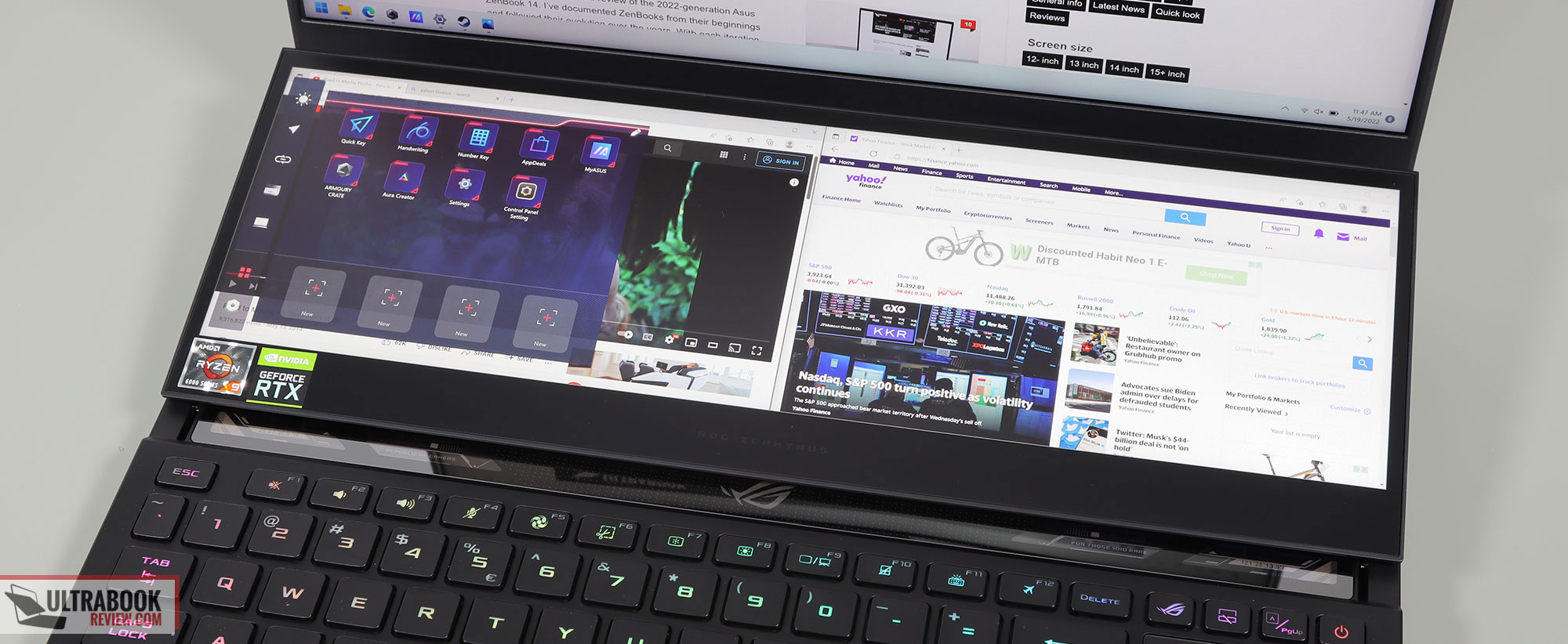 This supports touch and pen input, and gets this anti-glare finishing that prevents reflections and ensures an alright viewing angle thanks to the inclination given by the complex hinge mechanism. The visibility is mostly fine, but not as good as on the 2022 ZenBook Pro Duo review recently since this panel is not as bright, so I still hand to somewhat pull myself over the laptop to make proper sense of the content displayed on this secondary screen.
Asus also offers software meant to emphasize the utility of the ScreenPad, including the ability to create custom toggles and dials for Photoshop or Premiere. Some of you might find them useful, but for the most part, I think this ScreenPad will be used to offload tools and secondary activities from your main screen, so it should help for work on the go when actually connecting a larger external display would not be an option.
Hardware and performance
Our test model is a higher-specced configuration of the ASUS ROG Zephyrus Duo 16, code name GX650RX, built on an AMD Ryzen 9 6900HX processor, 32 GB of DDR5-4800 memory in dual channel, 1 TB of middling SSD storage, and dual graphics: the Nvidia RTX 3080Ti dGPU with 16 GB of vRAM and the Radeon 680M iGPU integrated within the AMD processor.
Disclaimer: Before we proceed, keep in mind that our review unit was sent over by Asus and runs on the software available as of mid-May 2022 (BIOS 307, Armoury Crate 5.1.9, GeForce 511.69 drivers). Some aspects might change with later updates.
Spec-wise, the 2022 ASUS ROG Zephyrus DUO 16 series is built on the latest AMD and Nvidia hardware available to date. The Ryzen 9 6900HX is an AMD Rembrandt 6000 processor, with 8 Cores and 16 Threads. It's a revision of the Ryzen 9 5900Hx from last year, built on the updated Zen3+ 6 nm technology, with improvements in design, IPC, and efficiency.
The design of this Zephyrus allows the processor to run at up to 90W of sustained power in demanding CPU loads, ensuring pretty much the maximum multi-threaded performance that this AMD platform is capable of. We'll get to that in a bit.
Initially, the Duo 16 was advertised as powered by an exclusive Ryzen 9 6980HX processor. However, AMD had problems supplying that CPU in sufficient quantities, and Asus rolled back on using the Ryzen 9 6900HX instead in most markets. You shouldn't worry about it, as the difference between them is merely the ability for 5.0 GHz Single-Core Boost clocks on the 6980HX, while the regular 6900HX only goes to 4.9 GHz. You might still find Ryzen 9 6980HX configurations in some regions.
For the GPU, this series is available with RTX 3000 and RTX 3000 Ti graphics chips. What we have on this sample is the top-tier RTX 3080Ti running at up to 165W in supported games and applications on the Manual mode, with Dynamic Boost.
For the RAM and storage options, the laptop offers two accessible memory DIMMs and two M.2 SSD slots. Our unit shipped with 32 GB of DDR5-4800 RAM in dual-channel and a single mid-level PCIe gen4 Micron 3400 SSD. This is gen4, but only a mid-level performer and not one of the faster gen4 options available out there.
Accessing the components requires removing the back panel, which is held in place by a couple of Torx screws. Careful, these screws are of different sizes.
Inside you'll find all the hardware, the big battery, and the thermal module. Everything is packed tightly on this compact 16-inch chassis, without any space left unused.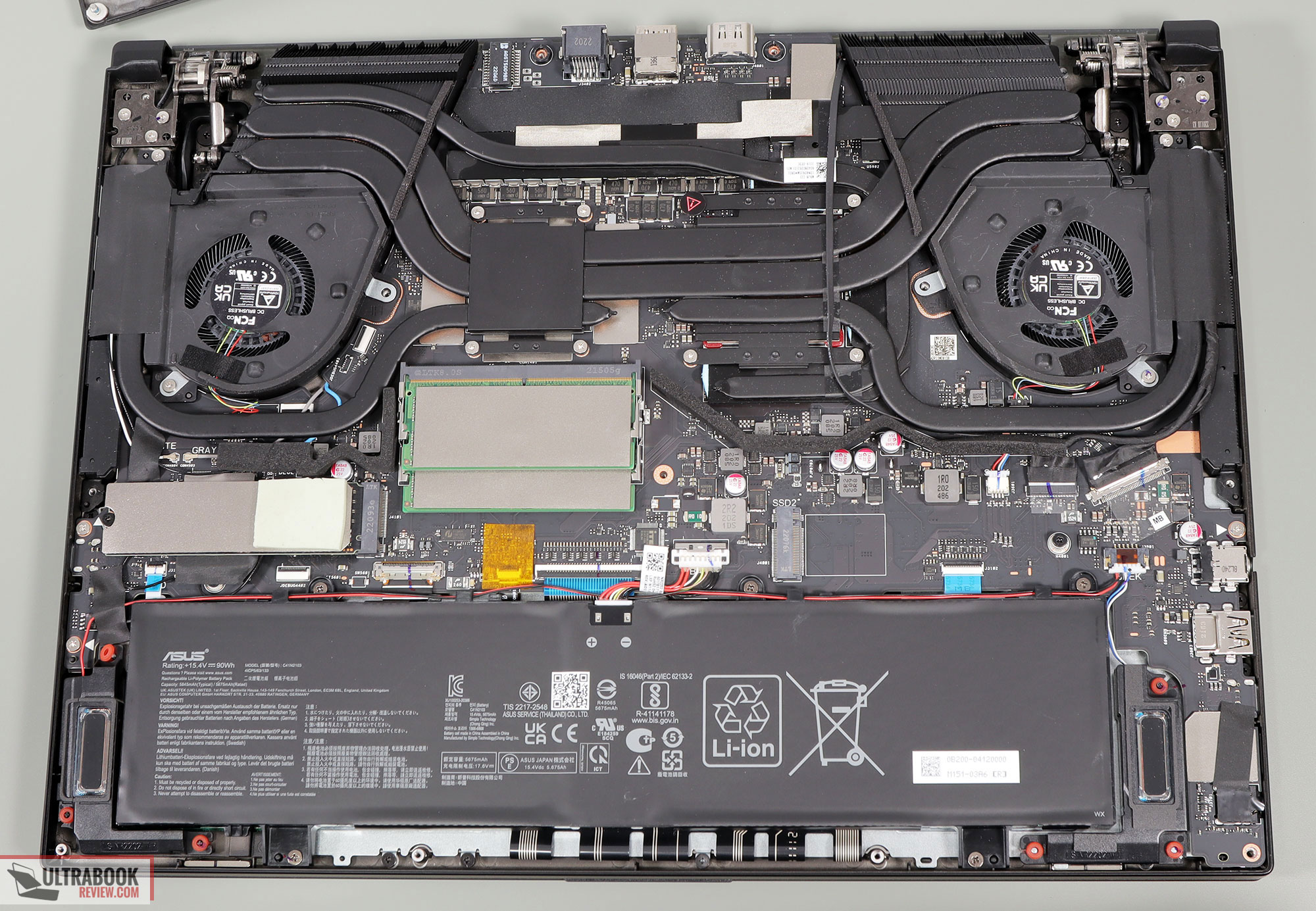 Specs aside, Asus offer the standard four power profiles in the Armoury Crate control app for this laptop: Silent, Performance, Turbo, and Manual, with various power settings and fan profiles between them:
Silent – quite fan-noise at under 35 dB, limited CPU/GPU speeds and power;
Performance – balanced profile with stock CPU/GPU settings and 40 dB max fan noise;
Turbo – High-Performance profile with increased CPU power allocation, faster-spinning fans at up to 50 dB, and overclocked GPU (+50 MHz Core/+100 MHz Memory, up to 150W TGP).
Manual – like Turbo, but with the ability to custom tweak the CPU's PL1/PL2 power levels and GPU's power/clocks, plus create custom fan profiles based on temperature limits. The fans ramp up to 56 dB in this mode, the RTX 3080Ti GPU can scale up to 165W of power, and the GPU overclock is set at +100 MHz Core/+150 MHz Memory.
| | | | | |
| --- | --- | --- | --- | --- |
| Operating Mode | Silent | Performance | Turbo | Manual |
| CPU max TDP | 45W | 70W | 90W | 90W |
| GPU max TGP | 60-80W (Whisper M) | 115W + 15W DBoost | 140W + 10W DBoost | 140W + 25W DBoost |
| TDP + TGP (Crossload) | ~100W | 150W | 175W | 190W |
| Noise levels | 0-35dbA | max 42dbA | max 50dbA | max 56dbA |
Turbo is only available with the laptop plugged into the wall and is meant for gaming and other demanding loads. Performance is a jack-of-all-trades, while Silent is made for light daily use. The system is able to idle the fans on the Silent profile as long as the CPU/GPU stay under 60 degrees C, leading to a mostly noiseless daily-use experience.
Here's what to expect in terms of performance and temperatures with everyday multitasking, browsing, and video.
Performance and benchmarks
On to more demanding loads, we start by testing the CPU's performance by running the Cinebench R15 test for 15+ times in a loop, with a 1-2 seconds delay between each run.
The Ryzen 9 processor stabilizes at ~88W of sustained power on the Turbo setting, which translates in frequencies of 4.5 GHz, temperatures of ~93 C, and scores of ~2350 points. The fans spin at ~50 dB at head-level in this mode. The CPU runs at its maximum performance capabilities in this mode.
As a result, switching over to the Manual mode is not going to be able to squeeze more out of this platform, even if the faster spinning fans would translate into lower temperatures.
Switching over to the Performance profile translates in the CPU stabilizing at ~70W and temperatures still in the mid-90s, but with the fans spinning much quieter at sub-35 dB at head-level. The CPU is power limited in this mode, but still returns scores of ~2250 points, just 5-7% lower than on Turbo.
The Silent profile limits the sustained power at ~45W, with the fans still running at around 35 dB, and temperatures in the mid-70s C. The Ryzen 9 still scores ~2050 points on this profile, roughly 80-85% of the Turbo performance, which is excellent for a Silent profile and showcases the AMD platform's efficiency and capabilities at lower power settings.
Finally, the CPU runs at ~35 W on battery, on the Performance profile, with stabilized scores of around 1900+ points and fans at sub-35 dB. Details below.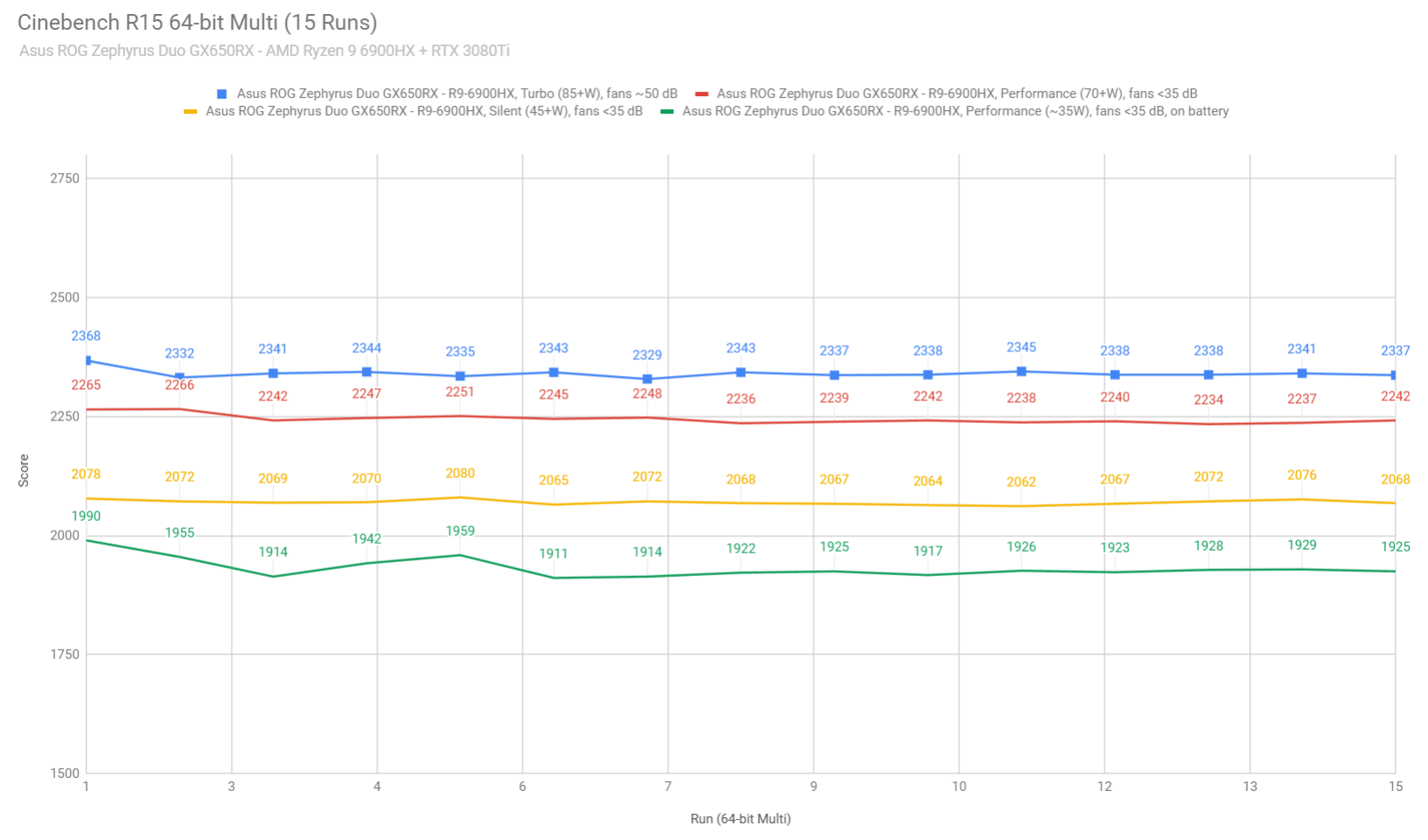 To put these in perspective, here's how this Ryzen 9 6900HX implementation fares against other implementations in this test, both Intel and AMD, as well as how it compares to the previous generations of the Zephyrus Duo.
The 2022 Intel i9-12900H hardware is about 20% faster in this benchmark, but the 2022 Ryzen 9 6900HX outscores the Intel and AMD 2021 platforms at similar power.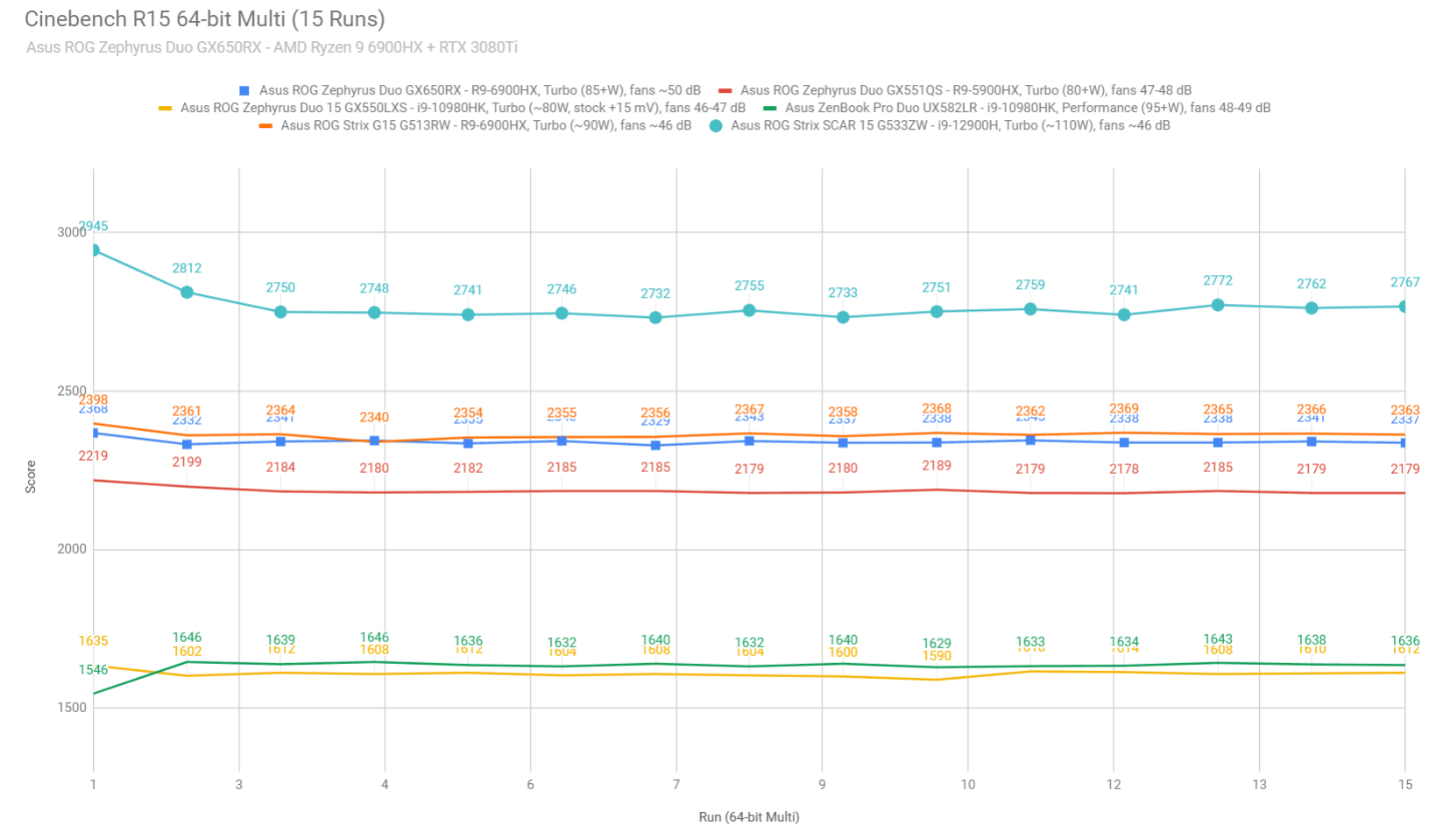 We then went ahead and further verified our findings with the more taxing Cinebench R23 loop test and Blender – Classroom, which resulted in similar findings to what we explained above.
We also ran the 3DMark CPU test on the Turbo profile.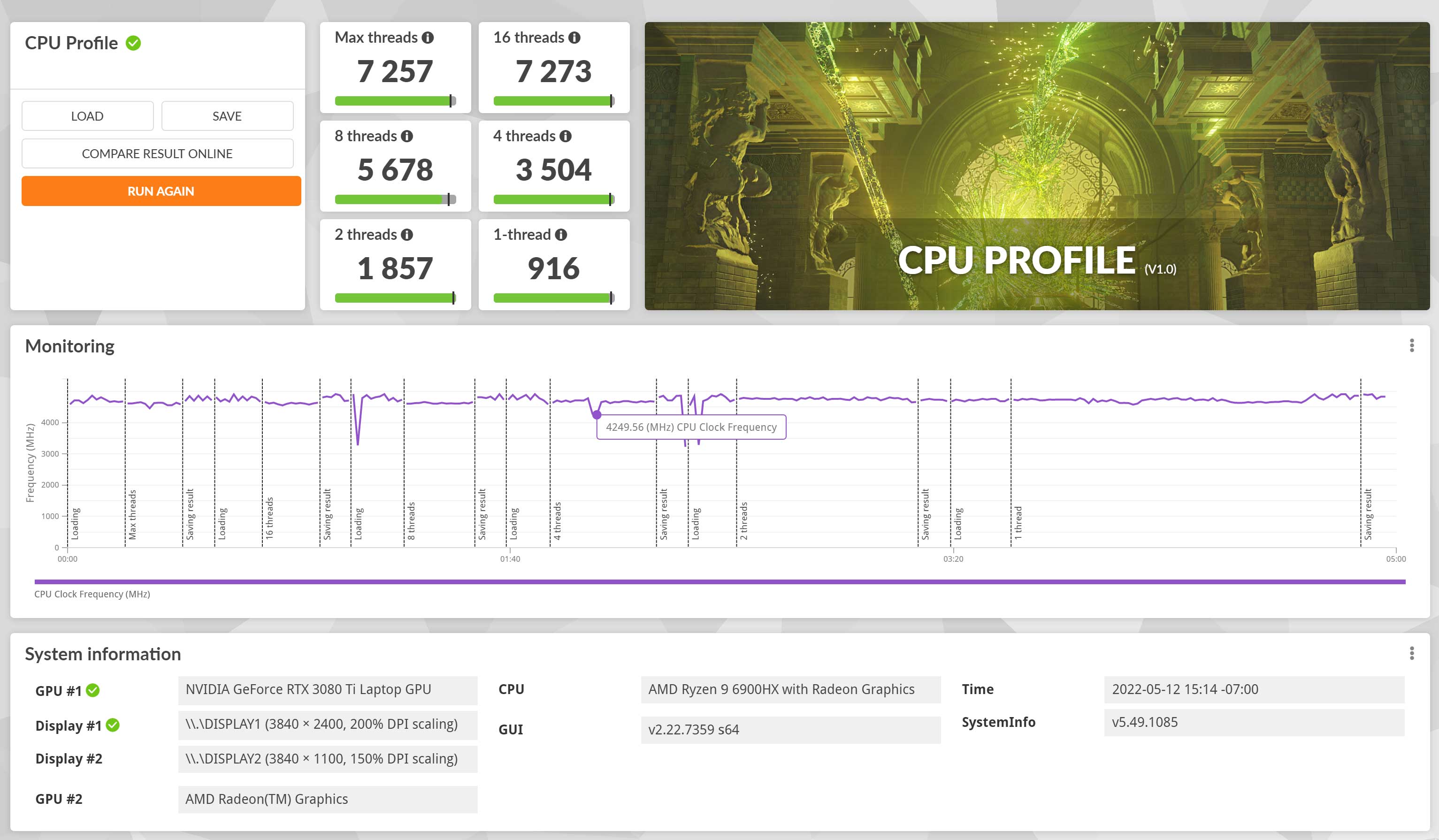 Finally, we ran our combined CPU+GPU stress tests on this notebook. 3DMark stress runs the same test for 20 times in a loop and looks for performance variation and degradation over time, and this unit passed it just fine, which means there's no performance throttling with longer-duration sustained loads.
Next, we ran the entire suite of tests and benchmarks, on the stock Turbo profile in Armoury Crate, the MUX set on Hybrid mode, and on FHD screen resolution for consistency with our other tests.
3DMark 13 – Fire Strike: 28119 (Graphics – 33195, Physics – 26828, Combined – 13554);
3DMark 13 – Port Royal: 8076;
3DMark 13 – Time Spy: 12300 (Graphics – 12643, CPU – 10666);
Uniengine Superposition – 1080p Extreme: 7853;
Uniengine Superposition – 1080p Medium: 22880;
Handbrake 1.3.3 (4K to 1080p encode): 54.84 average fps;
PassMark 10: Rating: 6392 (CPU: 26314, 3D Graphics: 18872, Memory: 2929, Disk Mark: 36251);
PCMark 10: 7233 (Essentials – 10074, Productivity – 9737, Digital Content Creation – 10428);
GeekBench 5.4.3 64-bit: Single-Core: 1531, Multi-core: 9482;
CineBench R15 (best run): CPU 2418 cb, CPU Single Core 248 cb;
CineBench R20 (best run): CPU 5704 cb, CPU Single Core 602 cb;
CineBench R23: CPU 14672 cb (best single run), CPU 14505 cb (10 min run), CPU Single Core 1541 cb;
x265 HD Benchmark 64-bit: 25.03 s.
And here are some workstation benchmarks, on the same Turbo profile:
Blender 3.01 – BMW scene – CPU Compute: 2m 43s (Turbo);
Blender 3.01 – BMW scene – GPU Compute: 18s (CUDA), 9.7s (Optix);
Blender 3.01 – Classroom scene – CPU Compute: 6m 33s (Turbo);
Blender 3.01 – Classroom scene – GPU Compute: 33s (CUDA), 20.7s (Optix);
Pugetbench – DaVinvi Resolve: 1153;
Pugetbench – Adobe Afert Effects: 872;
Pugetbench – Adobe Photoshop: 991;
Pugetbench – Adobe Premiere: 782;
SPECviewperf 2020 – 3DSMax: 139.98 (Turbo);
SPECviewperf 2020 – Catia: 70.63 (Turbo);
SPECviewperf 2020 – Creo: 88.82 (Turbo);
SPECviewperf 2020 – Energy: 27.91 (Turbo);
SPECviewperf 2020 – Maya: 362.08 (Turbo);
SPECviewperf 2020 – Medical: 35.62 (Turbo);
SPECviewperf 2020 – SNX: 21.76 (Turbo);
SPECviewperf 2020 – SW: 263.73 (Turbo).
V-Ray Benchmark: CPU – 10611 vsamples, GPU CUDA – 1328 vpaths, GPU RTX – 1827;
These are competitive scores for a top-tier laptop.
In comparison, the Ryzen 9 6900HX + RTX 3070Ti 150W configuration of the Strix G15 scores on par in CPU capabilities with this Zephyrus, about 10% lower in GPU rendering loads, and 15% lower in RTX tests.
At the same time, last year's Ryzen 5900HX + RTX 3080 130W configuration of the Zephyrus Duo 15 GX551 scores 10-15% lower in the CPU tests, and 10% lower in the GPU tests.
With the 2022 generation, Intel-based laptops are superior in single and multi-core performance, and there are also some higher-power dGPU implementations available.
However, keep in mind that we ran the tests above on the Turbo mode which only allows the GPU to scale up to 150W with Dynamic Boost. Opting for the Manual mode will increase the GPU scores by 3-7%, thanks to the higher OC settings and the ability to boost the GPU to 165W. At the same time, the Manual mode is also significantly louder, with the fans ramping up to 56 dB at head-level, so not really something worth using on this laptop.
Instead, the mid-level Performance mode is especially interesting on this laptop, as it tames down the fans to 35 to 43 dBA between loads, allowing for an enjoyable experience. Here are some benchmark scores on the Performance mode, with the MUX set on Hybrid and at FHD screen resolution.
3DMark 13 – Fire Strike: 26628 (Graphics – 30414, Physics – 27277, Combined – 13523);
3DMark 13 – Time Spy: 11398 (Graphics – 11573, CPU – 10499);
Uniengine Superposition – 1080p Extreme: 7266;
GeekBench 5.4.3 64-bit: Single-Core: 1439, Multi-core: 9476;
CineBench R20 (best run): CPU 5515 cb, CPU Single Core 590 cb;
x265 HD Benchmark 64-bit: 25.64 s.
Blender 3.01 – BMW scene – CPU Compute: 7m 08s (Balanced);
Both the CPU and the GPU perform excellently here, with only a 7-10% hit in scores in longer multi-threaded CPU loads and combined loads. Plus, because the GPU runs at only 115-125W in this mode, the internal temperatures are still kept within reasonable limits. We'll further go over temperatures in the next subsection.
Gaming performance
Let's see how this 2022 ROG Zephyrus Duo 16 notebook handles modern games.
We tested several games at 4K+, QHD+, and FHD+ resolution on Ultra settings, on the stock Turbo and Performance profiles, as well as on the Manual mode. The MUX is set on Discrete mode for all these tests.
AMD Ryzen 9 6900HX
+ RTX 3080Ti Laptop 140-165W
4K+ Turbo
QHD+ Turbo
QHD+ Manual
QHD+ Performance
FHD+ Turbo
Battlefield V
(DX 12, Ultra Preset, RTX OFF)
81 fps (51 fps – 1% low)
141 fps (73 fps – 1% low)
144 fps (72 fps – 1% low)
125 fps (46 fps – 1% low)
163 fps (75 fps – 1% low)
Cyberpunk 2077
(DX 12, Ultra Preset, RTX OFF)
24 fps (18 fps – 1% low)
46 fps (35 fps – 1% low)
52 fps (39 fps – 1% low)
43 fps (34 fps – 1% low)
71 fps (55 fps – 1% low)
Doom Eternal
(Vulkan, Ultra Preset)
111 fps (81 fps – 1% low)
193 fps (106 fps – 1% low)
208 fps (114 fps – 1% low)
172 fps (98 fps – 1% low)
262 fps (144 fps – 1% low)
Far Cry 6
(DX 12, Ultra Preset, TAA)
49 fps (41 fps – 1% low)
81 fps (57 fps – 1% low)
83 fps (58 fps – 1% low)
59 fps (42 fps – 1% low)
89 fps (62 fps – 1% low)
Far Cry 5
(DX 11, Ultra Preset, SMAA)
66 fps (57 fps – 1% low)
110 fps (76 fps – 1% low)
112 fps (79 fps – 1% low)
98 fps (68 fps – 1% low)
120 fps (86 fps – 1% low)
Red Dead Redemption 2
(DX 12, Ultra Optimized, TAA)
–
93 fps (64 fps – 1% low)
95 fps (63 fps – 1% low)
86 fps (58 fps – 1% low)
115 fps (74 fps – 1% low)
Shadow of Tomb Raider
(DX 12, Highest Preset, TAA)
57 fps (38 fps – 1% low)
101 fps (70 fps – 1% low)
109 fps (73 fps – 1% low)
94 fps (65 fps – 1% low)
127 fps (79 fps – 1% low)
The Witcher 3: Wild Hunt
(DX 11, Ultra Preset, Hairworks On 4)
68 fps (55 fps – 1% low)
113 fps (89 fps – 1% low)
123 fps (94 fps – 1% low)
105 fps (85 fps – 1% low)
144 fps (92 fps – 1% low)
Battlefield V, Cyberpunk, Doom, Witcher 3 – recorded with Fraps/in-game FPS counter in campaign mode;
Far Cry 5, 6, Metro, Red Dead Redemption 2, Tomb Raider games – recorded with the included Benchmark utilities;
Red Dead Redemption 2 Optimized profile based on these settings.
Those above are rasterization tests, and here are some results for RTX titles with and without DLSS.
AMD Ryzen 9 6900HX
+ RTX 3080Ti Laptop 140-165W
4K+ Turbo
QHD+ Turbo
QHD+ Manual
FHD+ Turbo
Battlefield V (DX 12, Ultra Preset, RTX ON, DLSS OFF)
51 fps (38 fps – 1% low)
88 fps (60 fps – 1% low)
92 fps (63 fps – 1% low)
115 fps (55 fps – 1% low)
Battlefield V (DX 12, Ultra Preset, RTX ON, DLSS ON)
62 fps (48 fps – 1% low)
93 fps (67 fps – 1% low)
97 fps (66 fps – 1% low)
122 fps (62 fps – 1% low)
Cyberpunk 2077 (DX 12, Ultra Preset + RTX, DLSS Balanced)
–
51 fps (42 fps – 1% low)
54 fps (44 fps – 1% low)
73 fps (58 fps – 1% low)
Doom Eternal (DX 12, Ultra Preset, RTX ON, DLSS Quality)
84 fps (58 fps – 1% low)
138 fps (63 fps – 1% low)
158 fps (57 fps – 1% low)
196 fps (74 fps – 1% low)
Far Cry 6 (DX 12, Ultra Preset + DXR reflections / shadows)
42 fps (37 fps – 1% low)
67 fps (47 fps – 1% low)
68 fps (48 fps – 1% low)
74 fps (55 fps – 1% low)
Shadow of Tomb Raider (DX 12, Highest Preset, TAA, RTX Ultra)
35 fps (28 fps – 1% low)
63 fps (46 fps – 1% low)
68 fps (49 fps – 1% low)
87 fps (43 fps – 1% low)
This configuration can easily handle all the modern games at FHD+ and QHD+ resolution and Ultra settings, but 4K+ resolution is tougher in titles such as Cyberpunk or Far Cry 6, with or without RT.
Opting for this RTX 3080Ti configuration running at up to 150W on Turbo allows for roughly 10% better framerates than with a 3070Ti 150W configuration. On top of it, pushing the GPU to 165W on the Manual mode can squeeze up to 5% extra performance, but keep in mind that the GPU will only ramp up to 165W in the GPU-heavy loads, such as when running games at 4K+ resolution. At QHD+ and especially at FHD+, the system allocates more power to the CPU and Dynamic Boost rarely pushes the GPU over 140-150W.
With these out of the way, let's go over some performance and temperature logs, which are going to better explain some of our findings above.
On Turbo, the design allows up to 175W of combined CPU+GPU power in games and demanding loads, on this Turbo profile. The CPU uses about 25-30W of those, and the rest goes to the GPU, up to 150W with Dynamic Boost.
With the laptop sitting on the desk, we're looking at temperatures in the low to high 80s C on the CPU side, and mid-70s on the GPU side, between the tested titles. The fans ramp up to about 50 dB at head-level on this Turbo mode.
However, keep in mind that some titles such as Far Cry 5 or Battlefield V (or other older CPU-heavy ones) might not scale properly with Dynamic Boost, especially at lower resolutions, and that could cause the CPU to heat up in the 90 degrees Celsius, while the GPU would drop to the low-70s.
The cooling design on this laptop draws most of the fresh air through the AAS system under the ScreenPad, so bumping the back of the laptop from the desk in order to improve the airflow on the underside doesn't make a big impact here. Still, it can help shed 2-3 degrees off the components, and it actually helps more if you plan to play games on the quieter Performance mode (we'll get to that in a bit).
First, let's look at the Manual mode which allows for customizing the fan profiles and CPU/GPU settings. I've set the fans at 100% in this case, as well as applied these CPU and GPU settings:
CPU: default settings and max fans – forcing a low SPL here would make sense, in order to force Dynamic Boost.
GPU: default +100MHz Core and +150 MHz Memory overclock, fan set at 100%  for temperatures over 50C.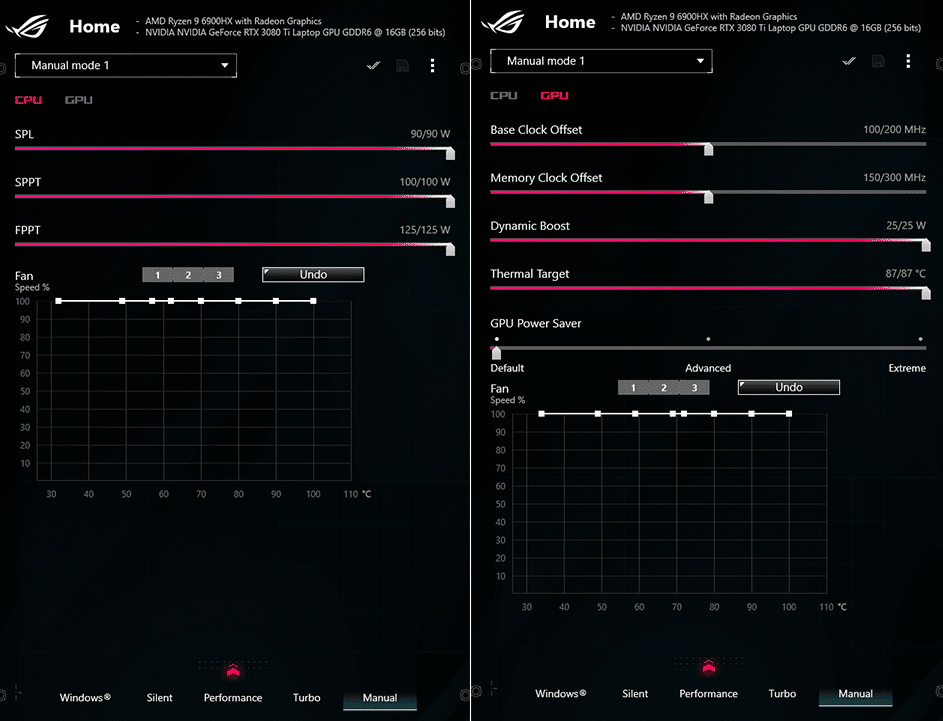 These settings push up the laptop to run noisier, at 56 dB at head-level with both fans ramped to 100% speeds.
As far as the performance goes, this Manual profile makes a difference at high resolutions in those titles that scale well with Dynamic Boost, as it allows the 3080Ti to ramp up to 160-165W of power. In these cases, framerates end up ~5% higher than on Turbo.
At the same time, both the CPU and the GPU temperatures are excellent on this mode, in the 70s C between the tested titles. You'll absolutely need headphones to cover up those loud fans, though.
Bumping the back of the laptop from the table barely has any impact in this case.
However, you don't need to run the Manual mode at max fan rpms. The settings allow to create custom fan curves and set a GPU thermal limit, and the system will adjust the GPU frequencies and power to make sure the chip doesn't go above that. You can, this way, create a profile that doesn't go over let's say 45 dBA and 80 degrees on the GPU, while also controlling the CPU, and see how that impacts your gaming performance. There's a lot of room to play here.
With all these high-performance profiles out of the way, if you're looking for quieter noise levels when running games without mingling with the manual settings, your options are either the Performance mode or the Silent mode.
On Performance, the fans spin much quieter at around 42 dB, and the framerates take a 10-20% hit compared to the Turbo mode. In this case, the GPU rarely goes over 125W of power, and the internal components still end up running in the 70s C in most cases, with some instances where the CPU goes into the 80s C. This Performance mode is perfectly usable on the Duo 16, unlike on some of the other ROG laptops of this generation.
The Silent mode is also an option if you're aiming for a sub-35 dB gaming experience, but this profile aggressively limits the GPU power. Most games are still going to run OK with Whisper Mode activated and a 60 fps limit. You'll want to opt for FHD or QHD resolution in this case, and even trim down the details, as you're not going to get playable framerates at QHD+ Ultra with modern titles.
Lastly, this laptop can also run games on battery on the Performance profile, with a 60 fps limit set in the settings. It performs much as on the Silent plugged-in mode detailed above. Don't expect more than one hour of gameplay at full details, or perhaps longer with a 30 fps cap and lower settings.
Noise, Heat, Connectivity, speakers, and others
Asus implements a complex thermal module on this laptop, with two high-capacity fans and a multitude of heatpipes, plus beefy VRMs to allow for the high power settings, as well as Conductonaut Extreme liquid metal compound applied on the CPU.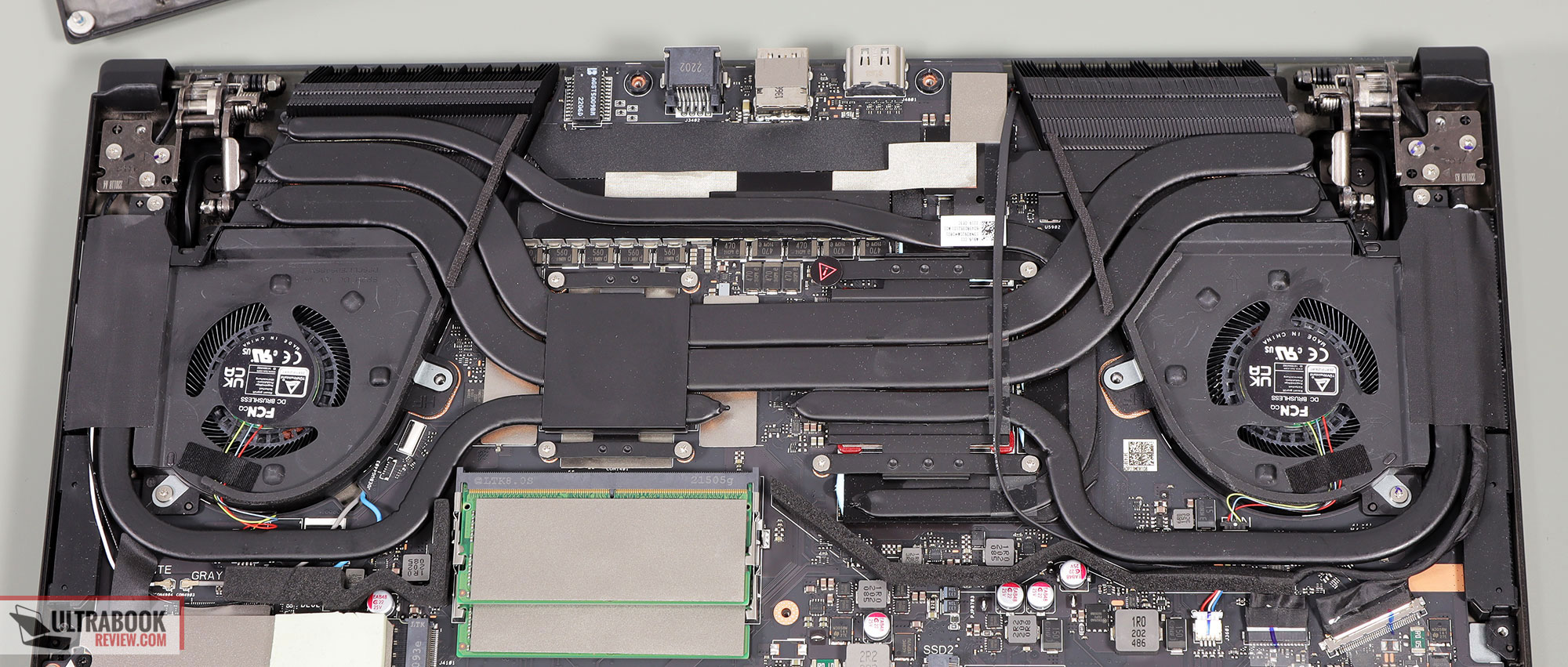 Internal temperatures are good to excellent between the tested models, and the AAS cooling system that draws most of the fresh air from the top, from underneath the ScreenPad, doesn't lead to the fans being choked while having the laptop on a desk, as with regular ROG designs. Overall, the thermal behavior is superior here to the clamshell ROG laptops of this generation.
As an observation, dust seems to gather easily under the ScreenPad, though, and I'm not sure how that will impact the cooling's behavior over time, even if the fans implement anti-dust channels.

The fans run loud, though, at up to 50 dB on Turbo and 56 dB on Manual. The Performance mode is a solid middle-grounder at around 43 dB noise levels and excellent CPU/GPU temperatures, but with a 10-20% toll in performance.
As far as the outer case temperatures go, those are excellent as well on all modes. The keyboard deck and the areas that you'll come in contact with rarely go over 40 degrees celsius, as a result of the shifted design that positions the keys far away from the hot components, which are hidden under the ScreenPad. The back of the laptop doesn't go over low-50s C in the hottest spots around the back radiators, and 40-s across the chassis, which is fine for a laptop of this size and with this kind of processing power.
*Gaming – Performance – playing Far Cry 5 for 30 minutes, fans at ~42 dB
*Gaming – Turbo, on desk – playing Cyberpunk 2077 for 30 minutes, fans at ~50 dB

At the same time, this laptop is a breeze with everyday use, multitasking, browsing, or video streaming. The 0dB Technology allows the two fans to completely switch off with light use as long as the hardware stays under 60 C on the Silent profile. And even when they kick on with multitasking, they barely spin past 25 dB, which makes them inaudible even in a perfectly quiet room.
Furthermore, I haven't noticed any coil whine or electronic noises or anything of this sort during my time with this sample.
However, I've seen complaints about whine noises on some of the retail units that people have bought, the majority of them being on the mini-LED screen variant. I'm not sure if that's just a coincidence, or just the problematic QC whining that Asus notebooks have been dealing with over the years. I'm getting another Duo unit with the miniLED screen in a short while, and I'll update on this aspect once I get to spend some time with that one as well.

*Daily Use – streaming Netflix in EDGE for 30 minutes, Silent profile,  fans at 0 dB
For connectivity, there's Wireless 6E and Bluetooth 5 on this unit, as well as 2.5 Gigabit Lan, an update from the previous generations. Asus went with a Mediatek chip, which is OK for everyday use, but arguably not as fast as the modern Intel 6E wireless modules available these days. You can upgrade the included module for a faster one if you want to (the module is under the main SSD), as long as you're able to find a spare, but haven't felt the need to on any of the laptops equipped with this Mediatek chip that I've reviewed this year.
The audio quality here is very good for laptop speakers, with two main speakers firing on the bottom and extra tweeters firing from underneath the ScreenPad. The sound is fairly rich and loud at 80+ dB at head level, and I haven't noticed any annoying distortions or vibrations into the main chassis. I still recommend ticking the  "Enhanced Audio" option in the Sound menu in Windows 11, it does boot the overall sound quality to a small extent.
Finally, the camera. It's placed at the top of the screen and is the same HD IR option offered with many other ROG laptops of this generation. The quality isn't much, but this works for occasional calls, and the triple-array of microphones back it up adequately on their part.
Battery life
There's a 90Wh battery inside this 2022 ROG Zephyrus Duo 16.
The system automatically switches the screen's refresh to 60 Hz when using the laptop on battery, to increase efficiency, and that's the quick screen flicker that you'll notice when disconnecting the laptop from the wall. Also, if you're looking to maximize runtimes, make sure to use the laptop in the Hybrid MUX mode.
You should keep in mind that there are two screens on this laptop, and you should switch off the ScreenPad to get the best possible runtimes.
Here's what we got on our review unit in terms of battery life, with the laptop on HYbrid mode and only the main display active and its brightness set at around 120 nits (~50 brightness):
18 W (~4-6 h of use) – text editing in Google Drive, Silent  Mode, screen at 50%, WiFi ON;
14 W (~6-7 h of use) – 1080p fullscreen video on Youtube in Edge, Silent Mode, screen at 50%, WiFi ON;
12.5 W (~7-8 h of use) – Netflix fullscreen in Edge, Silent Mode, screen at 50%, WiFi ON;
20 W (~4-5 h of use) – browsing in Edge, Performance Mode, screen at 50%, WiFi ON;
90 W (~1 h of use) – Gaming – Witcher 3, Performance Mode, screen at 50%, WiFi ON, no fps limit.
Opting for either the UHD 120Hz or FHD 240Hz modes for the main screen doesn't make any difference on the runtimes, as in both cases the display ends up working at 60 Hz once you unplug the laptop.
And here's what happens when I switched on the ScreenPad at set it at ~300 brightness (80%) – anything lower makes the content difficult to read, due to the steep viewing angle.
23 W (~4 h of use) – text editing in Google Drive, Silent Mode, screen at 50% + ScreenPad at 80%, Wi-Fi ON;
23 W (~4 h of use) – browsing in Edge, Performance Mode, screen at 50% + ScreenPad at 80%, Wi-Fi ON.
Overall, runtimes aren't amazing here, despite having that 90Wh battery inside. The 4K+ screen takes its toll, and I expect the QHD miniLED option to last a little longer, based on our findings on the Ryzen-based Strix G15 with a QHD screen. I'll update once I get to review the miniLED model.
I'll also add that most Duo 16 configurations come with a fairly large and heavy 280W power brick. A smaller 240W variant is only available for the RTX 3060 configurations. The battery needs about 2 hours to fully charge with both, with quick charging for the first hour.
USB-C charging is supported, though, up to 100W, if you don't want to lug around the main charger. With this 3080Ti configuration, the 100W ROG USB-C charger is included in the box, and this weighs about .2 kilos.
You won't be able to use the laptop on Turbo while hooked over USB-C, but Power Delivery charging is sufficient for everyday multitasking and occasional heavy workloads on Performance, in case you don't want to bring along the heavier main brick when on the go. This article explains how PD works on ROG laptops.

Price and availability- ROG Zephyrus Duo 16
The 2022 Asus ROG Zephyrus Duo 16 is listed in a few regions at the time of this article.
In the US, we're looking at $3999 MSRP for the 3080Ti configuration and $3499 MSRP for the 3070Ti mode, both with the Ryzen 9 processor, 32 GB of RAM, 1 TB of SSD storage, and the miniLED main-display option. That's pricey!
Over here in Europe, the 3070Ti goes for around 3500 EUR, while top 3080Ti configurations sell for up to 5K EUR with 64 GB of RAM and 2 TB of storage.
I haven't seen the 3060 model in stores yet, but we'll update you when we know more. In the meantime, follow this link for updated configurations and prices in your region at the time you're reading this article.
Final thoughts- ASUS ROG Zephyrus Duo 16 GX650 review
The Zephyrus Duo 16 is a very capable multi-purpose laptop and a design able to run cooler than the standard performance clamshell ROG models of this generation, such as the ROG Strix G15 or the ROG Scar 15. At the same time, I'll also add that the Duo outperforms the clamshell ROGs in the Manual mode, but it does so while running very loud. In fact, the Scar 17 Special Edition is the only ROG laptop more powerful than this DUO 16 as of mid-2022.
The two displays are nonetheless this series's main selling point, and you should make sure you absolutely want them on your computer, because you will have to pay a significant premium for this Duo 16 over a standard Strix/Scar design with similar capabilities. At the same time, you'll also have to accept some of the format's compromises, such as the weight and size increase, but mostly the impracticality of that down-shifted keyboard when not using the laptop on a spacious desk.
As long as you understand and accept these issues, the Zephyrus Duo 16 doesn't really have any viable competitors in the dual-screen space. Asus offers a more compact ZenBook Pro Duo 14 alternative, but that's nowhere near as powerful as this ROG Duo.
However, make sure you test for any imperfections and QC issues on your unit. We noticed some imbalances on the 4K display on our sample, and other buyers mentioned coil whine on theirs. At the prices Asus is asking for this series, I wouldn't have anything less than perfection!
As for the choice between the 3080Ti top model and the other options, the best value for your money is with the mid-level 3070Ti configurations, as the 3080s and 3080Ti are up to 10-15% faster for a lot more money. However, some workloads might benefit from the 16 GB of vRAM available with the top dGPU option. For everything else, though, I'd go with the 3070Ti instead.
This pretty much wraps up our review of the 2022 Asus ROG Zephyrus DUO 16 GX650. I'd love to hear your thoughts and feedback down below in the comments section, so don't hesitate to get in touch.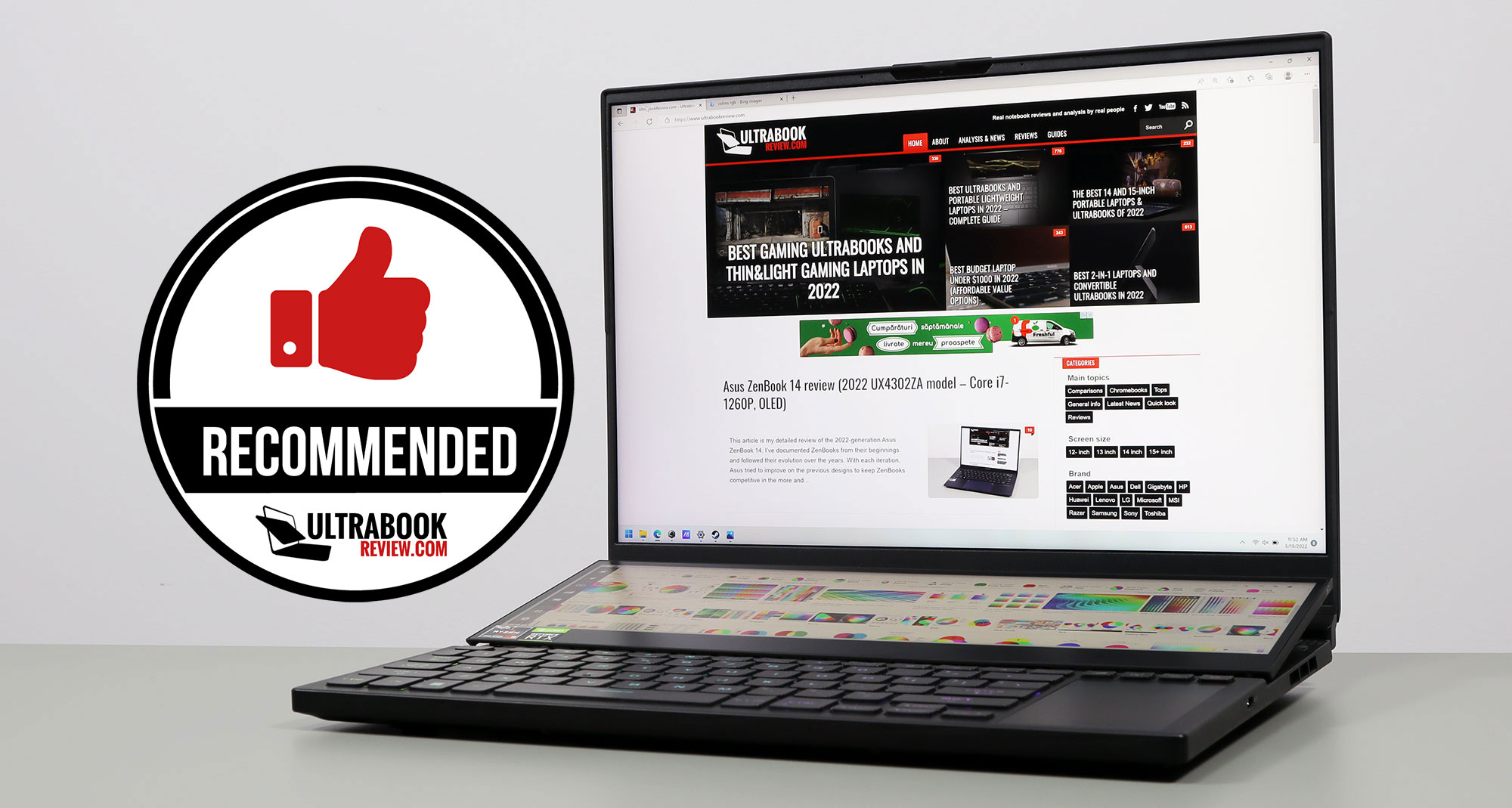 Disclaimer:
Our content is reader-supported. If you buy through some of the links on our site, we may earn a commission.
Learn more.