Intel delayed their main-stream 11th gen Core H performance 6C/8C processors for the Spring of 2021, and merely launched a new sub-series of mid-range quad-core processors at the beginning of the year, marketed as options for lightweight and affordable gaming laptops.
The platform is called Tiger Lake H35 and includes pretty-much higher-clocked versions of the already existing Tiger Lake processors, this time with a design TDP of 35W and the ability to run at higher power in sustained CPU loads.
Asus are among the first to bring a portable 15-inch laptop based on this platform to market, a slimmer and lighter TUF model called TUF Dash F15. This pretty much borrows internals and construction elements from the previous year Zephyrus G and M models, the screen options and lid design from the regular full-size TUF series, and pairs a 4C Intel processor with lower-power variants of the Nvidia RTX 3060 and 3070 graphics chips, running at 80W.
We've spent the last week with this Frankensteinian project in order to figure out what's the value proposition here and who is this meant for. We've gathered our thoughts and impressions down below.
Specs as reviewed – ASUS TUF Dash F15 FX516PR 2021
2021 ASUS TUF Dash F15 FX516PR
Display
15.6-inch, 16:9, non-touch, matte, Sharp LQ156M1JW26 panel
FHD 1920 x 1080 px IPS, 240 Hz 3ms with 100% sRGB, with AdaptiveSync
Processor
Intel Tiger Lake H 35W, Core i7-11370H, 4C/8T
Video
Intel Iris Xe + Nvidia GeForce RTX 3070 Laptop 8GB (80W, GeForce 461.23 drivers)
Memory
16 GB DDR4 3200 MHz (8 GB soldered, + 1x 8 GB DIMM)
Storage
1 TB NVMe SSD (2x M.2 PCI x4 slots)
Connectivity
Gigabit LAN, Wireless 6 2×2, Bluetooth 5.1
Ports
3x USB-A 3.2 gen1, 1x USB-C with Thunderbolt 4, HDMI 2.0b, LAN, headphone/mic, Kensington lock
Battery
76 Wh, 200W barrel-plug charger, and 100W USB-C charging
Size
360 mm or 14.17" (w) x 252 mm or 9.92" (d) x 19.9 mm or .78" (h)
Weight
2.05 kg (4.52 lbs), .59 kg (1.3 lbs) power brick and cables, EU version
Extras
single-zone RGB backlit keyboard, webcam, stereo speakers
Design and construction
If you're familiar with Asus's lineup of products, you'll immediately figure out that this TUF Dash series is pretty much a rebadged 2020 Zephyrus G15 with some design tweaks, revamped internals, and an unobstructed thermal module.
That means this is a fairly slim, compact, and lightweight 15-inch laptop, weighing just a smidge over 2 kilos. Plastic is used for the main chassis, interior and undersize, while the lid is made out of metal. Overall these laptops feel alright to the touch and fairly sturdy, even with the plastic main deck, but don't expect premium quality or materials. The lids could be stronger, especially in the area between the hinges, so I'd put these laptops in a protective sleeve when carrying them in my backpack.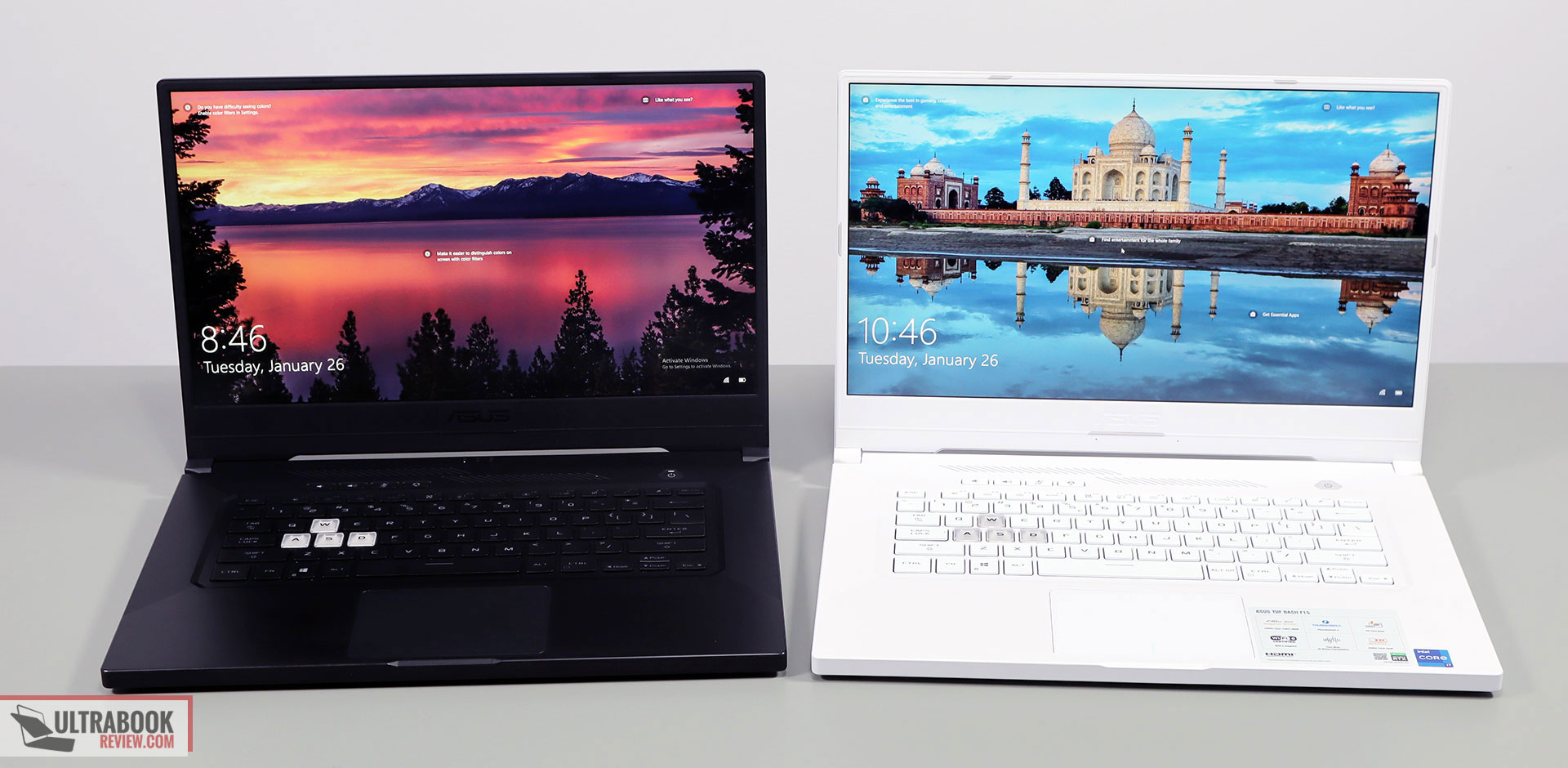 Asus offers the series in two color options, a white one with a white keyboard and white lid, and a black one with a black keyboard and dark-gray lid. The white is a bit different than what you'll normally find in a mid-range laptop, and does a better job at hiding smudges, but keep in mind that the writing on those teal-lit white keys might be difficult to tell apart, so you'll probably have to keep the keyboard's illumination at a lower level or switched off. In comparison, the keys a lot easier to read on the black model, which also gets teal illumination.
Brading is kept at a minimum on both variants, with color-matched Asus logos under the screen and subtle TUF logos on the lid. Too bad they chose that ugly TUF writing for the lid, these would have looked much more professional with just the logo in the corner.
The status LEDs are still placed under the screen, in the line of sight when watching a movie at night, and there's still a light in the power button that doesn't make sense to me. That aside, Asus still plaster the arm-rest with a handful of stickers, but you can easily peel them off once you get the laptop.
Now, as far as how this feels with daily use, I like the grip on the desk and the fact that I can easily pick up and adjust the screen with a single hand. Too bad it only goes back to about 140 degrees, and not all the way flat, as I much prefer on an ultraportable that I would probably use while laying on the sofa quite often.
The ports are lined on the sides, mostly on the left and towards the front of the laptop, something to carefully consider if you plan to hook up a lot of peripherals. If you thought you'd get away with a USB-C dock, since this laptop supports Thunderbolt 4, think again, the USB-C is almost near the front lip, and having a cable there might be a nuisance with daily use. The laptop ships with a standard barrel-plug charger, which also hooks up on the left side, but supports USB PD as well at up to 100W.
Nonetheless, there's pretty much you'll need here in terms of ports, except for a card-reader. On the other hand, there are no biometrics and no camera on this series.
You probably noticed by now that the entire rear of the laptop is reserved for the cooling module, with 4 radiators, two on the back and two on the sides, and unobstructed intakes over the fans on the bottom, at the top of the keyboard, and through the actual keys. This is a welcomed change from the limited thermal design of the 2020 Zephyrus G15 series, and as a result allows Asus to put 80W GPUs in this chassis, which previously struggled with 60/65W GPUs in the Zephyrus G. We'll get to that in a bit.
Overall, while they do show their budget heritage here and there, the TUF Dash laptops are fairly well built, nice looking, and practical, and I can see the white model attracting a fair bit of attention in the following months.
Keyboard and trackpad
I wasn't a big fan of the mushy keyboard on the 2020 Zephyrus G15 and was afraid the TUF Dash models would inherit it, but they don't.
Asus went with sturdier plastic keycaps with translucent WASD keys, and a simplified layout here, without that extra Functions column at the right. That frees up space for the Enter/Shift and arrows keys at the right, but also puts the Home, End, and PgUp/PgDn as secondaries tied to the arrows keys, which might bother some of you. There's also a convenient set of media keys at the top-left, which is missing from the regular TUFs.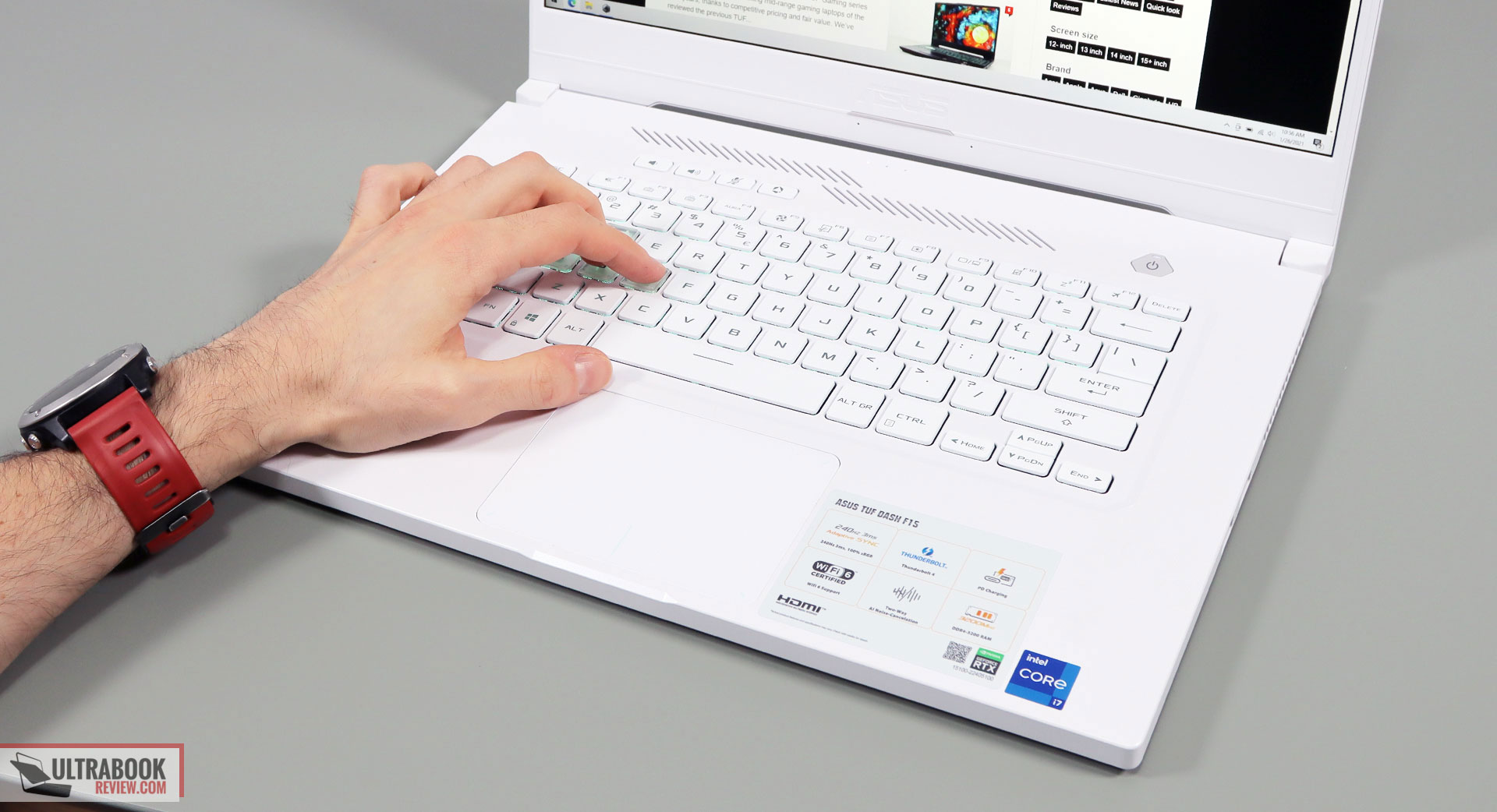 This keyboard feels firm and accurate with daily use, somewhat on par now with the keyboards on the higher tier 2021 Zephyrus G15/G14 series. It's a good typer.
It's not RGB backlit, though, but only lights up in teal, which looks nice on the white model, and a little weird on the black one. The illumination is bright and uniform, but a lot of light shines through from underneath the keycaps on this design, and reflects into the screen, as you can see in one of the pictures in the next sections. The reflection seems to be worse on the white model, and furthermore, I'll reiterate that it's hard to tell the letters apart on the white keyboard at anything above the basic illumination level.
I should also add that the illumination doesn't time off as long as the laptop is plugged in, you have to shut it off manually. It does time off on battery and can be easily reactivated by swiping your fingers over the clickpad.
For mouse, Asus went with a small plastic clickpad, which has moved along from the previous G15. It's more or less alright and gets the job done with everyday swipes and gestures and taps, but feels outdated for this day and age, especially with the clunky clicks and the rattling when tapped firmer.
Finally, there are no biometrics on this laptop.
Screen
Asus mention a couple of different screen option for this series, and you should be careful about choosing the right one for your needs, as there are a couple of important differences between them:
QHD 165 Hz with 100% DCI-P3;
FHD 240 Hz 3ms with 100% sRGB;
FHD 144 Hz with 60% sRGB and lower response.
Any of the first two should be fine, but stay away from the latter.
Our unit gets the 240 Hz 3ms panel with 100% sRGB colors and 300+ nits of peak brightness, a solid choice for every use and a fast option for gaming, especially with Adaptive Sync, which is available for all the screen options with this TUF Dash series.
Here's what we got in our tests, with an X-Rite i1 Display Pro sensor:
Panel HardwareID: Sharp SHP1532 (LQ156M1JW26);
Coverage: 97.7% sRGB, 67.4% AdobeRGB, 70.6% DCI-P3;
Measured gamma: 2.23;
Max brightness in the middle of the screen: 321.92 cd/m2 on power;
Min brightness in the middle of the screen: 18.10 cd/m2 on power;
Contrast at max brightness: 1113:1;
White point: 7100 K;
Black on max brightness: 0.29 cd/m2;
PWM: No.
The White point is a bit off out of the box and can be addressed with further calibration. Once calibrated, the panel ended up uniform in terms of brightness and luminosity, and with little to no light bleeding around the edges.
Hardware and performance
Our test model is a top-specced configuration of the ASUS TUF Dash F15, code name FX516PR, built on an Intel Core i7-11370H 4C/8T processor, 16 GB of DDR4 3200 MHz memory in dual channel, 1 TB of SSD storage, and dual graphics: the Nvidia RTX 3070 dGPU with 8 GB of vRAM and the Iris Xe iGPU integrated within the Intel processor.
Before we proceed, keep in mind that our review unit was sent over by Asus and is a retail model identical to the ones you can get in stores, running on the software available as of late-January 2021 (BIOS 307, Armoury Crate 3.3.7.0, GeForce 461.23 drivers).
Spec-wise, this 2021 ASUS TUF Dash F15 is built on the latest Intel and Nvidia hardware.
I expect a fair bit of controversy around the Intel H35 hardware here, as it's merely a 4C/8T platform with a designed TDP of 35W. However, as you'll see through this article, Asus allows this processor to run at significantly higher power limits in sustained loads, of up to 60W in CPU tests and 45W in combined chores. You can choose between the different performance profiles in Armoury Crate.
The question I was eager to answer when I started using this laptop is whether a merely 4C processor makes sense on this sort of a performance laptop at this point, especially combined with a fairly beefy GPU, and how will that impact the overall performance with daily use, demanding loads and games. It's obvious those of you interested in running heavier workloads should go with a 6C/8C option instead, most likely an AMD unit at this point such as the regular TUF A15, but how lighter loads and games? We'll get to that in a bit.
As for the GPU, Asus top the 2021 TUF Dash series at an Nvidia GeForce RTX 3070 running at 80W, so a lesser Max-Q variant, overclocked on the Turbo profile, but without Dynamic Boost. That means this runs at up to 80W all the time, without the ability to divert power from the CPU and push the GPU higher.
For RAM and storage options, the laptop comes with 8 GB of memory preinstalled and one extra accessible memory DIMM, as well as M.2 SSD slots. Our unit shipped with 16 GB of RAM in dual-channel and a very fast Sk Hynix SSD. The SSD performance is solid, without and throttling or hiccups in daily use or in your transfer tests.
Getting inside to the components is fairly easy, you just have to pop-up the back panel, hold in place by a couple of Philips screws. The internal design and thermal module are nearly identical to the 2020 Zephyrus M15, one of my favorite laptops of that generation.
Specs aside, Asus offers three power profiles for the TUF Dash F15 FX516PR:
Silent – quite fan-noise and limited CPU/GPU speeds and power – dGPU is limited;
Performance – balanced profile with stock CPU/GPU settings, averagely noise fans – GPU runs at 80W and stock clocks;
Turbo – High-Performance profile with increased CPU power allocation, faster-spinning fans, and overclocked GPU (still 80W, +100 MHz Core/+120 MHz Memory).
Turbo is only available with the laptop plugged-in and meant for gaming and other demanding loads. Performance is a jack-of-all-trades, while Silent is made for video and daily light-use.
This laptop runs completely quiet with lighter activities, as the fans can completely switch off on the Silent profile, both on battery or when the laptop is plugged in, as long and the CPU/GPU stay under 60 degrees C, leading to a quiet daily-use experience. Here's what to expect in terms of performance and temperatures with everyday multitasking, browsing, and video.
On to more demanding loads, we start by testing the CPU's performance by running the Cinebench R15 test for 15+ times in a loop, with 1-2 seconds delay between each run.
The Intel i7 processor stabilizes at 56-60W of sustained power on the Turbo setting, which translates in constant frequencies of 4.3 GHz, temperatures in the 84-87 C, scores of ~1100 points, and the fans spinning quietly at only about 41-42 dB at head-level. We're not seeing any performance degradation on any sort of throttling for the entire duration of the test.
Switching over to the Performance profile translates in the CPU stabilizing at around 45-50W and temperatures in the low-80s, with the fans spinning quieter, at only 36-37 dB at head-level. The scores only drop by 2-5% compared to the Turbo profile.
On Silent, the processor runs at higher power for a few seconds, and then stabilizes at 25-30W with barely audible fans (sub 35 dB) and middling temperatures (high-60s C). It returns scores of around 850+ points, roughly 20-25% beneath those registered on the Turbo profile.
Finally, the CPU constantly runs at ~35 W of power on battery, on the Performance profile, with temperatures in the low-70s and scores of 900+ points. Details below.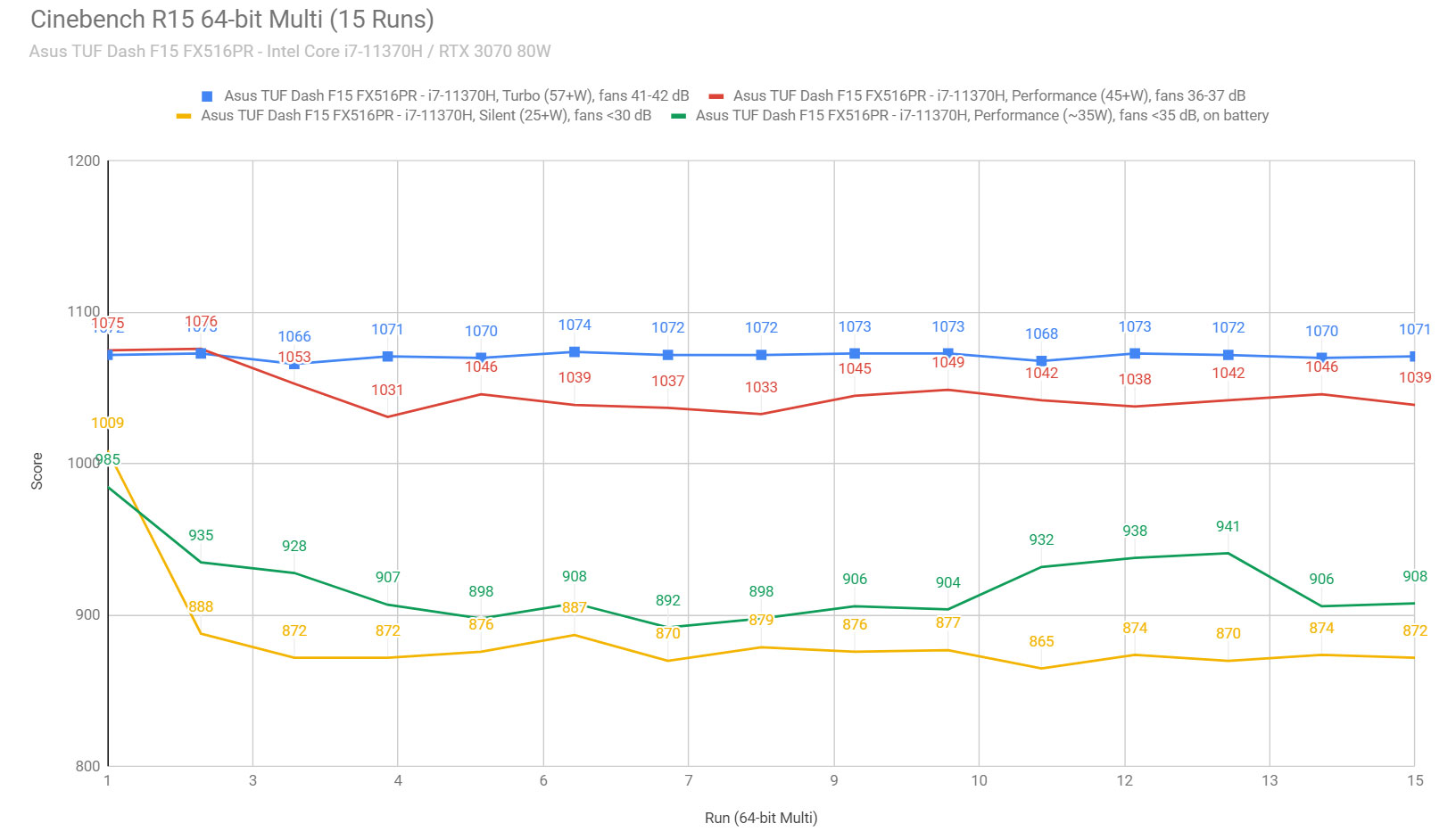 To put these findings in perspective, here's how this i7-11370H fares in this test against a couple of other AMD and Intel processors available in different kinds of portable products:
Of course, this is just a multi-threaded CPU benchmark, and there's more to consider when looking at this processor, as you'll see in a bit.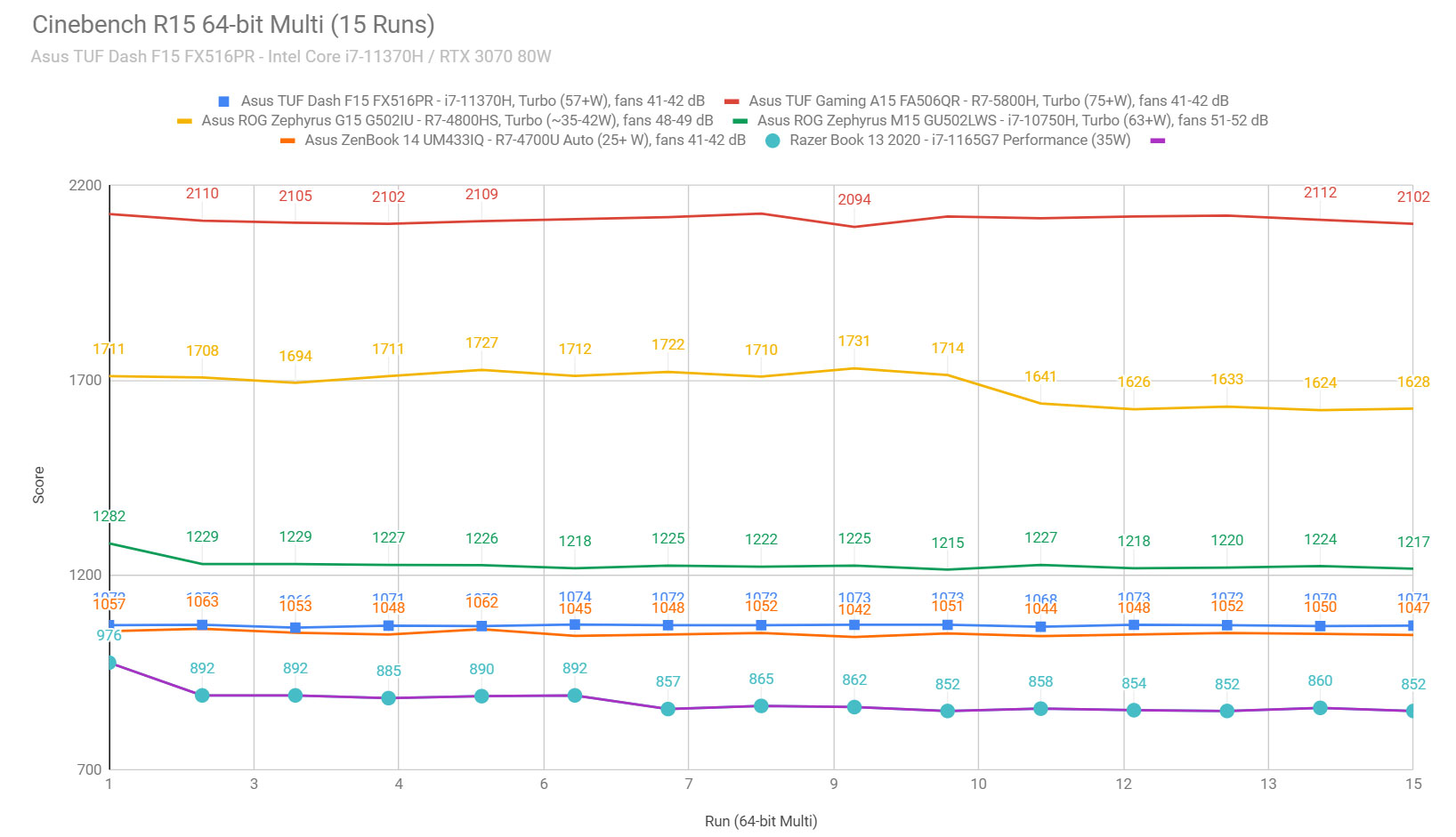 We then went ahead and further verified our findings with the longer Cinebench R20 loop test and the gruesome Prime 95, on the Turbo profile. The CPU stabilizes at 55-60 W on Turbo in both Cinebench R20 and Prime 95, with sustained temperatures in the 85-90 degrees Celsius.
We also ran our combined CPU+GPU stress tests on this notebook. 3DMark stress runs the same test for 20 times in a loop and looks for performance variation and degradation over time, and this unit passed it just fine. We also ran Luxmark 3.1, which also fully loads both the CPU and GPU at the same time, although it doesn't seem to fully support the CPU and only loads it up to about 50%. It's still a good indicator of combined performance with an emphasis on the GPU, such as games.
Next, we ran the entire suite of tests and benchmarks, on the stock Turbo profile in Armoury Crate.
3DMark 13 – Fire Strike: 17438 (Graphics – 22319, Physics – 14370, Combined – 7517);
3DMark 13 – Port Royal: 5040;
3DMark 13 – Time Spy: 7499 (Graphics – 8156, CPU – 5151);
AIDA64 Memory test: -;
Uniengine Superposition – 1080p Extreme: 5463;
Uniengine Superposition – 1080p Medium: 16526;
Handbrake 1.3.3 (4K to 1080p encode): 32.23 average fps;
PassMark 10: Rating: 3783 (CPU mark: 13400, 3D Graphics Mark: 11504, Disk Mark: 21965);
PCMark 10: 6230 (Essentials – 9303, Productivity – 9954, Digital Content Creation – 7087);
GeekBench 5.3.1 64-bit: Single-Core: 1526, Multi-core: 4979;
CineBench R15 (best run): CPU 1090 cb, CPU Single Core 233 cb;
CineBench R20 (best run): CPU 2737 cb, CPU Single Core 559 cb;
CineBench R23 (best run): CPU 7126 cb, CPU Single Core 1454 cb;
x265 HD Benchmark 64-bit: 50.06 s.
This Tiger Lake H35 i7 scores excellently in the single-core tests, outmatching the ultrabook-class Tiger Lakes and any of the previous generation Intel or AMD products. However, AMD Ryzen 5000 CPUs match these results, and even come on top in some tests.
Multi-core CPU results aren't much. Intel pumps a lot of power into these cores and allows them to run at high clocks, but at the end of the day, there's only so much you can get with a 4Core platform these days. Considering the i7-10750H in the Zephyrus M15 as a reference, we're looking at roughly 80-85% of its performance in these multi-threaded tests. However, the i7-11370H is roughly 20% faster in single-core loads.
As for the GPU scores, our tests show up to 5% higher scores in 3Dmark and Uniengine on this RTX 3070 80W in comparison to the RTX 2070 Super 90-105W in the Zephyrus M15. That's pretty much the same performance, but in -25W power envelope.
Compared to the 2020 MSI GS66 Stealth running on an RTX 2070 Super 80W, this TUF Dash ends up 20% faster in these synthetic scores, and about 10% faster in games.
We'll have follow-up in-depth articles on both the i7-11370H CPU and the RTX 3070 Laptop GPU, comparing them to the alternatives available these days, as well as the previous generations, in case you're looking for upgrades.
We also ran more tests on the Silent profile of this TUF Dash F15, if you're interested in running demanding loads at lower noise levels (<40 dB).
3DMark 13 – Fire Strike: 12086 (Graphics – 13608, Physics – 13407, Combined – 6084);
3DMark 13 – Port Royal: 4516;
3DMark 13 – Time Spy: 6969 (Graphics – 7568, CPU – 4814);
Uniengine Superposition – 1080p Extreme: 4395;
Uniengine Superposition – 1080p Medium: 8017;
Handbrake 1.3.3 (4K to 1080p encode): 26.38 average fps;
PassMark 10: Rating: 2416 (CPU mark: 12566, 3D Graphics Mark: 6206, Disk Mark: 21641);
PCMark 10: 4638 (Essentials – 7957, Productivity – 7434, Digital Content Creation – 4577);
GeekBench 5.3.1 64-bit: Single-Core: 1258, Multi-core: 4815;
CineBench R15 (best run): CPU 992 cb, CPU Single Core 206 cb;
CineBench R20 (best run): CPU 2174 cb, CPU Single Core 494 cb;
CineBench R23 (best run): CPU 5577 cb, CPU Single Core 1283 cb;
x265 HD Benchmark 64-bit: 61.63 s.
Both the CPU and the GPU are power capped in this mode, so we're looking at ~10-20% performance cap in CPU tests and 25-40% loss in GPU tests. Might be worth it though if you're looking for a quiet experience, with the fans running at up to 40 dB with combined loads, and under 35dB with daily use.
Finally, we also ran some Workstation related loads on this i7-11370H configuration, on the Turbo profile:
Blender 2.82 – BMW Car scene- CPU Compute: 7m 38s (Silent), 5m 52s (Turbo);
Blender 2.82 – BMW Car scene- GPU Compute: 42s (CUDA), 26s (Optix);
Blender 2.82 – Classroom scene – CPU Compute: 20m 34s (Silent), 16m 6s (Turbo);
Blender 2.82 – Classroom scene – GPU Compute: 2m 40s (CUDA), 1m 53s (Optix);
Luxmark 3.1 – Luxball HDR – OpenCL CPUs + GPUs score: -;
SPECviewerf 13 – 3DSMax: 143.82 (Turbo);
SPECviewerf 13 – Catia: 126.55 (Turbo);
SPECviewerf 13 – Creo: 150.4 (Turbo);
SPECviewerf 13 – Energy: 22.33 (Turbo);
SPECviewerf 13 – Maya: 197.73 (Turbo);
SPECviewerf 13 – Medical: 57.5 (Turbo);
SPECviewerf 13 – Showcase: 104.33 (Turbo);
SPECviewerf 13 – SNX: 17.05 (Turbo);
SPECviewerf 13 – SW: 80.25 (Turbo).
And the newer SPECviewperf 2020 test:
SPECviewerf 2020 – 3DSMax: 68.98 (Turbo);
SPECviewerf 2020 – Catia: 54.39 (Turbo);
SPECviewerf 2020 – Creo: 73.21 (Turbo);
SPECviewerf 2020 – Energy: 22.1 (Turbo);
SPECviewerf 2020 – Maya: 190.46 (Turbo);
SPECviewerf 2020 – Medical: 26.96 (Turbo);
SPECviewerf 2020 – SNX: 17.44 (Turbo);
SPECviewerf 2020 – SW: 137.28 (Turbo).
Blender and the CPU-heavy SPECviepwerf tests end up at roughly 75-85% of the performance of the i7-10750H powered Zephyrus M15, about half the performance of an 8Core Intel/AMD platform. The GPU scores are at least on par with the M15, though, and significantly faster in Blender Optix/CUDA.
With these out of the way, let's look at some games. We ran a couple of DX11, DX12, and Vulkan titles on the stock Turbo, Performance, and Silent profiles, on both FHD (internal screen) and QHD (external monitor) resolutions. Keep in mind that Whisper Mode is disabled in GeForce Experience for all these tests, we plan to test it in a future article. Here's what we got:
 Intel Core i7-11370H
+ RTX 3070 Laptop 80W
FHD Turbo
FHD Performance
FHD Silent
QHD Turbo
Battlefield V
(DX 12, Ultra Preset, RTX OFF)
101 fps (53 fps – 1% low)
98 fps (51 fps – 1% low)
60 fps (52 fps – 1% low)
80 fps (39 fps – 1% low)
Battlefield V
(DX 12, Ultra Preset, RTX ON, DLSS OFF)
69 fps (35 fps – 1% low)
67 fps (32 fps – 1% low)
52 fps (16 fps – 1% low)
52 fps (30 fps – 1% low)
Cyberpunk 2077
(DX 12, Ultra Preset, RTX OFF)
61 fps (44 fps – 1% low)
50 fps (41 fps – 1% low)
–
34 fps (29 fps – 1% low)
Cyberpunk 2077
(DX 12, Ultra Preset + RTX, DLSS Quality)
45 fps (35 fps – 1% low)
41 fps (34 fps – 1% low)
–
28 fps (25 fps – 1% low)
Dota 2
(DX 11, Best Looking Preset)
101 fps (58 fps – 1% low)
–
60 fps (38 fps – 1% low)
93 fps (57 fps – 1% low)
Far Cry 5
(DX 11, Ultra Preset, SMAA)
90 fps (68 fps – 1% low)
86 fps (63 fps – 1% low)
60 fps (50 fps – 1% low)
73 fps (56 fps – 1% low)
Metro Exodus
(DX 12, Ultra Preset, RTX OFF)
57 fps (43 fps – 1% low)
54 fps (32 fps – 1% low)
38 fps (22 fps – 1% low)
54 fps (27 fps – 1% low)
Metro Exodus
(DX 12, Ultra Preset, RTX High + DLSS)
51 fps (27 fps – 1% low)
49 fps (25 fps – 1% low)
34 fps (18 fps – 1% low)
41 fps (22 fps – 1% low)
Middle Earth: Shadow of Mordor
(DX 11, Ultra Preset)
146 fps (96 fps – 1% low)
141 fps (92 fps – 1% low)
60 fps (60 fps – 1% low)
114 fps (76 fps – 1% low)
Red Dead Redemption 2
(DX 12, Ultra Optimized, TAA)
70 fps (47 fps – 1% low)
69 fps (43 fps – 1% low)
58 fps (37 fps – 1% low)
58 fps (44 fps – 1% low)
Rise of Tomb Raider
(DX 12, Very High Preset, FXAA)
84 fps (47 fps – 1% low)
84 fps (51 fps – 1% low)
59 fps (36 fps – 1% low)
75 fps (46 fps – 1% low)
Shadow of Tomb Raider
(DX 12, Highest Preset, TAA)
85 fps (40 fps – 1% low)
84 fps (40 fps – 1% low)
60 fps (42 fps – 1% low)
69 fps (35 fps – 1% low)
Shadow of Tomb Raider
(DX 12, Highest Preset, TAA, RTX Ultra)
60 fps (34 fps – 1% low)
58 fps (34 fps – 1% low)
45 fps (28 fps – 1% low)
49 fps (30 fps – 1% low)
Strange Brigade
(Vulkan, Ultra Preset)
150 fps (111 fps – 1% low)
147 fps (110 fps – 1% low)
60 fps (52 fps – 1% low)
113 fps (84 fps – 1% low)
The Witcher 3: Wild Hunt
(DX 11, Ultra Preset, Hairworks On 4)
–
–
–
–
Battlefield V, The Witcher 3, CyberPunk 2077 – recorded with Fraps/in-game FPS counter in campaign mode;
Far Cry 5, Metro, Middle Earth, Strange Brigade, Red Dead Redemption 2, Tomb Raider games – recorded with the included Benchmark utilities;
Red Dead Redemption 2 Optimized profile based on these settings.
These are solid results for a 80W chip, about 20% higher when compared to the 80W RTX 2070 Super, about on par with a 105W RTX 2070 Super and 5-10% under the 95W RTX 3070 Laptop in the TUF A15. However, certain titles such as Cyberpunk 2077, Far Cry 5 or Read Dead Redemption 2 average a little lower than some of the older titles, with a slight dip in 1% lows as well, in comparison to the previously mentioned 2070 and 3070 chips, and that suggests a potential CPU bottleneck in some of these titles. We'll further look into this matter in a separate article in the next couple of days.
For some reason, my GOG Witcher 3 version refuses to start on any Tiger Lake laptop, and I've yet to find a fix for it.
The HWinfo logs below show the CPU and GPU speeds and temperatures in Far Cry 5, Cyberpunk 2077, Battlefield V, and Witcher 3 on the stock Turbo profile.
While there are some differences between these titles, on average the RTX 3070 GPU in this Dash F15 constantly runs at 80W on this mode, with temperatures in the 76-78 degrees Celsius, while the CPU runs at between 20-35W, with temperatures in the 75-85 degrees Celsius. The fans ramp up to about 47-48 dB on this mode, which is fairly loud. Dynamic Boost 2.0 doesn't seem to be enabled on this laptop, judging by the constant GPU power draw in all titles.
FarCry 5 is once more an exception, demanding the most power out of the CPU, and as a result the CPU averages ~90 C in this title. Dota 2 is another exception, with the framerates capped at 120 fps and the CPU/GPU running and lower power and temperatures as a result. Still not sure what caps the framerate in this title.
Overall these are fair temperatures for a portable laptop. In comparison, we're looking at similar temperatures and noise levels on the 2020 MSI GS66 (with RTX 2070 Super 80W), and overall higher temperatures especially on the GPU, as well as significantly noisier fans, on the 2020 Zephyrus M15 (with RTX 2070 Super 90-105W). Not bad.
Slightly lifting up the laptop from the desk in order to improve the air intake underneath, into the fans, helps shed about 1-3 degrees of both the CPU and GPU, so not something you should bother with on this series.
Switching over to the Performance profile slightly limits the CPU's power and GPU's clocks and allows the fans to spin a little quieter, at around 43-44 dB at head-level, with a minor toll on real-life performance and lower CPU temperatures. Careful that this might further bottleneck the CPU with some games, as suggested by the slight dip in 1% lows in Cyberpunk, Red Dead, and Far Cry.
Quiet gaming is also possible here on the Silent profile, which set a hard limit of 60 fps in most titles, paired with a power-capped CPU and the GPU capped at .99 MHz and roughly 40W of power. That's not enough for 60 fps with Ultra settings in some of the more demanding titles, though, especially with RTX on.
And here's what happens when hooking up an external monitor and running the same games on QHD resolution, both with the laptop sitting on a desk and raised up ti imroove airflow.
Finally, this TUF Dash F15 can also game while unplugged, with the GPU averaging ~40W in this mode on the Performance profile, enough for 60+ fps in titles such as Far Cry 5, with Medium settings. It won't last long past the hour while running games, though, but you can activate Battery Boost to limit the performance for longer runtimes.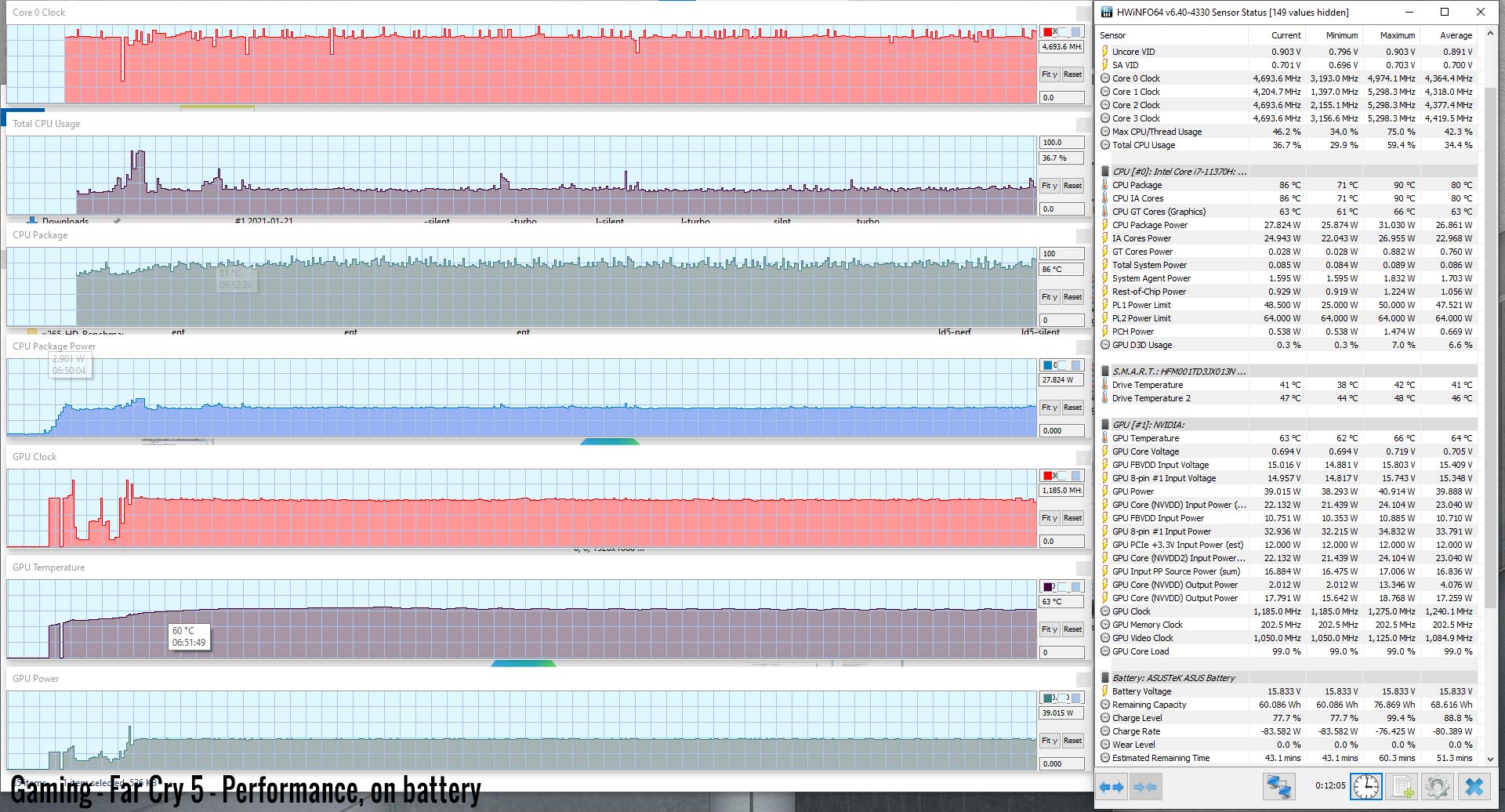 In conclusion, this TUF Dash F15 delivers on what it promises: a competent gaming experience in a compact chassis, with fair noise levels and thermal results. Sure, the RTX 3070 is somewhat overkill for the 4C i7-11370H processor in certain titles, with the CPU bottleneck resulting in occasional dropped frames and lower 1% lows in games than on similarly specced laptops with more powerful 6/8C processors, but you'll hardly notice this aspect unless you're carefully looking through detailed performance logs. In all fairness, though, an RTX 3060 or mid-tier Ampere chip would make more sense next to a Tiger Lake H35 processor, and end-up cheaper as well.
Noise, Heat, Connectivity, speakers, and others
The Dash F15 is nearly identical on the inside to the 2020 Zephyrus M15 and gets nearly the same thermal module, with only minor differences in the VRM heatpipes.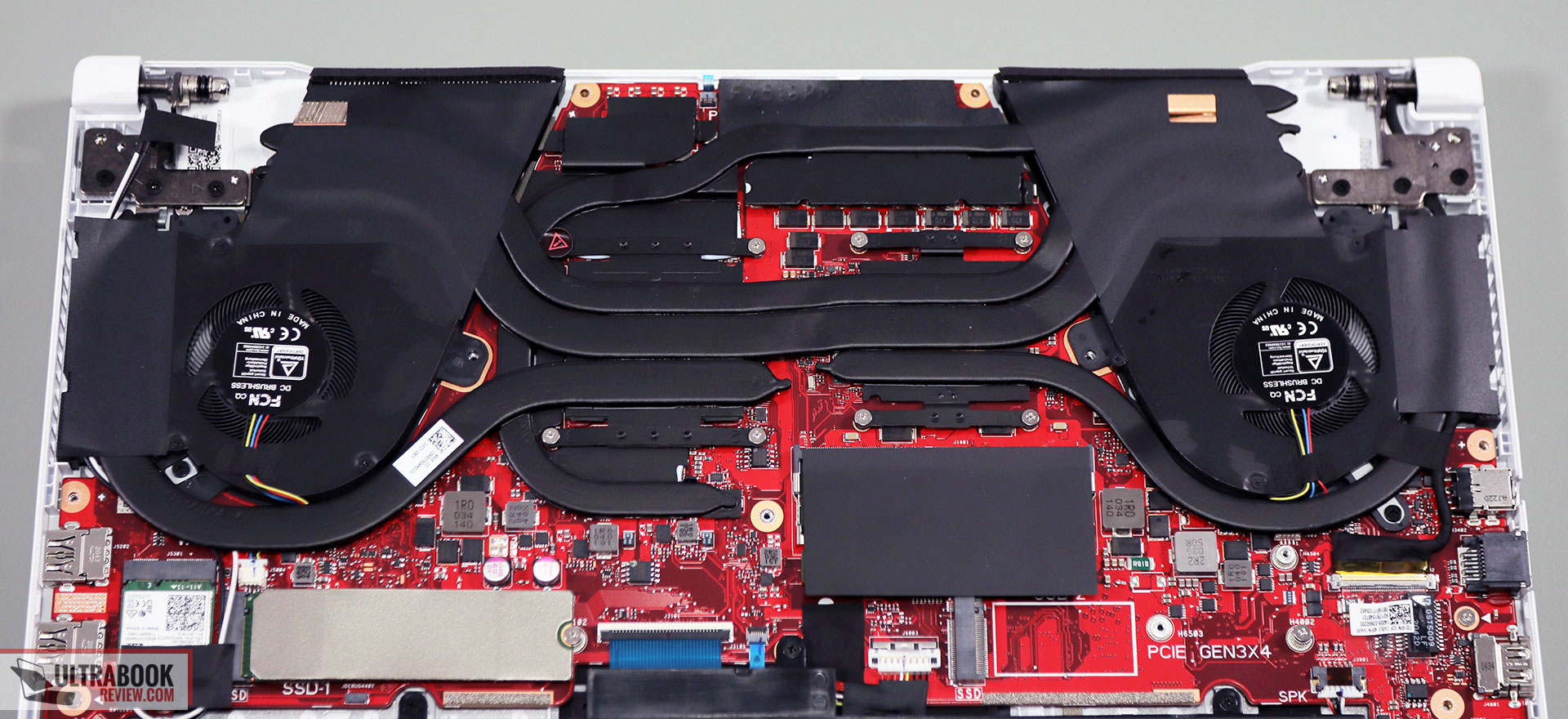 Paired with the open-back design, the plastic chassis (less of a thermal conductor than the metallic designs), and the overall lower-power hardware inside, there's no surprise this doesn't heat up badly with games and demanding loads. In fact, this is one of the very few Asus portable performance laptops that fits right in my personal sweet-spot for internal CPU temperatures in games, at 75-85 degrees C on the CPU (with few exceptions) and 75-78 C on the GPU.
External temperatures fall within comfortable limits with games and demanding loads as well, with the WASD and arrows regions averaging in the high-30s to mid-40s, and certain spots in the middle of the laptop, around the CPU/GPU still go up to high-50s and low-60s. You're not going to touch these spots with most titles, though. Nonetheless, these are higher exterior temperatures than on the Zephyrus M15, which does a better job insulating internal heat from the exterior chassis.
With lighter use, this laptop is a breeze, running cooly and perfectly quiet on the Silent profile, since both fans switch off as long as the CPU/GPU don't go above 60 C. I also haven't noticed any coil winning on my sample, yet there's no guarantee you won't run into electronic noises on your unit, so make sure to carefully listen for any irregularities within your return window. Coil whine would be even more annoying on a laptop that's otherwise passively cooled with daily activities.
*Daily Use – streaming Netflix in EDGE for 30 minutes, Silent profile,  fans at 0 dB
*Gaming – Silent – playing Far Cry 5 for 30 minutes, Silent profile, fans at 35-37 dB
*Gaming – Performance – playing Far Cry 5 for 30 minutes, fans at 43-44 dB
*Gaming – Turbo, on desk – playing Far Cry 5 for 30 minutes, fans at 47-48 dB

For connectivity, there's Wireless 6 and Bluetooth 5 through an Intel AX201 chip on this unit, as well as Gigabit Lan. Our sample performed well on WiFi both near the router and at 30+ feet with obstacles in between.
The speakers have been carried over from the 2020 Zephyrus lineups, which means they're fairly punchy at 80+ dB at head-level, and about average in terms of quality. Not bad, not amazing. Headphone audio is pretty good as well, as far as my inexperienced ears can tell.
As for the camera, there's isn't any on this laptop, just like on the Zephyrus models. There's a pair of microphones at the bottom of the screen, though.
Battery life
There's a 76Wh battery inside the TUF Dash F15 series, again, carried over from the Zephyrus series.
Here's what we got on our review unit in terms of battery life, with the screen's brightness set at around 120 nits (~60 brightness).
9.5 W (~7-8 h of use) – text editing in Google Drive, Silent  Mode, screen at 60%, Wi-Fi ON;
7.5 W (~10 h of use) – 1080p fullscreen video on Youtube in Edge, Silent Mode, screen at 60%, Wi-Fi ON;
6.5 W (~11+ h of use) – Netflix fullscreen in Edge, Silent Mode, screen at 60%, Wi-Fi ON;
12 W (~4-6 h of use) – browsing in Edge, Performance Mode, screen at 60%, Wi-Fi ON;
65 W (~1+ h of use) – Gaming – Far Cry 5, Performance Mode, screen at 60%, Wi-Fi ON, no fps limit.
These are some solid runtimes and a step-up from the 2020 M15 we tested last year, although that one was running on the more power-hungry 4K screen. The system automatically switches the screen to 60Hz while on battery and on the iGPU, something I wish every manufacturer would implement on their products.
Furthermore, Asus pairs the laptop with a compact 200W power-brick, smaller and lighter than the 240W brick on the M15. It's enough to power this system, though. The battery fills up in about 2 hours, and USB-C charging up to 100W is also possible here, just in case you don't want to carry along the main brick with you when traveling. You'd have to pay extra for that USB-C charger, so perhaps not really worth it on this sort of a product, given the main brick is not that heavy or bulky anyway.

Price and availability
The 2021 TUF Dash F15 series is listed in several regions at the time of this article, mostly in this higher-tier configuration tested here, with the RTX 3070 dGPU and the 240 Hz screen.
I was under the impression this is supposed to be an affordable portable laptop, but what do you know, it's not that affordable. Or perhaps should I get used to these 2021 prices being the norm?
I'm looking at $1449 in the US, where this seems to be a Best Buy exclusive for now, which is somewhat of a fair price, but also 2000 EUR in Germany and about 1600 EUR in this part of Europe, which is pricey.
In comparison, you can get the 2020 Zephyrus M15 (RTX 2070 Super model), the 2020 Zephyrus G14 (Ryzen 9 + RTXT 2060 MQ), or the full-size 2021 TUF A15 (Ryzen 7 + RTX 3070) for less these days, so this TUF Dash 15 is a hard-sell at this price point. It should be more competitive down the road, especially once the RTX 3060 and GTX configurations are available, but for now, I'd recommend shortlisting it and waiting for some price cuts.
Oh, careful about the screen options on those lower-tier options, I sure hope Asus will pair the RTX 2060 model with the same 240 Hz panel, and not that washed out 144 Hz panel from the previous G15.
Follow this link for updated configurations and prices in your region at the time you're reading this article.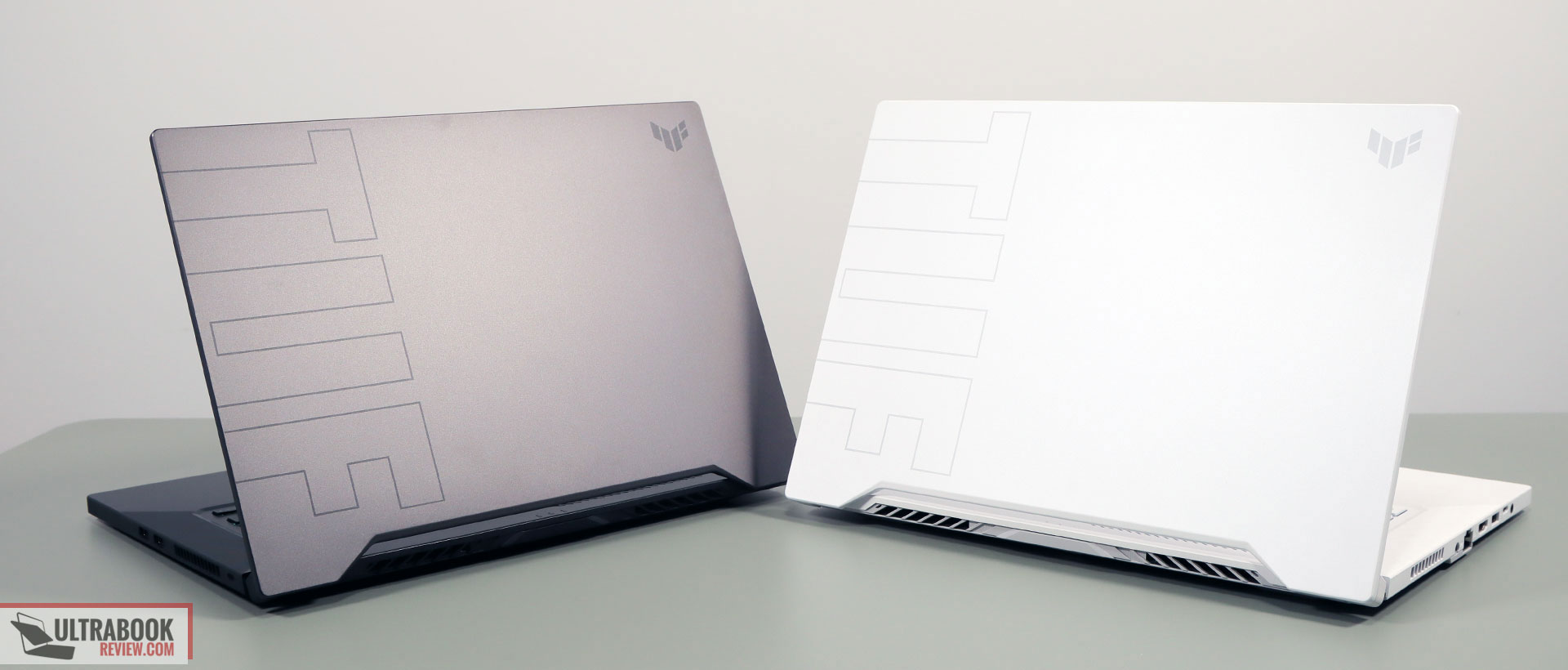 Final thoughts
In some ways, this TUF Dash F15 has surpassed my expectations. I didn't expect much back when I first find out about it, it looked a lot like a Zephyrus G15 with a weird Intel 4Core processor that very few would want in 2021.
Having used it for the last weeks, it grew on me, but I still think this is a tight-niche product that's going to have a hard time convincing buyers of its worth over all the alternatives out there. Even later on, when it will undoubtedly end up cheaper. And that's because of that 4Core Intel CPU stigma, which most will still run away from.
It's pretty obvious you will find more competent mobile platforms out there for workloads and demanding chores, both from AMD and Intel (especially once Tiger Lake 6/8C CPUs come out). That leaves this Dash F15 series only an option for everyday use, occasional workloads, and gaming. My time with this laptop proved this is an excellent everyday multitasker and a computer that runs quietly and cooly most of the time. It also proved it can game, matching more powerful RTX 2070 Super configurations in rasterization performance and greatly outmatching similarly powered Max-Q 2070 models in both rasterization and RTX. Furthermore, it faired within 5-10% of the Ryzen 7 + RTX 3070 95W configuration tested in the full-size TUF A15, which btw, runs hotter. So yeah, this really is a fair gamer in its class of ultraportables.
At the same time, though, the 4Core CPU ends up somewhat bottlenecking the experience in some of the modern AAA titles, and this will most likely get worse as time goes by and newer games will better scale over multiple cores. Right now, this Intel platform has those high clock speeds on its side, but there's still only so much a 4Core platform can do. That's why I'd hold on for the more affordable RTX 3060 and GTX Ampere configurations of this laptop that will be launched in the next couple of months, I expect those to better match the Intel  Tiger Lake H35 platform. Plus, by that time, this series will also come down in price.
Nonetheless, at the end of the day, you'll still end sacrificing multi-threaded CPU performance if you opt for one of these Dash F15s, but maybe that's just enough for your needs. Especially since this series compensates you in quite a few ways: it's nicely made, lightweight, and quite unique in the white color, doesn't heat-up excessively with games, offers good screens, inputs and ports, decent audio, and lasts for many hours on a charge. Put these in a $1000-$1200 /E1200-E1400 configuration and I can see it fly off the shelves. Not at 2000 EUR, though.
Oh, and yes, it comes without saying this series would have been a lot more competitive with AMD hardware inside… I'll just leave it at that, and hint at the 2021 G15 series.
Anyway, those of you after better specs and performance for your money should look into the full-size TUF alternative, the popular and controversial A15 series, based on Ryzen 5000 hardware and beefier RTX 3000 graphics, as well as the heavyweights of the mid-range gaming segment, the Lenovo Legion 5 and the HP Omen 15, once updated to 2021 specs. Furthermore, the 2021 Zephyrus G15 and the nicer made 2020 Zephyrus M15, now discounted in most regions, will surely attract most of you looking at this Dash F15 series, and for good reasons. And these are just the Asus alternatives, you'll find a handful of other recommended options in our dedicated article about 2021 gaming ultraportables.
We'll wrap up this 2021 TUF Dash F15 review here, but I'd love to hear what you think about it and whether you think this is worth buying or not. Let's chat below.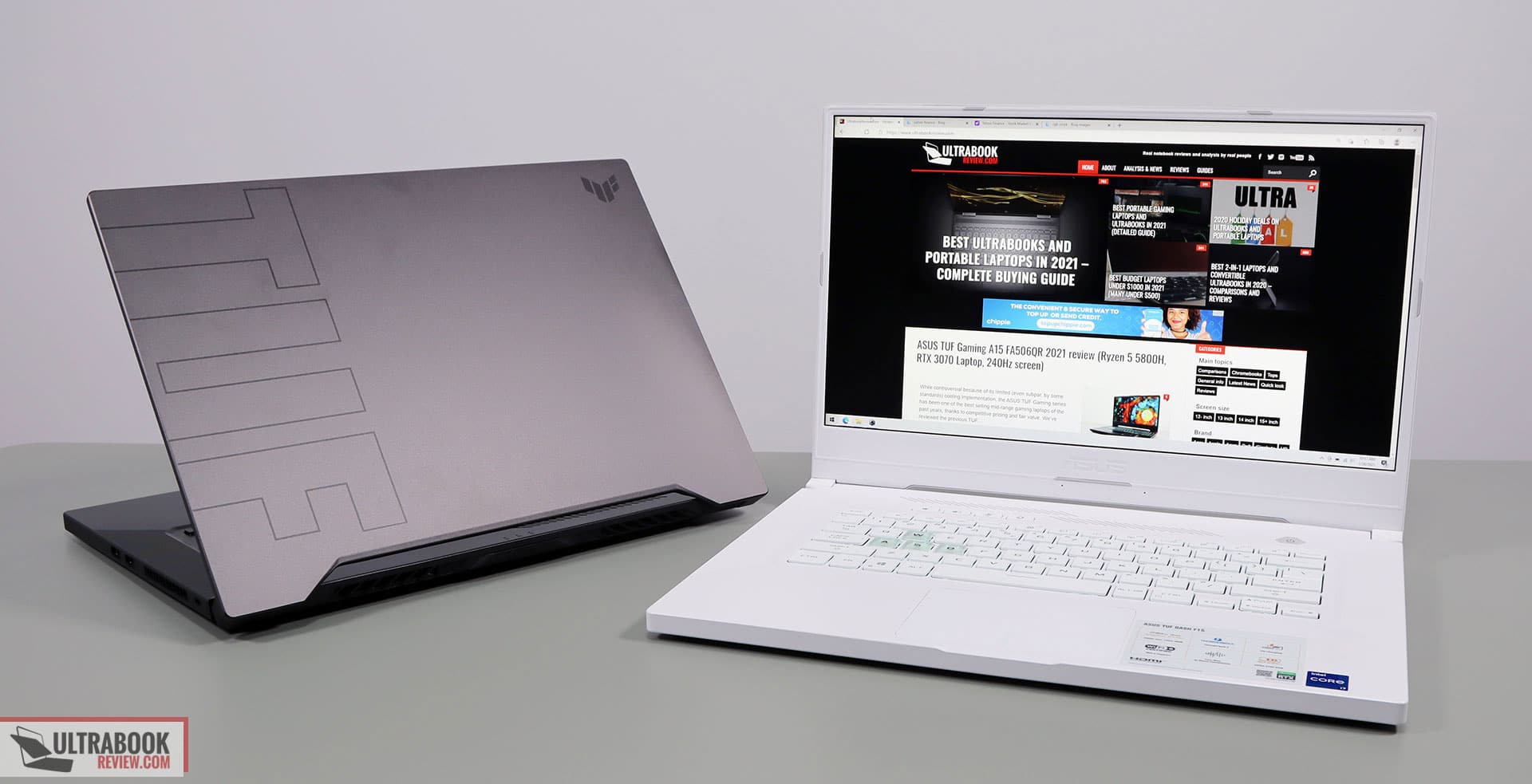 Disclaimer:
Our content is reader-supported. If you buy through some of the links on our site, we may earn an affiliate commission.
Learn more.