After spending time with many Ryzen 5000 H laptops in the last weeks, it's about time for a change of pace. We're still keeping with AMD laptosp, though, this time around with their Ryzen 5000 U Lucienne and Cezanne platforms.
The ZenBook 13 UM325 is one of the first ultrabooks built on the 2021 AMD Ryzen U hardware, available in a couple of configurations. For the most part, this is identical to the Intel-based ZenBook 13, but with two main particularities: it's only offered with an awesome OLED display and, of course, is powered by the AMD hardware.
Even the UM325 comes in two variants, though: a UM325UA subseries based on AMD Lucienne processors (Ryzen 5 5500U, Ryzen 7 5700U), and a UM325SA lineup based on the AMD Cezanne (Ryzen 5 5600U, Ryzen 7 5800U) APUs. We'll explain the differences in this article.
For now, our test unit is only a lower-tier Lucienne configuration, built on a Ryzen 5 5500U processor, 16 GB of memory, and a fast 512 GB SSD, but we'll update once we get to spend time with the UM325SA variants as well.
Specs as reviewed – Asus ZenBook 13 UM325
| | |
| --- | --- |
| | Asus ZenBook 14 UM325UA |
| Screen | 13.3 inch, 1920 x 1080 px, OLED, glossy, non-touch, Samsung ATNA33XC11-0 panel |
| Processor | AMD Lucienne Ryzen 5 5500U CPU, 6C/12T |
| Video | AMD Vega, 7 EUs, 1.8 GHz |
| Memory | 16 GB LPDDR4x 3733 MHz (soldered) |
| Storage | 512 GB M.2 PCIe x4 SSD (SK Hynix HFM512GD3JX013N) |
| Connectivity | Wireless 6 (Intel AX200), Bluetooth 5.0 |
| Ports | 1x USB-A 3.2 gen1, 2x USB-C gen2 with data, DP and charging, HDMI 2.0b, microSD card reader |
| Battery | 67 Wh, 65W charger |
| Size | 304 mm or 11.96" (w) x 203 mm or 7.99" (d) x 13.9 mm or 0.55" (h) |
| Weight | 2.5 lbs (1.14 kg)+ .45 lbs (.21 kg) charger and cables, EU version |
| Extras | white backlit keyboard, NumberPad, HD IR camera, no audio jack |
Design and construction
On the outside, the 2021 ZenBook 13 UM325 is identical to the already existing UX325 variants built on Intel specs.
That means metal is used for the entire construction, with a textured finishing for the lid and a smooth matte interior. Asus went with a dark-gray color scheme that looks nice and professional, and does a fair job at fending-off smudges on the palm-rest. The brushed exterior does cath fingerprints quite easily, though.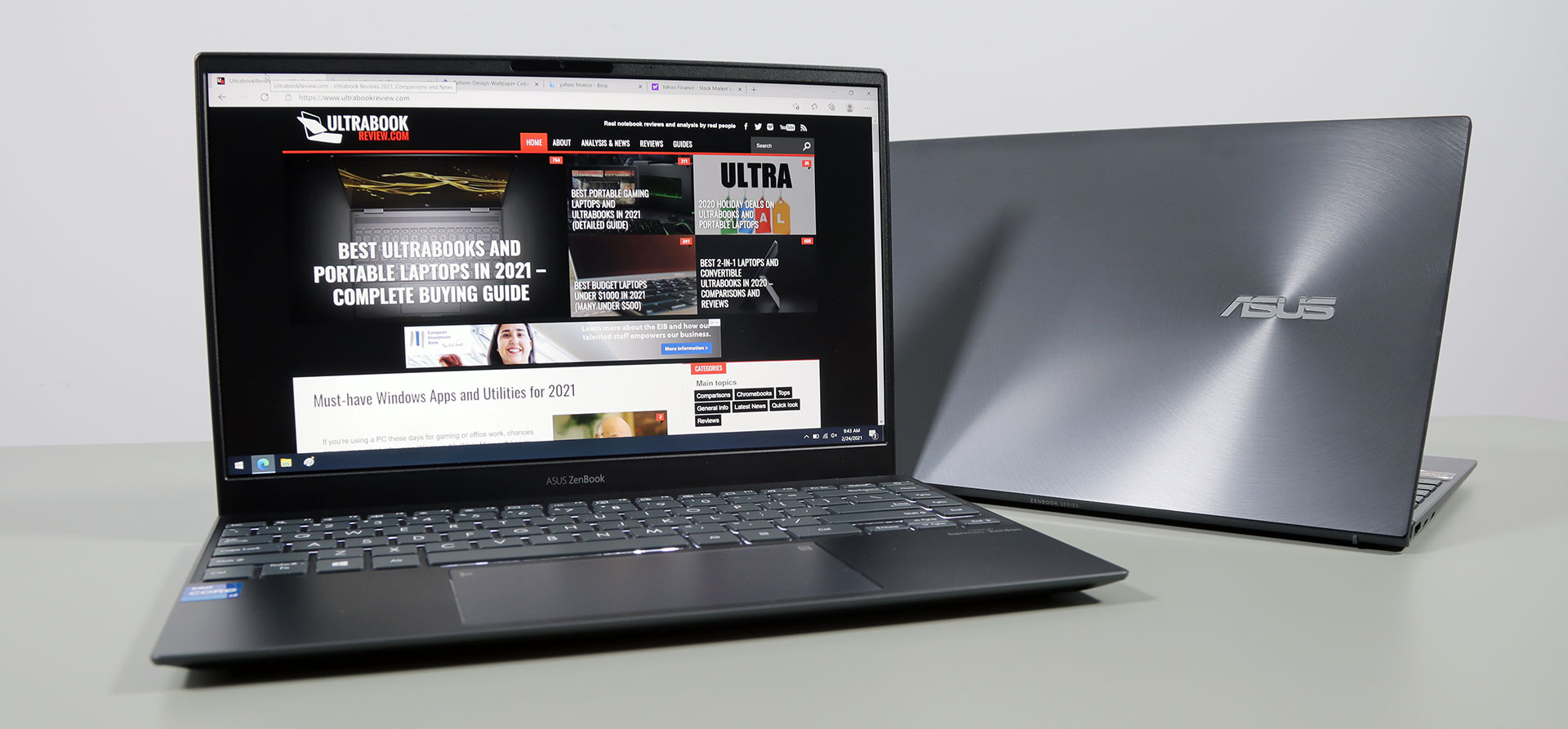 This ZenBook 13 is compact and lightweight, without sacrificing practicality. It weighs a little under 1.2 kilos in this tested variant and the design tucks most of the screen's chin out of sight, with the Ergolift hinge mechanism.
This is available on all ZenBooks and pretty much lifts the laptop's main-body on small rubber feet placed at the bottom of the screen, creating a slightly inclined typing position and allowing for better airflow underneath. As a result, though, the screen can only lean back to about 155 degrees, and not all the way flat, and the hot-air exhaust is placed between the hinges and right under the display (we'll talk about it in a further section).
As far as the build quality goes, the entire ZenBook lineup is MIL-STD 810H rated for durability and reliability, and Asus seems to have slightly reinforced the chassis from the 2020 models, as this no longer creaks when picking up the laptop or lying your hands on the arm-rest.
You can still pick up and lift the screen single-handily, the rubber feet on the bottom provide decent grip on a desk, and I still find the beveled metal lips and edges a bit too harsh for my liking, occasionaly digging into my wrists. The arm-rest is nonetheless spacious, as it had to accommodate that large glass clickpad in the middle. However, that comes at the expense of the typing experience on this 13-inch ZenBook lineup, as you'll see in a bit.
As for the IO, it's lined on the sides, with USB-Cs and an HDMI port on the left edge, and a USB-A and microSD card-reader on the left. Still no audio-jack on this series, instead, a USB-C to 3.5 mm jack dongle is included in the pack, alongside a USB to LAN adapter, plus a protection sleeve. There's also no Thunderbolt support on this AMD variation, an exclusive for the Intel variants, but the USB-Cs support data (up to 10 gbps), charging, and video through DP.
Keyboard and trackpad
As I mentioned in my past reviews of the ZenBook 13 series, the typing experience is what primarily sets this size apart from its 14-inch kin.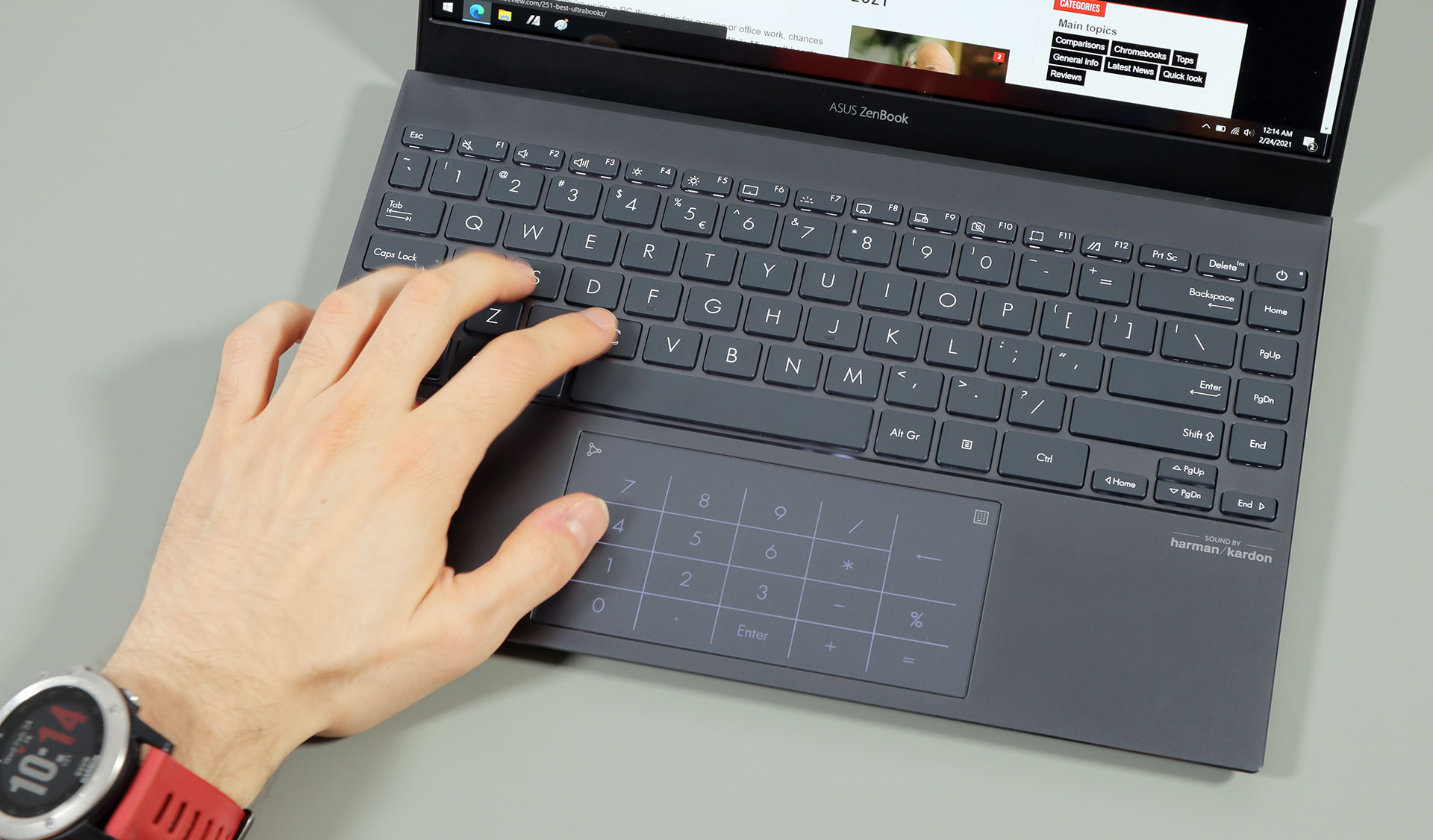 And that's because the smaller design with the spacious arm-rest only left enough room for a cramped keyboard to be squeezed in here. While the 14-inch ZenBooks get a main set of 16 x 15 mm keys, this 13-inch variant only gets 16 x 13 mm keys, which vertically cramps up the layout, making it especially more difficult to use for those of you with larger hands. So while the UX/UM425s are among my favorite typers right now, I could not reach the same speed and accuracy results on this 13-inch model.
This is not a bad typer, though, once you get used to it. I like the feedback and click response, just can't properly get used to the shorter keys.
Layout and feedback aside, this keyboard is also backlit, with bright white LEDs and a dedicated Caps Lock indicator. The illumination is bright and visible, but not completely uniform, and light shines through from underneath the keycaps. Finally, I should mention that you can easily reactivate the illumination with a swipe over the clickpad, once it times off.
Down beneath, centered on the chassis, Asus implemented the same spacious glass clickpad with Precision drivers and secondary NumberPad functionality that's available in most recent ZenBooks. It's a smooth, reliable, and sturdy surface, with good gesture support and palm-rejection.
As for biometrics, there's no finger-sensor on the Zenbook UM325, but you do get an IR camera at the top of the screen.
Screen
As far as I can tell right now, Asus only decided to offer the ZenBook 13 UM325 with an OLED panel.
Don't get me wrong, this Samsung-made OLED display is awesome, with excellent contrast, rich colors, and good maximum brightness. I'm just not the biggest fan of OLED panels on laptops, due to the static interfaces in Windows, and I feel you should carefully understand the particularities of OLED and what you need to do to prevent burn-in long-term: mostly never use this at high brightness levels and make sure the included screen-saver is always active.
Here's what we got in our tests, with an X-Rite i1 Display Pro sensor:
Panel HardwareID: Samsung SDC4158 (ATNA33XC11-0);
Coverage: 100% sRGB, 97.9% AdobeRGB, 99.7% DCI-P3;
Measured gamma: 2.24;
Max brightness in the middle of the screen: 422.23 cd/m2 on power;
Min brightness in the middle of the screen: 7.24 cd/m2 on power;
Contrast at max brightness: 1:1;
White point: 6400 K;
Black on max brightness: 0 cd/m2;
PWM: No.
For what is worth, the panel is excellently calibrated out of the box (comes with a Pantone certification), uniform (with a slight DeltaE deviation on the left-side) in our tests, and according to the official literature, gets a TÜV Rheinland Eye Care certification that means it emits significantly less harmful blue-light than a normal LCD.
And here's a side-by-side comparison between the OLED panel (right) and the IPS 400-nits panel option in the ZenBook UX325 (left).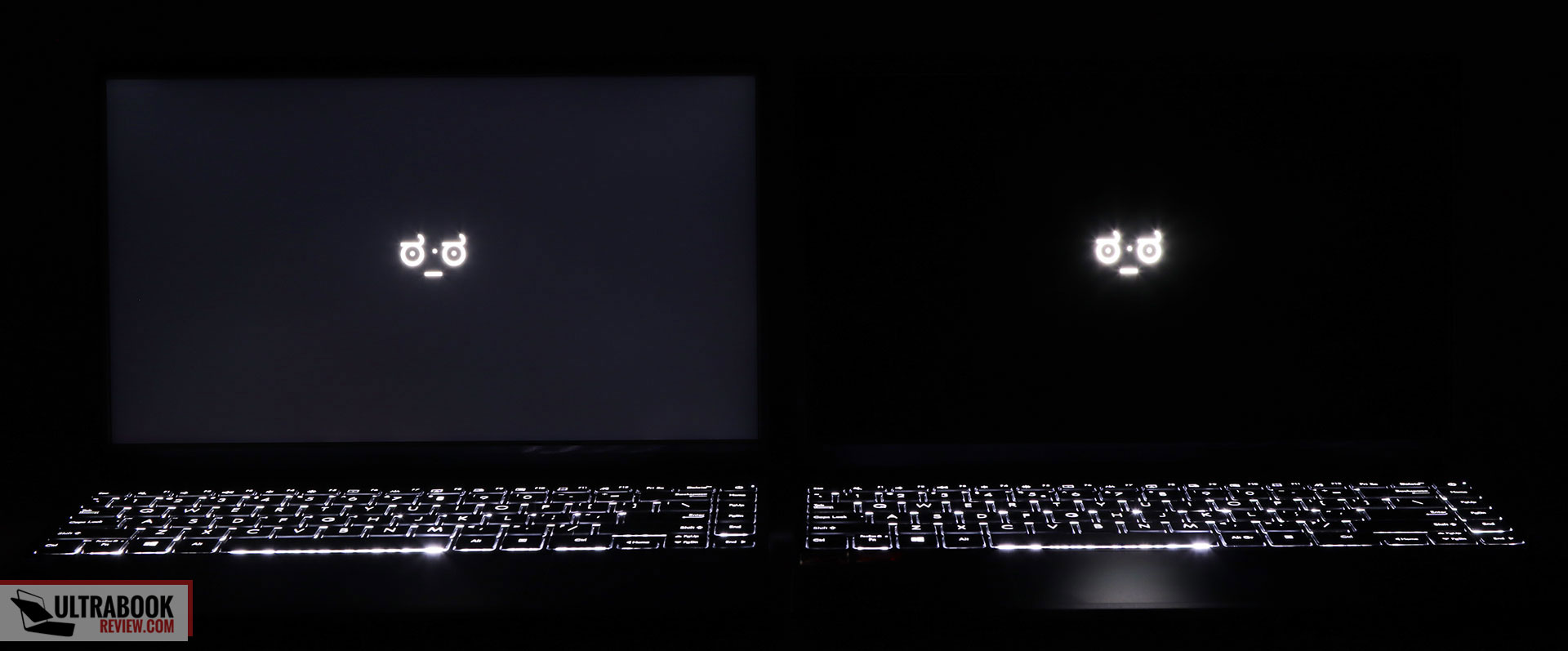 It's obvious this OLED is a nicer panel, but it's also not as care-free as the IPS, especially if you plan on using your laptop in bright environments. Also keep in mind that the OLED panel is glossy, thus reflects everything around, but doesn't support touch. In comparison, the IPS screen option on the Intel model is matte, and also cheaper, as you're paying a slight premium for the OLED.
In the end, it's up to you if you want an OLED panel on your laptop or not. I for one would have appreciated having both options to choose from on this series.
Hardware and performance
Our test model is a lower-specced variation of the ZenBook 13 UM325 based on an AMD Ryzen 5 5500U 6C processor with Vega 7 graphics, paired with 16 GB of LPDDR4x 3733 MHz RAM and 512 GB of fast SSD storage.
It's a retail unit provided by AMD for the purpose of this review, and tested with the software available as of late-February 2021 (BIOS 203, MyAsus 2.3.16.0 app).
Specs-wise, the ZenBook 13 UM325 is based on the early-2021 AMD Ryzen 5000 U hardware platform, with options starting with the 6C/12T Ryzen 5 5500U processor on our review unit, and going up to the 8C/16T Ryzen 7 5800U.
There's a catch, though. Even if the naming might suggest otherwise, there are two main types of Ryzen  5000 processors:
those based on the Lucienne Zen2+ architecture, such as the Ryzen 5 5500U and Ryzen 7 5700U, available on the ZenBook 13 UM325UA configurations;
those based on the Cezanne Zen3 architecture, such as the Ryzen 5600U and Ryzen 7 5800U, available on the UM325SA models.
The former are pretty much rebadged Renoir 4000 processors with some slight improvements, as explained here, while the latter are the updated architecture with improved IPC and overall performance.
Our review only covers the Ryzen 5 5500U variant so far, as we'll update once we get to test the Cezanne models as well. As it is, the Ryzen 5 5500U is mostly a rebadged Ryzen 5 4600U from 2020, and delivers similar performance. The major difference is the inclusion of a 7 CU Vega iGPU running at up to 1.8 GHz, compared to the 6 CUs iGPU on the Ryzen 5 4600H model.
CPU and GPU aside, the ZenBook 13 UM425 is piared with up to 16 GB of LPDDR4x 3733 MHz memory and SSD storage. Our unit comes with a fast SK Hynix drive out of the box.
Everything is soldered on the motherboard, except for the SSD. Asus put this behind a radiator that helps to keep it cool. We haven't noticed any performance issues during our tests, despite it being placed right near the CPU, in the hottest region of this laptop.
As far as the software goes, this ZenBook gets the standard MyAsus app which allows control over the power profiles, battery and screen settings, updates, etc, while the Audio is controlled in AudioWizard.
There are three performance/thermal profiles to choose from:
Performance – allows the CPU to run at 15+W in sustained loads, with fans ramping up to 36-38 dB;
Standard – allows the CPU to run at 12+W in sustained loads, with fans ramping up to 35 dB;
Whisper – limits the CPU at 7+W to favor lower fan-noise of sub 30 dB.
The Standard profile keeps the fan mostly idle with light use and quiet with heavier loads. The laptop feels snappy with daily multitasking, video streaming, text-editing, and the likes on Standard, and a bit sluggish with multitasking on Whisper, so I wouldn't use that profile much.
On to more demanding tasks, we start by testing the CPU's performance by running the Cinebench R15 benchmark for 15+ times in a loop, with 2-3 seconds delay between each run, in the Performance mode.
The Ryzen 5 processor runs at high power and clocks for a few runs and then stabilizes at around 15W of sustained power, clock speeds of ~2.6 GHz, and temperatures of 72-75 degrees Celsius. The fan ramps to about 36-37 dB at head-level in this test, and the laptop returns scores of ~1000 points. Overall, this is a power-limited implementation of the Ryzen hardware, but the scores are nonetheless competitive! Given how the platform scales as higher-power, I wouldn't expect more than 10% gains with an implementation that runs at 25W sustained.
We also tested the laptop on the Standard and Whisper modes. Standard limits the Ryzen 5 CPU at around ~12 W, with quieter fans and lower temperatures, while Whisper lowers the limit to 7 W. Finally, the laptop runs at ~15 W of power when unplugged, on the Performance mode. All these findings are detailed in the chart below.
To put these in perspective, the Ryzen 5 5500U in this laptop is fairly power-limited in this test, at 15W sustained on the Performance mode.
We further verified our findings by running the longer and more challenging Cinebench R20 test, and the gruesome Prime 95 test.
That aside, 3DMark stress runs the same test for 20 times in a loop and looks for performance variation and degradation over time in combined CPU+GPU loads, and this laptop failed it by a fairly big margin. This suggests that the performance degrades once the heat builds-up, and makes perfect sense, given how the platform runs at higher-power for a little bit, and then stabilizes at ~15W of sustained combined power, which caps the CPU/GPU frequencies.
Next, here are some benchmark results of this Ryzen 5 5500U + Vega 7 configuration.
3DMark 13 – Fire Strike: 3341 (Graphics – 3667, CPU – 15080, Combined – 1179);
3DMark 13 – Night Raid: 13196 (Graphics – 14798, CPU – 8180);
3DMark 13 – Time Spy: 1251 (Graphics – 1106, CPU – 4904);
3DMark 13 – Wild Life: 7062;
Uniengine Superposition – 1080p Medium: 1989;
Uniengine Superposition – 1080p Extreme: 634;
PassMark10: Rating: 4613 (CPU: 13895, 3D Graphics: 2424, Disk: 22688);
PCMark 10: 5094 (E – 9154, P – 7567, DCC – 5180);
GeekBench 5.3.1 64-bit: Single-Core: 1087, Multi-core: 5232;
CineBench R15 (best run): CPU 1146 cb, CPU Single Core 174 cb;
CineBench R20 (best run): CPU 2351 cb, CPU Single Core 457 cb;
CineBench R23 (best run):  CPU 6037 cb, CPU Single Core 1168 cb;
x265 HD Benchmark 64-bit: 55.19 fps;
Blender 2.90 – BMW Car scene- CPU Compute: 6m 31s;
Blender 2.90 – Classroom scene – CPU Compute: 17m 23s.
Take them for what they are, we don't have any comparison points at this moment. Keep in mind we're using the early BIOS and drivers available at launch as of February 2021, and some aspects might change with future software updates. Perhaps Asus might even decide to increase the power-cap on the Performance profile to around 19W, which is what they're using on the Intel Tiger-Lake UX325. We'll update if we get to restest this at a future date.
We also ran a couple of DX11, DX12, and Vulkan titles on the Performance profile, FHD resolution, and Low/Lowest graphics settings. Here's what we got:
| | | | | | |
| --- | --- | --- | --- | --- | --- |
| Ryzen 5 5500U + Vega | UM325 – R5 5500U 15W | UX425 – i7-1165G7 19W | IdeaPad 5 – R5-4600U 25W | IdeaPad 7 – R7-4800U 26W | UM425 – R7-4700U 13W |
| Bioshock Infinite (DX 11, Low Preset) | 70 fps (52 fps – 1% low) | 70 fps (40 fps – 1% low) | 63 fps (50 fps – 1% low) | 81 fps (58 fps – 1% low) | 66 fps (50 fps – 1% low) |
| Dota 2 (DX 11, Best Looking Preset) | 49 fps (33 fps – 1% low) | 56 fps (44 fps – 1% low) | – | 53 fps (40 fps – 1% low) | 39 fps (28 fps – 1% low) |
| Far Cry 5 (DX 11, Low Preset, no AA) | 23 fps (18 fps – 1% low) | 26 fps (18 fps – 1% low) | 21 fps (18 fps – 1% low) | 28 fps (24 fps – 1% low) | 21 fps (17 fps – 1% low) |
| Middle Earth: Shadow of Mordor (DX 11, Lowest Preset) | 48 fps (38 fps – 1% low) | 65 fps (47 fps – 1% low) | 41 fps (30 fps – 1% low) | 33 fps (24 fps – 1% low) | 45 fps (36 fps – 1% low) |
| NFS: Most Wanted (DX 11, Lowest Preset) | 60 fps (49 fps – 1% low) | 60 fps (46 fps – 1% low) | 33 fps (20 fps – 1% low) | 60 fps (46 fps – 1% low) | 56 fps (34 fps – 1% low) |
| Shadow of Tomb Raider (Vulkan, Lowest Preset, no AA) | 26 fps (15 fps – 1% low) | 28 fps (16 fps – 1% low) | 28 fps (20 fps – 1% low) | 38 fps (22 fps – 1% low) | 27 fps (16 fps – 1% low) |
| Strange Brigade (Vulkan, Low Preset) | 36 fps (31 fps – 1% low) | 44 fps (28 fps – 1% low) | 33 fps (27 fps – 1% low) | 41 fps (36 fps – 1% low) | 37 fps (32 fps – 1% low) |
| The Witcher 3: Wild Hunt (DX 11, Low Preset, Hairworks Off) | 22 fps (12 fps – 1% low) | – | 21 fps (16 fps – 1% low) | 28 fps (22 fps – 1% low) | 21 fps (14 fps – 1% low) |
Dota 2, NFS – recorded with MSI Afterburner in game mode;
Bioshock, Far Cry 5, Middle Earth, Strange Brigade, Tomb Raider games – recorded with the included Benchmark utilities;
The performance is once more affected by the power-caps, both on Performance and on Standard.
Here are some logs of the Performance profile, and you can see that the GPU cannot run at its designed 1.8 GHz, which takes a toll on the results. It still ends-up outmatching the 25W Ryzen 5 4600U in the IdeaPad 5 in this test.
The fps are even more significantly capped on the Standard profile, if you plan to run games on this mode for any reason. I don't see why you would, though.
When it comes to gaming, though, the Intel Tiger Lake based ZenBook UX325 has an advantage over this AMD variant, which I expect to also keep over the UM325SA configurations built on Cezanne hardware.
In conclusion, even in this base power-capped configuration, the ZenBook 13 UM325 is a versatile multi-purpose ultrabook. The AMD platform is especially competent in multi-threaded works, such as occasional workloads or light video editing, but the Lucienne hardware loses in IPC, single-core and GPU performance in comparison to the Intel Tiger Lake models. Curious how the Cezanne models fair in comparison. We'll see, that's something we'll touch on in future articles.
Noise, Heat, Connectivity, speakers, and others
Asus went with a basic thermal module here, with a single heatpipe and single fan, the same kind we've seen implemented on most of their past ZenBook, VivoBook, and ExpertBook lineups.

Furthermore, the software is also designed to minimize fan-noise. As a result, the fan rests idle most of the time with light daily use, spins at only about 35 dB with multitasking while plugged in, and ramps up to about 36-37 dB at head-level when running games and other combined CPU+GPU loads.
Internal temperatures are kept at bay, but that's primarily because the hardware package is power-limited in taxing loads, with the toll in performance mentioned earlier.
As it is, our Zephyrus UM325 sample ran cooly with daily use (and remember that's with mostly passive cooling), and averagely hot with taxing loads. We measured temperatures in the high-40s on the hottest parts of the keyboard deck, and low-50s on the bottom, but also 50s on the screen's chin, right next to the exhaust. That thicker chin soaks up most of the exhausted heat, and the actual panel only hits temperatures in the low 40s, which should be fine long-term. Still not a fan of this sort of design, though!
*Daily Use – streaming Netflix in EDGE for 30 minutes, Balanced Mode, fans at 0-35 dB
*Gaming  – Performance mode – playing Far Cry 5 for 30 minutes, fans at 37-38 dB
For connectivity, there's latest-gen WiFi 6 and Bluetooth 5.9 with an Intel AX200 module on this laptop. It performed well with our setup, even if the tests might say otherwise, and that's because our connection was temporarily limited at that time.
Audio is handled by a set of stereo speakers that fire through grills on the underside, and they're identical to the ones on the other ZenBook 13/14 models of this generation. The angled shape of the D-Panel allows the sound to bounce off the table without distortions, and I also haven't noticed any vibrations in the arm-rest at higher volumes.
Unlike on other ZenBooks tested recently, the DTS Audio Music profile makes a positive difference on this unit, allowing for a richer and cleaner sound. The volumes are only about average, at about 76-78 dB at head-level in our tests. The audio quality is still about the average you should expect from this class, fine for movies and music, but not impressive by any means.
The same can be said about the HD camera placed at the top of the screen. It's fine for occasional calls, but the quality is still washed out.
Battery life
There's a 67 Wh battery inside the ZenBook 13 UM325, which is larger than what you'd normally get on a 13-inch notebook. With the efficient AMD hardware implementation and even with the OLED screen, this notebook will last for a fair while on a charge.
Here's what we got, with the screen's brightness set at around 120 nits (~60 brightness).
8 W (~8+ h of use) – text editing in Google Drive, Standard + Better Battery Mode, screen at 60%, Wi-Fi ON;
6.5 W (~10 h of use) – 1080p fullscreen video on Youtube in Edge, Standard + Better Battery Mode, screen at 60%, Wi-Fi ON;
6.2 W (10+ h of use) – Netflix fullscreen in Edge, Standard + Better Battery Mode, screen at 60%, Wi-Fi ON;
10 W (~6-7 h of use) – browsing in Edge, Standard + Better Performance Mode, screen at 60%, Wi-Fi ON.
I was expecting perhaps a higher toll taken by the OLED screen with browsing and text-editing, which are mostly white backgrounds, but I was wrong. This OLED panel is efficient at lower to mid brightness levels, not as efficient as the 1W IPS panel on the Intel options, but fairly close.
The laptop ships with a compact 65W charger that plugs-in via USB-C. It's a single-piece design with a compact brick and a long and thick cable, and a full charge takes about 2 hours, but quick-charging allows it to fill-up to 60% in ~50 minutes.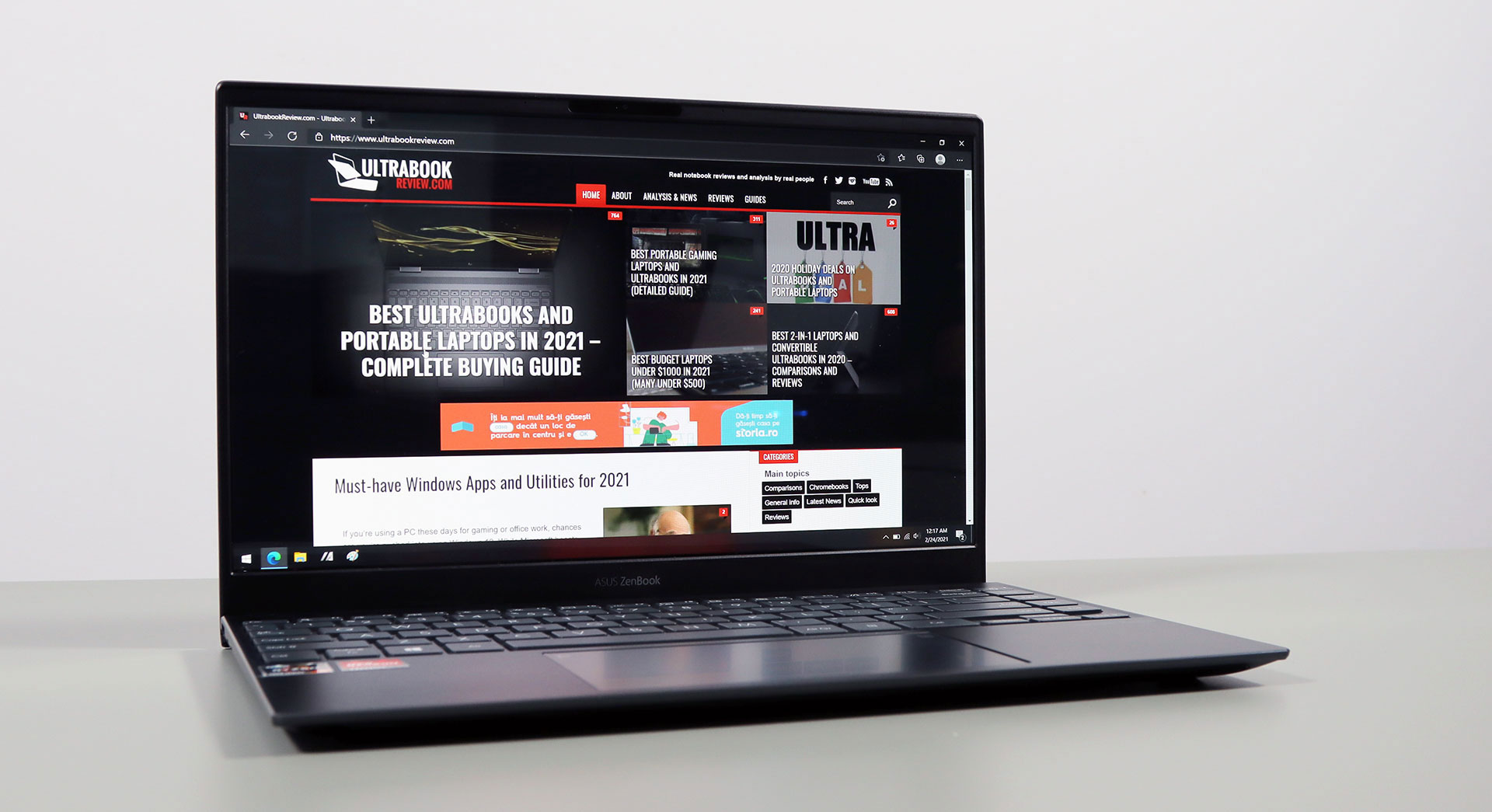 Price and availability
The ZenBook 13 UM325 is not yet available in stores at the time of this article, but should be soon.
Stay put for updates, and in the meantime, follow this link for updated prices and configurations in your region.
Final thoughts
This
–updating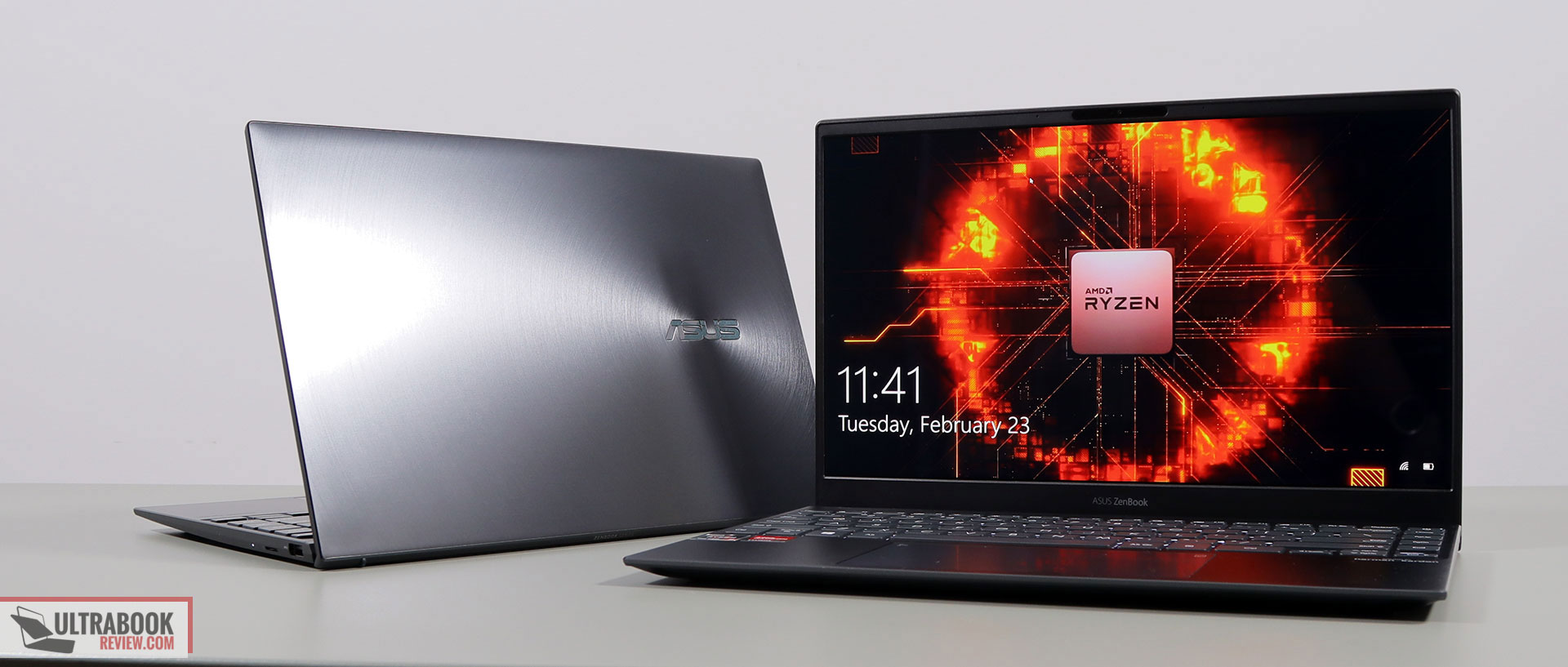 Disclaimer:
Our content is reader-supported. If you buy through some of the links on our site, we may earn an affiliate commission.
Learn more.