This article is my detailed review of the 2022-generation Asus ZenBook 14.
I've documented ZenBooks from their beginnings and followed their evolution over the years. With each iteration, Asus tried to improve on the previous designs in order to keep ZenBooks competitive in the more and more challenging niche of premium ultrabooks.
With the 2022 update, the major changes are the thermal design that no longer blows hot air into the screen, an upgrade to a larger-size battery and 16:10 displays with excellent-quality panels, as well as the standard generational bump in hardware specs.
Speaking of, the ZenBook 14s of this generation are available with either Intel or AMD hardware, and in this article, we're discussing the Intel-based ZenBook 14 UX3402 variants, built on Intel 12th-gen Alder Lake Core P platforms with an Intel Evo certification.
Here's a specs sheet on the review unit, and we'll go over all the details down below, so you'll know what to expect before deciding on one of these.
Specs – Asus Zenbook 14 UX3402ZA
Asus Zenbook 14 2022 UX4302ZA
Screen
14.0 inch, 2.8K 2880 x 1800 px, 90 Hz, OLED, glossy, non-touch, Samsung SDC4171 panel
matte IPS 2.5K screen variant also available
Processor
Intel Alder Lake 12th gen, up to Core i7-1260P, 4C+8c/16T
Video
Intel Iris Xe, 96 EUs, up to 1.4 GHz
Memory
16 GB LPDDR5-4800 (soldered)
Storage
1x M.2 PCIe 4.0 x4 SSD (Samsung PM9A1), single M.2 2280 slot
Connectivity
Wireless 6E (Intel AX211), Bluetooth 5.2, Ethernet with included USB adapter
Ports
1x USB-A 3.2 gen2, 2x USB-C 3.2 with Thunderbolt 4, HDMI 2.0b, microSD card reader, audio jack
Battery
75 Wh, 65W USB-C charger with quick-charging
Size
314 mm or 12.35" (w) x 220 mm or 8.69 (d) x 16.9 mm or 0.67" (h)
Weight
3.02 lbs (1.37 kg)+ .49 lbs (.22 kg) charger + cables, EU version
Extras
white backlit keyboard, glass NumberPad, HD webcam without Hello, finger sensor in the power button, stereo bottom speakers
An AMD-based variation of this laptop is also available, as the Asus ZenBook 14 UM3402 series. At the time of this update, that's only offered with AMD Barcelo Ryzen 7 5825U and Ryzen 5 5625U hardware, and not with the newer Ryzen 6000 Rembrandt specs, which are available with the 13-inch ZenBook S 13 UM5302. A Rembrandt update of the 14-inch model might eventually happen, though.
As for the non-OLED variant of this ZenBook 14, that's an IPS 2560 x 1600 px matte panel with 400-nits of brightness and 100% sRGB coverage. It won't be as widely available as the OLED model, though.
Design and construction
While it might not seem obvious at a first glance, the 2022 ZenBook 14 is different than the previous generation in a multitude of ways.
Aesthetically, the major update is the redrawn lid. The iconic pattern of concentric circles spurring from the Asus logo has been replaced with a simplified matte design and a minimalist Asus Zenbook engraving in the bottom corner.
Furthermore, this series is available in two color options now, this dark-blue model that we have here, with a dark-grey keyboard, which Asus calls Celadon Blue, and a lighter variant with a light-grey keyboard, called Aqua Celadon. The latter does a better job at hiding smudges and fingerprints, as experienced on the ZenBook S 13 here.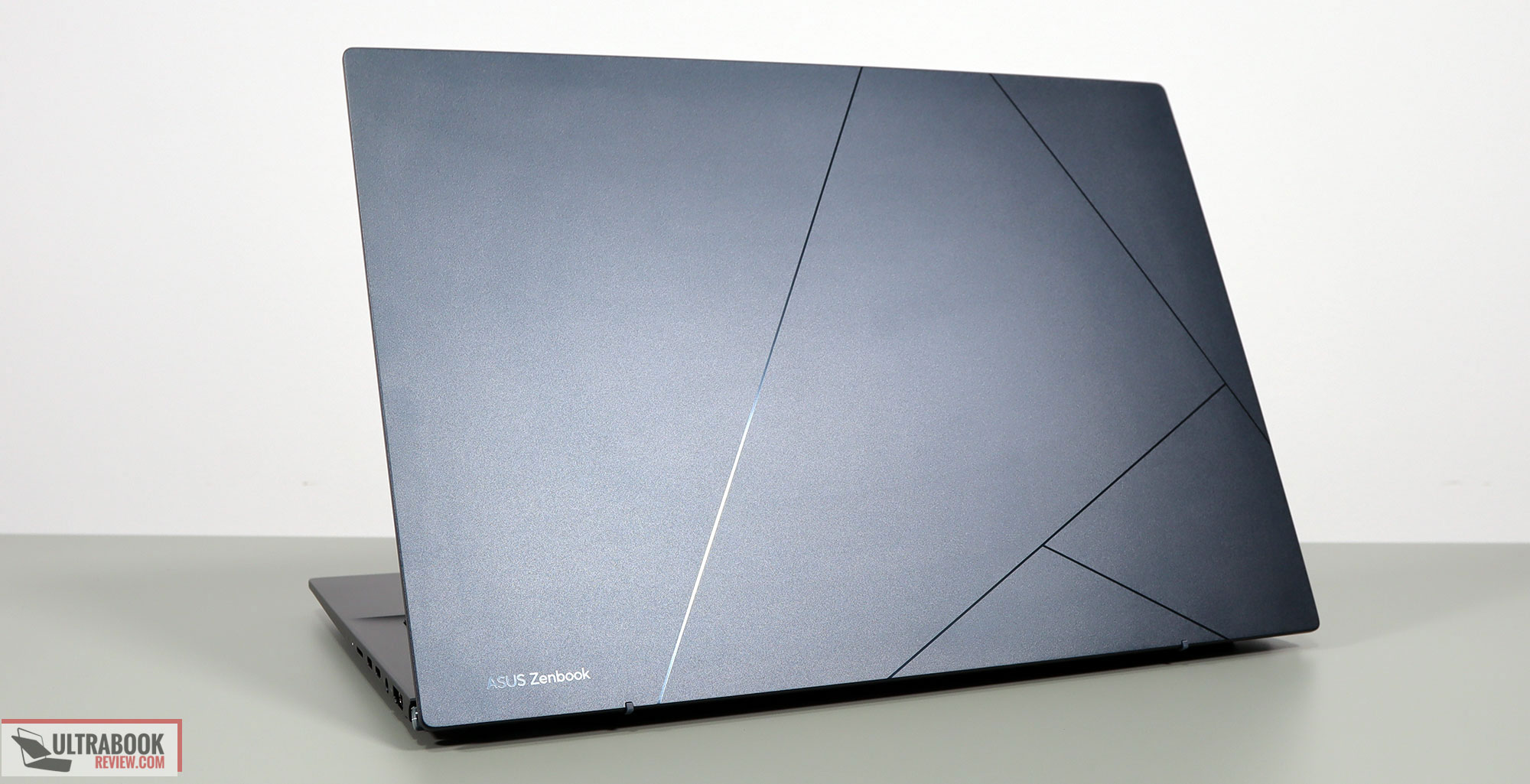 Functionally, the novelties are the transition towards a 16:10 display and a taller and narrower overall chassis footprint, as well as a complete revamp of the cooling module and the IO.
We'll cover the screen options in a further section, and here I'll just add that the hinge now allows for a 180-degree back angle, a must-have for me in an ultraportable design, and that Asus placed a camera and microphones at the top of the display, where they should be.
As for the format transition, the 2022 ZenBook 14 is a little taller and narrower than the previous model, and that lead to updated inputs and extra interior space for a larger battery, now at 75 Wh in capacity.
On top of that, the construction feels a bit more robust with this generation, as the chassis no longer squeaks when grabbing and using the laptop as easily as before. In all fairness, though, this is still not a rock-solid build, the kind available with something like an XPS 13 or a MacBook.
At the same time, the weight of this ultrabook has increased a fair bit with all these changes. The previous ZenBook 14 UX425EA weighed around 1.2 kilos with the matte display, while this Zenbook 14 UX3402ZA now weighs 1.37 kilos with the glossy non-touch display. The charger adds .22 kilos extra to your bag.
Other than these, Asus kept the Ergolift hinge design that lifts the main chassis on small rubber feet placed at the bottom of the display part, allowing for improved airflow into the fans. It works well and the laptop is still stable on the desk even when leaning on those tiny screen feet.

The cooling on this series has been completely revamped, though, as the radiator was moved to the left side so the hot air is no longer expelled into the display. I've complained about it on many past ZenBook generations, and I'm glad they finally did something about it.
Fresh air goes inside through the open grill on the bottom of the laptop, but a closer look shows that the fan is mostly obstructed, and the intake only covers a small portion of it. Instead, Asus designed this to pull in fresh air over the heatpipe and then channel it through the fan and onto the radiator to the side.
With the cooling exhaust now occupying most of the left side, the majority of the IO has been moved to the right, where you'll find two USB-C ports with Thunderbolt 4 support, an HDMI port, a micro SD card reader, an audio jack, and the status LEDs. A full-size USB-A port is also available on the left side, next to the radiator.
Personally, I would have preferred if all these were inverted, having most of the ports on the left and the radiator on the right. With my setup, having to plug in the laptop on the left feels inconvenient, alongside the fact that connecting peripherals would clutter that side as well, but it might be different for you.
All in all, while I still have some complaints about certain aspects of this 2022 ZenBook 14 redesign, I'm happy with the overall result. The positives are the refreshed look, the included 16:10 displays now able to lean back to 180-degrees, and the redesigned cooling, while on the other hand, the series has gained weight, the keyboard lost some of the extra keys available before, and having all the IO on the left is not ideal for me.
Keyboard and trackpad
With the slightly narrower and taller format of the 2022 ZenBook 14s compared to the previous generations, the inputs have been slightly updated, with taller keycaps (now 16 x 16 mm, vs 16 x 15 mm before) and a slightly taller clickpad.
On the other hand, this layout no longer leaves room for the extra column of function keys previously implemented on the right side of the keyboard, which is a downgrade in functionality. Home/PgUp/PgDn/End are now only secondaries for the arrow keys, as a result.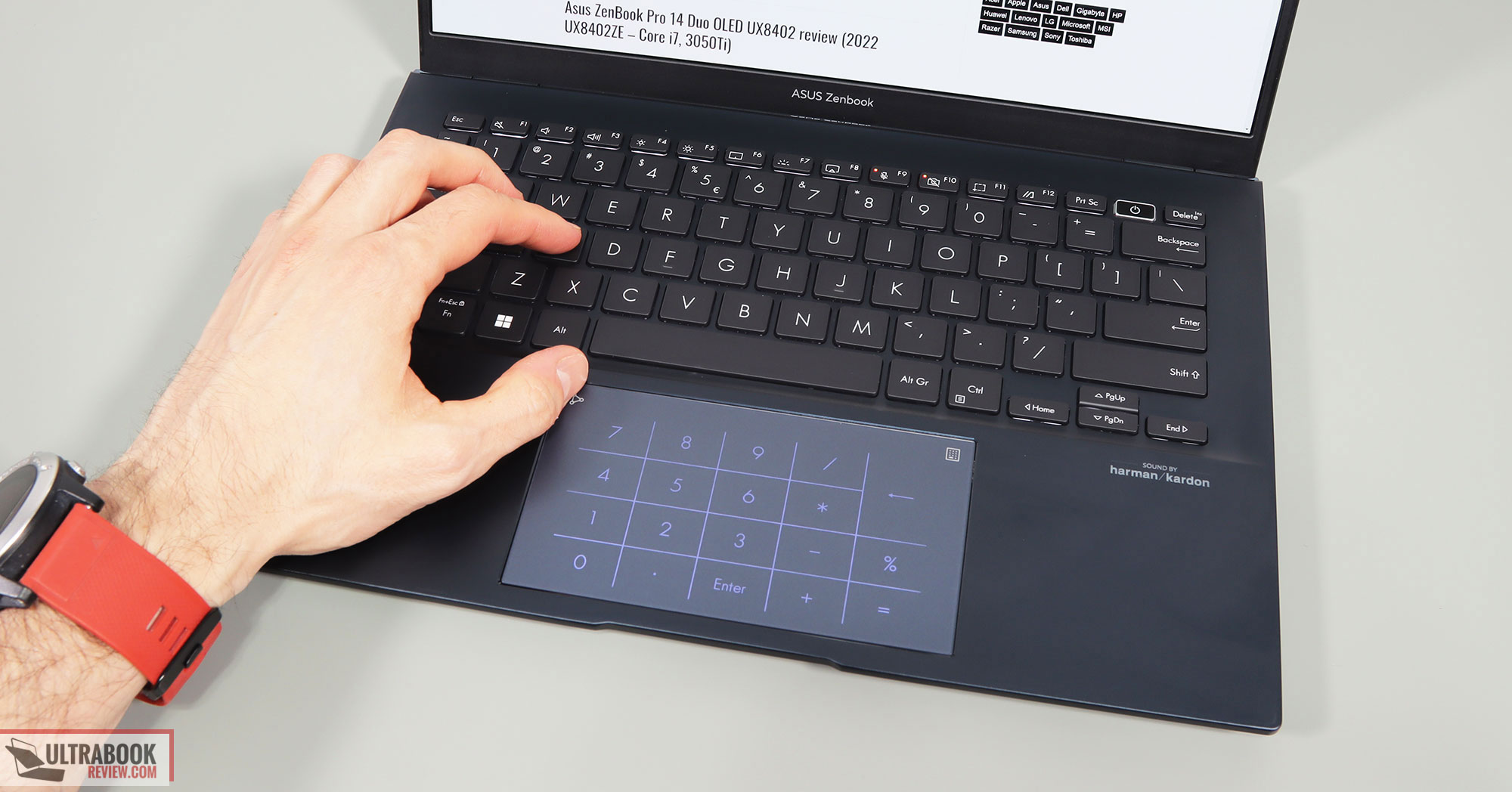 Layout aside, the overall typing experience is alright here, with nice feeling keycaps, balanced stroked depth, and quiet activations. At the same time, while I don't have the 2021 and 2022 ZenBook 14s to test side by side, my feeling is that the feedback is a little mushier with the new generation, and I kind of preferred the previous keyboard overall. This one is fine, but that one was better.
The backlighting system is fine as well, with white LEDs and three brightness levels to choose from. The layout includes indicators for Caps-Lock and for the camera/mic on the F9/F10 keys, and the light reactivates with a swipe over the clickpad when it times out.
I have nothing to complain about the contrast and the overall LED uniformity in this unit, although this last aspect might vary between implementations. At least both color variants available for this ZenBook offer good contrast between the keys and the white lighting.
The clickpad is a large glass surface that works flawlessly with swipes, gestures, taps, etc. It also felt solid on this unit and did not rattle with firmer taps, and the physical clicks in the lower corners are OK, just a bit clunky.
This clickpad doubles as a virtual NumberPad, but I don't think that a ScreenPad is offered for this series at this point. It is available for some ZenBook 14X UX5401ZA models, though.
Finally, for biometrics, I'll remind you of the finger-sensor with Hello support included in the power button, and add that an IR camera is no longer included with the 14 series, although it was in the past ZenBook 14 models.
Screen
Most ZenBook 14 UX3402 configurations are available with a glossy OLED 2.8K panel, in either a touch or a non-touch variant.
The panel is the same offered with many other products these days, with a 14-inch diagonal, 16:10 aspect ratio, 2.8K resolution, 90 Hz refresh and 100% DCI-P3 color coverage. Furthermore, this is a 10-bit panel with HDR 500 certification, SDR brightness of 400-nits, and peak HDR brightness of 600 nits.
In real use, this is an awesome-looking display, with the excellent blacks and contrast characteristic of OLEDs, as well as punchy colors and low blue-light emission. This is also a 90Hz refresh panel with very fast response times of around 1-2 ms, with an impact on how smooth motion feels with daily use and streaming, but also in games.
Here's what we got in our tests, with an X-Rite i1 Display Pro sensor (with HDR switched off):
Panel HardwareID: Samsung SDC4171 (ATNA40YK07-0);
Coverage: 100% sRGB, 97.4% Adobe RGB, 99.7% DCI-P3;
Type: 10-bit with HDR500;
Measured gamma: 2.23;
Max brightness in the middle of the screen: 403.22 cd/m2 on power;
Min brightness in the middle of the screen: 2.87 cd/m2 on power;
Contrast at max brightness: 1:1;
White point: 6600 K;
Black on max brightness: 0 cd/m2;
PWM: to be discussed.
This panel came well calibrated out of the box and turned out to be uniform in luminosity and color. Plus, since this is OLED, you don't have to concern yourself with any light bleeding on black backgrounds.
At sub-400-nits SDR brightness, though, and in the glossy implementation, this isn't ideal for bright-light use.
As far opting between the touch and non-touch variants of this panel, you should consider the fact that the touch models get this graininess effect noticeable on white/bright backgrounds, such as when browsing or reading/editing text. The non-touch implementation doesn't suffer from the same kind of graininess, and that's why it is my preferred choice on this format, even if normally I'm not a fan of glossy non-touch displays. That graininess on the touch OLEDs just bothers me a whole lot, though.
I've added a picture of this OLED panel in a non-touch and touch implementation, but it's hard to tell the differences from this image, even if the graininess is obvious to me in real life. I'd advise you to experience it yourselves if possible, and draw your own conclusions.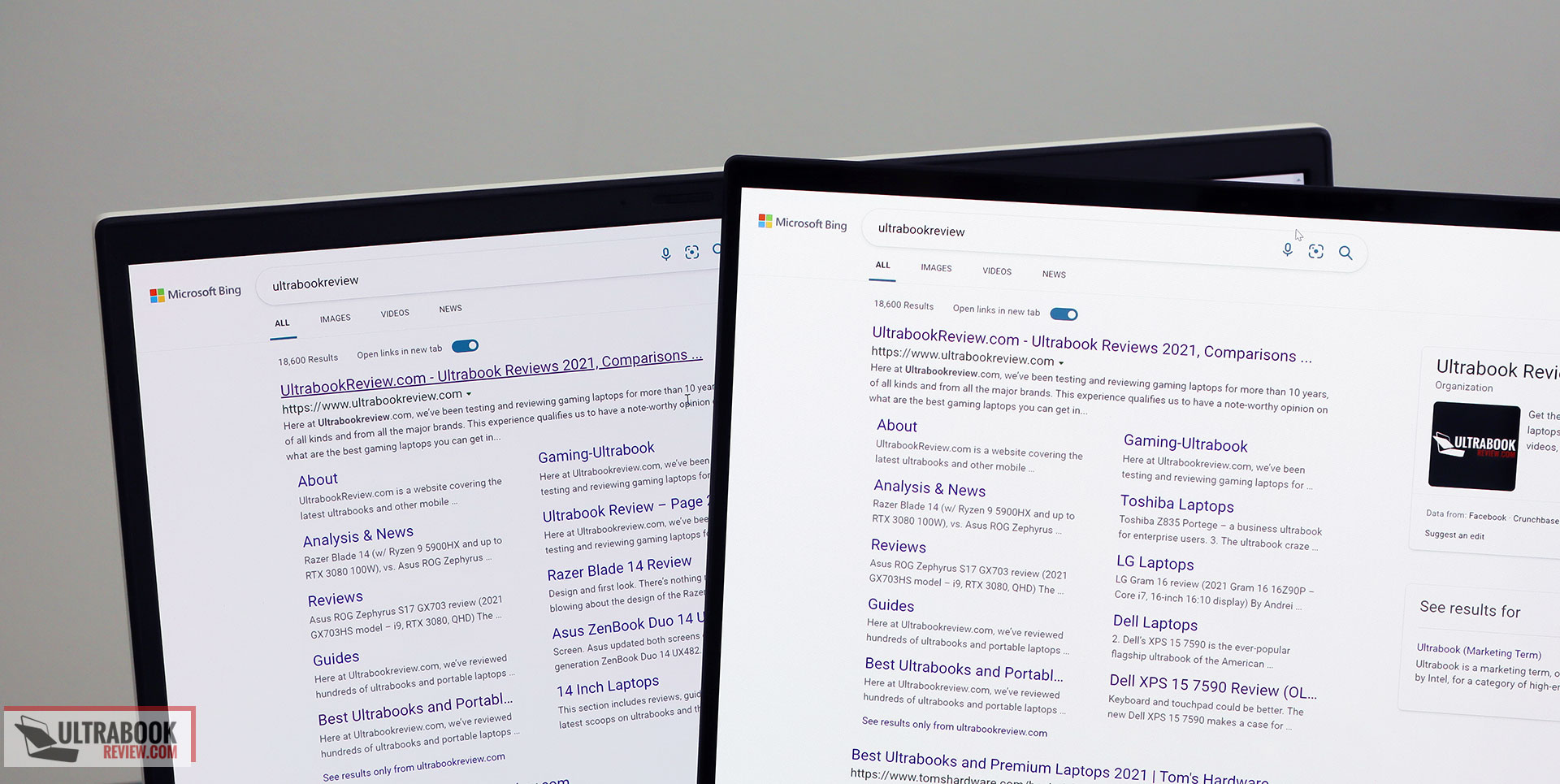 That aside, you should also consider the other advantages of OLED panels, such as the lower blue-light emission and the way colors are perceived more vividly at medium brightness levels, but also the potential downsides of OLED panels on a laptop, such as black-crush, gray-bending, flickering, and even burn-in to some extent, although I wouldn't necessarily worry about it as much with this newer generation of Samsung OLED panels.
Aside from these OLED models, a matte IPS 2560 x 1600 px panel option with 400-nits of brightness and 100% sRGB color coverage is also available for the ZenBook 14 UX3402ZA series, but I'd expect its availability to be a lot more limited, as Asus seem to be aggressively pushing their OLED screens with recent ZenBooks and VivoBooks.
Hardware and performance
Our test model is a top-specced configuration of the 2022 Asus ZenBook 14, code name UX3402ZA, with an Intel Core i7-1260P processor and Intel Iris Xe graphics, 16 GB of LPDDR5-4800 memory, and a middling 512 GB gen4 SSD.
Disclaimer: This review unit was provided by Asus for this article. We tested it with the software available as of mid-May 2022 (BIOS 304, MyAsus 3.1.4 app). Some aspects might still change with future software updates.
Spec-wise, this is based on the 2022 Intel 12th-gen Alder Lake Core P hardware platform. Our configuration is the top-tier Core i7-1260P processor available for this series, the hybrid design with 4 Performance and 8 Efficiency Cores, as well as 16 combined threads. This ultraportable implementation supplies the CPU with up to 30W of power in sustained loads. A very similar Core i5-1240P processor is also available for the lower tier configurations.
Graphics are handled by the integrated Iris Xe chip, with 96 EUs and frequencies of up to 1.40 GHz in the i7-1260P, and 80EUs and 1.3 GHz frequencies in the i5-1240P.
Our configuration also comes with 16 GB of LPDDR5-4800 memory, in dual-channel. 8, 16, and 32 GB configurations are available for the series, and the memory is onboard and non-upgradeable.
For storage, Asus opted for a fast PCIe gen4 Samsung PM9A1 drive here, which performed well in our tests.
The SSD and WiFi chip are the only upgradeable components here. To get to them you need to remove the back panel, hold in place by a couple of visible Torx screws, and two more extra screws hidden behind the rear-rubber feet.
Inside you'll notice the redesigned motherboard with the new thermal module and the radiator placed on the laptop's left side, as well as the battery and speakers. The SSD is still placed right near the CPU, but Asus puts a large thermal pad over it, which prevents overheating.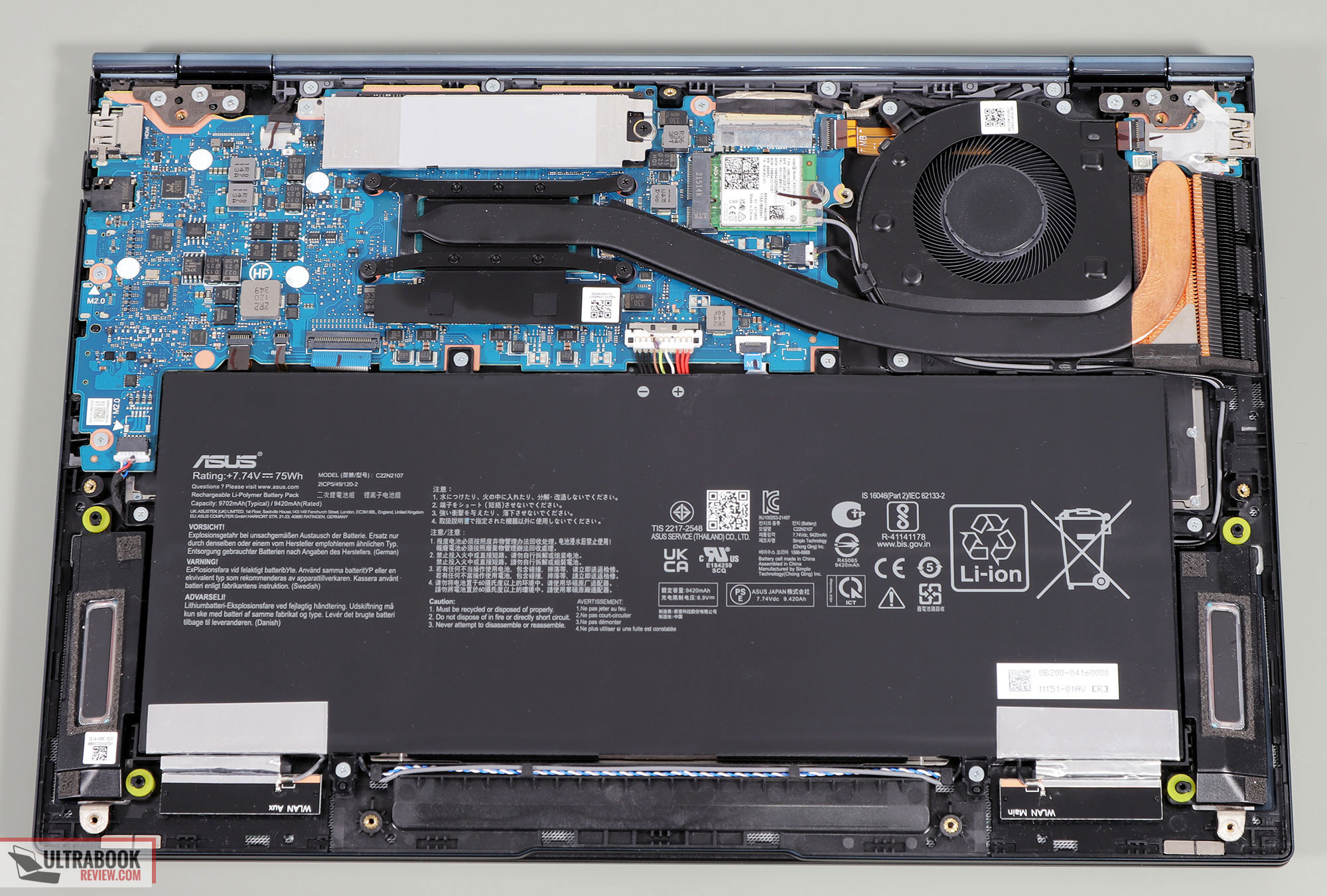 As far as the software goes, this ZenBook gets the standard MyAsus app which allows control over the power profiles, battery and screen settings, updates, etc.
There are three performance/thermal profiles to choose from:
Performance – allows the hardware to run at ~30W in sustained loads, with fans ramping up to 47-48 dB;
Balanced/Standard – allows the hardware to run at 20W in sustained loads, with fans ramping up to 36-38 dB;
Whisper – limits the CPU at 10W to favor fan noise of sub 30 dB.
Whisper mode is OK for light use, but I'd recommend keeping the laptop on Standard in most cases, to prevent any sluggishness. The Performance offers faster processing capabilities in sustained loads, but is also significantly noisier.
We'll get to that in a bit, but first, here's what to expect in terms of speeds and temperatures with daily use, with the laptop running quietly, but almost never completely silent.
Performance and benchmarks
On to more demanding loads, we start by testing the CPU's performance in the Cinebench R15 loop test.
On the Performance mode, the Core i7-1260P processor peaks at the 43W PL2 setting for a little while and then quickly drops and stabilizes around the 30 W PL1 power limit, with temperatures in the mid-90s Celsius, and fan-noise levels of ~47 dB. These result in sustained Cinebench scores of around 1300 points.
On Balanced, the system limits the fans at much quieter 37 dB noise levels. The CPU ends up stabilizing at 20W, with temperatures around 85 C. The performance takes a significant hit, though, with the scores stabilizing around 950 points.
You can also opt for the Whisper mode, with limits the CPU at 10W with now barely audible fans, with temperatures in the low-60s. The laptop only performs at about 30% of its abilities on this profile, though, returning scores of around 400 points.
Finally, our sample did well on battery, stabilizing at around 20W of power on the Performance mode, after some variations.
All these are illustrated in the graph below.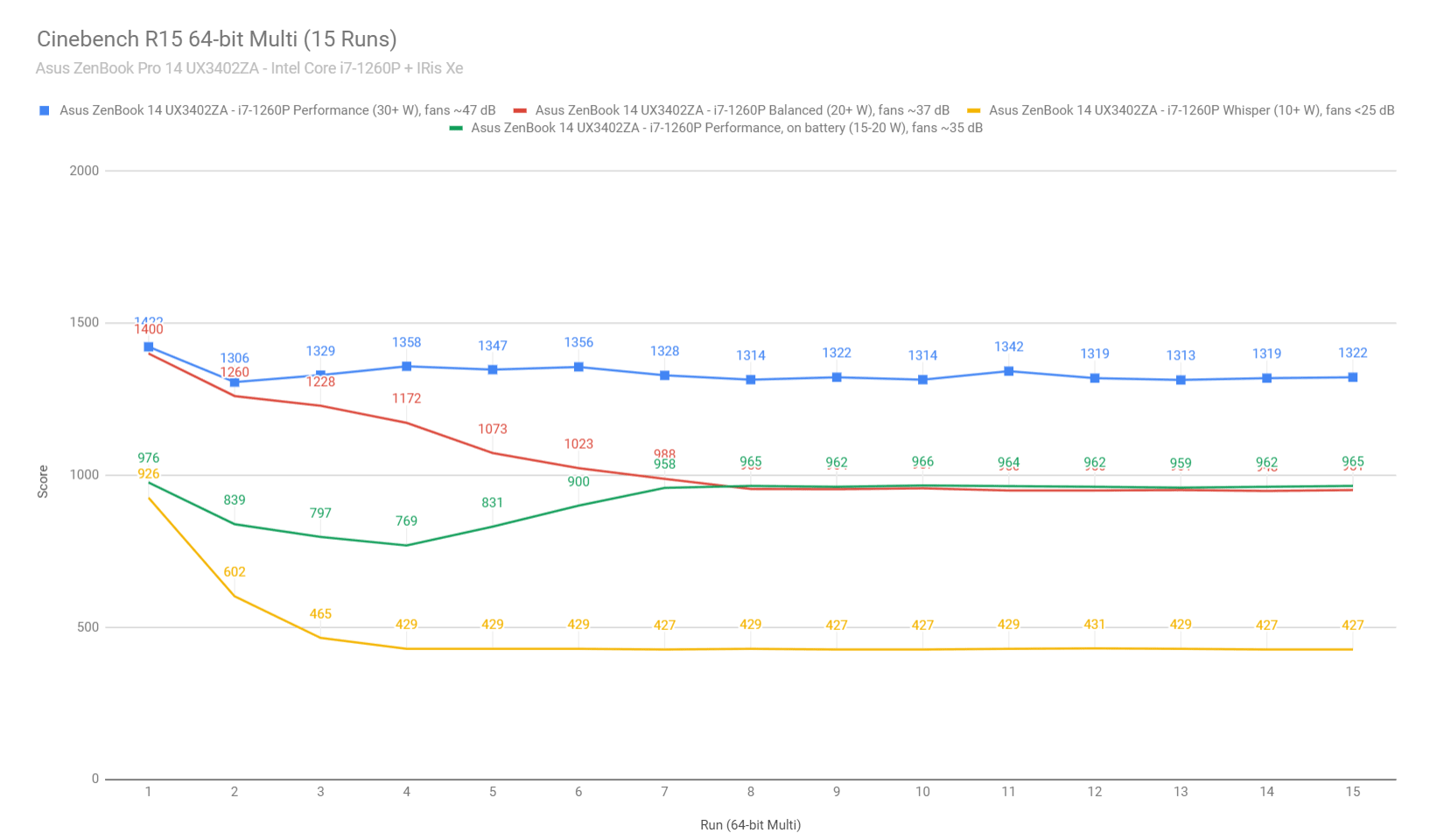 To put these in perspective, here's how this i7-1260P implementation fares against others hardware platforms available in competing ultraportables.
It scores about 80% over the 11th gen Core i7 available in the previous ZenBook 14, but that's mostly because of the higher power and higher fan-noise possible now on the Performance mode. At similar noise levels, the 2022 ZenBook 14 is about 25% faster than the 2021 model.
The i5-1240P comes in very close at around 28W of power, which was expected, since the two are nearly identical on the CPU side.
At the same time, there are much more capable platforms available in portable formats, both from Intel and especially from AMD, which have an advantage in efficiency per watt. The majority of those options are, in all fairness, higher-tier and more expensive products, though.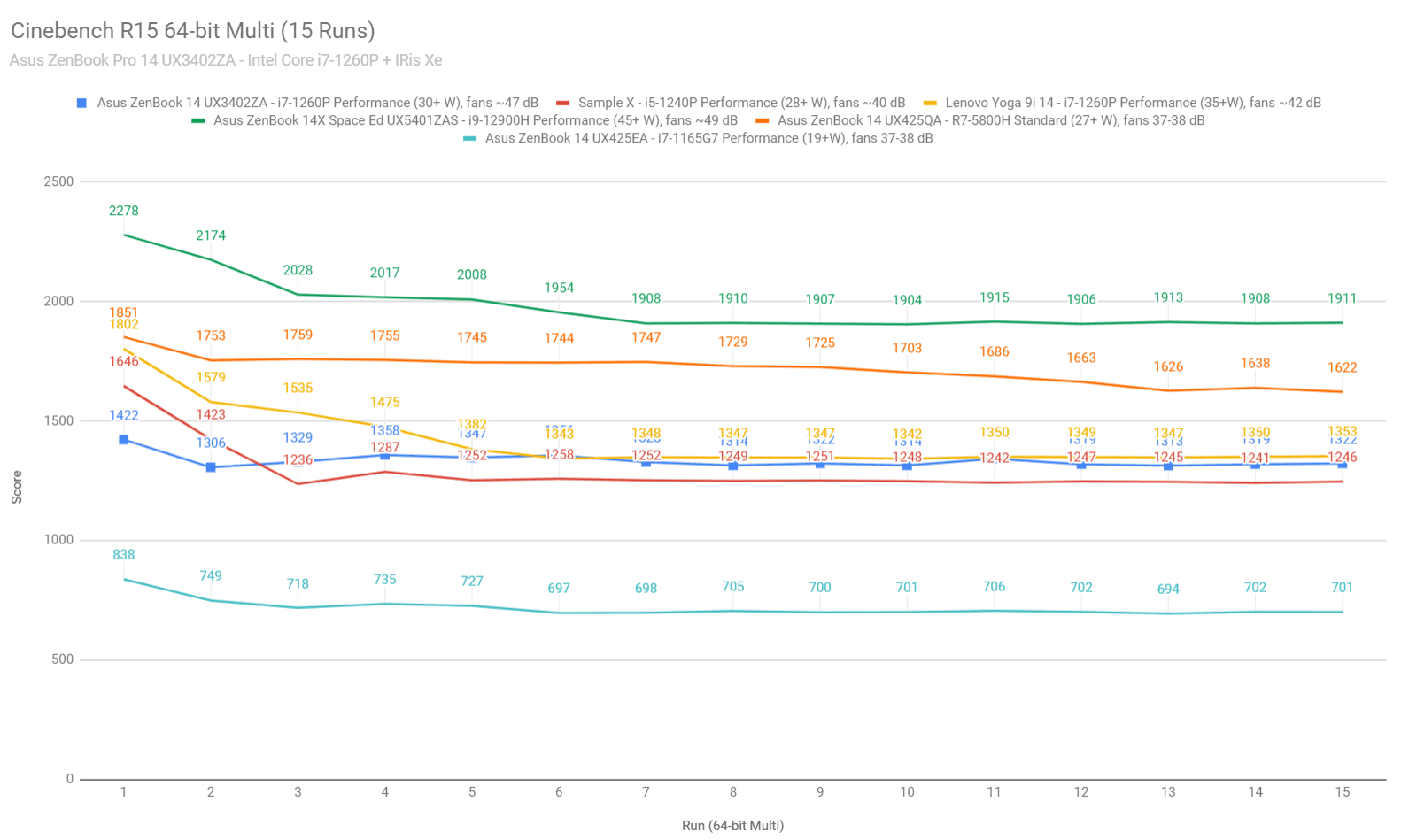 We then went ahead and further verified our findings with the more taxing Cinebench R23 loop test and in Blender, confirming our above findings.
We then ran the 3DMark CPU profile test.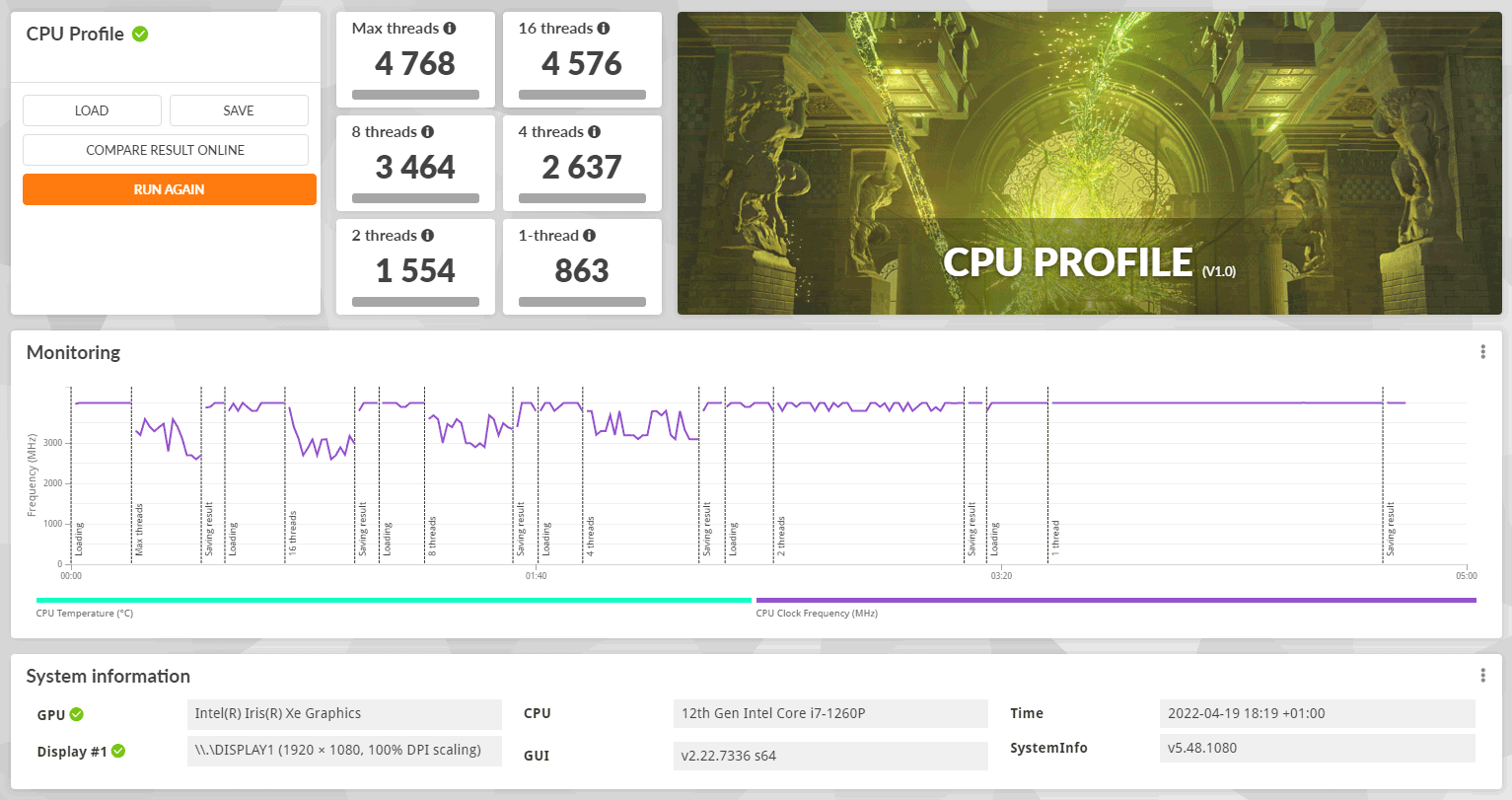 Finally, we ran our combined CPU+GPU stress tests on this notebook, on the Turbo profile. 3DMark stress runs the same test for 20 times in a loop and looks for performance variation and degradation over time, and this unit passed it just fine, which means there's no combined performance throttling with longer-duration sustained loads.
Next, here are some benchmark results. We ran the entire suite of tests and benchmarks on the Performance profile on this Core i7-1260P configuration, with the screen set on FHD resolution, for consistency with other laptops tested in the past.
Here's what we got.
3DMark 13 – Fire Strike: 4959 (Graphics – 5199, Physics – 20329, Combined – 2000);
3DMark 13 – Night Raid: 17770 (Graphics – 21452, CPU – 9009);
3DMark 13 – Time Spy: 1962 (Graphics – 1732, CPU – 7944;
Uniengine Superposition – 1080p Extreme: 1065;
Uniengine Superposition – 1080p Medium: 3033;
Handbrake 1.3.3 (4K to 1080p encode): 42.62 average fps;
PassMark 10: 3652 (CPU – 20286, 3D – N/A, Memory – 2770, Disk – 22390);
PCMark 10: 5339 (Essentials – 10423, Productivity – 6257, Digital Content Creation – 6334);
GeekBench 5.4.3 64-bit: Single-Core: 1474, Multi-core: 9027;
CineBench R15 (best run): CPU 1671 cb, CPU Single Core 222 cb;
CineBench R20 (best run): CPU 3651 cb, CPU Single Core 594 cb;
CineBench R23: CPU 10061 cb (best run), CPU 9365 (10 min loop test), CPU Single Core 1538 CB (best run);
x265 HD Benchmark 64-bit: 38.11 s.
And here are some workstation benchmarks, on the same Performance profile:
Blender 3.01 – BMW Car scene- CPU Compute: 4m 21s ;
Blender 3.01 – Classroom scene – CPU Compute: 10m 13s;
PugetBench – DaVinci Resolve: -;
PugetBench – Adobe After Effects: 588;
PugetBench – Adobe Photoshop: 793;
PugetBench – Adobe Premiere: 364;
SPECviewperf 2020 – 3DSMax: 14.07;
SPECviewperf 2020 – Catia: 13.13;
SPECviewperf 2020 – Creo: 23.59;
SPECviewperf 2020 – Energy: 3.71;
SPECviewperf 2020 – Maya: 54.35;
SPECviewperf 2020 – Medical: 6.16;
SPECviewperf 2020 – SNX: 6.52;
SPECviewperf 2020 – SW: -.
V-Ray Benchmark: CPU – 6275 vsamples, GPU CUDA – 173 vpaths;
These are some competitive results for a mid-tier hardware implementation.
We haven't tested many Core P ultrabooks yet, but this ZenBook 14 trades blows with the Yoga 9i reviewed here in most tests, despite the fact that the Yoga is a higher power implementation, at 35W sustained PL1. As a result, that does score better in the longer duration CPU loads, such as CineBench R23, and in the sustained combined loads, as the 35W power envelope allows the GPU to run at higher sustained frequencies.
When it comes to the other options out there, the i9-12900H powered ZenBook 14X does outmatch this ZenBook 14 across the board, and so does the previous-gen Ryzen H ZenBook 14 UM425. Both are higher-power units with more complex thermal designs, though.
At the same time, when looking at the 2021 ZenBook 14 UX425 built on the Core i7-1165G7 platform, the 2022 update is a major update in CPU single and multi-core performance, and up to 10% faster in GPU scores, thanks to the slightly updated IRis Xe chip within the 12th gen hardware and the higher power settings allowed on the Performance mode with the 2022 ZenBook 14 UX3402 generation.
As mentioned earlier, though, the laptop does run noisy on the Performance mode, with the fans ramping up to 48 dB at head-level. That's why I'd expect most to roll back to the Standard mode even for demanding activities, which limits the power at around 20W, but also keeps the fans at 36-38 dB. Here's what to expect in performance on this profile.
3DMark 13 – Fire Strike: 4055 (Graphics – 4377, Physics – 14402, Combined – 1550);
3DMark 13 – Time Spy: 1608 (Graphics – 1433, CPU – 5290);
Uniengine Superposition – 1080p Medium: 2632;
GeekBench 5.4.3 64-bit: Single-Core: 1487, Multi-core: 6599;
CineBench R20 (best run): CPU 3302 cb, CPU Single Core 541 cb;
x265 HD Benchmark 64-bit: 51.07 s;
Blender 3.01 – Classroom scene – CPU Compute: 12m 21s.
We're looking at a ~20% drop in CPU and GPU performance compared to the Performance mode, with variations between the different tests and scenarios, which is a compromise worth considering.
With these out of the way, we also ran a couple of DX11, DX12, and Vulkan titles on the Performance profile of this Core i7 + Iris Xe configuration, at FHD and FHD+ resolution, with Low/Lowest graphics settings.
Here are the results, and I also included a handful of other iGPU platforms from AMD and Intel, for comparison purpose.
Low settings
ZenBook 14 –
i7-1260p, Iris Xe,
30+W, FHD+ 1200p
ZenBook 14 –
i7-1260p, Iris Xe,
30+W, FHD 1080p
Flow Z13 2022 –
i9-12900H, Iris Xe,
~50W, FHD+ 1200p
Flow X13 2022 –
R9 6900HS, R 680M,
~45W, FHD+ 1200p
Zephyrus G14,
R9 6900HS, R 680M,
25+W, FHD 1080p

ZenBook 14X UX5401,
i7-1165G7, Iris Xe,
~30+W, FHD+ 1200p
ZenBook UM425,
R7 5800H, Vega,
~35W, FHD 1080p
Bioshock Infinite
(DX 11, Low Preset)
70 fps (48 fps – 1% low)
88 fps (58 fps – 1% low)
97 fps (61 fps – 1% low)
150 fps (92 fps – 1% low)
105 fps (74 fps – 1% low)
81 fps (36 fps – 1% low)
91 fps (71 fps – 1% low)
Doom: Eternal
(Vulkan, Medium Preset)
29 fps (15 fps – 1% low)
30 fps (16 fps – 1% low)
30 fps (16 fps – 1% low)
46 fps (26 fps – 1% low)
–
–
–
Dota 2
(DX 11, Best Looking Preset)
76 fps (52 fps – 1% low)
78 fps (53 fps – 1% low)
76 fps (64 fps – 1% low)
78 fps (52 fps – 1% low)
–
72 fps (54 fps – 1% low)
64 fps (42 fps – 1% low)
Far Cry 5
(DX 11, Low Preset, no AA)
31 fps (22 fps – 1% low)
34 fps (26 fps – 1% low)
35 fps (30 fps – 1% low)
50 fps (37 fps – 1% low)
39 fps (33 fps – 1% low)
31 fps (21 fps – 1% low)
30 fps (22 fps – 1% low)
Far Cry 6
(DX 12, Low Preset, no AA)
25 fps (19 fps – 1% low)
30 fps (23 fps – 1% low)
29 fps (24 fps – 1% low)
46 fps (34 fps – 1% low)
–
–
–
Shadow of Tomb Raider
(DX12, Lowest Preset, no AA)
36 fps (23 fps – 1% low)
37 fps (25 fps – 1% low)
36 fps (23 fps – 1% low)
65 fps (46 fps – 1% low)
–
41 fps (24 fps – 1% low)
41 fps (26 fps – 1% low)
The Witcher 3: Wild Hunt
(DX 11, Low Preset, Hairworks Off)
38 fps (20 fps – 1% low)
42 fps (22 fps – 1% low)
42 fps (23 fps – 1% low)
57 fps (42 fps – 1% low)
45 fps (32 fps – 1% low)
41 fps (21 fps – 1% low)
27 fps (22 fps – 1% low)
Doom, Dota 2, Witcher 3 – recorded with MSI Afterburner in game mode;
Bioshock, Far Cry 5 Far Cry 6, Tomb Raider games – recorded with the included Benchmark utilities;
The RDNA2-based Radeon iGPU is the superior performer of this generation when it comes to GPU loads and games. However, you must keep in mind that most ultraportable designs such as this ZenBook 14 will not run at the 45+ W of power required by the AMD Ryzen 6000 platform in order to keep the Radeon iGPU at full blast, so in reality, the performance gap between the Iris Xe and the Radeon 680M implementations at around 20-30W of power is somewhat smaller (but still significant). That's evidentiated by the 25W Radeon 680M implementation in the table above, and this article is a deeper dive into the AMD Radeon 680M iGPU chip at various power levels.
Back to our review unit, we're looking at 60+ framerates in older titles at FHD+ resolution and low settings, and 20-40 fps in the more demanding AAA games launched in recent years.
Next, the performance logs down below show the CPU/GPU clocks and temperatures in a couple of games, on the Performance profile.
The hardware stabilizes at 30W of power between the tested titles, with GPU clocks speeds of around 1250 MHz, so around 90% of the platform's capabilities. A higher power envelope would be required for the iGPU to run at the maximum 1.4 GHz design speeds.
As far as the temperatures go, though, those are in the high-80s to mid90s, higher than what I'm comfortable with for longer-term use.
Bumping the back of the laptop from the desk doesn't make any noticeable difference here, but placing this on top of a good cooling pad when running games would be recommended, as it would help lower those internal temperatures.
I would consider gaming on the Balanced profile as well, which results in much quieter fans and temperatures around 80 degrees Celsius. Expect a 20-30% drop in framerates on this mode, though.
Noise, Heat, Connectivity, speakers, and others
Asus went with a single-fan single-heatpipe thermal module here, much like with all of their previous ZenBook 13/14 generations.
However, this 2022 design is different, with a slightly longer heatpipe now that goes all the way to the radiator that was moved on the left side of the laptop. At the same time, the implemented radiator is smaller than on the previous generations, due to space constraints.
Here's the cooling module on this 2022 ZenBook 14 UX3402 series.
And for comparison, here's the previous generation in the ZenBook 14 UX425 models from 2020/2021.

The new implementation, alongside the more aggressive fan profile, allows for the higher power settings possible on the Performance mode with the 2022 ZenBook. The components are running hot in this case, though.
The major benefit of this redesign is the fact that hot air no longer blows into the display, as with all the previous ZenBooks. Instead, hot air is pushed out and away, and to me, this is a game-changer for the ZenBook 14 UX3402 generation.
Despite the CPU running in the 80 and 90s, chassis temperatures keep fairly low on this laptop, with sub-35 degrees C around the WASD and arrows keys, and around 40 C in the warmest spots around the IOPL keys, just over the hardware.
On Balanced, with demanding loads, the fans run quieter and the internals reach lower temperatures in the high-70s to low-80s, while the chassis temperatures are about the same as on Performance.
As for daily use, on the Standard mode, the chassis temperatures stay within sub-40s C and the fan runs quietly at sub 30 dB, but is almost never idle. You'll need to select Whisper mode for passive cooling with very basic loads, and even on this profile the fan will kick on with multitasking, and the overall performance is more sluggish than on Standard, due to the aggressive power limitation.
On the other hand, I haven't noticed any coil whining or other sorts of electronic noises on this ultrabook.
*Daily Use – streaming Netflix in EDGE for 30 minutes, Standard Mode, fans at 0-30 dB
*Gaming  – Performance mode – playing Witcher for 30 minutes, fans at 47-48 dB
For connectivity, there's the latest-gen WiFi 6E and Bluetooth 5.2 through an Intel module on this laptop, which performed well during my time with the laptop.
Audio is still handled by a set of stereo speakers that fire through grills on the underside, much like on the previous ZenBook lineups. The angled shape of the D-Panel allows the sound to bounce off the table without distortions and prevents you from easily muffling them while using the computer on the lap.
As far as the sound quality goes, it is alright for daily use and streaming, but don't expect too much. With the Enhanced Audio setting ticked in Windows 11, these speakers get averagely loud at 77-78 dB at head-level, with fair mids and highs, but still little bass, which causes them to sound rather tiny at high volumes.
Finally, there's an HD camera placed at the top of the screen, flanked by microphones. The image quality is fine for occasional calls, but not much.
Battery life
There's a 75 Wh battery inside the 2022 ZenBook 14, larger than the norm for this class.
Here's what we got in our battery life tests, with the screen's brightness set at around 120 nits (~60 brightness).
11 W (~6-7 h of use) – text editing in Google Drive, Normal + Better Battery Mode, screen at 60%, Wi-Fi ON;
12 W (6-7 h of use) – 1080p fullscreen video on Youtube in Edge, Normal + Better Battery Mode, screen at 60%, Wi-Fi ON;
11 W (6-7 h of use) – Netflix fullscreen in Edge, Normal + Better Battery Mode, screen at 60%, Wi-Fi ON;
15 W (~4-6 h of use) – browsing in Edge, Normal + Better Performance Mode, screen at 60%, Wi-Fi ON.
These aren't great results. Previous-gen Core U ZenBook 14s were able to last a lot longer with daily use and video streaming. Perhaps Asus can further improve on these runtimes with future software updates, but I wouldn't hold my breath for it – we got very similar results on the Yoga 9i built on the same Intel platform and OLED display.
Keep in mind that the screen doesn't automatically switch between 90/60 Hz when unplugging the laptop, and I recommend manually opting for the 60 Hz refresh mode when looking to maximize runtimes. For our tests, we kept the screen at 90 Hz.
The laptop still ships with a compact 65W USB-C charger. It's a one-piece design with a strong and long-enough cable. The battery fully fills up in about 2 hours, with quick charging for the first hour.

Price and availability- Asus ZenBook 14
At the time of this article, the ZenBook 14 UX3402 is only listed in stores in some regions.
Over here in Europe, the ZenBook 14 UX3402ZA configuration tested here with the Core i7-1260P processor, 16 GB of RAM, 512 GB of SSD storage, and the OLED display is available for around 1400 EUR, while the Core i5-1240P configuration with otherwise the same specs is about 1250-1300 EUR.
In the US, a base-level Core i5-1240P configuration is available as BestBuy as the exclusive ZenBook 14 Q409ZA for $749, but with only 8 GB of RAM and 256 GB of storage.
Other variants will be available in the near future.
Stay put for updates, and in the meantime, follow this link for updated prices and configurations in your region.
Final thoughts- Asus ZenBook 14 UX4302
I'm happy to see Asus put good effort into their mainstream lineup of thin-and-light ultrabooks and improve the ZenBook 14 UX3402 with each generation.
This time around, they implemented 16:10 displays with some excellent quality panels, finally updated the thermal design so that hot air no longer blows into the display, revamped the design lines, improved the overall build quality, and included a larger battery.
That battery isn't helping much with this 12th-gen Intel Core model, though, as efficiency is still a concern with the current software. The performance, on the other hand, is pretty good here, with higher-power settings leading to a significant step-up in CPU performance, and marginal gains in GPU capabilities.
On top of that, the redesign comes with a noticeable increase in the laptop's overall weight and a slightly larger footprint, as well as a gimped keyboard and most of the IO being now placed on the right side, which is not ideal for my setup.
All in all, this series is going to be competitive within its niche, especially with the lower-tier configurations being very aggressively priced. It's not a clear recommendation for everyone, but it is an option you should consider, based on your needs and pricing/availability of other options in your area.
The competition in the ultrabooks space is harsher than ever, with lineups such as the Acer Swift 3, Apple Macbook Air, LG Gram 14, or the Lenovo Slim 7 offering excellent value in the lower to mid-level price categories, and premium alternatives such as the Dell XPS 13 Plus, Lenovo Yoga 9i or the Microsoft Surface Laptop offering a few extras in the upper tier segments.
Furthermore, the AMD-based ZenBooks are a potential alternatives many would be interested in, for the superior performance and efficiency of the AMD hardware, especially in the Ryzen 7 6800U and Ryzen 5 6600U configurations with Radeon graphics. Those are not yet available for the 14-inch 2022 ZenBooks, but can be found in the more compact and lighter 13-inch 2022 ZenBook S 13.
This wraps up our review of the Asus ZenBook 14 UX3402ZA series,  and I'd love to hear your thoughts about it as well, so please get in touch in the comments section down below.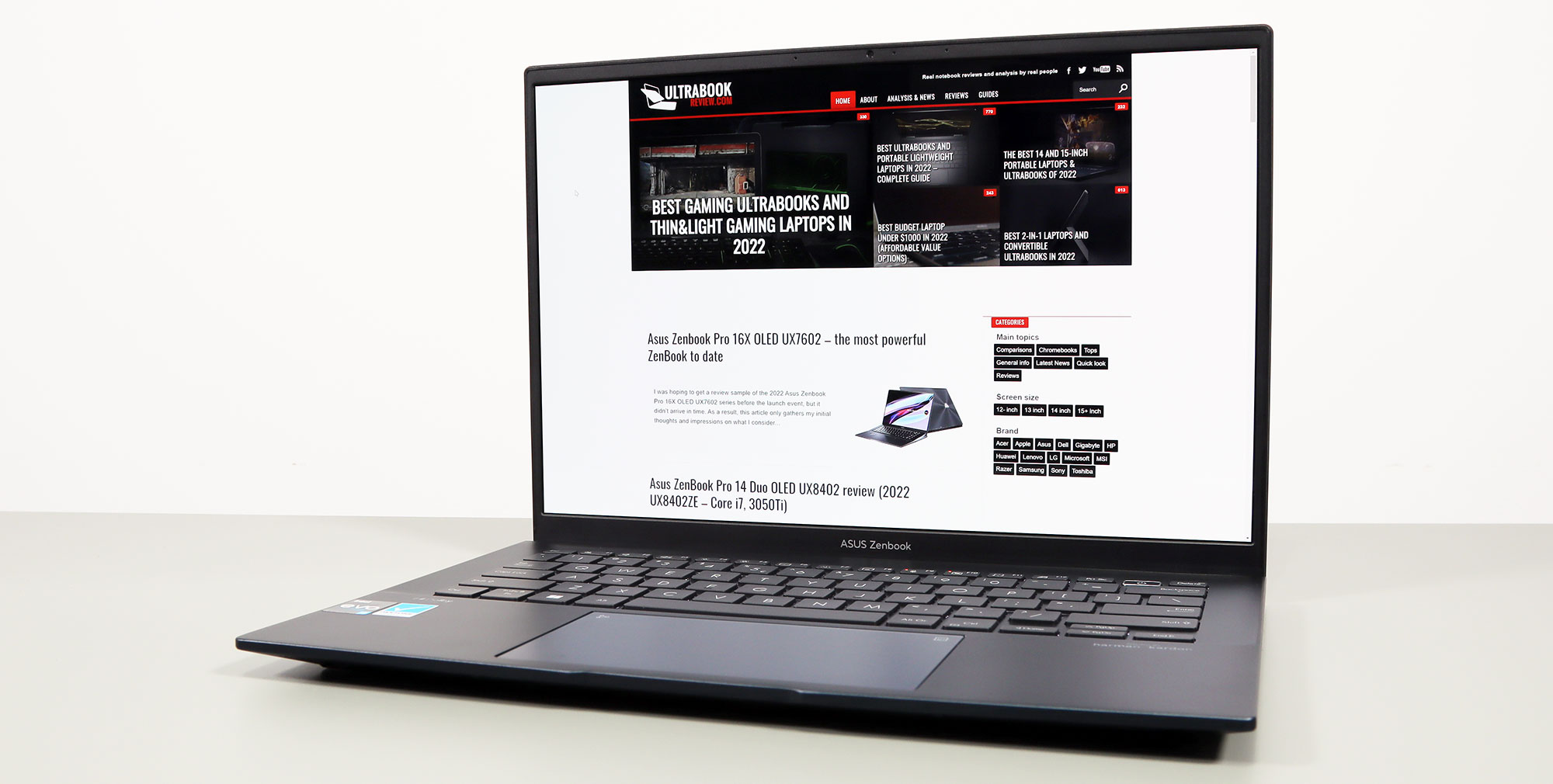 Disclaimer:
Our content is reader-supported. If you buy through some of the links on our site, we may earn a commission.
Learn more.