Asus keeps pushing their dual-screen laptops, and alongside the Zephyrus Duo 15 released earlier this year, it's now time for the ZenBook Pro Duo 15 to be available in stores finally.
This has been announced at the beginning of 2021 at CES, but hasn't shipped till now, and we only got to spend time with it at this point in early June 2021. The delay means that the retail units are merely 10th gen Core i9 configurations paired with an RTX 3070 dGPU, although 11th gen Intel hardware is already available in the meantime. Nonetheless, this is the ZenBook Pro Duo configuration that you can get these days and the one we got here.
Specs aside, the two screens are the main selling point of this product, with the main display being OLED and touch, and the second display being IPS and touch, both with pretty good panels.
At the same time, if you've read my past articles on these dual-screen Asus notebooks, I still consider that the form-factor compromises on practicality and portability to integrate those two displays, so if those are not a must for you, you'll be better of with a standard design. We'll go through all the fins bits and details in the review down below.
Specs as reviewed – Asus ZenBook Pro Duo UX582
Asus ZenBook Pro Duo UX582LR

Screen
15.6 inch, 3840 x 2160 px, OLED, glossy, touch, Samsung SDC4143 panel
14 inch, 3840 x 1100 px, IPS, non-glare, touch, BOE BOE085F panel
Processor
Intel COmet Lake Core i9-10980HK CPU, 8C/16T, up to 5.1 GHz
Video
Intel UHD + Nvidia GeForce RTX 3070 Laptop 8GB
(90W, up to 110W with Dyn Boost, GeForce 462.59 drivers)
Memory
32 GB DDR4-2933 (onboard)
Storage
1 TB NVMe SSD (1x M.2 PCI x4 slots)
Connectivity
Wireless 6 (Intel AX201), Bluetooth 5.0
Ports
1x USB-A 3.2 gen2, 2x USB-C with Thunderbolt 3, HDMI 2.1, mic/headphone
Battery
92 Wh, 240W charger, no USB-C charging
Size
359 mm or 14.17" (w) x 249 mm or 9.81" (d) x 24 mm or 0.96" (h)
Weight
5.3 lbs (2.4 kg)+ 1.76 lbs (.8 kg) charger and cables, EU version
Extras
white backlit keyboard, 14″ ScreenPad Plus, HD webcam, IR Hello camera, and near-field mics
Design and construction
Design and build-wise, this ZenBook Pro Duo consistently follows the lines of existing ZenBook laptops, and that translates into solid build quality and what Asus calls the Ergolift design. This means that the laptop's main body raises on rubber feet placed at the bottom of the screen, leading to a slightly inclined typing positioned and extra airflow underneath, helping with the cooling.
Compared to the previous ZenBook Pro Duo, this 2021 update also implements a tilting secondary display.
The hinge mechanism not only pushes up the laptop but also separates the second screen from the main chassis and slightly tilts it forward. This makes the content somewhat easier to read and separates the screen from the hot internals, and allows for fresh air to be drawn into the fans from underneath this screen.
This way, the cooling draws in fresh air from both the top and the bottom and then pushes it out through the side vents. This also means that the ZenBook Pro Duo is one of the very few modern ZenBooks that don't expel the hot air into the main screen, something that bothers me on most of the other Asus models.
I should also add that while both ZenBook Pro Duo and the ROG Zephyrus Duo implement a similar tilting secondary screen and form-factor, they are actually internally different in a couple of ways, and that's why the ROG Zephyrus bundles higher power hardware and a different thermal design. If there's enough interest, I'll cover the differences in a separate article, so let me know in the comments section down below (and yes, I know I haven't yet published my Zephyrus Duo review – too little time and too many products to test).
Ok, with these out of the way, this whole dual-screen design pushes the keyboard on the front side of the laptop and the clickpad to the side. That's OK as long as you keep the laptop on a desk, although not ideal since you will have to place it further away from you to place your hands over this down-shifted keyboard conveniently. This design also makes the laptop rather impractical on the lap or on the go, something I've discussed at length in my previous ZenBook Pro Duo review.
This 2021 ZenBook Pro Duo is also a fairly heavy laptop because of the dual-screen form factor, so it is not an alternative for a Dell XPS 15 or a Lenovo ThinkPad X1 Extreme. If you're after a portable 15-inch ZenBook, I'd suggest checking out the Pro UX535 model instead (if available in your region).
For size comparison, here's how it looks next to the ROG Zephyrus M16.
I'm also not the biggest fan of the tall and fairly sharp front lip and corners, although the provided rest-pad helps alleviate their impact, as well as the fact that the screen only goes back to about 145-degrees. That's once more fine for desk use but limited otherwise.
Format aside, the IO is also somewhat limited on this product but conveniently placed on the laterals. There's a single USB-A port, but you get two USB-Cs with Thunderbolt 3 support, a headphone jack, and an HDMI 2.1 port. This is one of the very few Asus laptops available with HDMI 2.1.
There's no USB-C charging or card-reader, though, which I was expecting on this sort of a creator/productivity-focused machine, and there's no finger-sensor either, but we do get IR cameras with Hello support at the top of the screen.
Keyboard and trackpad
I already mentioned that this laptop primarily makes sense on a spacious desk, and I'll reiterate that here. In this case, typing on this bottom-placed keyboard feels like typing on a regular desktop keyboard, and I prefer having the palm-rest accessory attached. This does feel rather cheap, though, plasticky, and I wish Asus would have implemented magnets to keep it attached to the laptop, as they do on their actual desktop keyboards.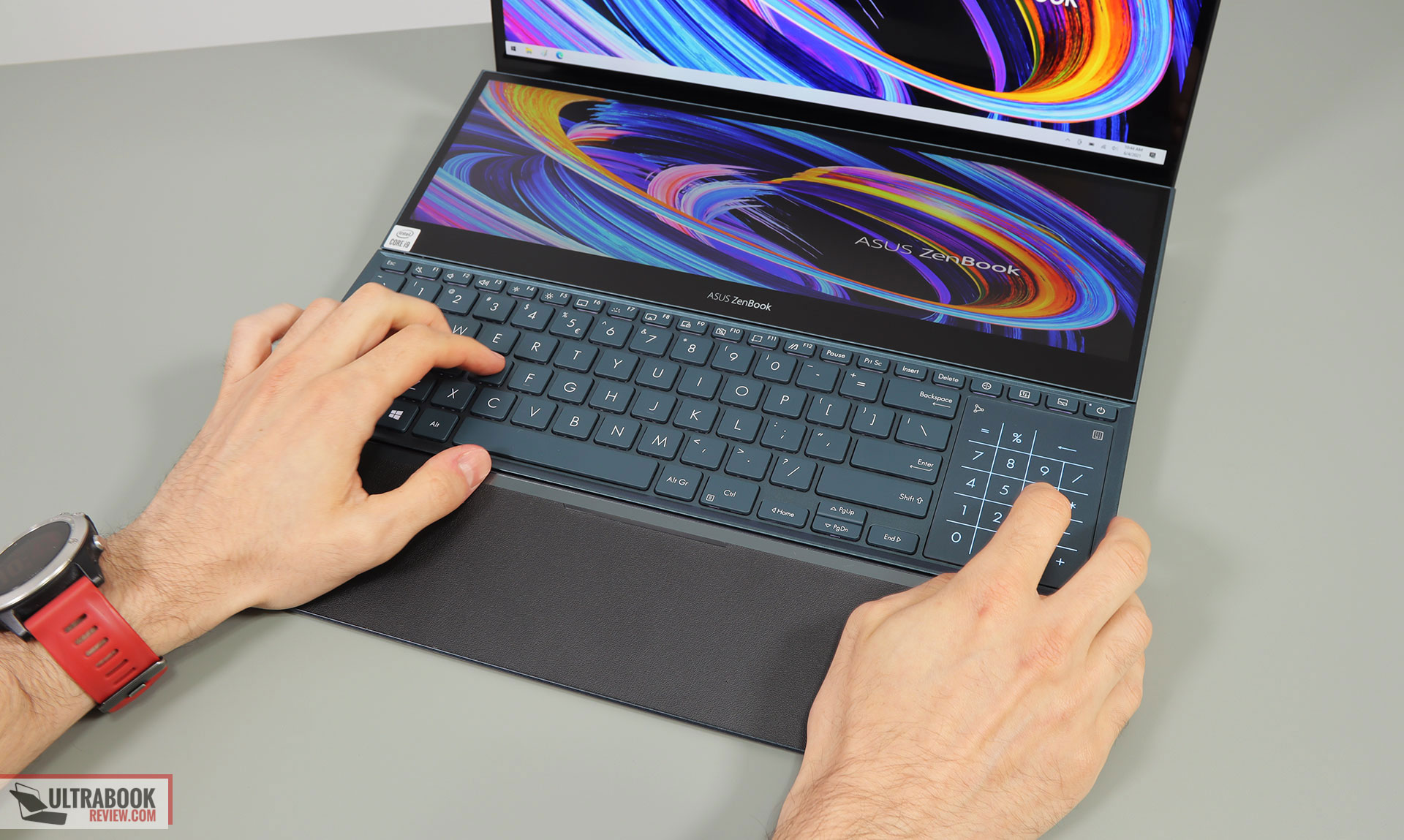 The keyboard is a standard layout and an extra set of Function keys at the top-right, above the clickpad. Two of them are meant to control the ScreenPad, one switches between Power Modes, and the last is the power button.
The typing experience is OK and about what you should expect from an ultraportable laptop these days. This keyboard seems similar to what Asus puts on their other ZenBooks, with rubbery keys, quick and quiet actions, and limited travel.
Just don't expect to comfortably type on the lap, on the thighs, or in cramped spaces unless you've got TRex hands…
The keyboard is also backlit, with white LEDs and three intensity levels. Light still creeps out from under the arrows and top-row of Functions keys, but that aside, the LEDs are bright enough and fairly uniform.
The clickpad has been pushed onto the right side with this design, and while it takes some time to get used to, I don't mind it being there. I do mind the narrow surface that interferes with tracking and gestures, as it's a portrait orientation and very much different from the landscape clickpads you'll find on most laptops. The surface also rattles badly with taps.
All in all, you'll most likely end up hooking a mouse to this laptop.
Finally, there's no finger-sensor implemented here, but you get an IR camera at the top of the screen, next to the webcam and microphones.
Screen
The dual screens are the main selling points of the ZenBook Pro Duo 15 OLED UX582.
As the name suggests, the main screen is OLED and 15-6-inch in size and 4K resolution. The secondary screen (called a ScreenPad) is IPS, half-4K, and 14-inch in an ultrawide 32:10 implementation. Both support touch and pen input (a pen is included in the box), but the main screen is glossy, while the ScreenPad gets an anti-glare coating to prevent the reflections from the main display.
There are noticeable differences between the two screens in terms of image quality and how the eye perceives the content, both because one is OLED and the other is IPS, but also because you're always going to watch the ScreenPad at an angle. Sure, the tilting mechanism helps here, tilting the Screenpad towards you, but I still found myself having to pull over this display to figure out fine details such as texts easily.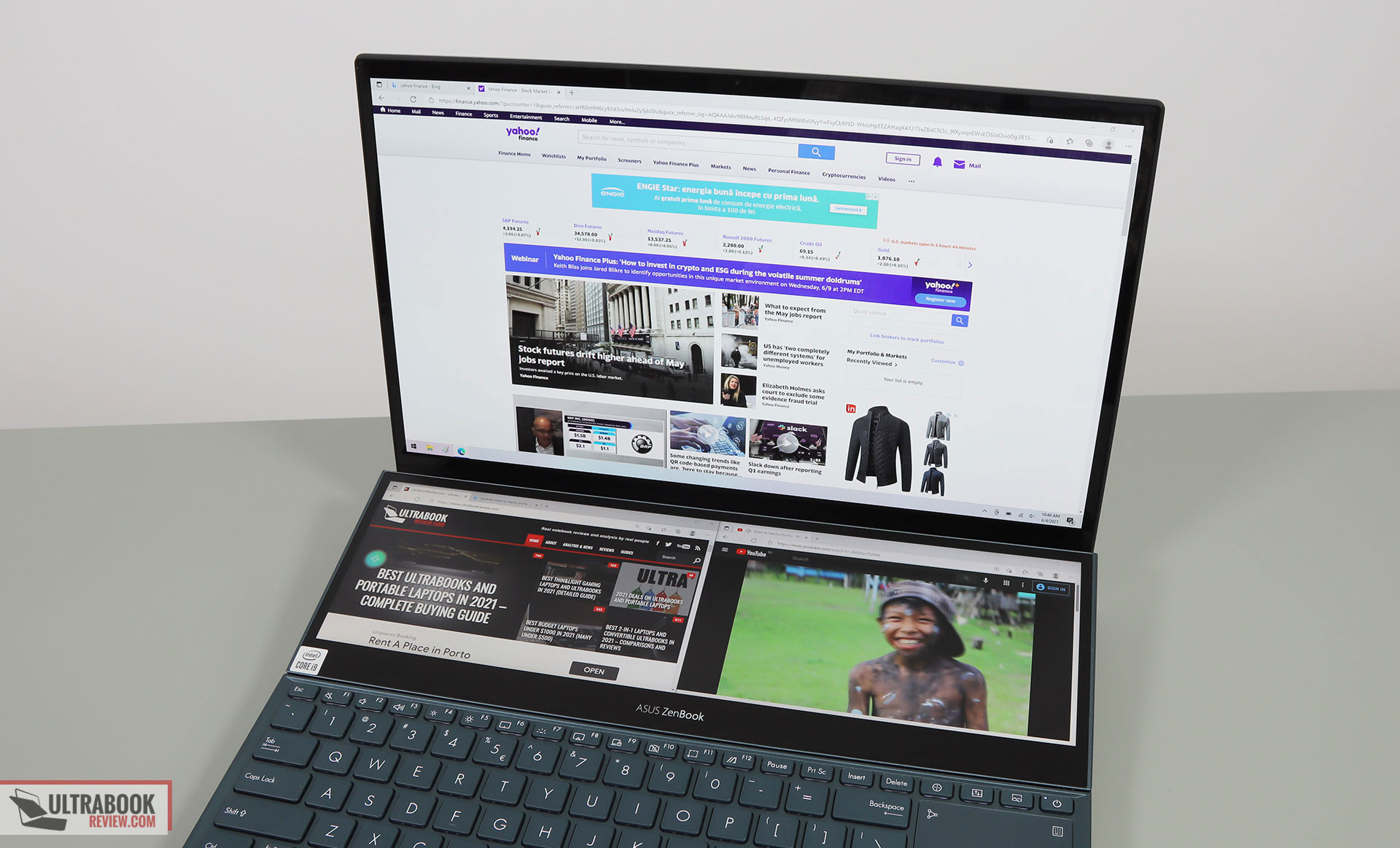 In all fairness, there's no way Asus could have angled this more without covering the main display, so they did their best here. They're also aware of the issue and included a stand in the box that you can use to push up the laptop further, but it's not the most practical design. In theory, this is something that you stick to the bottom of the laptop, but it feels flimsy, doesn't stay properly attached, and also blocks some of the air intakes when not in use. I feel that including a stand is a good idea, but the implementation is deficient. A firmer stand-alone stand that you would just place and leave on your desk would make more sense to me.
Anyway, back to the panels. The mains screen is OLED and of excellent quality, as you can see down below.
Here's what we got in our tests, with an X-Rite i1 Display Pro sensor:
Panel HardwareID: Samsung SDC4143 (ATNA56WR14-0);
Coverage: 100% sRGB, 97.5% AdobeRGB, 99.3% DCI-P3;
Measured gamma: 2.26;
Max brightness in the middle of the screen: 412.25 cd/m2 on power;
Min brightness in the middle of the screen: 4.94 cd/m2 on power;
Contrast at max brightness: 1:1;
White point: 6600 K;
Black on max brightness: 0.0 cd/m2;
PWM: Yes (to be determined).
Aside from the unrivaled blacks and contrast, this OLED panel is also bright and vivid, with excellent color coverage and viewing angles.
On the other hand, I still think OLEDs are not for everyone on laptops. If you decide to go for one of these panels, you should at least understand their quirks (such as perceived graininess, flickering, black crush, or gray bending) and particularities, especially what you need to do to prevent long-term burn-in with the status Windows interfaces. I've discussed that in my review of the previous generation ZenBook Pro, so make sure to read that here.
I do have to add that Asus bumped the quality of the ScreenPad on this updated 2021 model, opting for a nicer and brighter panel, which alongside the tilted mechanism, helps alleviate some of the contrast issues experienced when looking at it from an angle.
Panel HardwareID: BOE BOE085F;
Coverage: 94% sRGB, 68% AdobeRGB, 71% DCI P3;
Measured gamma: 2.21;
Max brightness in the middle of the screen: 394 cd/m2 on power;
Contrast at max brightness: 911:1;
White point: 6600 K;
Black on max brightness: 0.43 cd/m2;
PWM: No.
Asus also offers a couple of software meant to emphasize the utility of the ScreenPad, including the ability to create custom toggles and dials for Photoshop or Premiere. Some of you might find them useful, but for the most part, I think this ScreenPad will be used to offload tools and secondary activities from your main screen, so it should help for work on the go when actually connecting a larger external display would not be an option.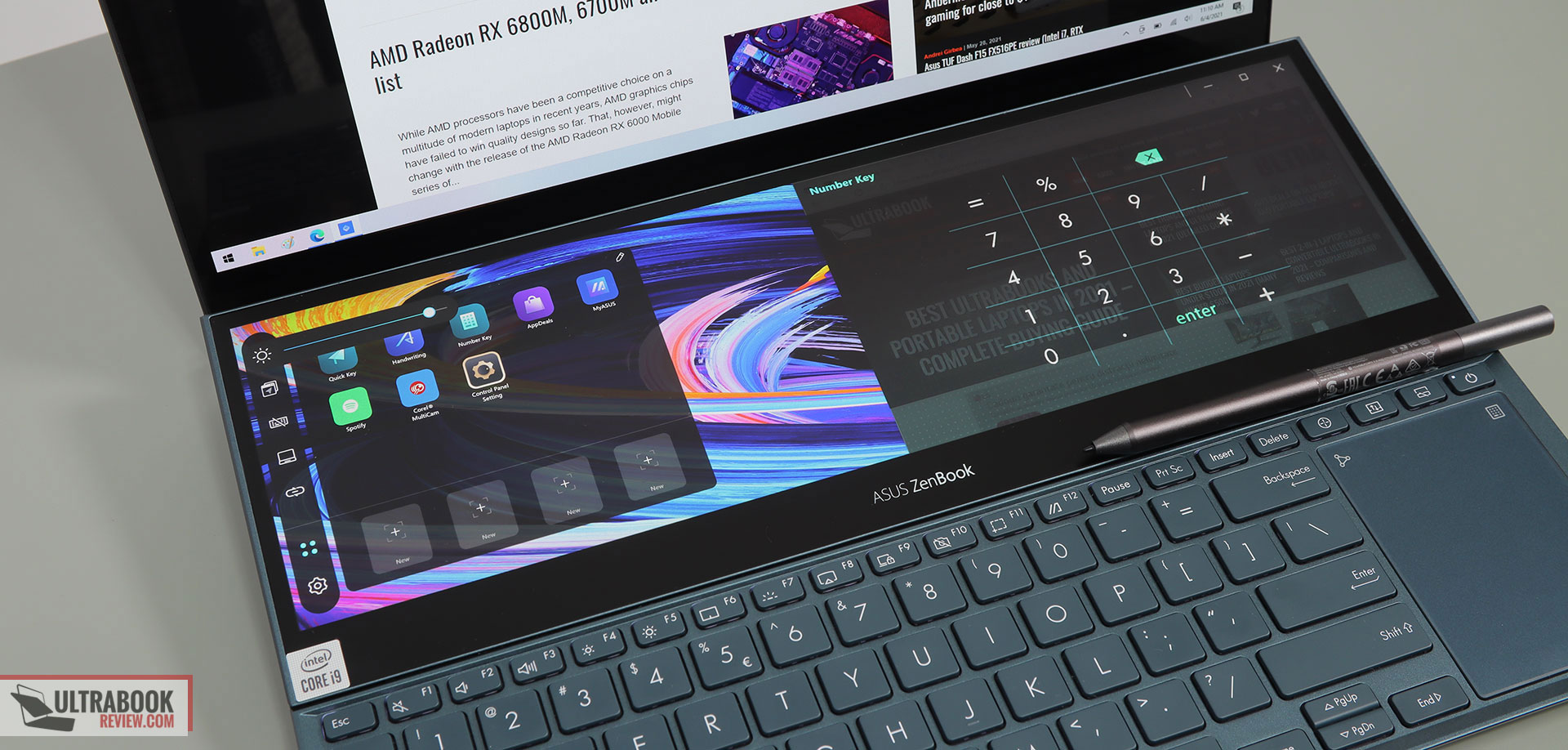 I still think a secondary OLED ScreenPad would have made sense and would have provided a more consistent experience if Asus decided to go that route. I asked about it, and their explanation for going with an IPS makes sense. There's no OLED ultrawide panel that they could have implemented, and asking Samsung to build one specifically for this product wouldn't have been a smart financial decision, as it would have significantly added to the final price of this product. An OLED ScreenPad might still happen in the future, but not with this generation.
Hardware and performance
Our test model is a top-specced configuration of the Asus ZenBook Pro Duo 15 OLED, code name UX582LR, built on a 10th gen Intel Comet Lake Core i9-10980HK 8C/16T processor, 32 GB of DDR4-2933 memory in dual channel, 1 TB of SSD storage, and dual graphics: the Nvidia RTX 3070 dGPU with 8 GB of VRAM and the Intel UHD iGPU integrated within the Intel processor.
Our review unit was provided by Asus and is a retail model identical to the ones you can get in stores, running on the software available as of early June 2021 (BIOS 309, MyAsus 3.0.7.0, GeForce 462.59 drivers).
Spec-wise, this 2021 ZenBook Pro is built on a previous-gen Intel platform but paired with recent Nvidia hardware. The Core i9-10980HK is 8C/16T and a design TDP of 45W, but it can run significantly higher on this model on the Performance profile. 11th gen Intel is already out there, and the fact that this ships with 10th-gen might deter some buyers, and for good reasons. Multi-core performance is still solid here, but the 11th-gen i9 is faster in IPC and single-core, more efficient, and available with faster gen4 storage, which might also matter to some of you on this sort of workstation laptop.
The GPU is the Nvidia GeForce RTX 3070 Laptop chip at 90W, which can jump up to 110W in supported titles, with Dynamic Boost 2.0. These aside, the laptop comes with up to 32 GB of soldered DDR4-2933 memory and a single M.2 SSD PCIe gen3 x4 storage slot.
Getting inside to the components is a fairly basic task; you just have to pop up the back panel, hold in place by a couple of Torx screws. Careful that three of those screws are hidden behind plastic caps, which you'll have to peel off first, and they're not as simple to peal as the rubber caps on the Zephyrus Duo.
Inside, you'll get access to the SSD slot and experience the updated thermal design and the 92W, both updated from the previous-gen ZenBook Pro Duo.
Specs aside, Asus offers two power profiles for this ZenBook, available in the MyAsus app:
Standard – stock CPU/GPU power and moderate fan profile – GPU runs at around 80W;
Performance – increased CPU/GPU power and faster/noisier fans – GPU runs at up to 110W, but stock clocks.
Overall, the two profiles cover basic needs well enough, one meant for general use and one for those situations that require you to push the hardware to its limits. Nonetheless, the software is more limited on this ZenBook than on the ROG laptops, and what I miss most is a Silent profile with the ability to switch off the fans with light daily use.
That aside, the Standard profile provides a snappy and mostly quiet daily experience. The two screens come in handy for daily use and work, but you have to be aware that having both active will significantly impact battery life.
On to more demanding loads, we start by testing the CPU's performance by running the Cinebench R15 test for 15+ times in a loop, with 1-2 seconds delay between each run.
The Core i9 processor runs at 95+W of sustained power on the Performance setting, much higher than most i9 implementations we've tested so far. That's associated with good frequencies and scores of around 1650 points and noisy fans in the 48-49 dB at head-level.
Switching over to the Standard profile limits the CPU at ~50W of sustained power in this test, with lower scores and much quieter fans (35-37 dB).
Finally, the CPU power stabilizes at ~45 W on battery, on the quieter Standard profile, which is still very good for non-plugged use. Details below.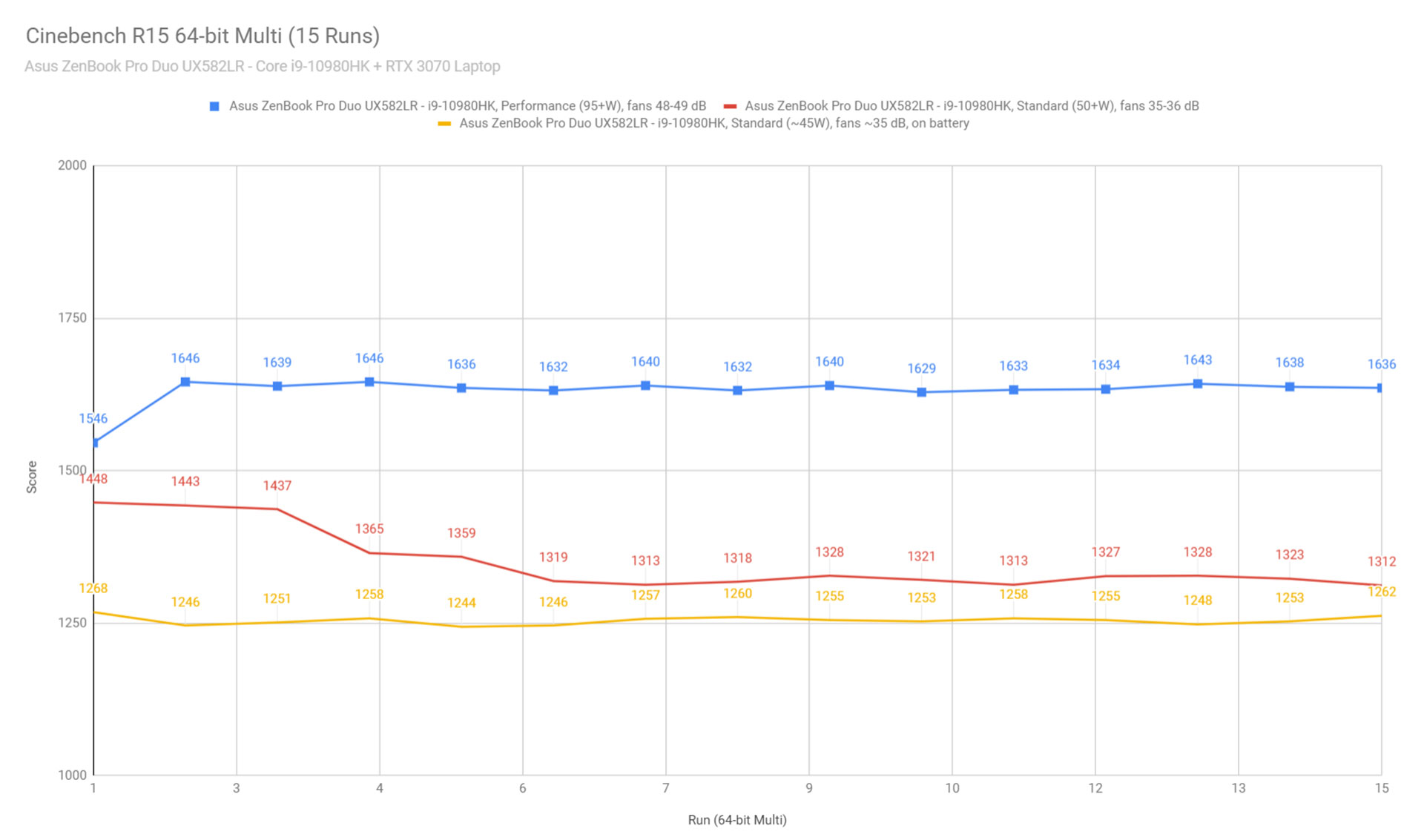 To put these findings in perspective, this 10th gen i9-11980HK is no match in this multi-threaded benchmark for the 8C/16T Ryzen 4000/5000 AMD processors available on performance laptops these days, and most likely would be outscored by the 11th-gen Intel Core H as well. Furthermore, both the Intel and AMD alternatives offer a significant IPC boost.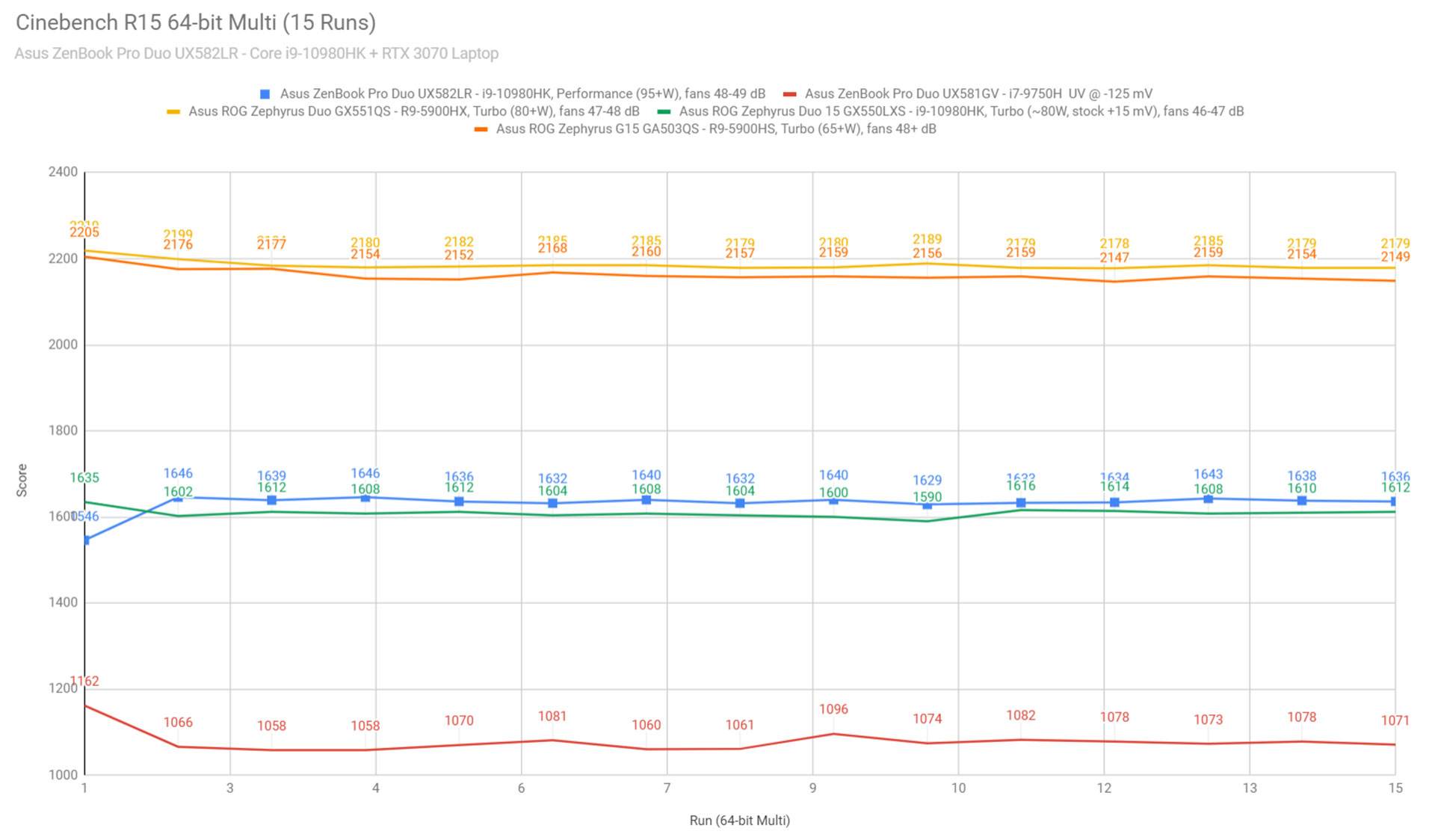 We then went ahead and further verified our findings with the more taxing Cinebench R23 loop test and the gruesome Prime 95, on the Performance profile. The CPU stabilizes at 95+ W in both cases.
We also ran our combined CPU+GPU stress tests on this notebook. 3DMark stress runs the same test for 20 times in a loop and looks for performance variation and degradation over time, and this unit passed it fine, suggesting consistent performance.
Overall, this ZenBook Pro is a solid hardware design that can cope with surprisingly high power-allocations in longer-duration demanding loads, but there's only so much you can get from an i9-10980HK at this point. Up to you if enough, or you'd rather go with an AMD platform, the kind Asus offers in the very similar 2021 ROG Zephyrus DUO.
Next, we ran the entire suite of tests and benchmarks, on the stock Performance profile in the MyAsus app.
3DMark 13 – Fire Strike: 20044 (Graphics – 23472, Physics – 20525, Combined – 9409);
3DMark 13 – Port Royal: 5648;
3DMark 13 – Time Spy: 9315 (Graphics – 9378, CPU – 8977);
Uniengine Superposition – 1080p Extreme: 5953;
Uniengine Superposition – 1080p Medium: 16822;
Handbrake 1.3.3 (4K to 1080p encode): 39.51 average fps;
PassMark 10: Rating: 4102 (CPU mark: 16774, 3D Graphics Mark: 12960, Disk Mark: 21879);
PCMark 10: 6019 (Essentials – 9189, Productivity – 7606, Digital Content Creation – 8467);
GeekBench 5.33.1 64-bit: Single-Core: 1298, Multi-core: 7583;
CineBench R15 (best run): CPU 1646 cb, CPU Single Core 199 cb;
CineBench R20 (best run): CPU 3860 cb, CPU Single Core 486 cb;
CineBench R23 (best run): CPU 9159 cb, CPU Single Core 1226 cb;
x265 HD Benchmark 64-bit: 38.03 s.
For comparison, the i9-10980HK does well in this product, the scores above outmatching the MSI GE76 Raider and going about on par with the 2020 Zephyrus Duo, both higher-tier products with more complex thermal designs. At the same time, 11th gen Core is and Ryzen 9 4000/5000 outscored this previous-gen i9 in both multi-threaded and IPC performance, by between 5-20% between the different tests.
The GPU is 90-110W, so not as powerful as one some of the full-size gaming laptops, but rather on par with what's available on ultraportable designs. For instance, this outscores the RTX 3070 80-100W we tested in the ROG Zephyrus G15 by ~5%, but ends up trailing the RTX 3070 115-130W we tested in the ROG Strix G17 by 5-15%.
We also ran some Workstation related loads:
Blender 2.90 – BMW Car scene- CPU Compute: 3m 52s (Performance);
Blender 2.90 – BMW Car scene- GPU Compute: 40s (CUDA), 18s (Optix);
Blender 2.90 – Classroom scene – CPU Compute: 10m 30s (Performance);
Blender 2.90 – Classroom scene – GPU Compute: 2m 27s (CUDA), 1m6s (Optix);
Luxmark 3.1 – Luxball HDR – OpenCL CPUs + GPUs score: -;
SPECviewerf 13 – 3DSMax: 148.08 (Performance);
SPECviewerf 13 – Catia: 123.38 (Performance);
SPECviewerf 13 – Creo: 137.69 (Performance);
SPECviewerf 13 – Energy: 23.2 (Performance);
SPECviewerf 13 – Maya: 180.9 (Performance);
SPECviewerf 13 – Medical: 56.78 (Performance);
SPECviewerf 13 – Showcase: 105.26 (Performance);
SPECviewerf 13 – SNX: 18.2 (Performance);
SPECviewerf 13 – SW: 80.99 (Performance).
And the newer SPECviewperf 2020 test:
SPECviewerf 2020 – 3DSMax: 79.67 (Performance);
SPECviewerf 2020 – Catia: 52.78 (Performance);
SPECviewerf 2020 – Creo: 61.28 (Performance);
SPECviewerf 2020 – Energy: 23.31 (Performance);
SPECviewerf 2020 – Maya: 202.87 (Performance);
SPECviewerf 2020 – Medical: 27.2 (Performance);
SPECviewerf 2020 – SNX: 18.44 (Performance);
SPECviewerf 2020 – SW: 131.94 (Performance).
These also suggest a powerful implementation of the i9 processor and this mid-range RTX 3070. Up to you if this sort of configuration is enough for your line of work, but it should perform well enough for most of you.
Of course, this would have been more capable with an 11th gen Core i9. At this point, I don't know if Asus will update this ZenBook Pro Duo shortly, and if they don't, the ROG Zephyrus Duo remains the more capable same-format alternative.
With these out of the way, let's look at some games as well. We ran a couple of DX11, DX12, and Vulkan titles on the stock Performance and Standard profiles, on both 4K and FHD resolution on the internal screen. Here's what we got:
 Intel Core i9-10980HK
+ RTX 3070 Laptop 90-110W
4K Performance
FHD Performance
FHD Standard
FHD Performance,
external monitor
QHD Performance,
external monitor
Far Cry 5
(DX 11, Ultra Preset, SMAA)
51 fps (44 fps – 1% low)
110 fps (78 fps – 1% low)
103 fps (80 fps – 1% low)
–
–
Middle Earth: Shadow of Mordor
(DX 11, Ultra Preset)
75 fps (38 fps – 1% low)
177 fps (100 fps – 1% low)
161 fps (96 fps – 1% low)
188 fps (32 fps – 1% low)
133 fps (28 fps – 1% low)
Red Dead Redemption 2
(DX 12, Ultra Optimized, TAA)
43 fps (32 fps – 1% low)
97 fps (66 fps – 1% low)
86 fps (62 fps – 1% low)
102 fps (28 fps – 1% low)
77 fps (14 fps – 1% low)
Rise of Tomb Raider
(DX 12, Very High Preset, FXAA)
44 fps (32 fps – 1% low)
110 fps (55 fps – 1% low)
95 fps (47 fps – 1% low)
–
–
Shadow of Tomb Raider
(DX 12, Highest Preset, TAA)
44 fps (26 fps – 1% low)
70 fps (44 fps – 1% low)
62 fps (40 fps – 1% low)
–
–
Shadow of Tomb Raider
(DX 12, Highest Preset, TAA, RTX Ultra)
–
59 fps (38 fps – 1% low)
51 fps (34 fps – 1% low)
–
–
Strange Brigade
(Vulkan, Ultra Preset)
76 fps (66 fps – 1% low)
171 fps (117 fps – 1% low)
151 fps (109 fps – 1% low)
–
–
The Witcher 3: Wild Hunt
(DX 11, Ultra Preset, Hairworks On 4)
48 fps (25 fps – 1% low)
106 fps (73 fps – 1% low)
82 fps (62 fps – 1% low)
107 fps (28 fps – 1% low)
83 fps (14 fps – 1% low)
The Witcher 3 – recorded with Fraps/in-game FPS counter in campaign mode;
Far Cry 5, Metro, Middle Earth, Strange Brigade, Red Dead Redemption 2, Tomb Raider games – recorded with the included Benchmark utilities;
Red Dead Redemption 2 Optimized profile based on these settings.
We're looking at solid performance across the board at FHD resolution, while RTX or 4K gaming will require you to cut on the graphics settings for 60+ fps in the recent titles. I was curious whether having the ScreenPad ON or OFF had any noticeable impact on the gaming performance, but it doesn't. It might if you run some other demanding loads alongside your game, though, such as perhaps OBS.
In comparison, the higher power RTX 3070 in the gaming Strix G17 notebook ends up scoring 10-20% better in games (we'll explain the differences below). In all fairness, though, this ZenBook Pro is not primarily a gaming laptop, as it doesn't get a MUX switch and is only available with 60 Hz screens; thus, tearing and ghosting will affect your experience compared to a dedicated gaming device of this generation.
Going through the logs down below, you'll notice that not all games scale well with Dynamic Boost 2.0 at FHD resolution, and when that happens, the power is not diverted away from the CPU to the GPU, as shown in Far Cry 5 and Shadow of Mordor logs on the Performance profile. That results in lower GPU power and performance, as well as higher CPU temperatures.
In comparison, the CPU scales down and passes power onto the GPU in Witcher 3, which results in better-balanced temperatures and improved performance.
The system does a much better job at diverting power to the GPU at 4K resolution, resulting in overall lower CPU temperatures in this case. QHD is still the sweet spot for this configuration, ideally on an external screen, which we'll get to in a bit.
Switching over to the Standard mode limits the CPU and GPU, which hardly goes above 80W on this mode. This impacts the performance in all games, but the fans are much quieter on this mode (sub 40 dB, compared to 46-48 dB on the Performance mode), and the temperatures are excellent, at sub 80 C on both the CPU and GPU in the tested titles.
This Standard profile is very well balanced for gaming and combined CPU+GPU loads on this product. I much appreciate the quiet fans despite what some might consider a considerable hit in performance.
All in all, the hardware delivers good performance here, and hooking up an external monitor will eliminate some of the drawbacks of the 60 Hz screen in games, though. It's important to hook it through HDMI here, though, as that's connected to the dGPU, while the USB-C ports are hooked to the iGPU. However, there are two catches to keep in mind:
I think you'll need an HDMI 2.1 rated cable. I've tried 3-4 different HDMI cables that I have around the office, and all results in micro-stuttering and poor 1% lows; that's why I didn't run many tests on the external screens;
the i9+ RTX 3070 specs are well suited for QHD gaming, but this design is not ideal if you plan to keep the lid closed and the laptop in a vertical stand. That partially obstructs the intakes, and the system, for some reason, greatly limits the GPUs TDP in this working model.
Your findings might vary on these matters, and I didn't get the time to further look into it past what's reported above.
Noise, Heat, Connectivity, speakers, and others
The cooling module includes two fans and a couple of heatpipes spread over the CPU, GPU, and VRMs.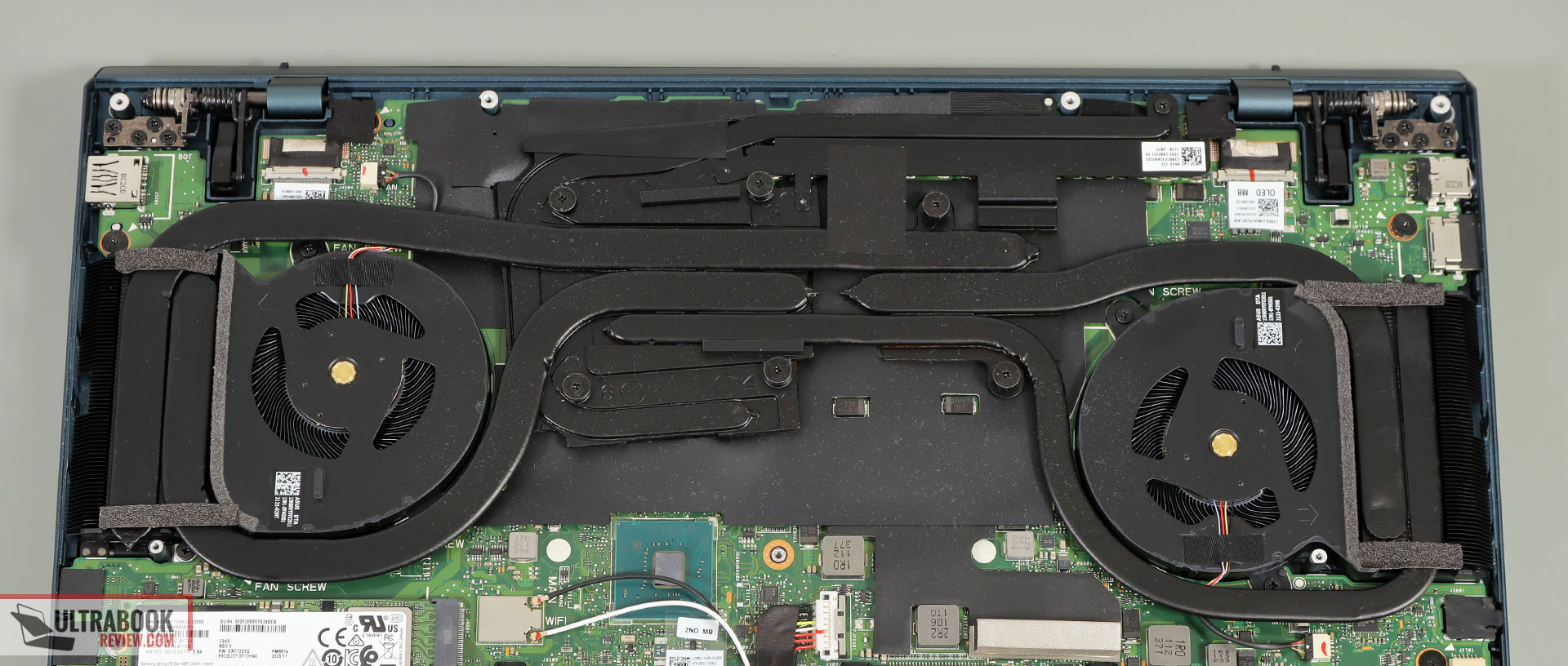 The laptop draws in fresh air from underneath and from the top and blows it out through the vents on the sides, making for a well-thought thermal design. However, keep in mind that this is primarily meant to favor intakes from the top, from under the ScreenPad, as the bottom intake grills are placed over the heat pipes, and not over the fans. This impacts if you decide to close the lid and use this device as a desktop replacement, as explained above, as fresh air can't get into the fans in this mode.
The fans ramp up loudly on the Performance profile, at 46-48 dB at head level. Internal temperatures vary between the performed loads, but are mostly OK, and the exterior rests within comfortable limits. Having the keyboard shifted away from the hot components helps, but the main chassis still gets fairly warm to the touch. Also, keep in mind that FarCry 5 doesn't do well with Dyn Boost 2.0 at FHD resolution on the Performance mode, and that's causing the CPU to run hotter than in other games, which impacts the external temperatures.
The fans are much quieter on standard, at sub 40 dB, with still fair temperatures.
As for daily use, the fans keep idle with elementary activities and kick in with multitasking, but ar barely audible. I did notice some coil winning on our sample, and that is more annoying than the fans.
Daily Use – streaming Netflix in EDGE for 30 minutes, Silent profile,  fans at 0 dB
*Gaming – Standard– playing Far Cry 5 for 30 minutes, Silent profile, fans at 38-40 dB
*Gaming – Performance – playing Far Cry 5 for 30 minutes, fans at 46-48 dB

For connectivity, there's WiFi 6 and Bluetooth on this laptop. Our unit worked fine in our tests, both near the router and at 30+ feet with obstacles in between.
There's little space inside this laptop reserved for the speakers, placed on the sides, and fire through some small grills on the underbelly. They're averagely loud, at around 75 dB at head-level, but the quality isn't much, especially lacking in the lows.
Finally, this laptop also gets a webcam and microphones, both placed at the top of the screen, next to the IR cameras for Windows Hello. The quality is meh, much like with most other current notebooks.
Battery life
There's a 92Wh battery inside this 2021 ZenBook Pro Duo UX582, a bump from the 70 Wh battery in the previous generation.
Here's what we got on our review unit in terms of battery life, with the main screen's brightness set at around 120 nits (~50 brightness) and the ScreenPad switched off.
17 W (~5+ h of use) – text editing in Google Drive, Standard + Better Battery Mode, screen at 50%, Wi-Fi ON;
12 W (~8 of use) – 1080p fullscreen video on Youtube in Edge, Standard + Better Battery Mode, screen at 50%, Wi-Fi ON;
11 W (~8 of use) – Netflix fullscreen in Edge, Standard + Better Battery Mode, screen at 50%, Wi-Fi ON;
27 W (~3-4 h of use) – browsing in Edge, Standard + Better Performance Mode, screen at 50%, Wi-Fi ON.
Activating the ScreenPad at 50% brightness takes a further toll on these numbers:
24 W (~4- h of use) – text editing in Google Drive, Standard + Better Battery Mode, both screens at 50%, Wi-Fi ON;
34 W (~3+ h of use) – browsing in Edge, Better Performance Mode, both screens at 50%, Wi-Fi ON.
Due to its angle, you'll most likely have to keep the ScreenPad at a higher brightness level to figure out the content from that sharp angle, so the battery life might end up even shorter.
Something else to keep in mind is that OLED screens consume less with black content and more light content. That means you should switch to Dark mode in Windows and apps and expect your mileage to vary based on what's displayed on the screen.
I'll also add that the laptop comes with a mid-sized 240W power brick, which weighs ~1.7 lbs (.78 kg) in the two-piece European version, including the cables. There's no USB-C charging, though, surprising given there are two TB3 ports on this laptop.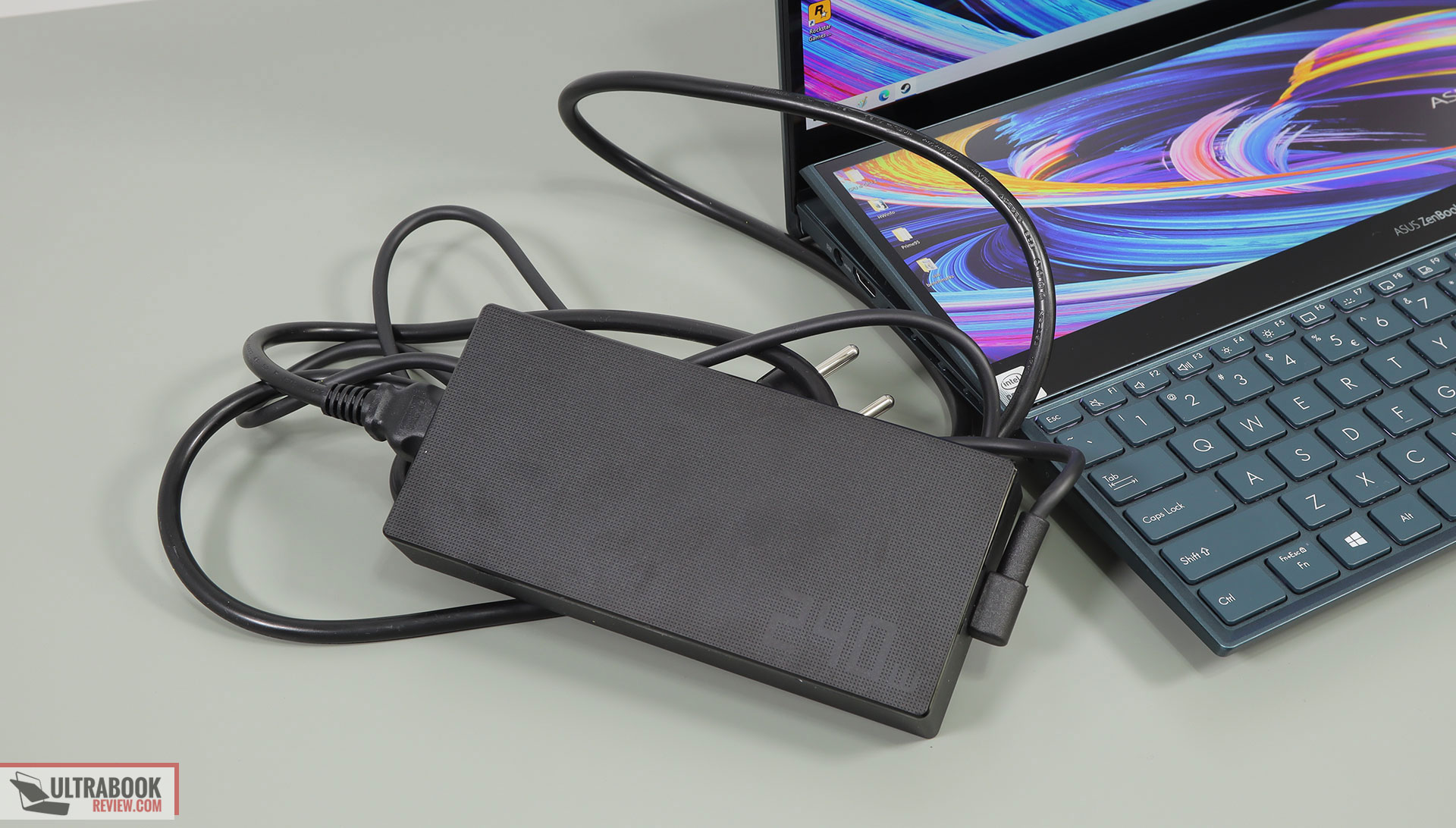 Price and availability
The Asus ZenBook Pro Duo 15 OLED UX582 is available in stores in some regions at this point, mostly in the configuration tested here, but with either an i7 or an i9 processor.
The i7 model goes for a little under 3000 EUR over here, while the i9 goes for a little over, both with 32 GB of memory and 1 TB of storage. That's pricey!
The i9 model seems to be the only one available in North America, listed at 2999 USD MSRP. That's slightly more expensive than the RTX 3070 + FHD 300 Hz screen configuration of the ROG Zephyrus DUO, which goes for around 2900 USD (when in stock), and a lot more expensive than the RTX 3060 variant of the Zephyrus Duo, which goes for $2200 and most likely performs similarly in GPU loads, thanks to the higher-power allocated to graphics on that design.
As far as I understand, there's no RTX 3060 version of the ZenBook Pro Duo, but hopefully, Asus will consider adding it if/when they also bump the processor to 11th gen. I'd expect that version at perhaps around 23-2400 USD/EUR to be a more viable choice for potential buyers.
Pricing and configurations might vary in the near future, so you should check your local shops or sites like Amazon for potential discounts.
Final thoughts
The ZenBook Pro Duo is not your average 15-inch laptop. This demands a hefty premium over the more standard notebooks with similar specs, justified by the engineering put into this product and the dual touchscreens.
In fact, those dual screens are the major decision vector for this sort of product, alongside the fact that the main display is OLED and touch. These two make the ZenBook Pro Duo an interesting workstation notebook that steps out of most of the other options out there.
At the same time, aside from the benefits of having two screens in a single product and the advantages of that awesome OLED panel, this design does come with some compromises. For example, this ZenBook Pro is fairly heavy and chunky for a 15-inch laptop with similar specs, such as, let's say, the ROG Zephyrus G15/M16 models. It's also less practical when not on a spacious desk, due to the down-shifted keyboard, and only available with 10th gen Intel hardware at this point.
However, its high price and the fact that Asus also offers the ROG Zephyrus Duo at this point are the decisive aspects that might draw potential buyers away from this series.
If you'd be OK with the convenience of an IPS screen (of lesser image quality) and especially if you plan to use this for gaming more often than none, the ROG Zephyrus Duo is a rather similar dual-screen product that sells for less (a little or a lot less, depending on the configuration). Still, it offers more capable hardware (Ryzen 5000 processors and higher-power GPU options), a more advanced thermal design, a superior software package, an arguably better keyboard, and better audio.
So while in the past the ZenBook Pro Duo did not have any direct competitors in its minuscule segment of dual-screen performance notebooks, it is now a way tougher recommendation when the Zephyrus Duo is also a viable alternative, leaving the design and the OLED 4K touchscreen as its single major differentiators. Are they enough to compensate for everything else? Not to me, but I'd love to discuss your thoughts about this series in the comments section down below.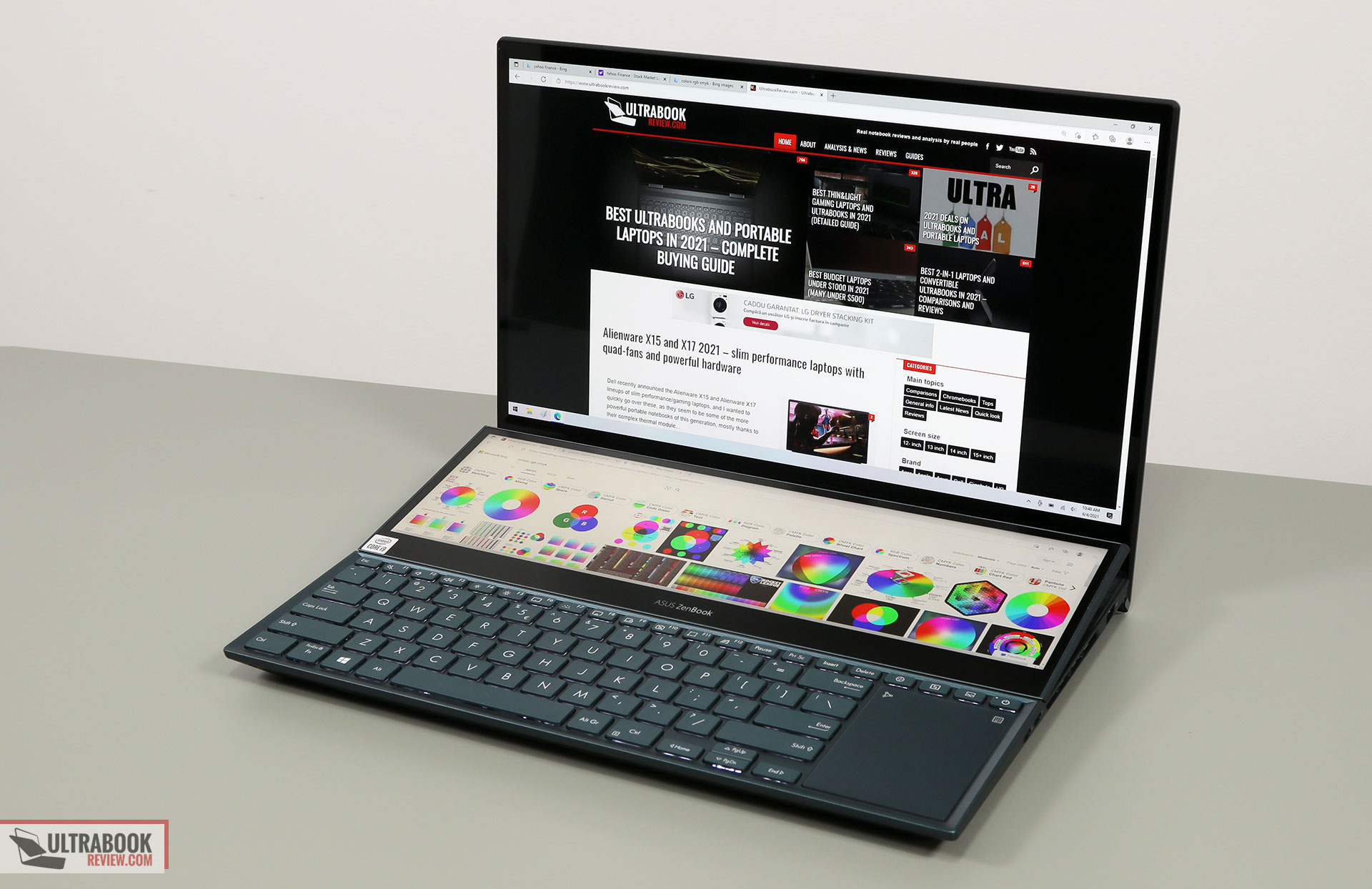 Disclaimer:
Our content is reader-supported. If you buy through some of the links on our site, we may earn an affiliate commission.
Learn more.