The new Dell XPS 13 Plus 9320 is certainly an intriguing device to me, especially with the way it looks.  Yet again, Dell has managed to push the limits with this model.  Several years ago, they were the first to introduce a near bezel-less screen.  They still have that actually, but this year they did something crazy with the keyboard deck.  And I think I like it.
This XPS 13 Plus very much reminds me of a Macbook.  It's extremely minimalist, with very few IO ports.  It also has a keyboard deck that is flush with the palm rest.  On top of that, the palm rest is completely smooth with the trackpad functionality integrated into it!  I was certainly skeptical of this, but it actually works.
And then there's the top row of key.  Instead of keyboard keys, the hotkeys and Function keys are now integrated into the deck as capacitive buttons.  They look fantastic and work pretty decently, but there is a catch.
There are tons of other features with this laptop too, including a very large selection of configuration options – something I really appreciate since I tend to be very picky. And more powerful abilities than any of the XPS 13 models available in the past.
But is it all worth it?  It's certainly not cheap, especially considering the hardware you're getting.  But it is definitely a work of art and quite unique compared to the competition.  I think there's definitely a target audience for this model, as it's probably not for everyone, but let's dig into the details to see if it's right for you.
Specs – Dell XPS 13 Plus 9320
| | |
| --- | --- |
| | Dell XPS 13 Plus |
| Screen | 13.4 inch, 16:10 3456×2160, OLED, 60 Hz, glossy, touchscreen, 100% DCI-P3 |
| Processor | 12th Gen Intel Core i5-1240P, 12 core total, 4 perfomance+8 eco (4.4 GHz turbo) |
| Video | Intel Iris Xe |
| Memory | 16 GB LPDDR5-5200Mhz soldered |
| Storage | 512GB M.2 PCIe 4.0 Samsung PM9A1 |
| Connectivity | Intel Wi-Fi AX211 + Bluetooth 5.2 |
| Ports | 2x USB-C Thunderbolt 4(PD 3.0, DP 1.4) and that's it! |
| Battery | 55 Wh, 60W charger |
| Size | 295.3 mm or 11.63" (w) x 199 mm or 7.84" (d) x 15.28 mm or .6" (h) |
| Weight | 1.26 kg (2.77 lbs) |
| Extras | Capacitive touch bar for multimedia/function keys, integrated track pad in the palm rest, HD webcam with Windows Hello, fingerprint reader |
Design and construction
The design and construction of the XPS 13 Plus are hands down the biggest strength of the device.  Dell did a fantastic job making the device look stylish and unique, while also keeping that premium, robust feel.
When I pulled it out of the box, I was very sure it was an XPS.  It has that familiar look with the metallic lid, and yet also feels like it's completely solid.  The laptop is very well balanced and is super easy to carry around.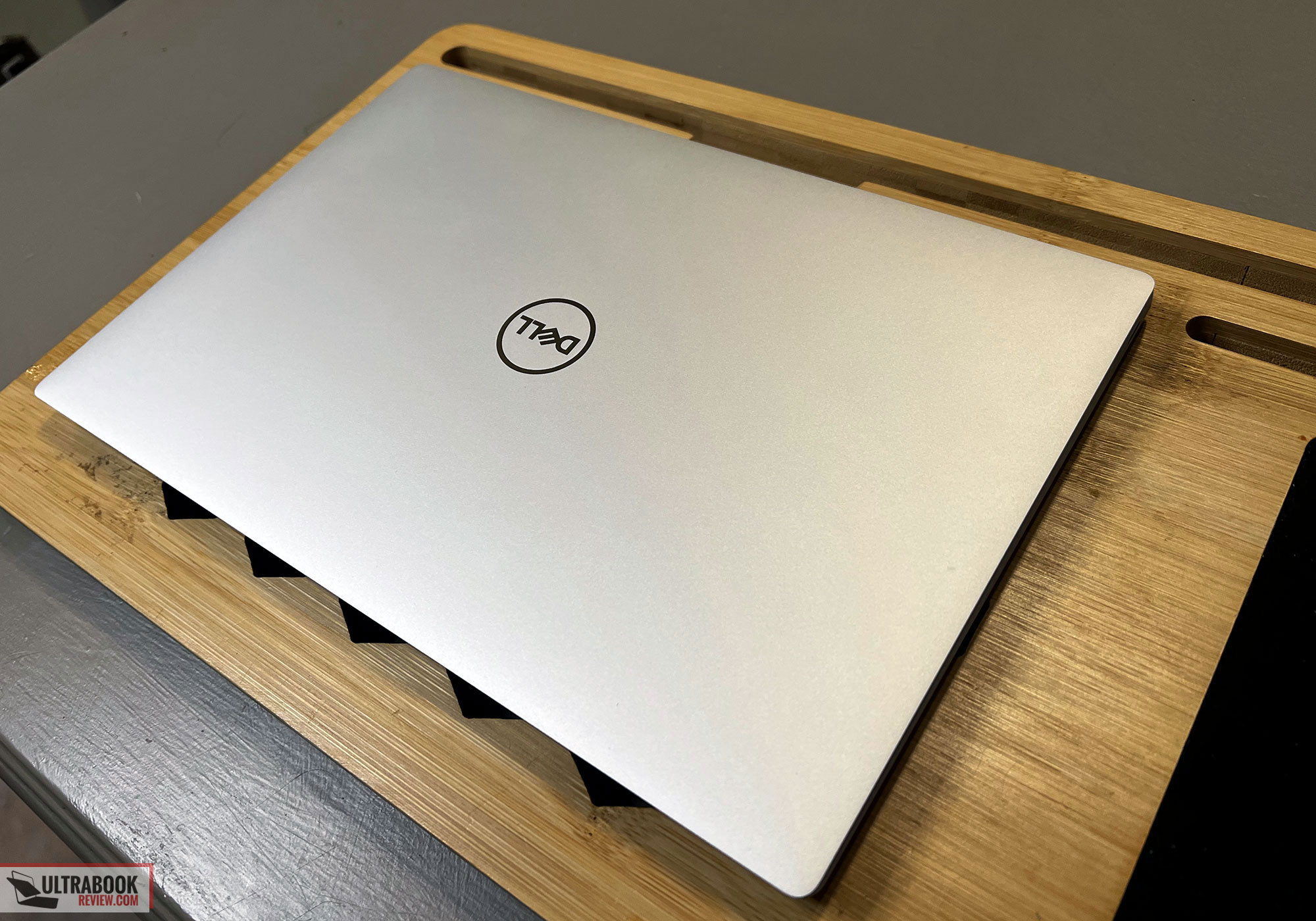 Being a 13-inch ultraportable, the device still feels smaller than the older XPS 13, even though those devices also had small bezels.  But this model is significantly narrower, mainly because they chose to go with a 16:10 aspect ratio but still keep the screen at 13-inch.
The lid is very smooth, and is made from a single piece of aluminum.  There is a Dell logo embossed on the lid, centered, and has a glossy finish to it.  The rest of the lid is a matte coating.  Being silver in color, fingerprints aren't going to be an issue, but dirtier smudges might show up over time.  I didn't have a tough time keeping it clean.
Lifting the lid is a one-finger operation.  And when you lift the lid, the power automatically turns on.  This is very useful, especially with the IR webcam and the ability to log in via Windows Hello.  If you prefer the power button though, you can turn off the wake on lift in the BIOS.
With the lid up, you get to see all the beautification Dell has done.  On the top is edge-to-edge glass with a screen that has some very small bezels.  For my model, I went all out with a 3.5k OLED touch panel.  More on that later.  Centered above the screen is a very tiny HD webcam and a pair of IR blasters.
The screen folds back to an average angle.  I was actually a little bummed about this, considering the great majority of laptops I've been reviewing lately go back 180 degrees or more.  It's a feature I didn't know I needed until it's absent, I guess.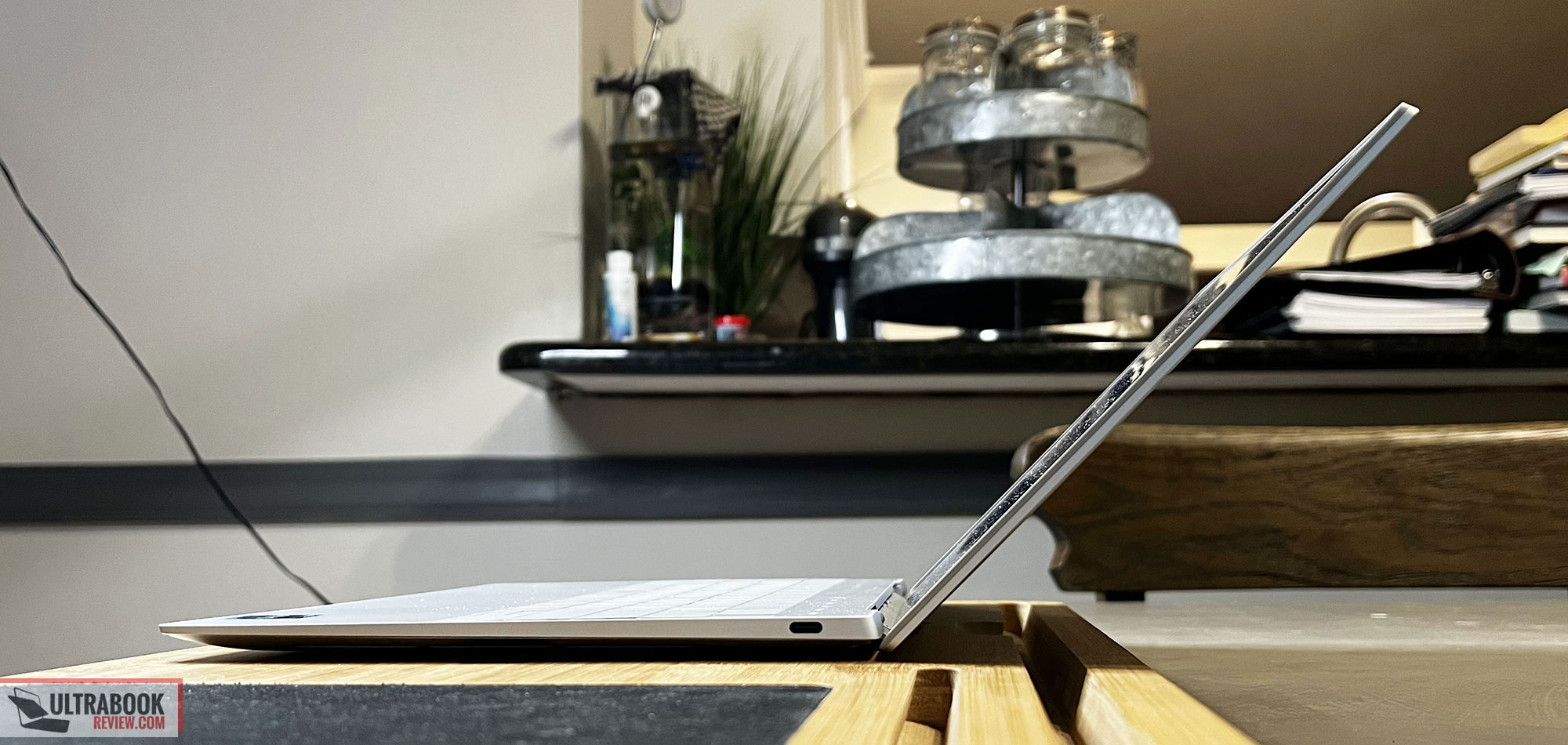 On the bottom, there's the keyboard, which spans the entire deck, edge to edge.  These keycaps are large, very close together, and are the same height as the palm rest.  Very stylish, but takes a little getting used to.
What's really noticeable is the lack of a trackpad.  In this model, the trackpad is actually integrated into the palm rest, which is entirely made of a frosted piece of glass.  The glass also has a soft-touch coating and feels great on the palms.  And finally, there's that capacitive touch bar on top of the keyboard, which is also glass.  I'll dig more into the details on the keyboard and trackpad in the next section.
On the bottom, there are some pretty small footpads.  They do the job though, and to be honest, they don't need to be bigger.  There are clearly no intake vents down here and it appears the cooling is heavily reliant on the airflow through the back of the hinge.  On both sides of the bottom panel is a rather long speaker array.
Finally, let's talk about the IO.  There's really not much to say, though… On each side, you get a single USB-C that supports USB charging with PD 3.0, Thunderbolt 4, and DisplayPort 1.4.  No headphone jack, no USB-A, no SD card reader.  You're really going to have to rely on the cloud and Bluetooth for this device. Or use the adapters included in the pack for USB-A and 3.5 mm audio.
That's probably going to be the most painful part for some users.  But if you're a Macbook user and are looking to switch to a PC, you're already used to this.  Could I live with it? Yes.  Would I want to though?  Absolutely not.  I'll take an "ugly" USB-A port any day and a tiny headphone jack hole would not bother me a bit.
But at the end of the day, this is a beautiful device and I have to give Dell a lot of credit where credit is due.  I think if I wanted a device that would be the envy of others, this would probably be near the top of the list.
Keyboard and trackpad
The keyboard definitely took some getting used to for me.  But overall, I think I like it.  Well, at least the typing part. What's weird is the keys are completely flush with the palm rest and that's just something that I'm not used to.  In fact, the only other laptop I've seen anything similar is the MacBook, which I actually disliked.
But these keys are very wide, so I think that makes all the difference in the world when it comes to typing accuracy.  In fact, over time I typed very well on this laptop.  Even in cramped spaces such as an airplane, where I typed the bulk of this review, I was able to work at my usual speed.
The key travel is about average for a laptop this thin.  But what really makes a difference is the key feedback, which is a little strong.  I think this is important though because with weaker switches, you would certainly have more accidental keystrokes.  But this also means that you have to type a little harder than on your typical laptop.  Again, I got used to it.
The layout, thankfully, is very normal.  All the keys are in their appropriate location.  The up and down arrows got split into half keys, which is probably my only minor complaint. That's standard for recent XPS 13 laptops, though.
The other oddity is the power button, which is right next to the backspace key.  But it's far enough out of the way and it has much more resistance to being pushed so I didn't accidentally press it – not even once.  This power button also has a fingerprint reader installed which is a nice touch if you dislike face unlock.
The capacitive buttons at the top really take some getting used to.  I think most would be able to adapt, but power users will probably struggle, as I did.  Really at first, as uncommonly as I use the Esc key, having it capacitive makes little difference to me.  But the Delete key did take a little more time to get accustomed to, especially when I had to tap it multiple times.
But over the weeks, I did find it more and more annoying not having a physical key for those two keys in particular.  For starters, noting beats a positive click that tells you that you struck the key, let alone the correct one.  And with the Esc key, that's typically done with my pinky without having to look.  It's not something I want to wonder whether or not if I hit Esc or the mute key and then find out the hard way I missed.
The other keys, though, are mostly hotkeys, which are kind of nice to have as capacitive buttons.  Home, Edit, and Insert are also capacitive, but who really cares about that, right?  Or am I the only one that doesn't use those? 🙂
What's really slick is if you hit the Fn key, the capacitive row shifts to a Function row, with all the media keys turning off and the F keys illuminating. You can also Fn-lock the row to keep the F keys active.  Very nice looking.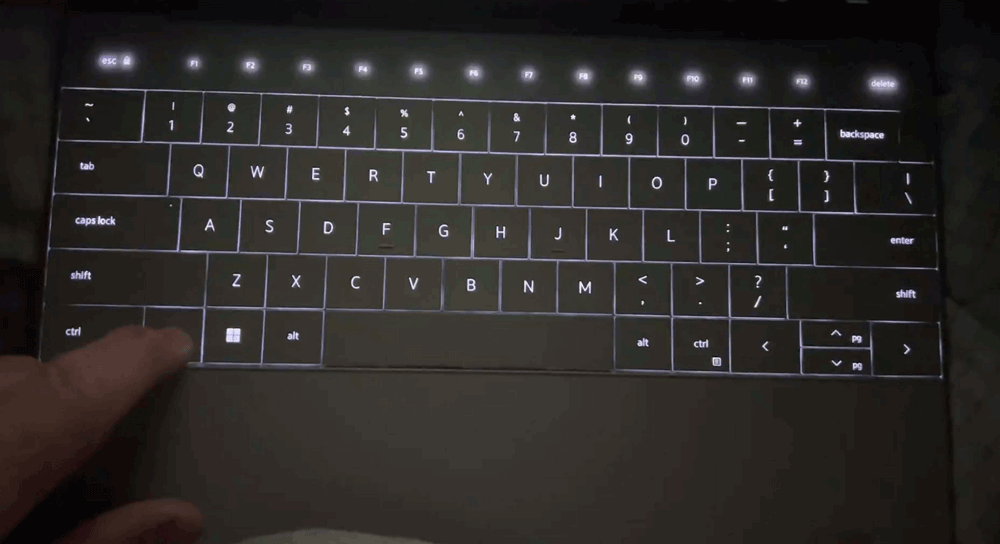 Again though, what you have to watch out for on these capacitive keys is accidentally brushing against them with wandering fingers.  Like most of us do while typing, when you pause, you tend to rest your fingers on the keycaps.  But if you do that too high up, sometimes a pinky will brush the Esc key or a middle finger might hit that volume and unmute you.  It's infrequent, but I need to give you guys the full disclosure here – I did this a lot!
The backlight on the keyboard is subtle and sufficient.  You only get one color, which is white.  In dark rooms this is great and there are two brightness settings to choose from.  I chose the dimmer of the two for most of my use.  You can also change the timeout for the backlighting in the BIOS, but it defaults to going off after 10 seconds of inactivity.
In lit rooms, the backlighting is actually a hindrance, though.  White lights on silver keys mean very poor contrast on most silver laptops, and this is no exception.  I snapped a picture with it on and off in a moderately lit room to show you the extent, but it's worse in person.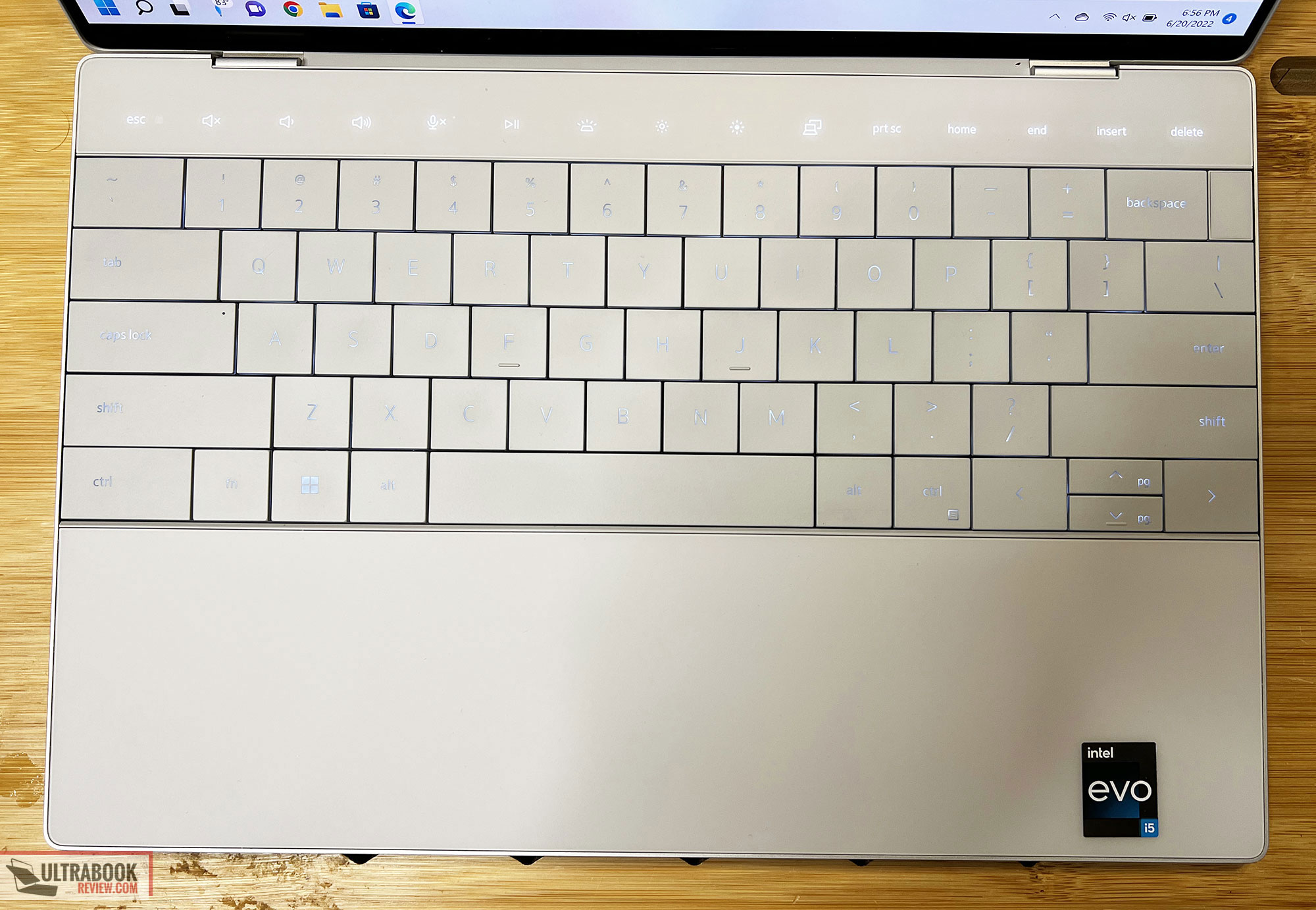 What doesn't go away is that capacitive touchbar lighting.  For some reason, this is always on and can be super annoying.  In normal lighting it's fine, but in a dark room and while watching a movie, I found it to be a huge eye sore.  There's no way to adjust this as far as I know.  There are probably a hundred things that can be changed in the BIOS and this isn't one of them.
And to make it a little more annoying, the lighting on the touchbar is set at a low and different refresh rate than the keyboard.  Under certain conditions and depending on how sensitive you are to it, you can see the lights blink.  I took some slow-motion pictures and determined that they blink at 50Hz. This flickering is the reason the lightbar appears to be switched off in some of the pictures, although it is not.
Now let's talk about that trackpad.  Or lack thereof?  I guess it's still there technically, but in this model, it's completely hidden.  As far as looks go, it's very nice!  But in a practical sense, there are certainly some pros and cons.
First off, let's make it clear that the entire palm rest isn't a huge trackpad.  I think when Dell first showcased this model, that was my initial impression and I was very skeptical about how that would work with palms touching it all the time.
But in reality, the trackpad is exactly where it normally is – right under the space bar.  The left edge is probably a couple of millimeters further than the left edge of the spacebar and the right goes almost to the end of the Alt key.  The height extends up to the spacebar and comes about 2-3mm from the bottom edge of the laptop.  A small trackpad, but this is a tiny laptop so it's about as big as it needs to be.
If you test the extremes of this trackpad, you're going to mess up a lot. But if you treat it like any other laptop, you won't even notice that the edges aren't physically there.  In other words, this is something that is easy to adapt to, provided you are used to trackpads already.
What is weird is you can still click it.  And you can actually still do right-clicks, which really threw me off.  But it's very tricky finding that spot where you can right-click, since there are no edges to use as a reference.  For me, this is a non-issue since I already use single and double taps for clicking.  But if you are someone that heavily relies on right-clicking manually, you might get frustrated with this trackpad for the first few days.
The good news is, aside for the invisible edges that you have to adapt to, the trackpad works flawlessly.  It's very smooth and tracks well.  Multi-touch gestures work as they should and the overall experience feels premium.  I really think the pros outweigh the cons with their offering.
I'll also add in here that the screen model that I purchased is touch-enabled, so we should definitely talk about it.  It works well and this is definitely a small enough laptop that touch makes sense to have.  The glass has an oleophobic coating to it so my fingers always glided smoothly.
There's no digitizer, though, so a pen won't work.  Not that you'd want it with the screen not being able to fold back, but the digitizer would also add that grainy look to the OLED that people always complain about.  I think the touch panel is enough and fine as is.
So other than the capacitive touch bar and the backlighting, I really like the input devices that Dell is offering in the XPS 13 plus.  They're both fancy looking and functional, and should be a good solution for the average user.  I'd really only caution people that do heavy work against this machine, mostly because I think long-term use of these capacitive Delete and Esc keys might prove frustrating over time.  Unless you're very tolerant, that is.
Screen
The screen on this laptop is definitely an eye-catcher.  The model I chose has a 3.5k panel, specifically 3456 x 2160 px in resolution.  A new resolution for me as this is the first 16:10 3.5k panel I've seen so far.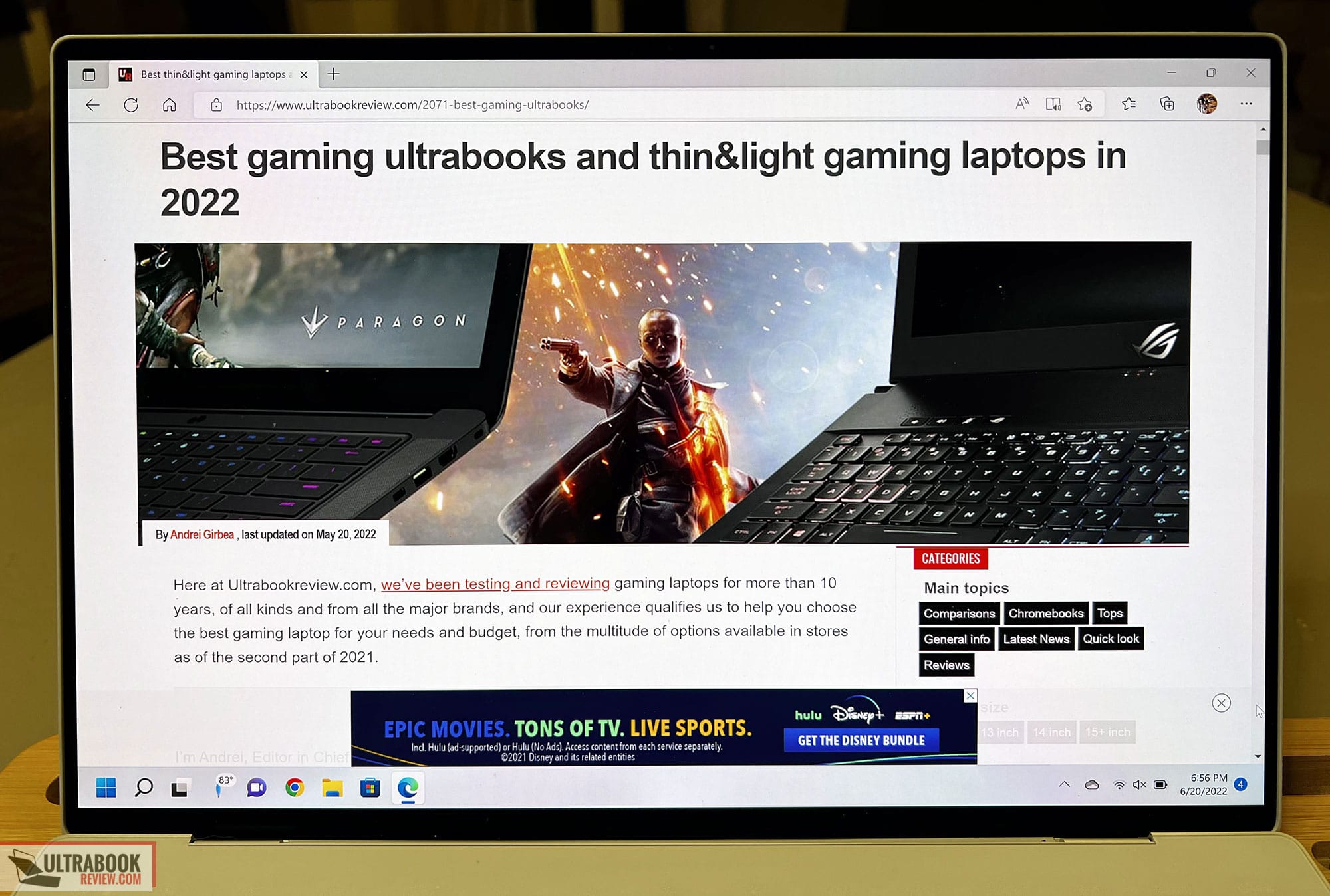 The panel is OLED, so the viewing angles are perfect, the blacks are true black and there is zero backlight bleed.  The whites also look great because, as I mentioned before, there is no digitizer that creates that grainy look to solid white colors, as on other OLED touch laptops.
I used my X-rite i1 Display Pro sensor to verify all the specs.  Here's what I got:
Panel HardwareID: Lenovo ATNA40YK01-1(Model SDC4152)
Coverage: 171.9% sRGB, 118.4% AdobeRGB, 121.7% DCI-P3;
Max brightness in the middle of the screen: 368 cd/m2 on power;
Gamma: 2.2
Contrast at max brightness: 1,000,000:1
Native white point: 6446 K;
Black on max brightness: 0 cd/m2.
Good specs there and it's pretty typical for an OLED panel.  There's pretty much nothing to complain about other than the fact the screen is only 60 Hz.  Not that this laptop is intended for gaming or anything, but even with productivity work, I prefer the smoothness of at least a 90Hz panel.  I'm overly picky with screens, though.
I wanted to note that contrary to Dell's specs, the screen is not 400 nits.  I did only get 368 nits on my unit.  It's close, but still a little misleading if you were counting on at least 400. So if you're looking for a laptop that you'll use outdoors or in bright environments, I'd go with one of those IPS options instead, which are 500+ nits.
As for burn in, obviously, I didn't have this long enough to have that problem.  Hopefully, it'll last a long time, but only time will tell.  If you're nervous about that, though, those IPS models are the way to go.
I did experience black crush a bit on some movies I was watching.  It's mainly limited to dark scenes and it's nothing that is preventable due to the nature of OLED panels.
I'm happy with this OLED screen overall as it is though, and if I had to choose again, this would be the one for me.  The picture quality really makes the experience that much better.  I'm sure it's probably worse on the battery than the FHD+ IPS options, though, so that's something else you'll want to weigh in your decision.
Hardware and performance
This unit includes an Intel Alder Lake Core i5-1240P processor, the base-level option available for this series.  This is an Intel Evo branded CPU because not only does it include 4 Cores for performance processing, there are 8 additional cores for efficiency only.  Lower demanding programs are supposed to use these 8 cores to save on battery.
I'm pretty happy with the overall performance of the CPU.  I didn't put it through any taxing tasks – just my normal day-today stuff and a lot of media consumption.  I took it for a week on a work trip and it was just fine.
But, Dell being Dell, there's some annoying bloatware installed that ultimately gave me a bad experience in my first couple of days.  McAffee is always the first thing I delete, which I'm totally used to eliminating.  But there is this other program from Killer (I forget what it was called since it's now gone), that was causing major hangs and even locked up my system twice.  Delete it.
Also included is 16GB of RAM, which is plenty of memory for a laptop of this caliber.  It's soldered, so make sure you check your configuration before you buy.  There are also 8GB and 32GB configurations out there that may better suit your needs/budget if 16GB isn't right.
The bottom cover comes right off after taking out the 6 Torx screws.  Underneath the hood, you'll find that only the SSD is upgradeable.  Everything else, including the Wifi card, is soldered to the board.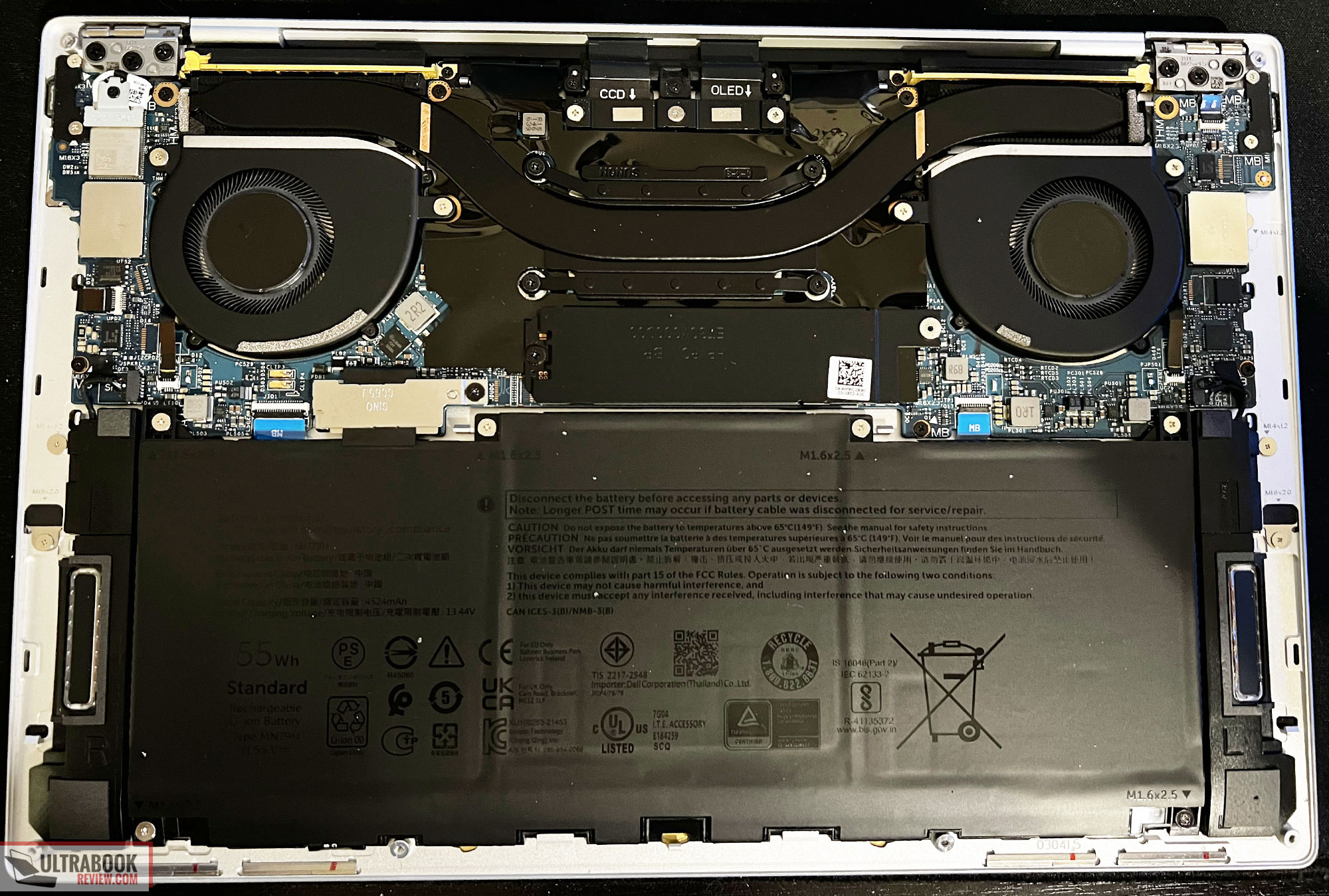 Let's dig into the performance now.  I took some synthetic benchmarks to get an idea of how well the CPU performs.
Here's how the laptop handles sustained CPU loads on the Ultra Performance, Optimized and Quiet profiles, in the Cinebench R15 loop test.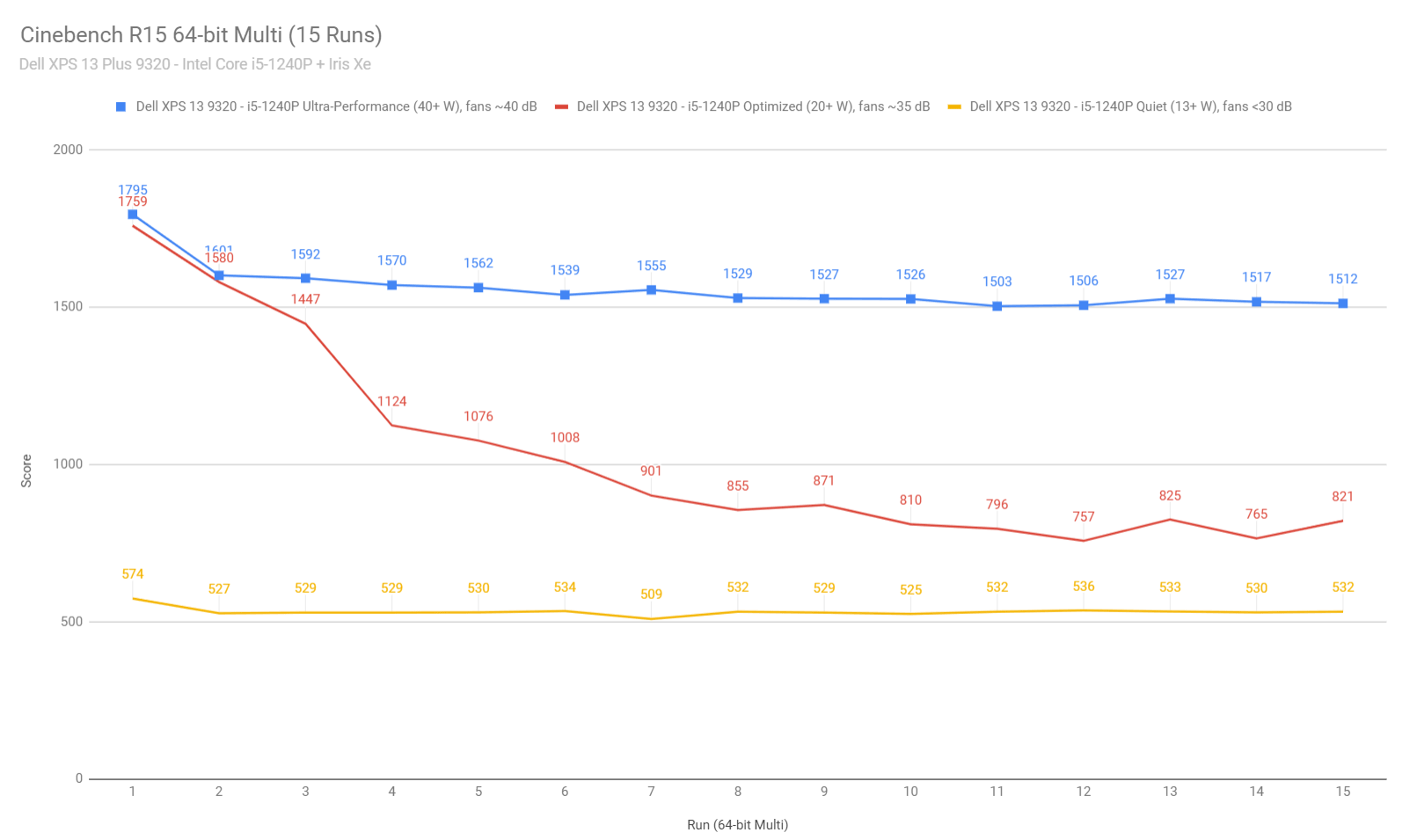 The Ultra Performance setting allows for 40+W of sustained power with quiet fans, but the CPU runs at around 100C in the process. Optimized is a balanced profile with quieter fans, lower temperatures and a ~20W power limit. More details are available the following logs.
And here's how this high sustained power Core i5-1240P implementation fares against other Intel 12th gen and AMD Ryzen ultraportable designs, as well as the Tiger Lake i7 available in 2021 ultraportables such as the ZenBook 14 or the XPS 13 9310.
Given the i7-1260P is nearly identical in terms of CPU design to the i5-1240P and merely runs at higher power, you can expect similar performance in this CPU test from the Core i7 configurations of this XPS 13 Plus.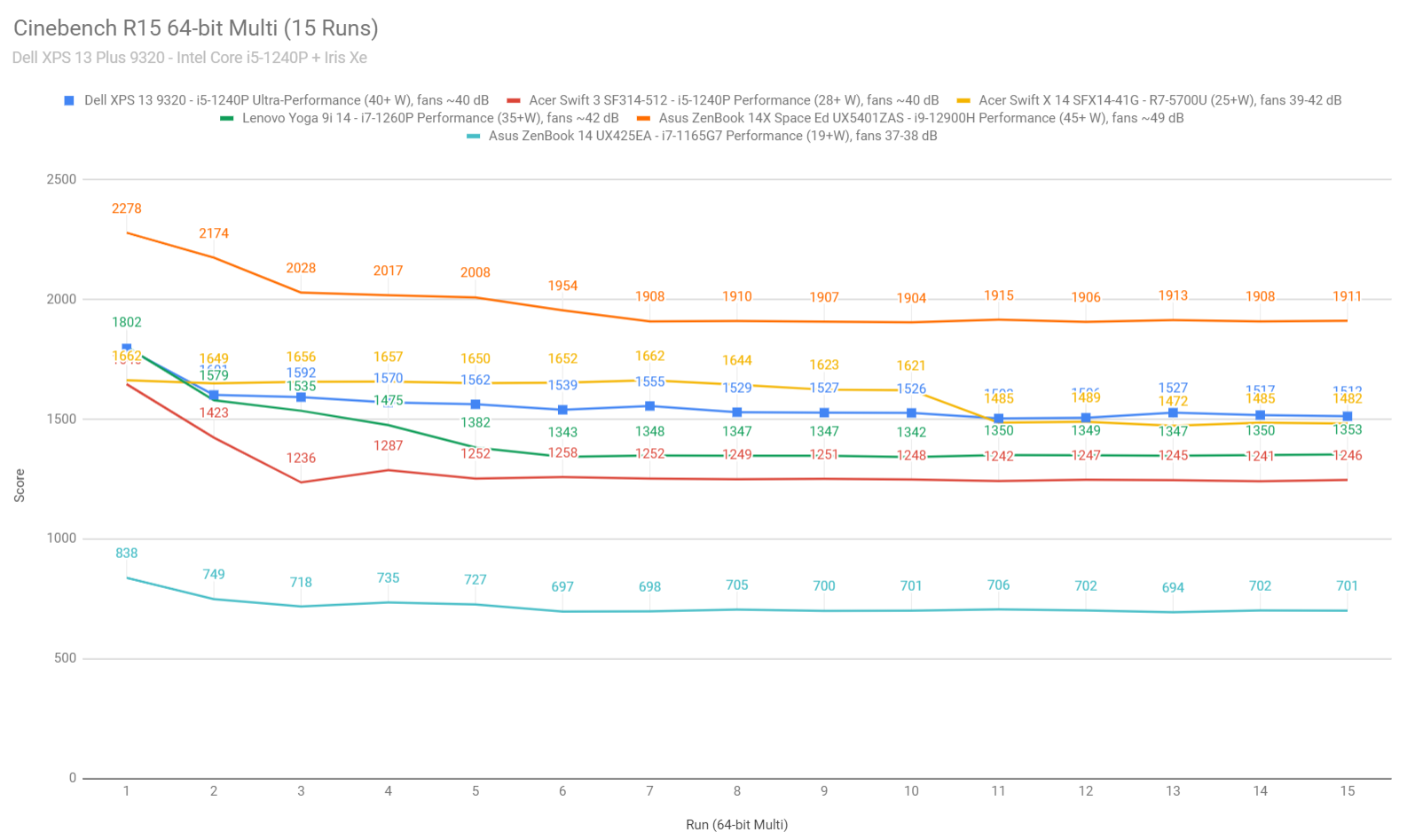 And here are some benchmarks in Ultra-Performance mode, which allows the CPU to start at 64W for a short burst, then run at at lower power assuming the thermals hold up:
3DMark 13 – Fire Strike: 4315 (Graphics – 4554, Physics – 21293);
3DMark 13 – Time Spy: 1562 (Graphics – 1365, CPU – 8758);
3DMark 13 – CPU Profile: Max-5242, 16T-5162, 8T-3814, 4T-2864, 2T-1725, 1T-917
Superposition: Medium: 2261
GeekBench 5: Single-Core: 1624, Multi-core: 9628;
CineBench R15: OpenGL 95.53 fps, CPU 1692 cb, CPU Single Core 230 cb;
CineBench R23: CPU 10460 pts, CPU Single Core 1608 pts;
For the record, thermals do not hold up in that mode.  I was constantly hitting 100C for CPU temps and the CPU power typically rested at around 40W sustained, as seen in my Cinebench runs.
At the same time, these results are higher than on any other 13/14-inch Intel Core P28 configuration we've tested so far, as a result of the high sustained power settings.
And now let's see how it performs in "Optimized" mode.  In this mode, the TDP starts at 64W but then drops to 20W.  Thermals were much more stable in this mode, but the CPU scores take a massive hit.  Here were my test results:
3DMark 13 – Fire Strike: 3943 (Graphics – 4315, Physics – 13769);
3DMark 13 – Time Spy: 1531 (Graphics – 1338, CPU – 8449);
3DMark 13 – CPU Profile: Max-3046, 16T-2937, 8T-2454, 4T-2035, 2T-1393, 1T-881
Superposition: Medium: 2683
GeekBench 5: Single-Core: 1626, Multi-core: 8330;
CineBench R15: OpenGL 95.79 fps, CPU 1282 cb, CPU Single Core 233 cb;
CineBench R23: CPU 6927 pts, CPU Single Core 1638 pts;
Finally, these are the results in "Quiet mode".  In this mode the TDP starts at 64W and then quickly shifts to 13.5W.  The key with this profile is that the fans are practically off in this mode, so things get kind of hot.  Here were my results:
3DMark 13 – Fire Strike: 2844 (Graphics – 3132, Physics – 9280);
3DMark 13 – Time Spy: 1057 (Graphics – 947, CPU – 3142);
3DMark 13 – CPU Profile: Max-1943, 16T-1922, 8T-1703, 4T-1413, 2T-942, 1T-636
Superposition: Medium: 1936
GeekBench 5: Single-Core: 1633, Multi-core: 6884;
CineBench R15: OpenGL 66.64 fps, CPU 654 cb, CPU Single Core 171 cb;
CineBench R23: CPU 4350 pts, CPU Single Core 1202 pts;
The performance is still pretty reasonable in Quiet mode, but I think I'd probably use the Optimized mode most if I were to use this as a daily driver.  Not only are the fans tolerable in that case, but the internal component temperatures are much better and with decent performance.
Performance mode allows for higher CPU performance due to the much higher power settings, but in this case, the CPU pretty much runs in the 95-100C in sustained loads, and the fans run louder, but still barely noticeable at sub 40 dBA. So this would only make sense for sporadic short-term activities.
I also took some benchmarks with a few games, varying in age.  See below for my results:
| | |
| --- | --- |
| | Framerates |
| Doom Eternal (FHD+, Low settings) | 29 fps avg, 22 fps low |
| Skyrim (Ultra, FHD+) | 45 fps avg, 40fps low |
| The Witcher 3: Wild Hunt (FHD+, low Preset, Hairworks Off) | 32 fps avg, 26fps low |
| Portal Reloaded (4k+) | 60 fps |
These results are decent and about what you'd expect for integrated graphics.
I don't think this is the ideal gaming machine with this keyboard, but if you just want to play the occasional light game, it's probably fine.  Just make sure to switch the graphics to FHD+ or else the game probably won't be playable at the native 3.5K resolution.
As far as the temperatures and power go, here's a log of Witcher 3 on Ultra Performance. The system averages about 30W of sustained power, which results in solid GPU performance running at its peak capabilities, and temperatures in the mid-70s, with fans at around 40 dBA. Those are excellent results for a thin-and-light laptop.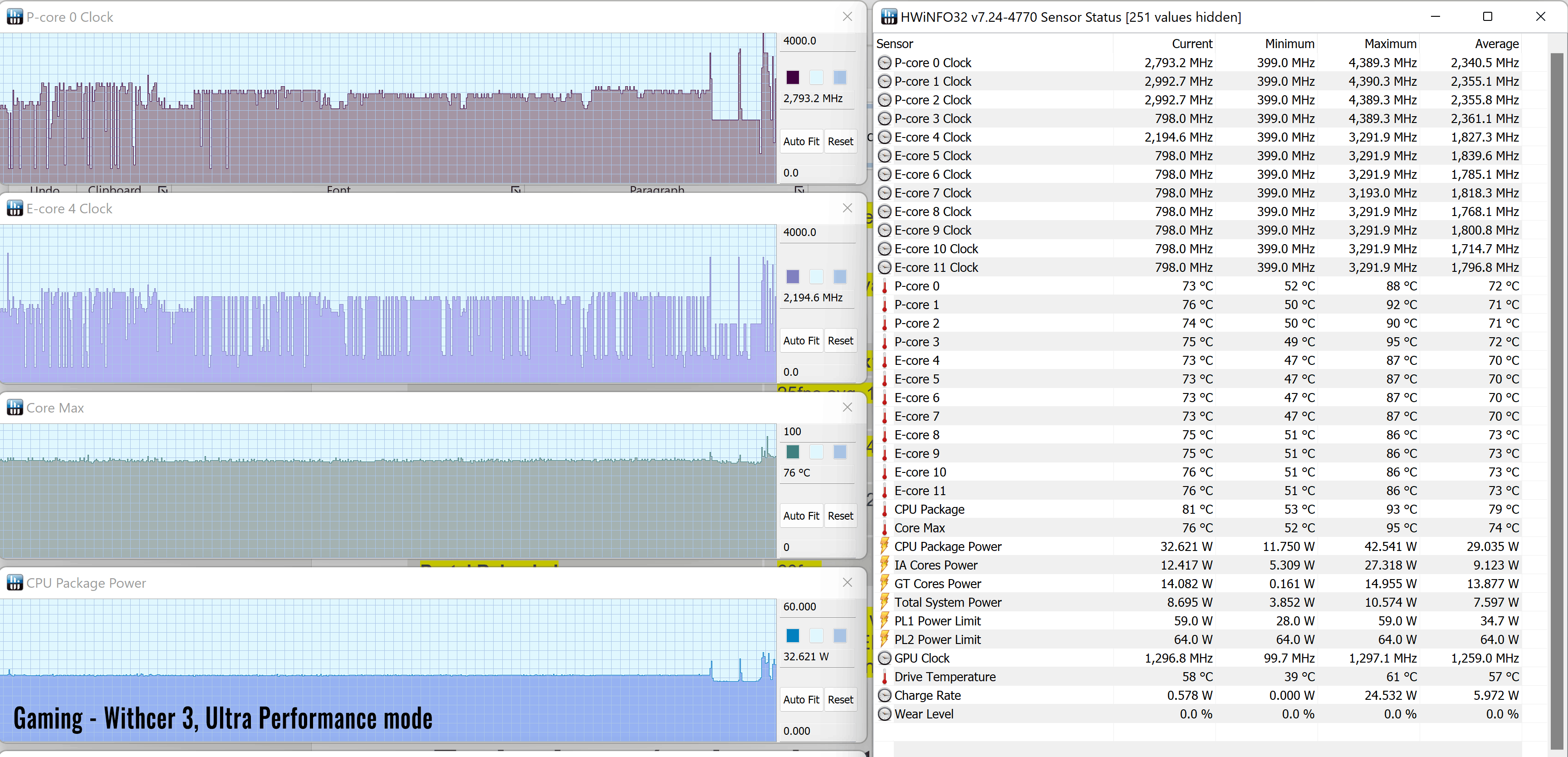 Noise, Heat, Connectivity, speakers, and others
The cooling module on this laptop consists of two fans, two radiators, and one heatpipe in-between.

It does the job, but in some situations, it may not be enough depending on what kind of user you are.  It's a simple heatsink design, but with the lack of intake air vents on the bottom, it relies on air going inside through the speaker cuts and the cuts on the back edge, in-between the fans.
Instead of power modes, Dell implements thermal modes, which are pretty much the same thing.  Instead of focusing on the power though,  they focus on the cooling as to what each mode describes.  But in actuality, the power modes differ in each mode, as described in my performance testing above.
Getting to these settings isn't intuitive. First you have to open and install My Dell, which comes with the machine.  Then go to "Power" which describes the tab as changing "Battery settings".  Then click on Settings at the top and then "Thermal" in the sub menu.  You'll then see four options: Cool, Optimized, Quiet and Ultra-Performance.
Starting with Ultra-performance, you'll get the most power out of your machine in this mode.  But as I mentioned in the performance section, you'll also heat up your components.  Under sustained heavy loads, the CPU frequently operated at or below 100C.  The fans weren't all that loud, with their maximum speed operating at 40dB(A).  Still, I'd caution against operating in this mode long-term.
I did a bulk of my testing in Optimized mode.  In this mode, the fans operated between 30-35dB(A) which is perfectly tolerable to my ears.  They would even kick off when idle.  The important thing is the CPU power is a little more limited in this mode, so your temps stay in a much cooler state.
I didn't really mess with "Cool" mode a whole lot, but it's mainly the same thing as Optimized, only with louder fans.  So basically you'll hear 30-40dB(A) on the fans with limited power and cooler temperatures all around.
The Quiet mode is the most interesting.  The fans are basically off in this mode and I have yet to hear them come on.  They do spin – just really really slowly, just enough to move the air across the heat pipes.  The CPU operates at lower power, so the heat generated and the performance are both less than in the other modes.  But as a consequence, the surface temperatures in this mode are very high.
I did take some measurements of those surface temps.  Once while watching Netflix on battery in Optimized mode.  Another time was in Quiet mode while watching another movie plugged in.  The last time was in Performance mode while playing a game. All these are fine for a laptop of this size, even if the surfaces get a bit warmer on Performance and Quiet.
The Intel AX211 Wifi 6E  module in this unit is fine.  I don't have a Wifi 6E router, but my connection was always stable and I experienced no unusual drops in connection.  Taking my typical router test which is approximately 25ft from my router, I pulled over 500Mbps download speeds.  Pretty good.
The Bluetooth 5.2 also worked just fine.  I used my Airpods and my wireless glasses quite frequently, and both worked fine.  That's about all I tested on this unit.
The speakers are pretty decent on this device.  There are four of them, and they are all down-facing, but they still manage to sound good at least. I used my typical test song and only got a max amplitude of 75dB(A) – a little below average but still loud enough for most people.  The good news is the quality of the highs and mids was very good and I enjoyed using this device for entertainment purposes without headphones.
The bass isn't bad either.  I measured audible bass as low as 60Hz on this machine.  It's not punchy like I saw on the Lenovo Yoga 9i, but it's not absent either – something most ultra-thin laptops suffer from.
The webcam is adequate, but nothing special.  In well-lit rooms, the image is pretty clear, but it's still limited to HD resolution.  In low-light scenarios, it's a little below average, as the image gets grainy and there's little to no light correction.  The colors also start to become muted.
At least the camera has Windows Hello.  This is especially useful paired with the wake-on-lift feature of this laptop.  Even though the camera is practically useless in a dark room, the pair of IR blasters did well to recognize my face and turn the machine on.
There's also a fingerprint sensor that is integrated into the power button.  I didn't use this as much, but I did test it and it works just fine.  If you're not into the face unlock thing, you can disable it and the wake-on-lift feature and just use the power button with your fingerprint.  It'll be almost as fast and still very secure.
Battery life
This model only contains a 55 Whr battery.  It's a small laptop which is probably why, but it's still a small battery compared to other ultraportables.
I took a series of battery life tests with the brightness at 50%, which is about 80 nits.  Here were my results:
4.0 W (~13 h 45 min of use)– idle, Quiet mode, screen at 0%, Wi-Fi ON, backlighting off;
8.1 W (6 h 47 min of use)– text editing in Word with light internet use, better battery mode, screen at 50%, Wi-Fi ON;
10.5 W (~5 h 14 min of use)–4k 60Hz Youtube fullscreen in Chrome, Quiet mode, screen at 50%, Wi-Fi ON;
11.5 W (~4 h 47 min of use)– 1080p Netflix fullscreen video in Chrome, Quiet mode, screen at 50%, Wi-Fi ON;
16.8 W (~3 h 16 min of use)– heavy browsing in Chrome, Optimized mode, screen at 50%, Wi-Fi ON;
34.6 W (~1 h 35 min of use)– Gaming – Witcher 3, Optimized mode, 60fps cap, screen at 100%, Wi-Fi ON.
Not the greatest results by any means.  But considering the battery size, this is about what you'd expect.  I think if you want more battery life, perhaps opting for the FHD non-touch panel here is the way to go.
The power brick is 60W and is very small.  It has a detachable USB-C cable so you can vary the length if you want.  It also works on both USB ports. No complaints – it's light, portable, and effective.
Price and availability- XPS 13 Plus
The model I have is available on Dell's website for $1699.  I haven't seen any available on Amazon just yet, but it might be available later on.
The XPS 13 9320 series is very configurable, but keep in mind that some custom models might take longer to receive than others.  When I ordered this model, it took several weeks to receive.
If you're on a budget, the base model costs just $1399.  A fair price, but this model only has a FHD+ screen and 8GB of RAM.  I'm sure the screen is fine but the 8GB of RAM will likely be limiting if you're doing anything more than your typical content consumption.
At the other end, you could go all out and get the 14Cores Intel i7-1280P, 32GB of RAM, a 4k screen, and 2TB SSD, but this drives the price up to $2399.  Steep, but still not bad considering the specs and the design you're primarily paying for.  My advice would be to do some research and get what you think you'll need over the next several years, because nothing is upgradeable besides the SSD.
Final thoughts- Dell XPS 13 Plus 2022 review
I've really enjoyed my time with the XPS 13 Plus so far.  Not only is it a solid design with superior build quality and nice looks, it also has an easy keyboard to type on and an intuitive and yet invisible trackpad.  And let's not forget the great-looking OLED screen.  All this for a reasonable price too.
It's not perfect though.  I did not care for that capacitive touch bar for example.  The always-on backlighting just kills it for me and I did notice the flickering in the LEDs at least twice in my short use so far.  On top of that, I can't even count how many times I accidentally hit the Esc key.  I think this touch bar was a decent try, but an overall miss on Dell's part.
I also wasn't a fan of how warm it runs in some cases.  It's good to have the freedom to be able to update your power limits, but I think the average user will have no idea that their internal temperatures are cooking in the high-90s if they decided to use their laptop on the high-performance mode.
Used correctly – that means on Optimized – this is a very capable machine.  I could possibly use it as a work machine if not for the capacitive buttons.  Between those and the lack of IO, it just makes this laptop not the right fit for me.  But that's just me.
If you care about either of those two things, this laptop is definitely not for you.  I also wouldn't recommend this machine for any power users.  I just don't think I would even bother with the i7 models though considering the unit I have throttles under heavy load.  And while my CPU scores were decent, the Cinebench runs pretty much show that the CPU can't run the same at sustained loads.
Realistically though, I can see a lot of users liking this laptop a lot.  The target audience for this machine is probably someone who primarily cares what their laptop looks like on the outside.  And those people probably have a minimalist attitude and have Bluetooth peripherals, so they won't care about the lack of IO.
But even if you're not the target audience, there are also a lot of attractive features that would draw even the average user.  The compact design with a near bezeless screen is such a nice look.  And you can't go wrong with the familiar clamshell design of XPS laptops – you really feel like you got what you paid for here.
So that about wraps up my opinion on this 2022 Dell XPS 13 9320.  I'll have it on hand for a few more weeks, so if you have any questions, I'll be more than happy to answer as best I can.  Please leave me a comment below.
Disclaimer:
Our content is reader-supported. If you buy through some of the links on our site, we may earn a commission.
Learn more.