HP's ZBook series of laptops have been on my radar for many years. Frustrated with the shortcomings of my Dell's XPS 15, I have long been on the lookout for other laptops that combine similar horsepower with a comparably professional look and compact chassis.
I started to pay closer attention around the 5th generation of ZBooks, but the 7th generation, available since August 2020, were the first to really have a compelling design (to my tastes). It took a little bit of a wait, but we've finally got a fairly well-specced ZBook Studio G7 to test, courtesy of HP.
One of the ZBook Studio G7's selling points is its relatively high level of configurability: With CPU options ranging from the Intel i5-10400H up to the Xeon W-10885M, GPU options including the Quadro T1000, T2000, RTX 3000, 4000, and 5000 (which has a staggering 16GB GDDR6 VRAM), and four different display options, it's clear that HP is targeting business clients with specific mobile workstation needs.
Our review unit has a fairly balanced mix of specs, equipped with the 400 nit, 72% NTSC, low-power matte FHD IPS panel, Intel i7-10850H CPU, 16GB DDR4 RAM, Nvidia Quadro RTX 3000 Max-Q GPU with 6GB GDDR6 VRAM.
So, how does it measure up to expectations and, of course, the competition? Can such a thin chassis handle a Quadro RTX 3000 without significant throttling or overheating? We hope to answer these questions as well as many others in this review.
Specs as reviewed – HP ZBook Studio G7 Mobile Workstation
| | |
| --- | --- |
| | HP ZBook Studio G7 Mobile Workstation |
| Display | 15.6″ diagonal FHD LED UWVA Anti-Glare ultraslim Low Power Narrow Bezel (1920×1080/400 Nits/Chi Mei CMN1519) |
| Processor | Intel Core i7-10850H CPU at 2.70GHz (up to 5.1GHz turbo boost). |
| Video | Nvidia Quadro RTX-3000 Max-Q with 6GB GDDR6 VRAM |
| Memory | 16 GB DDR4 2933 MHz (soldered, but customizable up to 32 GB) |
| Storage  | 256 GB KIOXIA PCIe NVMe TLC SSD (1x M.2 PCI x4 slots) |
| Connectivity | WiFi 6 (Intel AX201) 2×2 with Bluetooth 5.0, Gigabit LAN (Realtek RTL8168/8111) |
| Ports | 1x USB-A 3.2 gen1, mini Display Port, SD card reader (full-size, flush), 3.5mm combination jack |
| Battery | 83Wh "Long Life" Li-ion battery, 200 W power adapter, USB-C charging up to 100W (0.71 lbs) |
| Size  | 13.93″ (W) x 9.24″ (D) x 0.7″ (H) |
| Weight | 3.84 pounds (the touchscreen model is slightly heavier and 1mm thicker on the lid) |
| Extras | "Z Command" Mac-layout keyboard, 2x downward-facing + 1x upwards-firing speakers. Fingerprint sensor, 720p IR-enabled camera |
I was surprised to see a mini Display Port rather than an HDMI port. Apparently, SKUs outfitted with the T2000 GPU and lower get HDMI while SKUs with the RTX 3000 and above get mini DP — this is the first time I've experienced a variable in display-out ports on a laptop based on GPU. We asked HP for clarification on this, but we did not receive a response by the time of publishing.
The other important change is that our review SKU has been configured with HP's "Z Command" keyboard, which mimics a Mac's layout. We will be discussing this at length in the keyboard/input section.
Overall, despite the wide range of configuration options, there are a few additional options we'd have loved to see: An FHD touch-enabled option, second NVMe bay, Ryzen CPU options (understandable as this is an enterprise-focused notebook with Thunderbolt 4), and a 16:10 display to eliminate the chin bezel. Perhaps next year!
Design and Construction
The HP ZBook Studio G7 has a slim, professional, minimalist design philosophy that falls somewhere between the Lenovo ThinkPad X1 Extreme/P1 and the Dell XPS 15 9570, both in terms of design and in-hand feel. The overall vibe of the Studio G7 is highly professional and attractive, and I think even the most aesthetics-minded consumer would have little to complain about. The most flashy aspect of the workstation is the stylized "Z" logo on the back of the lid. It doesn't light up or anything, however, and they could certainly have done much worse.
Initially, I actually thought the material might be a magnesium alloy because of the texture and firmness of the frame when closed. However, according to HP's datasheet, the Zbook Studio G7's chassis is made from lightweight aluminium with a special abrasion-resistant finish that makes it five-times more resilient than painted carbon fiber. Based on the fragility I observed of the coated carbon fiber on some ThinkPads in the past, the robustness of this aluminium wouldn't surprise me at all in comparison.
As I mentioned, it feels a little bit more textured (almost like the magnesium chassis of a Surface Pro) than the carbon-fiber-deck generations of XPS 15, while also being a bit smoother than the carbon-fiber ThinkPads. Personally, I think it's a near-perfect choice of material because it manages to look and feel nice while being durable and not having the grease smudging problem that plagues many other laptops like the carbon fiber XPS 15 and X1 ThinkPads.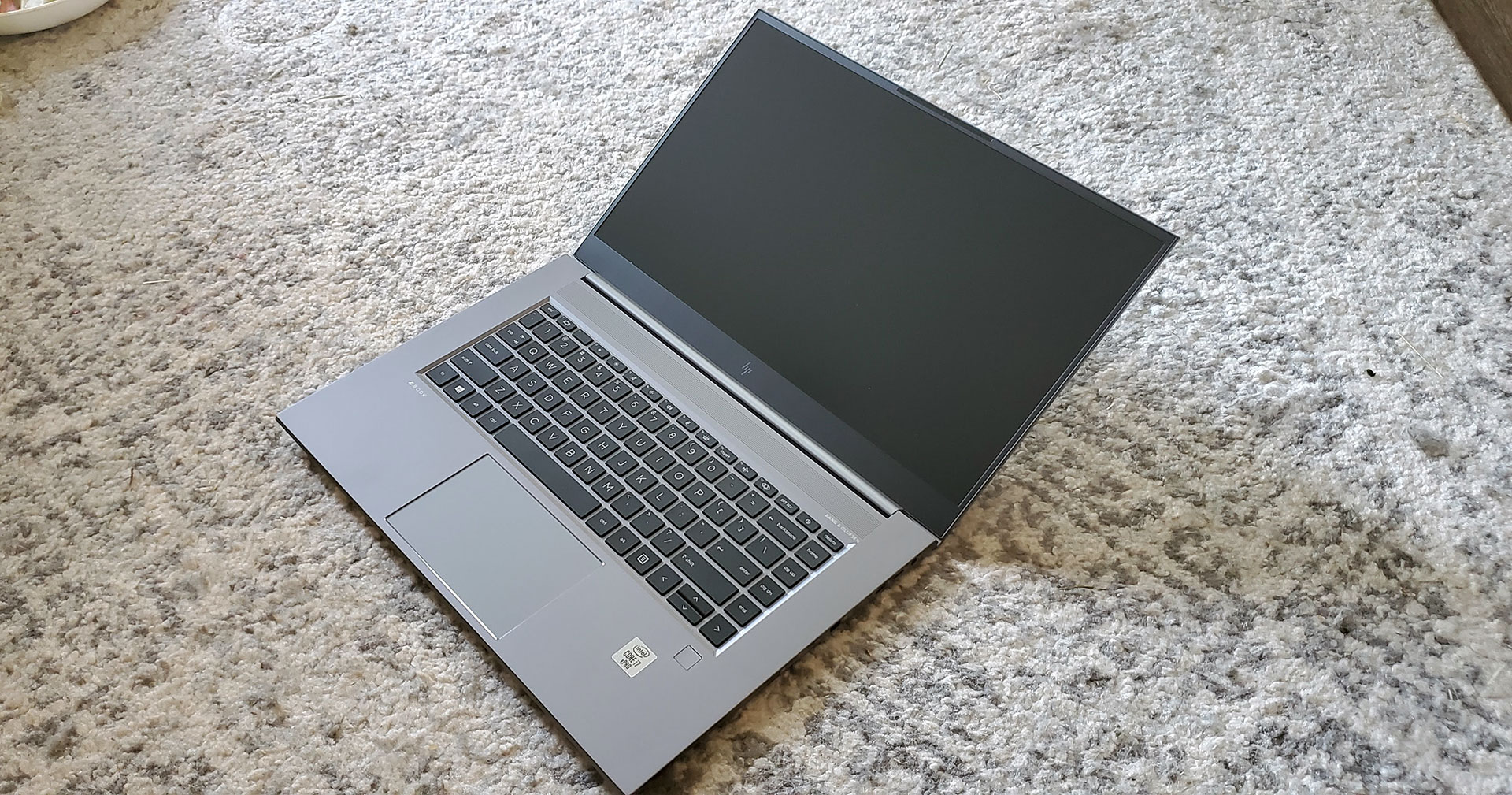 Despite its aluminum construction and 15.4″ screen size, the ZBook Studio G7 gets by weighing just 3.84 lbs. That's a hair lighter than the FHD version of the XPS 15 9570, and a lot lighter than the 4.4 lbs of the UHD XPS 15 7590 and 4.5 lbs of the newer XPS 15 9500. It's a little heavier than the ThinkPad P1 G3 (3.75 lbs for matte, 4 lbs for touch), but having owned quite a few ThinkPads previously, I feel more confident in the Studio G7's construction and finish.
HP has gone with the tried-and-true "hinge vent" method of cooling, but also added an additional cooling grill on the left side of the machine, which gives it a bit of a X1 Carbon look. This is good for thermals, but the result is a loss of I/O: The left side can only fit a single USB-A port and the 3.5mm audio jack. It's good to have at least two USB-A ports, as one will almost always be taken up by a Logitech unifying dongle for my keyboard and mouse, but one is still better than none.
Lastly, the design of the upper panel is such that the lid can be lifted with one finger and opened up to about 165 degrees, which is better than the XPS 15's maximum angle but not the 180 degrees of many MSI GS laptops and ThinkPads.
Overall, there is little for me to pick on regarding the design and construction of the Studio G7. Yes, a 16:10 screen would have been the icing on the cake in terms of aesthetics, but that's also not a very fair criticism for a laptop that was designed and released earlier in 2020.
Inputs
A good keyboard is one of the most important aspects of the user experience on a laptop. How does the ZBook Studio G7 stack up? Very well, with a couple of footnotes.
Firstly, HP offers two keyboards: the "premium quiet keyboard" and the "Z Command". I wish it was more clear what the Z Command keyboard was on HP's configurator, because I was surprised when I received the review unit and saw it had a different layout that what Ițm used to, intended to be Mac-like. We'll come back to this later because choosing the right layout will affect your experience quite a bit, but let's talk about the general feel, first.
The keyboard is a chiclet/membrane design with about 1.2-1.3 mm of travel (my estimate because I couldn't find the specifications for it). The key feedback is crisp and satisfying, and I'm happy to say that the keycaps are very stable to boot.
HP calls it a "quiet keyboard", but to be honest, I can't say if it's significantly quieter or louder than any other chiclet keyboard I've used lately. It's definitely not loud, however, so you don't need to worry about annoying your office or class-mates. Overall, I think the general feel of typing is great.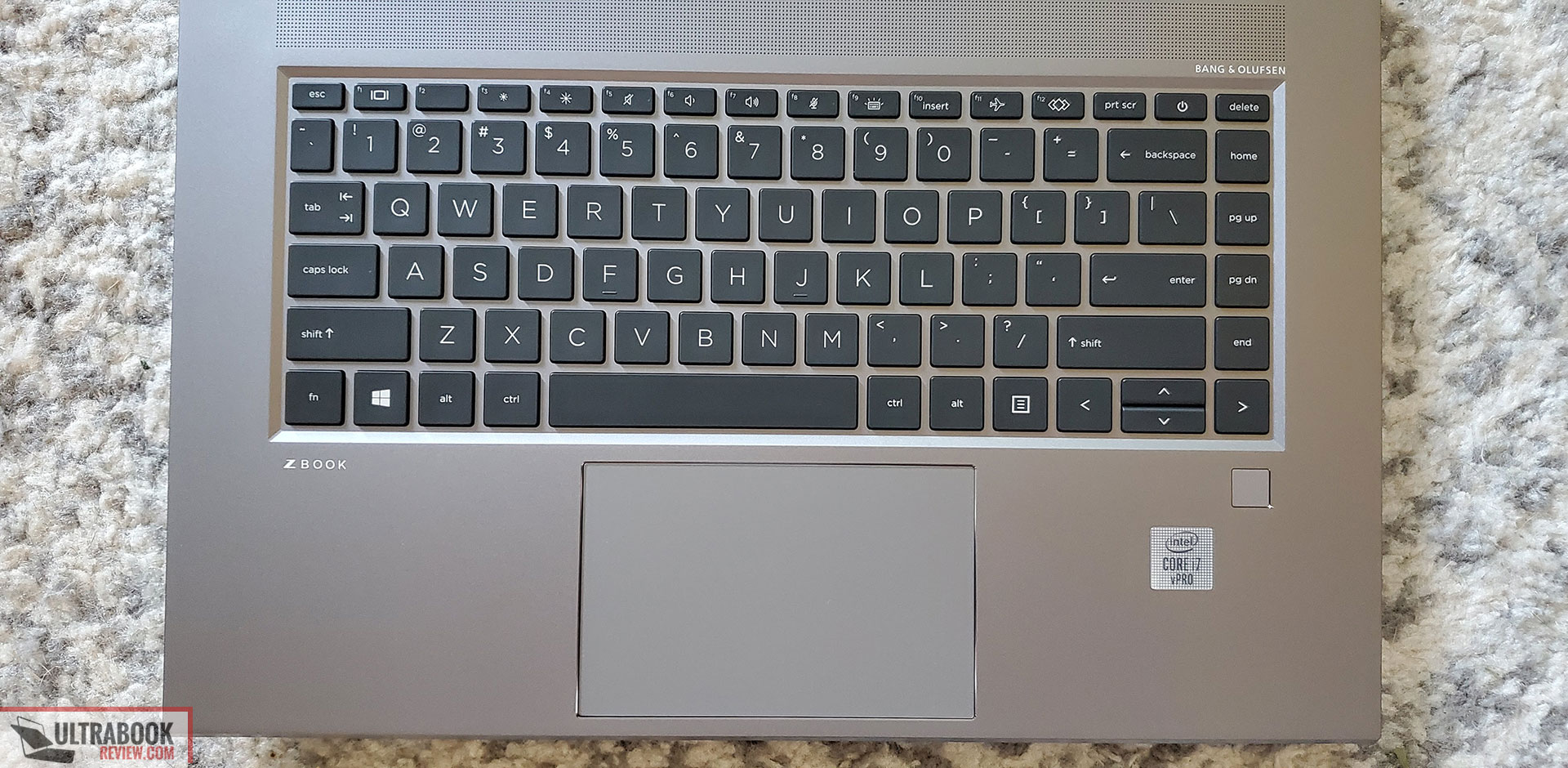 Something that is likely going to be a matter of preference is the additional "home row" keys on the far-right. This means you get dedicated home, page up, page down, and end keys. This also means that the whole keyboard is shifted to the left, however, and if you are like me and use three or four keyboards a day, you may have a lot of trouble adjusting to this. For me, the first week of typing on the ZBook's keyboard was frustrating, because nearly every time I placed my hands where they were used to going, my right hand was shifted one row too far to the right. After two weeks of daily use, this doesn't happen to me nearly as much, but I do feel it's worth mentioning.
The Mac-like "Z Command" keyboard, pictured above, is also something I can say is definitely not for me. I do use a Mac fairly frequently, but the Fn/Win/Alt/Ctrl layout is just not optimal for Windows, in my humble opinion. The reason for this is not just muscle memory, but the position of the alt key. Alt + F4 is a very common keystroke combination in Windows and Linux, and it's quite uncomfortable to do with the Z Command layout because the thumb needs to curl far inwards towards the palm while the middle or pointer finger stretches to the F4 key. None of this should be an issue with the standard keyboard, however, so I don't think it's fair to deduct any points for something that's completely optional.
The 4.5″ x 2.8″ touchpad is spacious and uses Windows precision drivers, and it gave me no issues. It's a functional touchpad by almost any comparison. If I had to find one complaint it's that, compared to my XPS 15's or MacBook's touchpad, I can notice what feels like a 1-2ms delay between the touchpad and the cursor's movement. ⁠It's not something that you'll notice using the ZBook alone, however.
The optional fingerprint scanner is located on the upper-right side of the palm rest, and I have no complaints about it. If you're like me and you opted for the Windows Hello IR cam, you probably won't be using it. The Windows Hello IR login works a treat, and it usually has me logged in within half a second of opening the lid. If you aren't on the tightest of budgets (and you probably aren't if you're considering the ZBook Create G7), I would highly recommend springing for the IR camera.
Speaking of camera, the webcam itself is 720p and isn't much to write home about:
It does seem a bit funny to me that we have such high-resolution cameras on our smartphones, yet 720p still is the standard for laptops in 2021. It would be great if manufacturers would opt for at least 1080p webcams in the next generation of notebooks.
Screen
There are four different screen options for the HP ZBook Studio G7:
15.6″ FHD (1920 x 1080), IPS, anti-glare, 1000 nits, 72% NTSC, HP Sure View Reflect integrated privacy screen
15.6″ FHD (1920 x 1080), IPS, anti-glare, 400 nits, low power, 72% NTSC
15.6″ 4K UHD (3840 x 2160), IPS, anti-glare, 600 nits, HDR 400, 100% DCI-P3, Next Gen HP DreamColor
15.6″ 4K UHD (3840 x 2160), touch, UWVA, BrightView, Corning® Gorilla® Glass 6, 400 nits, HDR 500, 100% DCI-P3
As stated, this review unit is equipped with the second 400-nit low power FHD matte display. It's also the option that I would have personally chosen for myself, because 400 nits on a matte screen is plenty bright for me. Especially with only an 83 WHr battery, 4K just has too much of an impact on battery life for me to choose for a mobile work machine.
However, I do like the way glossy screens look, and I like having the option for touch, however, and so an FHD/touch option is something on my wish-list.
The 400 nit matte FHD display looks great to me, and this is in comparison to the many FHD XPS 15 and ThinkPad P1/X1E displays I've seen over the past few years. The color accuracy, contrast, and black levels are definitely good by my standards, but if you are working in photography, you will probably want to opt for one of the DreamColor or 100% DCI-P3 options. Viewing angles on the 400 nit display are also good, with the content being easily viewable with very little washing-out from wide angles.
Equally important to me is also the evenness of backlighting and the complete lack of backlight bleed. I can't speak for all the ZBook G7s out there, but the matte FHD panel in this machine has definitely beaten the odds for me: in the past, nearly every laptop I've checked in the last few years had major (to me) problems with backlight unevenness or bleed.
There is one issue I do have with this display, however, and that seems to be some level of firmware-controlled Content Adaptive Backlight Control (CABC), which means the display dims slightly when viewing dark content. It's particularly noticeable after viewing an app/website with a "dark mode" theme and then going to a word document or other majority-white app, and it takes a few seconds for the screen to brighten back up and return to normal.
This happens despite turning off all power management in Intel Graphics Command, and I was not able to find a setting for it in the BIOS. This isn't a deal-breaker for me, but I know it will be some people. That said, if there is a firmware update or some hidden setting for this that I have missed, please do let me know.
Hardware and Performance
Our test model is a mid-specced variant of the ZBook G7, with an Intel i7-10850H CPU, 16GB DDR4 RAM in dual-channel, a small SSD, and an Nvidia Quadro RTX 3000 Max-Q GPU with 6GB GDDR6 VRAM.
As a workstation-class laptop, gaming performance is an afterthought compared to accuracy and stability. Thus, we've added Blender and Specviewperf to the benchmarks while placing less focus on game performance. The ZBook Studio can certainly play games, but you'd be better off with the Geforce-equipped ZBook Create variant if you want the ZBook's professional design with better gaming performance. For comparison, we are pitting the ZBook against other thin-and-light "prosumer" notebooks with a similar form-factor like the Dell XPS 15 and MSI GS66.
CPU Performance
The Intel i7-10850H is a 14nm 6-core 12-thread CPU with 12MB cache and a base clock 2.7GHz. It attempts to distinguish itself from the relatively more common i7-10750H with 100MHz faster base and boost clocks, boasting a 5.1GHz boost. But, as our Cinebench R15 loop benchmark chart below shows, this doesn't really translate to real-world performance increases over the the i7-10750H: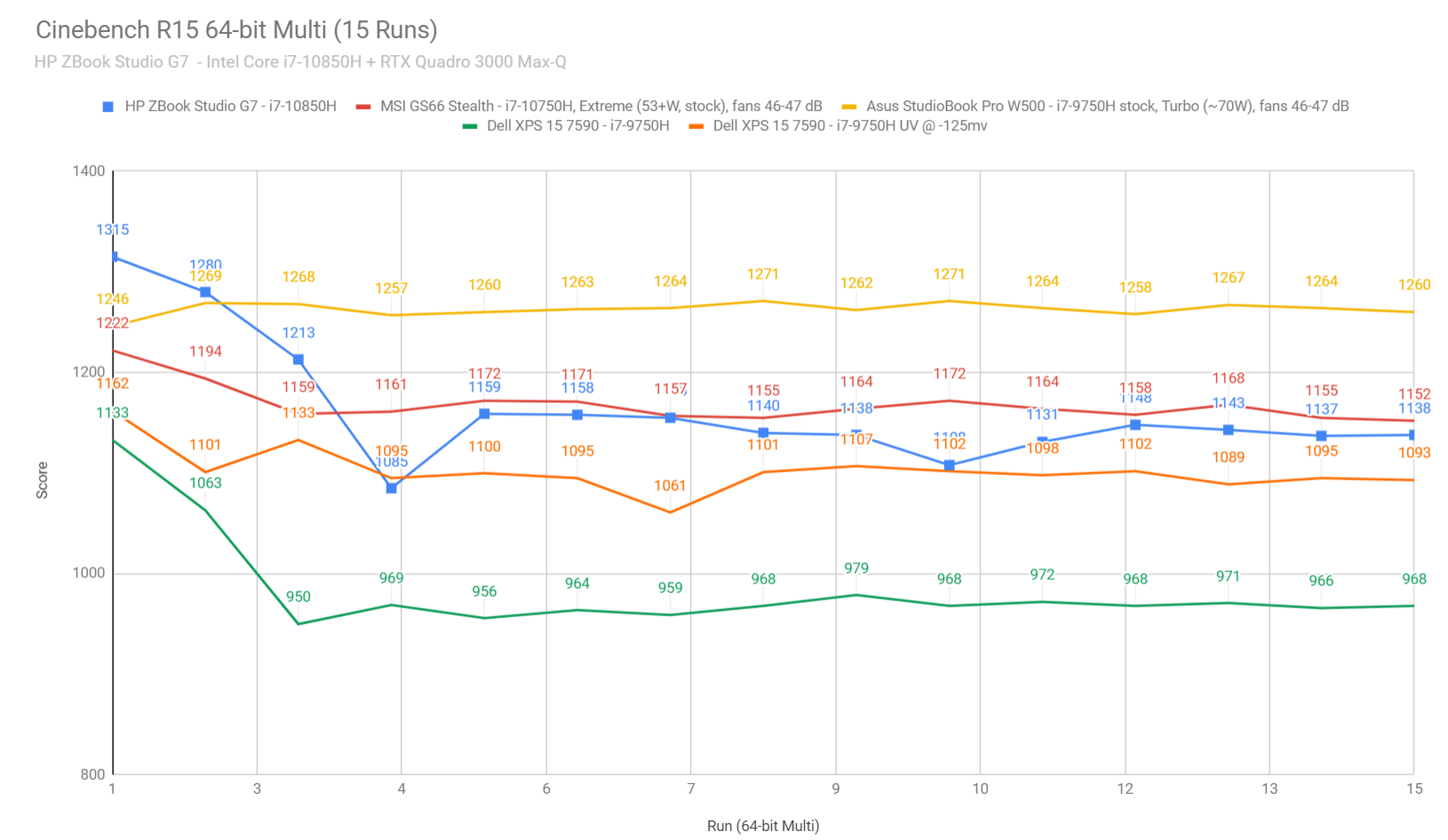 CineBench R15 (best): CPU 1311, CPU Single Core 198;
CineBench R23 (best): CPU Multi 6745, CPU Single Core 1212
While the i7-10850H does show off it's higher boost clocks in the very first run, it soon throttles its performance down to a more sustainable level very similar to other Intel hexa-core CPUs. As we can see the i7-10850H here doesn't always keep up with some implementations of even the i7-9750H, we can't see a cost-effective argument for opting for it over the i7-10750H when configuring the Studio G7 unless you are running sporadic heavy CPU loads that last less than a minute and give the laptop time to cool off in between. In general, though, the HP ZBook Create G7 does compare favorably to other "prosumer" thin-and-light laptops, particularly Dell's XPS 15 and their workstation counterpart, the Precision 5550.
Other CPU/general benchmarks:
PCMark 10: 5469 (Essentials: 8827; Productivity: 7241; Digital Content Creation: 6941)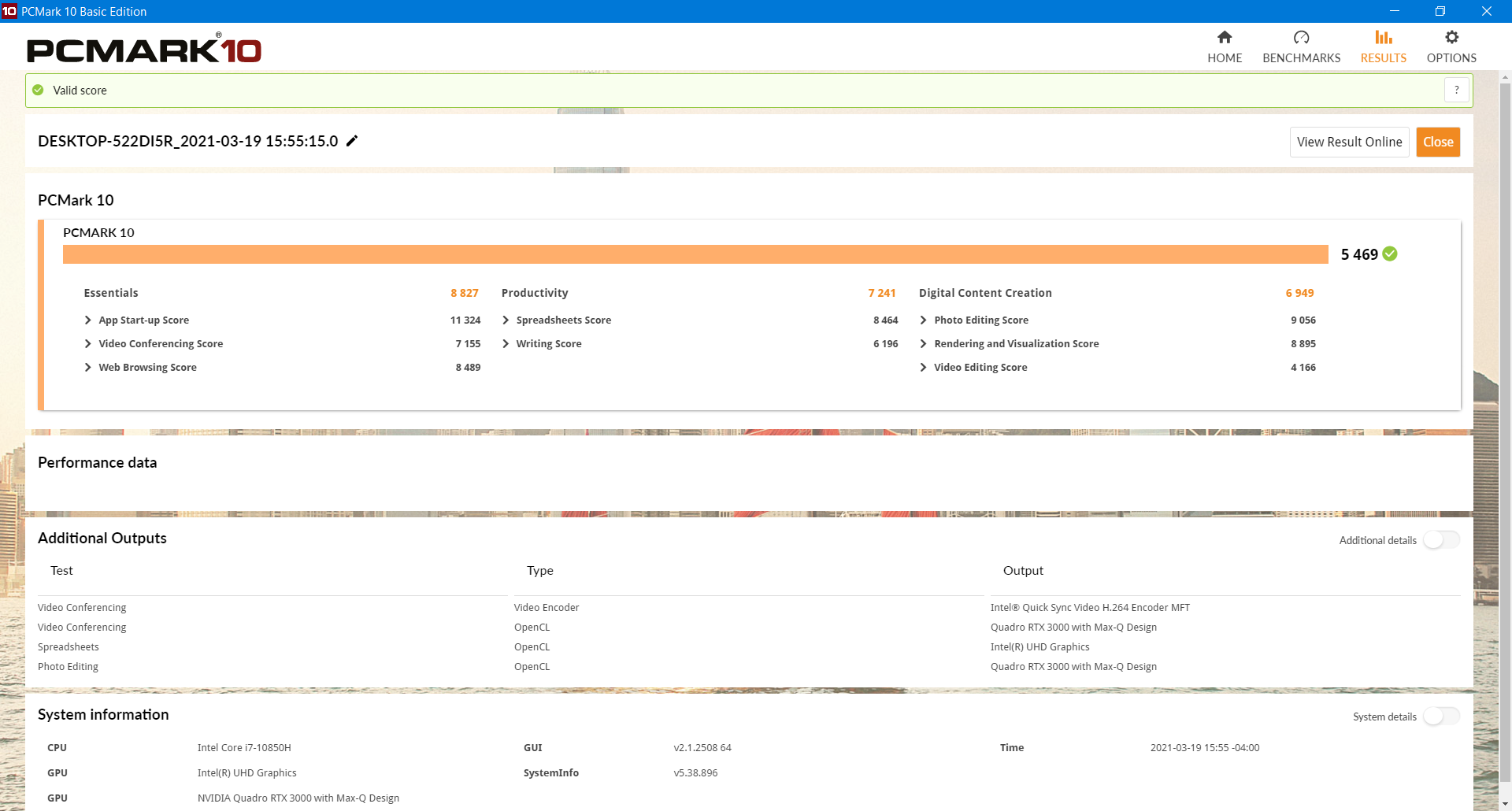 GeekBench 5.33.1 64-bit: Single-Core: 1295, Multi-core: 6262;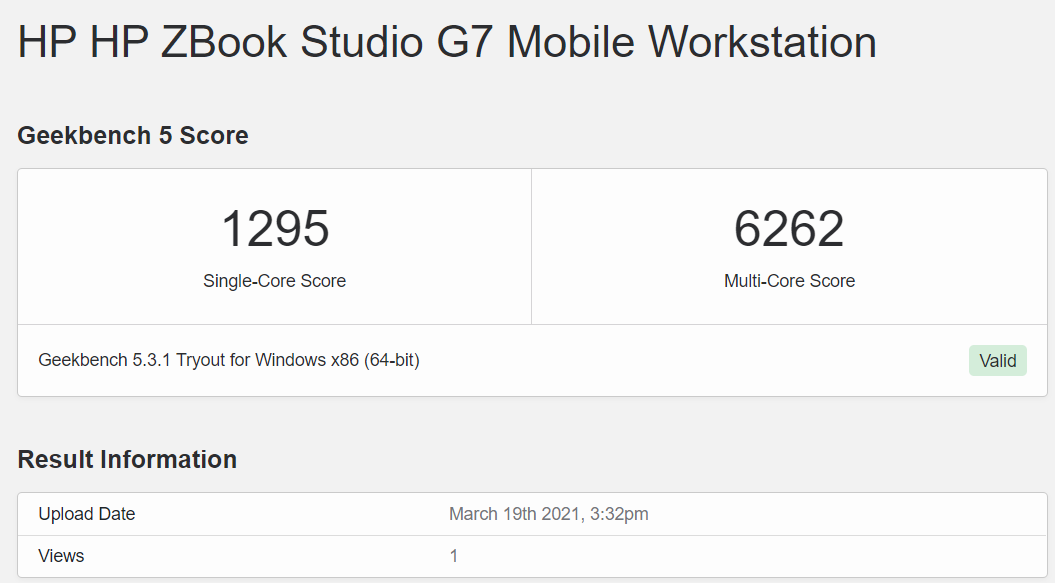 In general, the ZBook significantly outperforms the XPS 15 (both 7590 and 9500) here, while coming very close to the performance the GS66. Its i7-10850H is able to run sustainably at 55W (see Thermals section for more details) under consistent load and with fairly tolerable fan noise (~47 dB) for its class. Not a bad showing for this class of laptop.
We would be remiss not to mention that something like the smaller Asus ROG Flow X13 with its AMD Ryzen 9 5980HS absolutely wipes the floor with Intel's current H-series offerings (and this is likely true for most if not all implementations of Ryzen 7 and 9), but it's not HP's fault that Intel's last three generations of H-series CPUs have sported very similar levels of performance. As an aside, there is likely a lot of red-tape for AMD to get around to get their CPUs certified for professional/workstation purposes, the governments and companies who buy workstations en masse are extremely risk-averse, and AMD doesn't have the scale to supply chips to the whole industry as Intel can. Thus, I wouldn't expect any Ryzen-powered "workstation" H-class laptops this year, but perhaps it won't be too much longer. since Ryzen Pro hardware is already available for the U-class models.
GPU Performance
The Quadro RTX 3000, despite its name, is actually based on the mobile Geforce RTX 2070, only with reduced clocks and shaders. The Quadro RTX 3000 Max-Q variant has even lower clocks and shaders as it is optimized for efficiency, and is generally afforded a maximum of 60-70W. On this unit, the highest power draw observed from the GPU was 62.5W during the demanding Time Spy benchmark, with an average draw under load of ~50W. Although based on the same TU106 chip as the Geforce RTX 2070, however, most benchmarks place the RTX 3000 Max-Q a bit closer to the GTX 1070 Max-Q.
3DMark 13 – Fire Strike: 11,735
3DMark 13 – Time Spy: 5225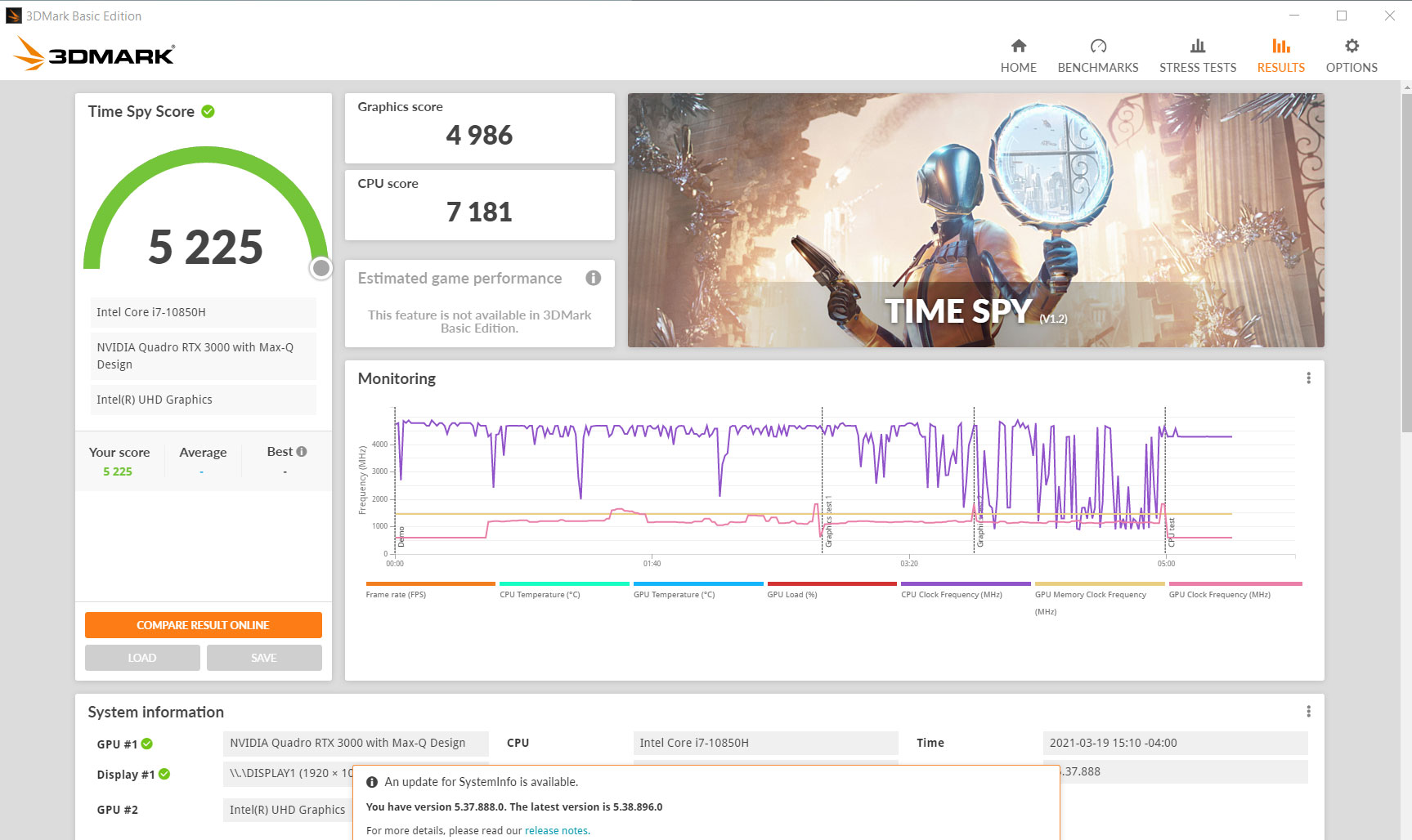 Blender: BMW27: 5m 9s, Classroom: 14m 56s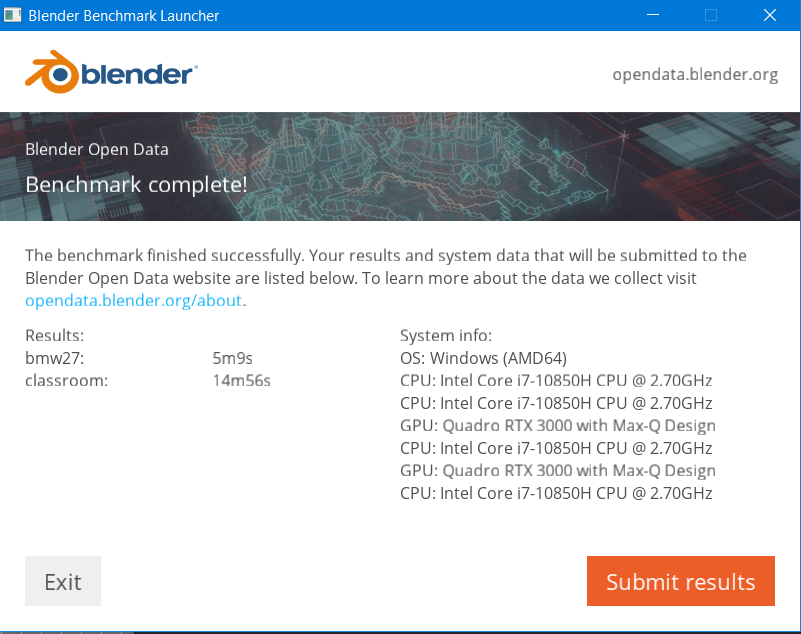 SPECviewperf

3dsmax-07 – 63.09
catia-06 – 57.4
creo-03 – 100.83
energy-03 – 29.07
maya-06 – 196.24
medical-03 – 33.68
snx-04 – 210.16
solidworks-05 – 119.45

Doom: Eternal (The Ancient Gods: Part 1) 1080p, ultra detail, Vsync off: 80-125 FPS. GPU stable at about 50W draw, CPU at 20W.
Doom: Eternal's Gameplay was very fluid, and based on this I don't see why one couldn't indulge in some serious gaming on this machine with other titles if they wanted to — but as the display is only 60 Hz, you'd probably want to hook it up to a monitor or TV with a 120 Hz+ refresh rate for maximum enjoyment.
Overall, the performance is better than expected for the size and weight of the ZBook Studio G7.
The GTX 2070-equipped MSI GS66 Stealth may outperform this workstation in games, but the build of the ZBook and the quality of its display and speakers do make the case that the ZBook is in a different class than the GS66. Compared to the XPS 15/Precision 5550 (which top out at a Geforce 1650Ti and Quadro T2000m respectively), you're getting a fair bit more power in a similar chassis here. The ZBook can also be configured with an RTX 4000/5000 GPU, though I would expect the RTX 3000 to be the best price/performance balance for this chassis.
Thermals
Cinebench R15 Loop
Below is the HWiNFO64 readout during the strenuous Cinebench R15 loop. We saw the CPU spike to 88W and reach 100C quite quickly at the start of the benchmark before settling to around 84C and roughly 55W power draw afterwards. After examination of HWiNFO logs from other sustained loads, the same behaviour was observed. Thus, we can conclude that the chassis is (expectedly) unable to effectively cool the CPU beyond a 55W consistent power draw.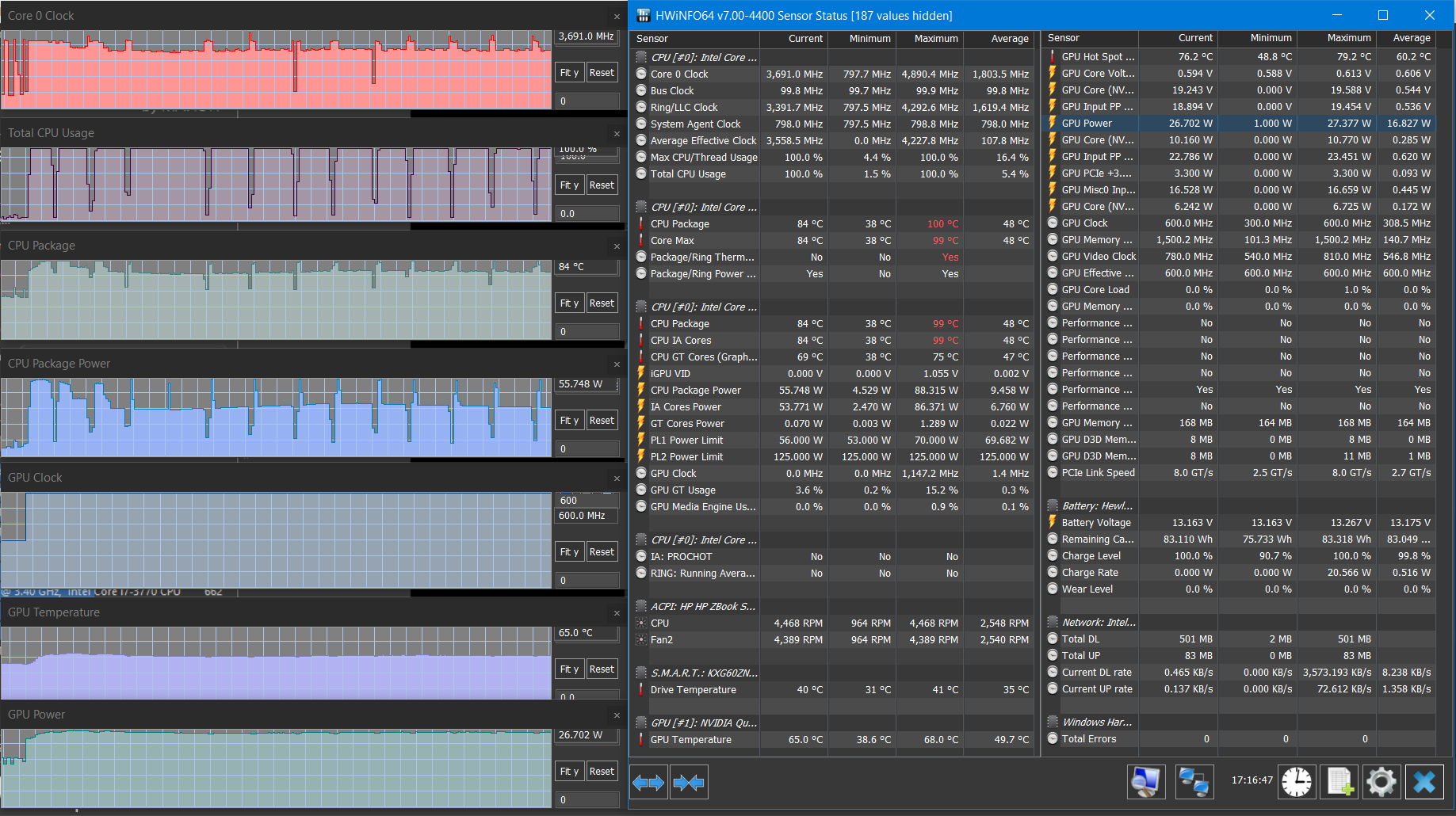 Timespy
The Quadro RTX 3000 MAX-Q's highest recorded power draw was 62.446W during our testing, though in theory it should have a 70W ceiling in this configuration. We hypothesize that there may be a "soft" power limit in the drivers, as we have observed similar behaviour on other Quadro-powered PCs.

Blender
Blender is a 3D workstation benchmark that simulates 3D modeling and rendering that tortures the CPU while also stressing the GPU with a light-moderate load. Given the thin chassis, we were impressed to see the CPU maintain a consistent 4.4GHz during testing, which is the maximum frequency the chip is rated for when all six cores and 12 threads are loaded.

Doom: Eternal
Doom: Eternal represents a fairly healthy mixed CPU/GPU load as well as the "AAA" gaming segment. With 30W and 52.5W as the average CPU and GPU loads, the ZBook Study G7 does seem to get fairly hot under a combined ~82.5W load, which seems to be the most the cooling solution can handle. While most of the laptop is just "warm", the upper area of the keyboard deck gets hot: I lack a thermal device to measure the surface temperature, but I would estimate it at ~44C. You would definitely not want to run this laptop under combined load from your lap.

Speakers
Sound is one area that deserves a little bit of extra attention on the ZBook Studio G7, as it has both downwards and upwards firing speakers that HP boasts are the most powerful ever put in an HP laptop, are tuned by Bang & Olufsen, and offer "150Hz of bass". I would guess they mean that the lowest frequency the speakers can produce is 150Hz; as a point of technical comparison, my Rokit KRK 6 studio monitors range is 38Hz to 35kHz — but 150Hz is pretty good for laptop speakers.
In my experience, the speakers worked a treat for gaming and video consumption. You'll feel the rumble from bass in soundtracks or explosions and roars in Doom. Music is the true test for speakers, however, and as an audio professional/audiophile, I would describe the speakers as "decent". The speakers (like many) falter a bit in the mid-frequencies, where a lot of the "meat" of melodic tracks reside.
Overall, these speakers will work great for watching a movie with someone together on a loveseat or playing games on the go. If you want to kick off a party with music, however, you'll probably still want a larger Bluetooth speaker like a BOOM 3 (which I have and like) or soundbar.
Other
I didn't have any other uncategorized issues or gripes except one, which was with HP's bundled "Sure Sense" software. Not long after first starting to use the review unit, I kept getting pop-up warnings from HP Sure Sense:
Since the device was completely stock at the time and fresh from a Windows install and new user configuration, I thought it was particularly strange that Sure Sense would still be throwing false positives. It seems like something that the developers should have caught in User Acceptance Testing.
Battery life
There's an 83WHr battery inside the HP ZBook Studio G7. It's not as much as the 97WHr found in the XPS 15 7590 or even the 86 WHr battery in the XPS 15 9500, and that's why I would recommend most people avoid the 4K displays if they are going to be working on battery power.
Here's what we got on our "lower-power" FHD review unit in terms of battery life, with the screen's brightness set at around 300 nits (75%):
Idle (browser open, WiFi on, occasional use): -~7600 mW , or ~11 hours runtime
Light usage (some browsing, chatting, text editing — no media playback): -~10,000 mW, or ~8 hours runtime
Heavier office work (Word, Teams, Slack, Outlook, Synchronous Editing): -~12,500 mW, or ~6.5 hours runtime
3D Gaming (Doom: Eternal): -~85,000 mW, or ~<1 hour runtime
It's important to remember that going with either of the 4K displays will mean a significant (~25%) decrease in longevity, which means you'd probably see <6 hours of battery life with a 4K display under most usage scenarios. With the low-power FHD display, you're looking at a fairly solid runtime, but it won't stand out amongst its competition.
Price and availability
The HP ZBook Studio G7 has been out for almost a year now, and it should be available from HP in most parts of the world.
At the time of writing, the ZBook Studio G7 ranges from $1636.05 for a Core i5/Linux/integrated graphics configuration up to well over $3000 for a more loaded configuration with an i7, RTX 3000, and UHD display. Follow this link for updated configurations and prices in your region at the time you're reading this article.
Final thoughts
With its solid keyboard, sleek and professional design, good speakers, and ample CPU/GPU performance, the HP ZBook Studio G7 makes a strong showing as a premium workhorse notebook also capable as a multimedia powerhouse. However, other than its prohibitive cost, there are some disappointments with the G7: soldered RAM, the lack of a second NVMe bay (something more and more laptops in this class are offering in 2021), and less-than-robust port selection may give some buyers pause. With the HP ZBook G8 series already rolling out, however, there is the opportunity for both lower prices on the G7 as well as some of the weaknesses of the G7 to be addressed, and that's a bonus for consumers.
Though the ZBook Studio can be outfitted with higher-specced CPUs and GPUs, our thermals suggest that the i7-10850H and Quadro RTX 3000 are more or less all this chassis can handle. We would recommend aiming for this configuration or an i7-10750H with the Quadro T2000 for the "sweet spot" of configurations for this system.
Overall, if you have the cash and are looking for a well-rounded "prosumer" laptop that fits a similar niche as the XPS 15 7590 or ThinkPad X1E or their workstation counterparts, the Precision 5550 or ThinkPad P1, you'll be quite happy with the HP ZBook Studio (or Create, for that matter).
Disclaimer:
Our content is reader-supported. If you buy through some of the links on our site, we may earn an affiliate commission.
Learn more.