The Lenovo ThinkPad X1 Extreme is a premium thin-and-light 15-inch notebook with a compact form-factor, modern and powerful hardware, as well as little to no compromises, at least on paper.
It's a niche product that should cater to those of you who need performance and a good quality 15-inch screen in a compact envelope, but it's at the same time an expensive option, even more expensive than the other variants in its class: the Dell XPS 15, the HP EliteBook 1050 or the Asus Zenbook Pro UX580.
I've spent the last few days with the Lenovo ThinkPad X1 Extreme and gathered all my impressions in this article, with the strong points and the various quirks I noticed during this time. We'll talk about the build, screen, typing experience and performance, but also about all the other fine bits you should be aware of if you decide to go for one of these laptops.
As with most other review units, this was a loaner from Lenovo and it was returned after the article was published, but these aspects have absolutely no impact on the contents of the post.
Specs as reviewed
| | |
| --- | --- |
| | Lenovo ThinkPad X1 Extreme |
| Screen | 15.6 inch, 3840 x 2160 px, IPS, touch, glossy |
| Processor | Intel Coffee Lake-H Core i7-8850H CPU |
| Video | Intel HD 630 + Nvidia GTX 1050 Ti Max-Q 4 GB |
| Memory | 32 GB DDR4 2666 MHz (2x DIMMs) |
| Storage | 1 TB SSD ( Samsung PM981 MZVLB1T0HALR – 2x M.2 NVMe 80 mm slots with RAID 0/1) |
| Connectivity | Wireless AC (Intel AC 9560), Bluetooth 5.0, Gigabit LAN (with adapter) |
| Ports | 2x USB-A 3.1, 2x USB-C Thunderbolt 3, HDMI, SD card, mic/earphone, network extension port, Kensington Lock, optional SmartCard reader |
| Battery | 80 Wh, 135 W brick |
| OS | Windows 10 |
| Size | 362 mm or 14.2" (w) x 246 mm or 9.7 (d) x 18.7 mm or .72" (h) |
| Weight | 4.05 lbs (1.83 kg) + 0.99 lbs (450 g) power brick, EU model |
| Extras | backlit keyboard, finger sensor, HD webcam and Windows Hello IR camera, stereo speakers |
Design and first look
The X1 Extreme looks and feels much like all the other premium ThinkPads of this generation and in fact shares many design cues with the existing X1 Carbon line.
Design wise, the case is entirely black, with subtle branding elements and only a few slashes of red in the ThinkPad logos, the TrackPoint and the mouse buttons. It also gets a soft rubbery finishing, and the two combined lead to surfaces that easily show smudges and are rather difficult to rub clean, unlike with the bare-aluminum laptops like the EliteBook or the MacBooks, that hide them much better. You'll mostly notice the smudges on the arm-rest and they're just something you'll have to accept with this laptop.
As far as the choice in materials goes, most of the outershell is made from fiber-carbon reinforced policarbonate, just like the X1 Carbon, with the bottom made out of aluminum, to better cope with heat spreading.
We should mention that quite a few X1 Carbon owners have been complaining about the soft-coating chipping away easily on their units, especially on the edges and around the ports. As far as I can tell, the finishing on the X1E looks like it can take a beating, but there's no way for me to tell how it's going to age. Hopefully Lenovo improved the manufacturing process, but this is nonetheless something to further look into at the time you're reading the article. If the manufacturing is still problematic you'll find people complaining about it on the forums, on Reddit or on Youtube.
That aside though, there's little to complain about when it comes to the overall build quality of this X1 Extreme. The lid is sturdy, so you're not going to have to pamper this in your backpack, and the palm-rest barely bulges when pressed. There is a slight amount of flex in the keyboard deck, but not something you'll be bothered by in daily use.
On a more practical approach, this is the kind of laptop you can comfortably grab and move along. It's fairly compact and light, but not as small as the Dell XPS 15 for instance, which you can tell by the slightly thicker bezels around the screen. This however leaves room for cameras at the top of display, where they should be.
Our unit comes with the optional IR camera alongside the HD webcam, which are only available without a physical camera cover, but you can get a ShutterCamera if you pick the standard webcam without the IR addon. You probably shouldn't though, as this works great with Windows Hello, but even if you do you'll be left with the precise finger-sensor you can use to login to Windows and various other applications.
And since we're nitpicking, I also have to mention the fact that the power-button integrates an always on light, just like the older Dell XPS models. There's no way to disable it and it's annoying when trying to watch a movie in a dark room.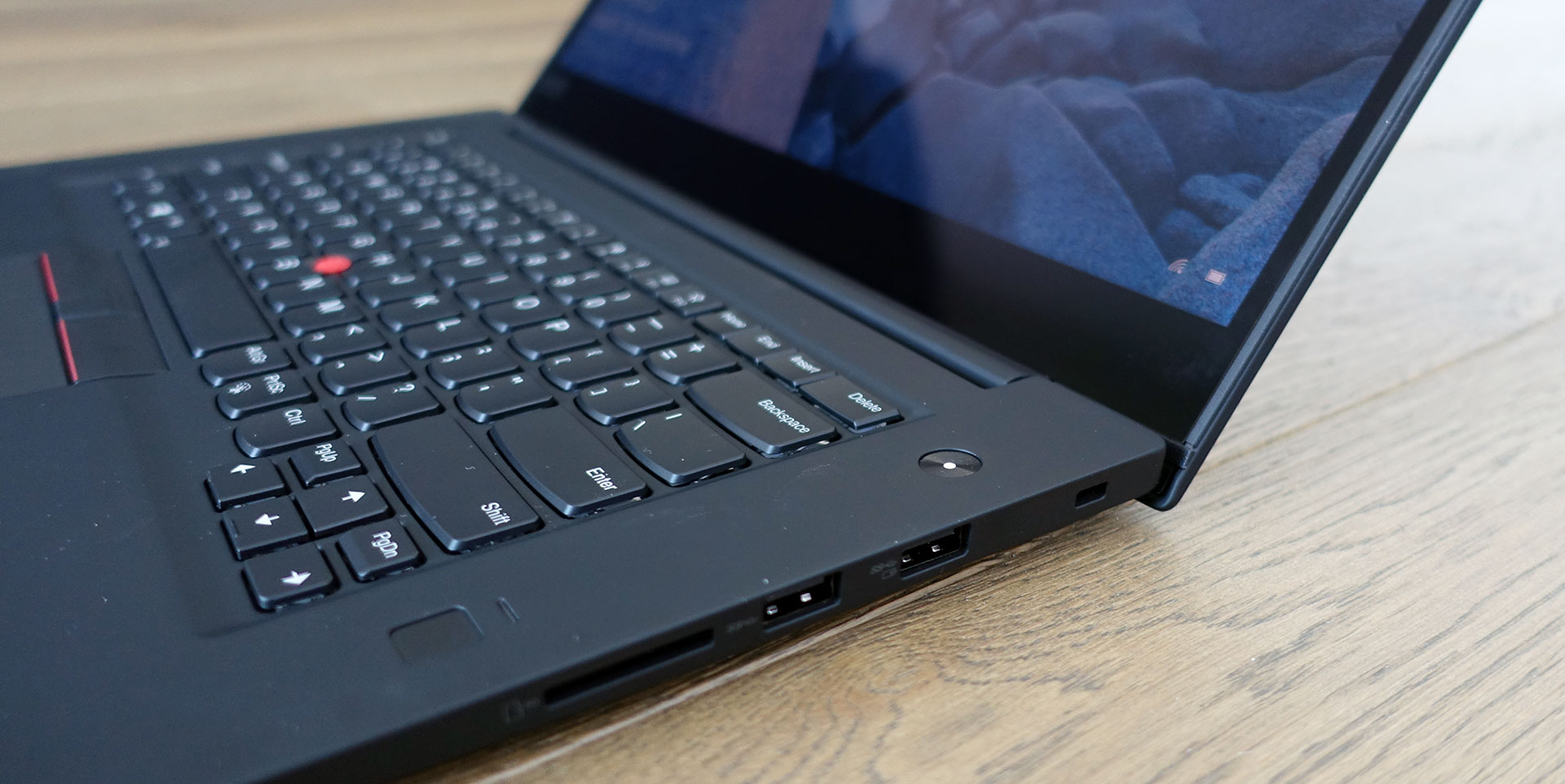 A large bar-hinge holds the screen in place and allows it to lean back flat to 180-degrees. It's fairly sturdy, so the frame is not going to wiggle in place much when poking at the touchscreen, but at the same time you'll need both hands to lift open this display. Win some, lose some.
The interior is smooth and feels comfortable in everyday use. The corners and front lip are a bit blunt, but still sharp enough to bite into the wrists. However, since this is a 15-inch laptop, my wrists are able to sit comfortably on the palm-rest most of the time, so you'll only notice their bite if you'll use this on a small desk.
Flip the X1 Extreme upside down and we can have a look at the underbelly, with the large and grippy rubber feet, the speakers cuts carved into the inclined laterals and the spacious air in-take grill. Don't forget this gets powerful hardware inside, so it needs the big intakes and those exhausts on the back edge, behind the hinge, to keep that at bay.
The IO is one final aspect we'll mention in this section. The X1 Extreme offers pretty much what you'd expect from such a computer: full-size HDMI and two USB-A slots, as well as an SD card-reader, two USB-C ports with Thunderbolt 3 support and a SmartCard reader. Both Thunderbolt 3 ports are fully fledged x4 PCIe slots and support fast transfer speeds, video output and charging (more about this in the Battery section).
What the X1 Extreme lacks is the classic docking connector available on many other ThinkPads, which limits compatibility to Thunderbolt 3 docks only, including the expensive Lenovo Thunderbolt 3 Workstation Dock that was initially released for the ThinkPad P52 workstation.
All in all, this is the kind of laptop that will be easily accepted in strict business environments and should face the hassle of everyday use well. I personally like how the soft-coating feels to the touch and I prefer it over the colder feel of aluminum laptops, even if that means I have to deal with pesky smudges.
I only hope Lenovo got their quality control in check and the outershell is not going to chip and peel-off easily over time. That aside, my gripes with the laptop's build are subjective and insignificant in the grand scheme of things: the always lit power button, the stiff hinge that requires both hands to lift up and the still fairly sharp front lip and corners.
Keyboard and trackpad
Many people swear by the AccuType keyboards Lenovo puts on their recent ThinkPads, and even I, a die-hard fan of their classic keyboards used prior to 2012, have to agree they're pretty good, but at the same time I have to warn you they're not without their quirks.
Lenovo uses similar keyboards on the X1 Carbon and this X1 Extreme, and as you might already know, they source keyboards from various manufacturers, which means different buyers can get keyboards that feel and perform different on their units. This aspect has been documented on the X1 Carbon, for instance, and you'll just have to accept that there's no guarantee your unit will offer the same experience as our unit.
With that in mind, the keyboard on this X1 Extreme didn't feel like the keyboard on the ThinkPad T480s we reviewed a while ago, despite the fact that they look the same. Softer, nicer plastic is used for the keys and they are quieter and easier to press on the X1 Extreme, so I was able to type on quickly, but my accuracy still suffered due to two reasons: the actuation point is at the end of the press and requires a firm hit in the middle of the key, which means that hitting keys outside the ideal hotspot can result in that press not being registered, and also the fact that the keys offer roughly 1.8 mm of travel, and I'm just accustomed to shorter strokes.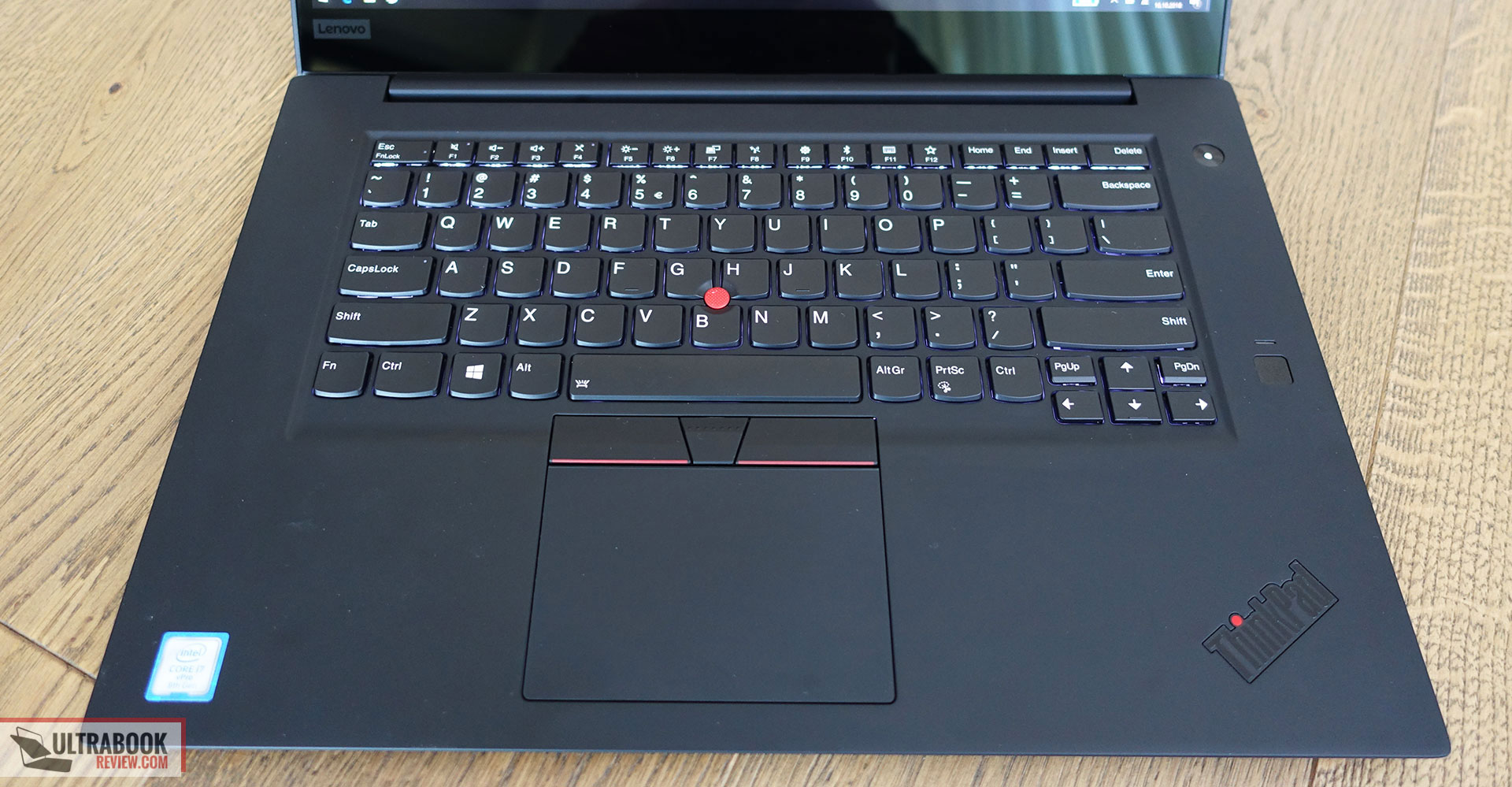 The former is mostly an issue when hitting the Shift keys, while the latter aspect is highly subjective, and most of you might even appreciate this kind of a keyboard over the shallower options out there. I haven't got my hands on the EliteBook 1050, but I did test the XPS 15s, MacBook Pros and the Zenbook Pros over the years and overall this ThinkPad is the nicer typer among them, but just not my first choice among all the existing options out there.
This aside, you should also be aware that this keyboard still gets 2-key rollover/ghosting, which means that pressing more than two keys at once that are close together (like QWAS, UIKJ, etc), something that can happen when typing really quickly, can result in a beep and a lack of properly registering those inputs. Potential buyers might also complain about the layout, which lacks a NumPad for once and uses an oddly arranged set of dedicated keys (Home/End/Insert, PgUp/PgDw), as well as uses reversed Fn and Ctrl keys in the lower-left corner. You can switch them back from BIOS (Fn will act as Ctrl and Ctrl as Fn), and I for one like having a centered keyboard without a NumPad, but some might want one on a 15-incher.
The X1 Extreme also gets the same glass clickpad from the X1 Carbon, with dedicated click buttons on top and the classic TrackPoint among the G and H keys. The clickpad performs nearly spotless and feels excellent to the touch. There's clear tactile separation from the palm-rest around, it deals smoothly with swipes, taps or gestures, and the actual integrated clicks are soft and quiet.
I did however notice some lag when keeping one finger on the surface and swiping with the other, so if that's how you use your laptop you might want to further look into this aspect. Everything else works fine though.
The X1 Extreme also gets a finger-sensor, similar to the ones on the X1 Carbon and T480s. Doug had some issues with the finger-sensor on his X1 Carbon, but for me it worked fine on the T480s and this X1 Extreme, so perhaps Lenovo addressed the loose end in the meantime. You should however double-check that it works well on your unit once you receive it.
Screen
You can get the Lenovo ThinkPad X1 Extreme with two 15-inch screen options: FHD IPS matte non-touch and UHD IPS touch.
We got the latter on this test unit, with the standard layer of glossy glass on top. Lenovo advertises it as a 400-nits HDR panel with 100% Adobe RGB support and it delivers on those promises in real-life, as you can see from our results below, taken with a Sypder4 sensor:
Panel HardwareID: Lenovo LEN40BE (LB156ZAN03.2);
Coverage: 100% sRGB, 98% NTSC, 100% AdobeRGB;
Measured gamma: 2.2;
Max brightness in the middle of the screen: 351 cd/m2 on power;
Contrast at max brightness: ~1000:1;
White point: 8300 K;
Black on max brightness: 0.34 cd/m2.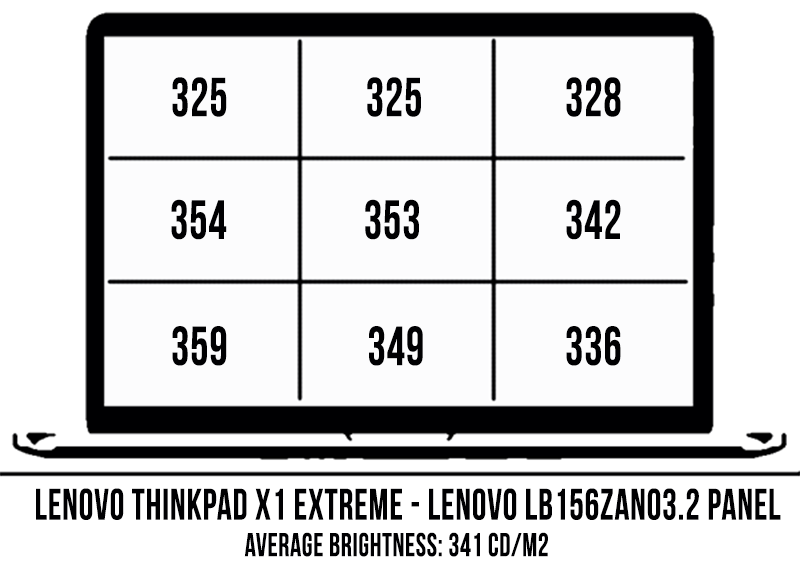 Keep in mind our measuring tool is not as good as others, so you should also check out this article for a more indepth look at the pane's performance.
I will also add a few things. We noticed limited light bleeding issues with out test-unit, but that's just one more aspect that's going to vary from unit to unit. However, while brightness uniformity is pretty good, the higher half of the panel is dimmer than the bottom, and we also noticed some color uniformity issues in the lower-right corner.
Then, HDR is mostly marketing here, because the 400-nits peak brightness is not enough to actually make a noticeable difference with HDR content. The wide-gamut coverage on the other hand might be enough to justify this screen option for certain professionals among you. The panel is rather poorly calibrated out of the box, but it can be tweaked to excellent colors and gray levels. You can use our calibrated profile, although it's best to use a calibrating tool yourselves for ideal results on your unit.
This is also a fairly slow panel, with about twice the response times of normal IPS FHD screens, so not a great option for gaming. Some reviews also mention ghosting noticeable in daily use when moving the cursor or scrolling, I for one didn't find these bothering, but I did notice the slight lag when playing fast games.
This screen also offers support for active digital pens like the Lenovo ThinkPad Pen Pro. We didn't get one to test on our unit, but using a pen on a clamshell computer makes little sense anyway.
The UHD panel is also an expensive option, adds in the glare and takes a significant toll on battery life, that's why many potential buyers might consider the FHD matte screen instead. It's a 300-nits panel with mid-level 75% Adobe RGB gamut-coverage, a variation of the Chi Mei N156HCE-EN1 panel available on the Thinkpad P52 or the Asus Zenbook UX550 lines. It lacks touch though.
Hardware, performance and upgrade options
The ThinkPad X1 Extreme is available in a multitude of configurations, and we got to test a higher-end model with the Intel Core i7-8850H processor, 32 GB of RAM, a 1 TB NVMe SSD and the Nvidia GTX 1050 Ti graphics.
The i7-8850H is a higher-clocked version of the standard 6-core i7-8750H, with a base clock speed of 2.6 GHz and Turbo Boost up to 4.3 GHz, as well as support for vPro. An i9-8950HK option was also announced at launch, but given the fact that this is a thin laptop and the way the i9 performs in other similar devices, I'd stick to the i7 builds.
The GPU is the Max-Q version of the GTX 1050 Ti chip, similar to the chip inside the Dell XPS 9570, and even with the lower default clock-speed, it's actually capable of maintaining high Turbo Speeds in games and nearly match configurations with the full-power GTX 1050 Ti. We'll talk about gaming performance down below.
The X1 Extreme gets two memory modules, with theoretic support for up to 64 GB of RAM from 2x 32GB DIMMs, however there are still no 32 GB SO-DIMMs available out there (some were announced earlier this year, but they're still not available to buy – please correct me if I'm wrong), so you'll have to stick with up to 32 GB of memory for the time being.
As for storage, this laptop supports two PCIe x4 SSDs, configurable in RAID 0/1. Our test unit shipped with a fast 1 TB Samsung PM981 SSD, but given the fact that Lenovo sources components from different manufacturers, you could get a different drive on your unit.
Both the memory and storage are upgradeable. For that you'll need to remove the back panel, which is a simple task, as it's only hold in place by a handful of Philips screws. In here you'll also find the wi-fi chip, speakers and battery. All in all, this is easier to repair than the competition, with accessible components and a proper supply of parts.
Let's jump to the actual performance. This laptop can easily handle everyday multitasking and basic activities while running cool and quiet, but potential buyers will be more interested in how it tackles demanding loads, so let's get to that part.
First of all, we'll look at the CPU's behavior in continuous all-core loads. In real-life this translates in graphics editing, engineering and programming software etc., but we simulate it by running the Cinebench R15 CPU test for 10+ times in a loop. As mentioned earlier, the i7-8850 has a default clock speed of 2.6 GHz, but can Turbo up to 4.3 GHz in single-core loads and 4.0 GHz in all-core loads. However, CPUs are designed to reduced their clock-speeds when reaching high-temperatures, as a measure protection, and the reduction is usually more aggressive with thinner laptops such as this one, due to the reduced space for ample cooling solutions.
The i7-8850H inside our test unit stabilizes at around 3.3 GHz in concurrent Cinebench runs, with a TDP of 45W and temperatures of around 90-92 degrees Celsius, which translates in Cinebench scores around 1070-1090 points, down from the initial score of around 1150 point after the first run.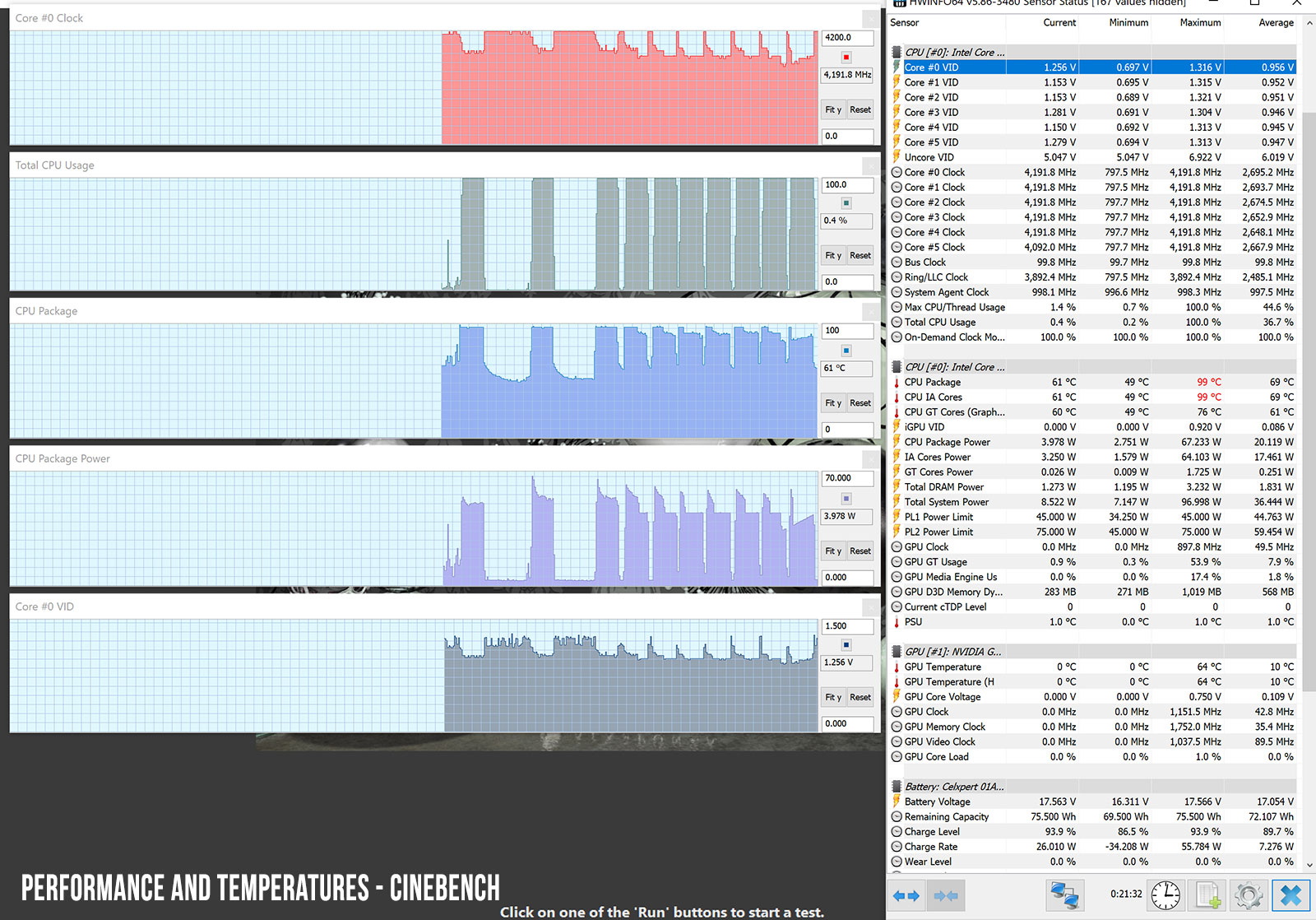 However, we can improve the performance by undervolting the processor (explained in here). In this case, the CPU was stable at -140 mV, and this profile resulted in a significant performance gain when running the same Cinebench loop test: a 3.8 GHz stabilized frequency, similar TDP of 45 W and temperatures of around 90-92 Celsius, but improved scores of around 1180-1200 points (down from the original score of around 1280 points after the first run).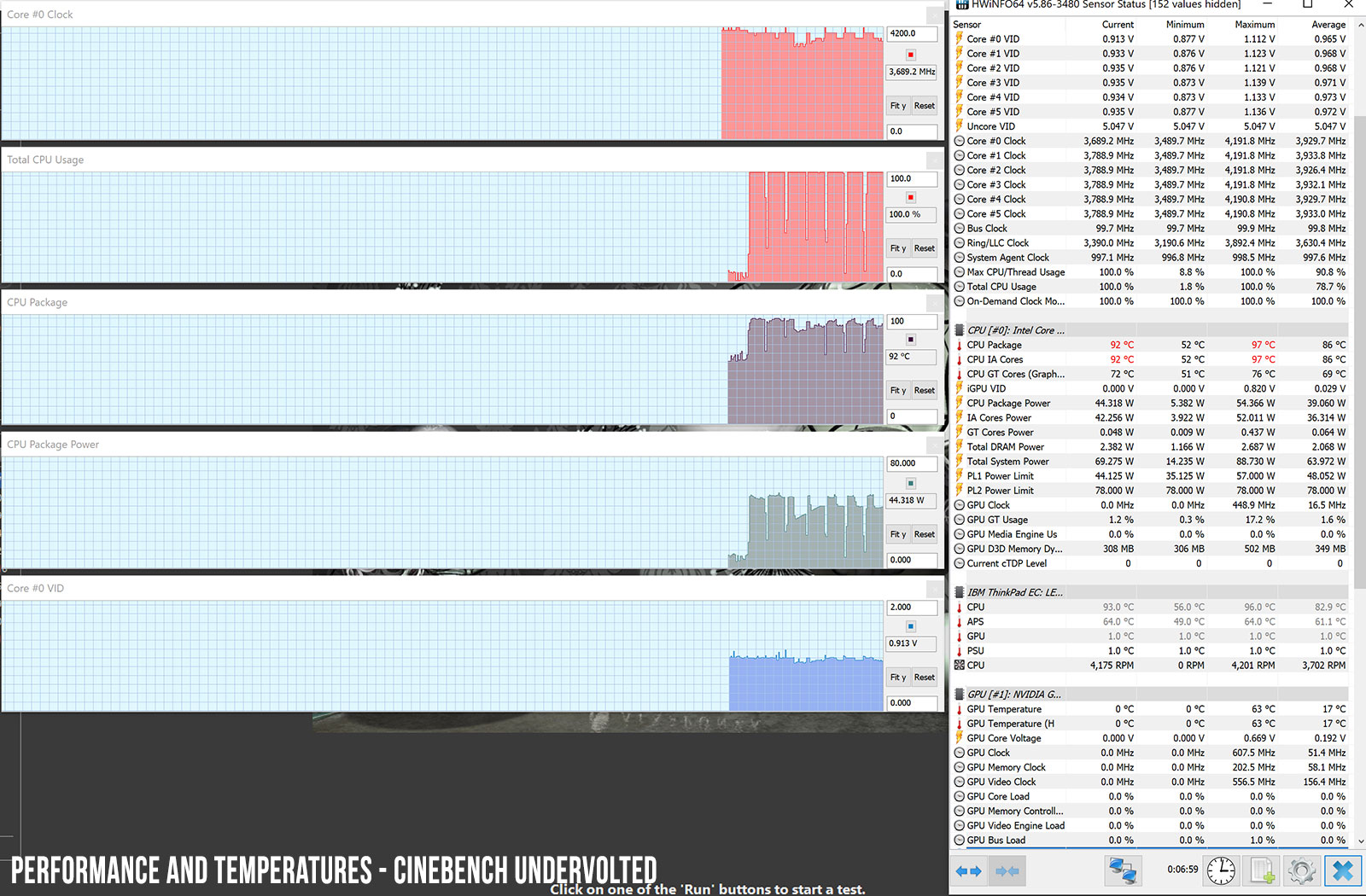 Undervolting is safe and something we'd recommend on modern thin-and-light laptops in order to improve performance in demanding loads, or efficiency/temperatures with everyday use. Just keep in mind that each CPU is different and will run at different voltage values, that's why you should find the settings that best suit your unit, as explained in this article.
All in all, the CPU inside the ThinkPad X1 Extreme performs well, with minor thermal limitations in all-core full loads. However, given the design and these limitations, there's not much point to opt for the i7-8850H over the more affordable i7-8750H option, unless you actually need vPro.
We ran our standard set of benchmarks on this unit and here's what we got:
3DMark 11: P8979 (Graphics: 8577, Physics: 12269);
3DMark 13 – Fire Strike: 6493 (Graphics – 7168, Physics – 14597);
3DMark 13 – Time Spy: 2355 (Graphics – 2183, CPU – 4270);
PCMark 08: Home Conventional – 3474;
PCMark 10: 4890;
PassMark: Rating: 5133, CPU mark: 14953, 3D Graphics Mark: 5968;
GeekBench 3.4.2 32-bit: Single-Core: 4275, Multi-core: 23154;
GeekBench 4.1.1 64-bit: Single-Core: 5373, Multi-core: 22771;
CineBench R15: OpenGL 100.83 fps, CPU 1146 cb, CPU Single Core 178 cb;
x264 HD Benchmark 4.0 32-bit: Pass 1 – 209.07 fps, Pass 2 – 66.76 fps.
We also ran some of them on the -140 mV undervolted profile:
3DMark 13 – Fire Strike: 6425 (Graphics – 6998, Physics – 15787);
GeekBench 4 64-bit: Single-Core: 5287, Multi-core: 22978;
CineBench R15: OpenGL 98.33 fps, CPU 1282 cb, CPU Single Core 177 cb;
x264 HD Benchmark 4.0 32-bit: Pass 1 – 208.70 fps, Pass 2 – 74.49 fps.
As far as gaming goes, Lenovo only offers the X1 Extreme with the Max-Q version of the GTX 1050 Ti chip, which is a more efficient version designed for thin-and-light laptops, but with reduced clock speeds compared to the fully fledged GTX 1050 Ti variant. However, due to the cooling implementation's ability to keep temperatures at bay, this runs at high Turbo Speeds of around 1600 MHz in most titles , and as a result delivers solid results in benchmarks and games, nearly matching full-size laptops with the standard GTX 1050 Ti chip.
Here's a quick comparison with the GTX 1050 Ti equipped full-size Lenovo Legion Y530 and Asus TUF FX505 laptops.
| | | | |
| --- | --- | --- | --- |
| | X1 Extreme | Legion Y530 | TUF FX505 |
| 3DMark 11 – Graphics | 8577 | 9128 | 9289 |
| 3DMark FireStrike – Graphics | 7168 | 7460 | 7683 |
| 3DMark TimeSpy – Graphics | 2183 | 2304 | 2332 |
And here's a comparison with other 15-inch thin-and-lights in its class: the Dell XPS 15 9570 (GTX 1050 Ti Max-Q) and the Asus Zenbook Pro UX580 (GTX 1050 Ti).
| | | | |
| --- | --- | --- | --- |
| | X1 Extreme | XPS 15 9570 | Zenbook UX580 |
| 3DMark 11 – Graphics | 8577 | 9054 | 8700 |
| 3DMark FireStrike – Graphics | 7168 | 7412 | 7274 |
| 3DMark TimeSpy – Graphics | 2183 | 2257 | – |
And here are some real-life gaming results:
| | | | | |
| --- | --- | --- | --- | --- |
| | X1 Extreme | Legion Y530 | XPS 15 9570 | Zenbook UX580 |
| Bioshock Infinite | 74 fps | 75 fps | 74 fps | 67 fps |
| FarCry 4 | 60 fps | 59 fps | – | – |
| FarCry 5 | 41 fps | 42 fps | 38 fps | – |
| Rise of the Tomb Raider | 34 fps | 42 fps | 40 fps | 35 fps |
| Shadow of Mordor | 70 fps | 59 fps | – | – |
4K gaming is not an option with this kind of hardware, unless you plan to run some older titles, so we didn't even included it in here.
All in all, the Lenovo ThinkPad X1 Extreme and the Dell XPS 15 9570 are neck in neck when it comes to the graphics performance, but the ThinkPad actually comes a little on top in real-life gaming sessions. Both are within 10% of the existing full-size 15-inch laptops built on GTX 1050 Ti graphics, so the performance losses of the Max-Q variant are almost negligible in real life.
In the pictures below you'll also find HWInfo logs recorded while playing games (Far Cry 4 and 5, Shadow of Mordor), with details on CPU/GPU frequencies and temperatures. You'll notice that the CPU dips beneath its core frequency of 2.6 GHz with the more demanding titles, despite only averaging temperatures of around 78 degrees Celsius. Lenovo chose to sacrifice on the CPU in order to keep the GPU's performance and temperatures at bay.
However, while undervolting the CPU has very little impact on the GPU's behavior and actual performance in most games, it does allows the CPU to run at higher clock-speeds in all titles, as you can see in the following pictures.
Emissions (noise, heat), Connectivity and speakers
The cooling on the X1 extreme is fairly standard for this class, an implementation with two mid-sized fans and two heatpipes that run across both the CPU and the GPU. There's ample air-intake on top of the entire ensemble, and hot air is pushed out through the grills on the back, behind the hinge.
While simple, this implementation works well, and allows the X1 Extreme to match and even outmatch most of the competition in its segment of 15-inch thin-and-lights with Core H hardware and mid-range dedicated graphics. You should however make sure to periodically open the back panel and blow dust off, as plenty is going to get inside through those big grills on the bottom. You should also make sure not to cover the intakes when running demanding loads.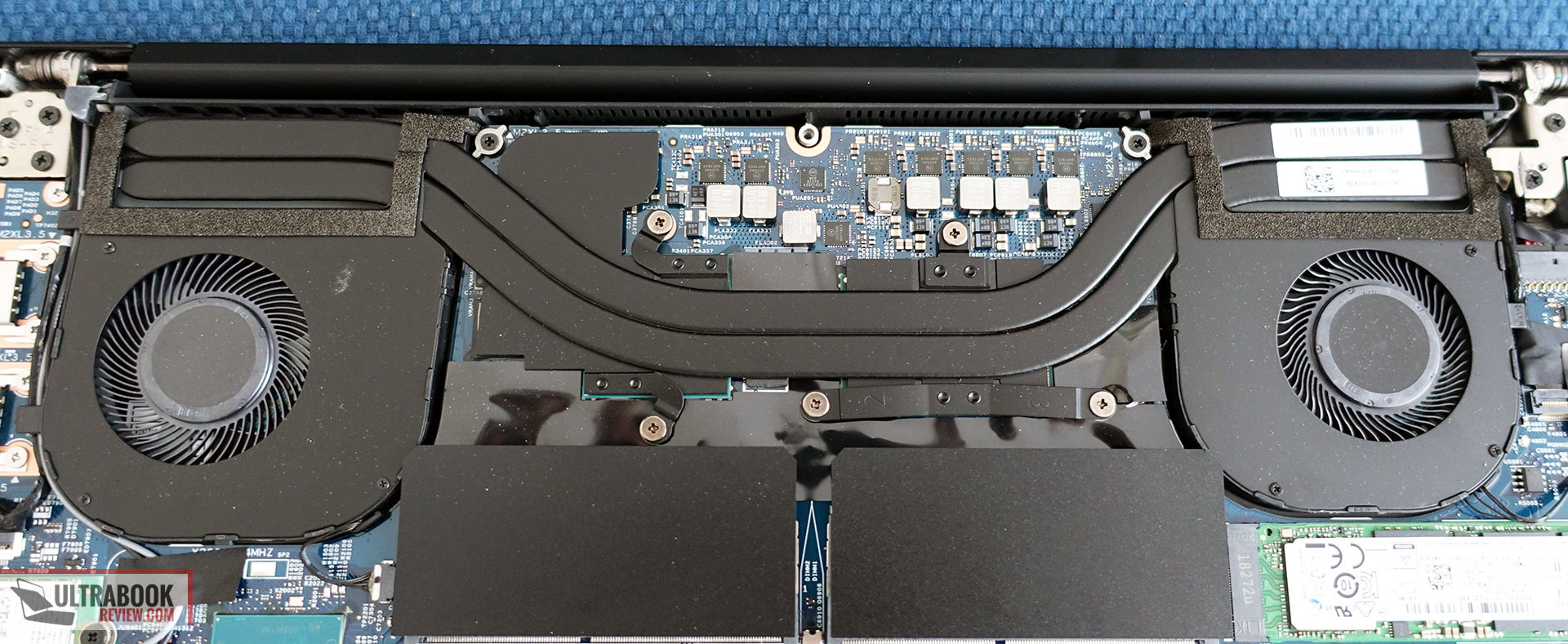 The fans remain inactive with daily use, even with heavier multitasking, which is just what I'd want in a modern laptops, even if it causes it to run a bit warm with basic tasks. Our sample was not completely quiet though, as I did notice a slight amount of electronic cringing coming from the CPU. It's barely noticeable at head-level, but you'll still hear it in a quiet room. I also noticed that the fans occasionally kick-on for a split-second, even if the laptop sits idle. It doesn't happen often, maybe once or twice an hour, but it's odd and a little annoying.
The two fans spin faster and noisier with games. We measured up to 45-46 dB at head level in longer gaming sessions (35 dB ambient level). Notebookcheck's review mentions much quieter noise levels of up to 40 dB, but also lower ambient noise levels, and they sure have more accurate tools than we do. Regardless, you'll hear the fans when performing full-load chores, but they're not as noisy as on standard gaming laptops.
Case temperatures under load get fairly high, with the keyboard deck reaching high 40s and certain spots on the back going above 50 degrees Celsius, so gaming on the lap is a no-go, but that was to be expected from this kind of a notebook.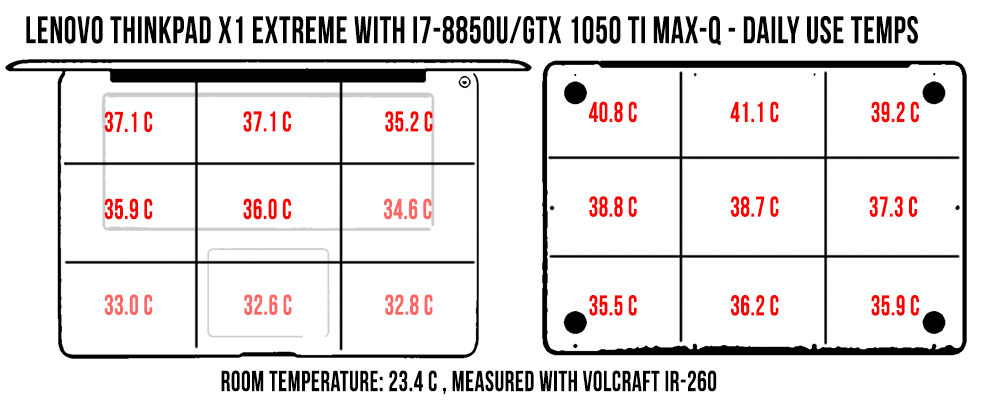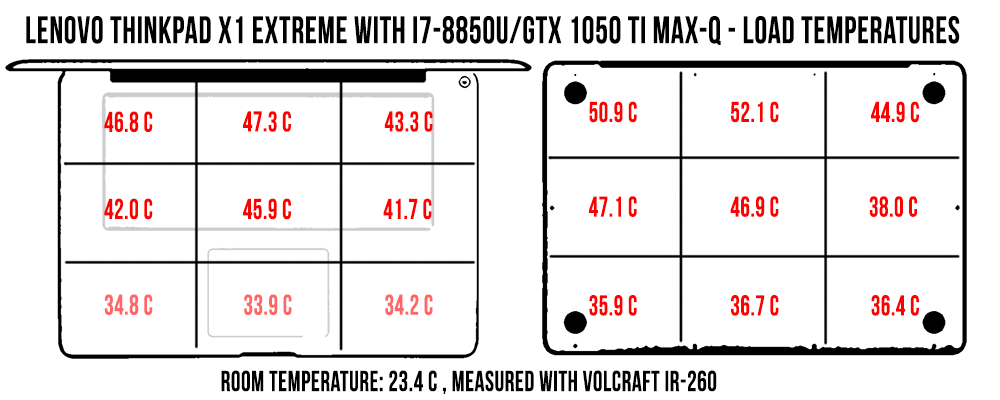 *Daily Use – Netflix clip in EDGE for 30 minutes
*Load – playing FarCry 4 for approximately 30 minutes on ultra FHD settings
For connectivity the X1 Extreme offers Wireless AC, Bluetooth 5.0 and Gigabit Lan through an adapter (not included with the base versions and costs about $35), but no option for LTE, unlike with other ThinkPads and business laptops. This one ships with a new generation Intel AC 9560 wireless module, which performs well and reliably both near the router and at 30+ feet with obstacles in between.
Audio has been notoriously bad on Thinkpads for the last years and it's been improved on the X1 Extreme, but is still just about average. The two speakers are averagely loud, reaching up to 75 dB at head-level, and the quality is decent, but nothing to brag about, lacking on both the low and mid levels. The XPS 15 and Zenbook Pro pack nicer speakers, and the MacBook Pro is in a different class of its own.
As a business laptop, the X1 Extreme offers extra functionality like TPM2.0 support, the ability to set a BIOS password, the finger-sensor, the Kensington Lock and the optional ExpressCard, as well as the benefits of vPro if you opt for one of the compatible CPU options.
There's also an IR camera at the top of the screen, alongside a 720p webcam, which will do the job for occasional calls, even if the image quality is mediocre. The IR sensors are optional, and if you only opt for the regular webcam you'll get that with the mechanical ThinkShutter privacy cover.
Battery life
The Lenovo ThinkPad X1 Extreme gets a 80 Wh battery, which is mid-sized in its segment and smaller than the options on the Dell XPS 15 and HP EliteBook 1050.
The hardware and especially the UHD screen take their toll though, so you're only going to get about 4 hours of daily use and 5-6 hours of video content. Here's what to expect, with the screen set at 30% brightness, roughly 120 nits:
13 W (~6 h of use) – text editing in Google Drive, Better Battery Mode, screen at 30%, Wi-Fi ON;
13.5 W (~6 h of use) – 1080p Youtube fullscreen in Edge, Better Battery Mode, screen at 30%, Wi-Fi ON;
15 W (~5 h 20 min of use) – 1080p Netflix fullscreen video in Edge, Better Battery Mode, screen at 30%, Wi-Fi ON;
16 W (~5 h of use) – 4K fullscreen .mkv video in the Movie app, Better Battery Mode, screen at 30%, Wi-Fi ON;
13 W (~6 h of use) – 4K fullscreen .mkv video in the Movie app, Energy Saving Mode, screen at 30%, Wi-Fi ON;
22 W (~3 h 45 min of use) – browsing in Edge, Better Performance Mode, screen at 30%, Wi-Fi ON;
70 W (~1 h 10 min of use) – Gaming – Shadow of Mordor, Maximum Performance Mode, screen at 30%, Wi-Fi ON.
You can squeeze a little longer runtimes if you switch to Energy Saving in Windows, but this tends to make the computer sluggish and I'd only use it when watching video content. You can however opt for the FHD screen option if battery life is important to you, that should add about 2 hours of daily use and 2-3 of video to the UHD model tested here.
I'll also add that our sample didn't get any kind of wear, so battery life will only go south over time as the battery degrades.
The X1E is also supposed to charge via USB-C, but it didn't work with a 45W 20V charger I had at my disposal. Other people on the forums struggle to get it to charge via USB-C as well, but some reported that it charges when hooked up to certain Lenovo docks.
The X1 Extreme comes with a compact 135 Wh power brick. A complete charge from 10 to 100% takes about two hours. Lenovo advertises that the battery can charge to 80% in 60 minutes, and it actually took just a little longer than that to charge from 10 to 80% in our tests.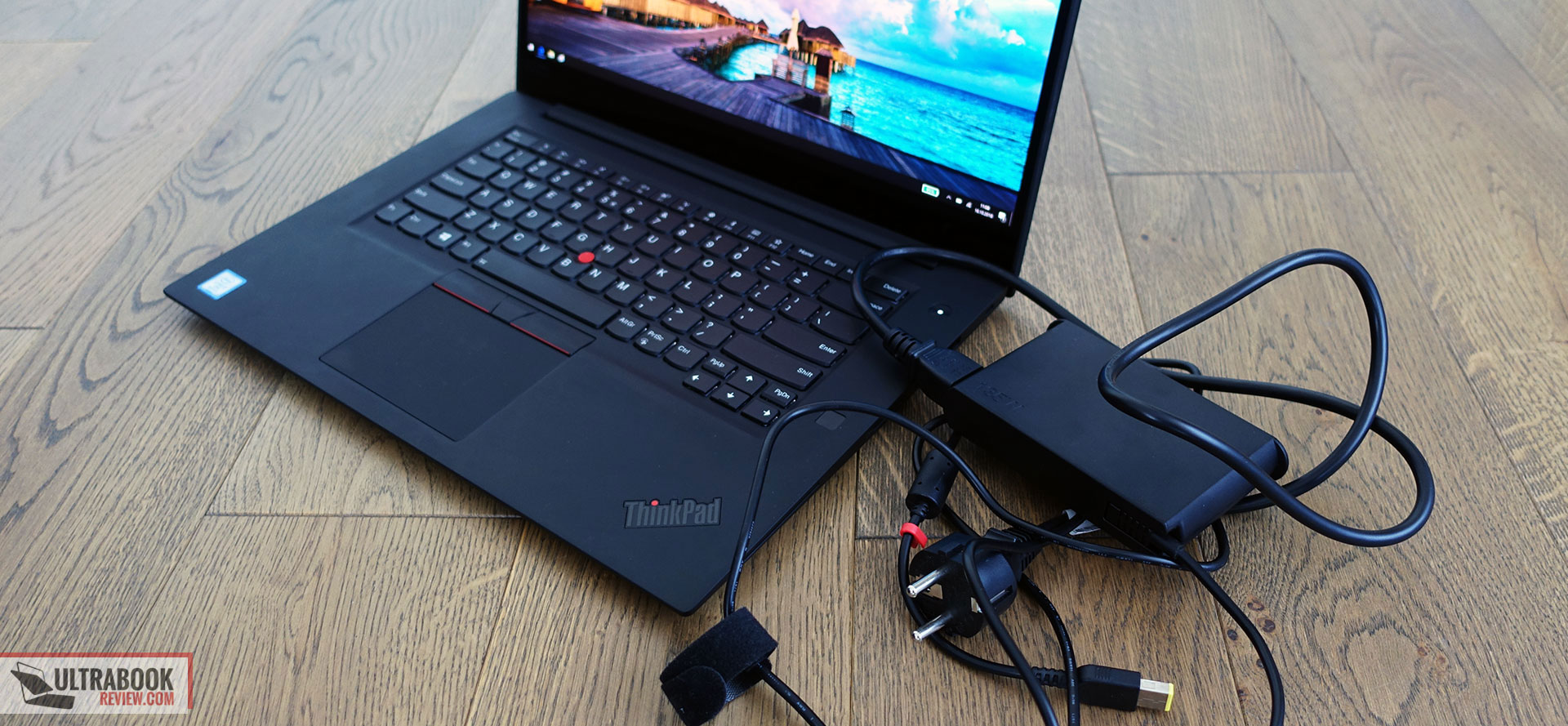 Price and availability
The ThinkPad X1 Extreme is available in stores in most regions of the world as of mid October 2018.
The base version starts at $1879 in the US, £1859 in the UK and €2119 in Germany, for a configuration with a quad-core Core i5-8400H processor, 8 GB of RAM and a 256 GB NVMe SSD, alongside the FHD screen and GTX 1050 Ti graphics chip.
The Core i7-8750H processor is a $150 upgrade, while the i7-8850H version costs about $350 in the configurator. Adding the i7 processor, 16 GB of RAM and a 512 GB SSD pushes this close to about $2400 in the US, while the UHD screen option is another $400 upgrade.
Lenovo tends to offer discounts quite often, so you should check their regional sites at the time you're reading this article, of follow this link for updated prices and configurations on third party sellers.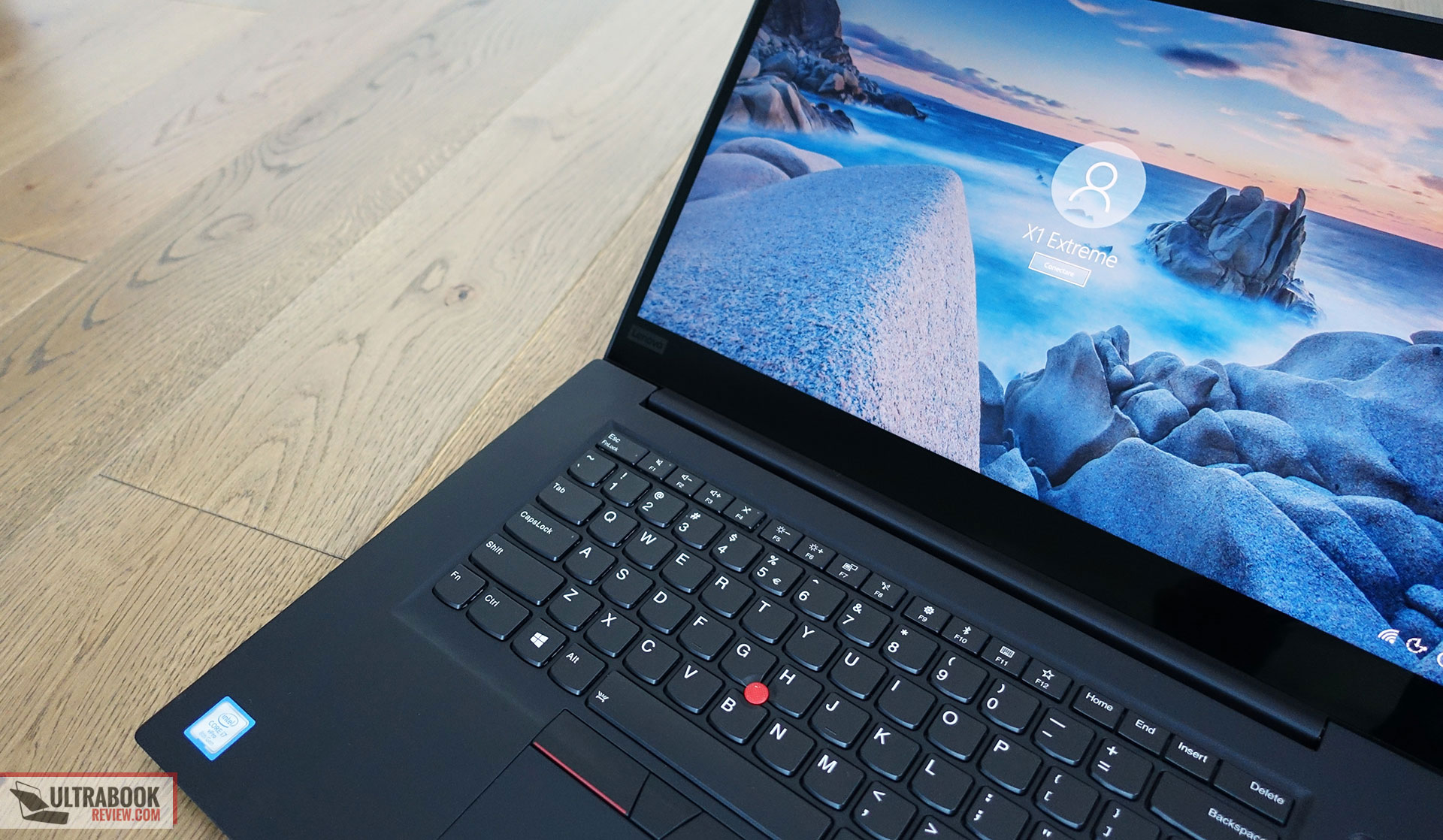 Final thoughts
It took Lenovo a fair bit to get into this segment of 15-inch premium laptops, but they actually did a great job with the first generation of the ThinkPad X1 Extreme, which is now a worthy alternative for the big fishes in the class.
The X1 Extreme is a very well rounded product. It merges fundamentals of the ThinkPad line, like the solid craftsmanship, the clean aesthetics, the fast keyboard and the proper IO, with powerful hardware, a compelling cooling solution that keeps the hardware at bay, and a good-quality UHD screen with wide-gamut color coverage. It's not without its quirks, but besides the fairly short battery life of the UHD configurations, most of them are rather minor, like the still lacking audio, the rather slow UHD screen or the mediocre webcam, or subjective, like the black design scheme that shows smudges easily or the overall typing experience.
The X1 Extreme is very expensive though, at least for the time being, and this will weigh heavily in your decision if you're spending your own money on it. I'm not necessarily saying it is not worth the kind of money Lenovo asks for it, that's up for each of you to decide, but I'm saying you should consider the existing alternatives if you're looking for the best value for your buck. The Lenovo ThinkPad P1 and Dell XPS 15 are the main alternatives, with the Zenbook Pro UX550/UX580 and HP EliteBook 1050 as other options to consider in certain cases, as well as the Apple MacBook Pro if you're in that ecosystem.
Potential buyers should also decide on whether they need the UHD touchscreen or can settle for the dimmer mid-level panel on the FHD matte option. If you're looking for an all-rounder and also plan to tackle some games from time to time, the FHD option with the faster panel is definitely the better option, not to mention the significantly cheaper one as well. The UHD screen with the 100% AdobeRGB coverage should make sense for graphics professionals that need a color-accurate screen, but you'll have to accept the costs and significant toll on battery life. Besides these, if you're just not interested in gaming at all and just want a nice all-rounder, look into the Lenovo ThinkPad P1, which is pretty much the same laptop, but cheaper and with Quadro graphics.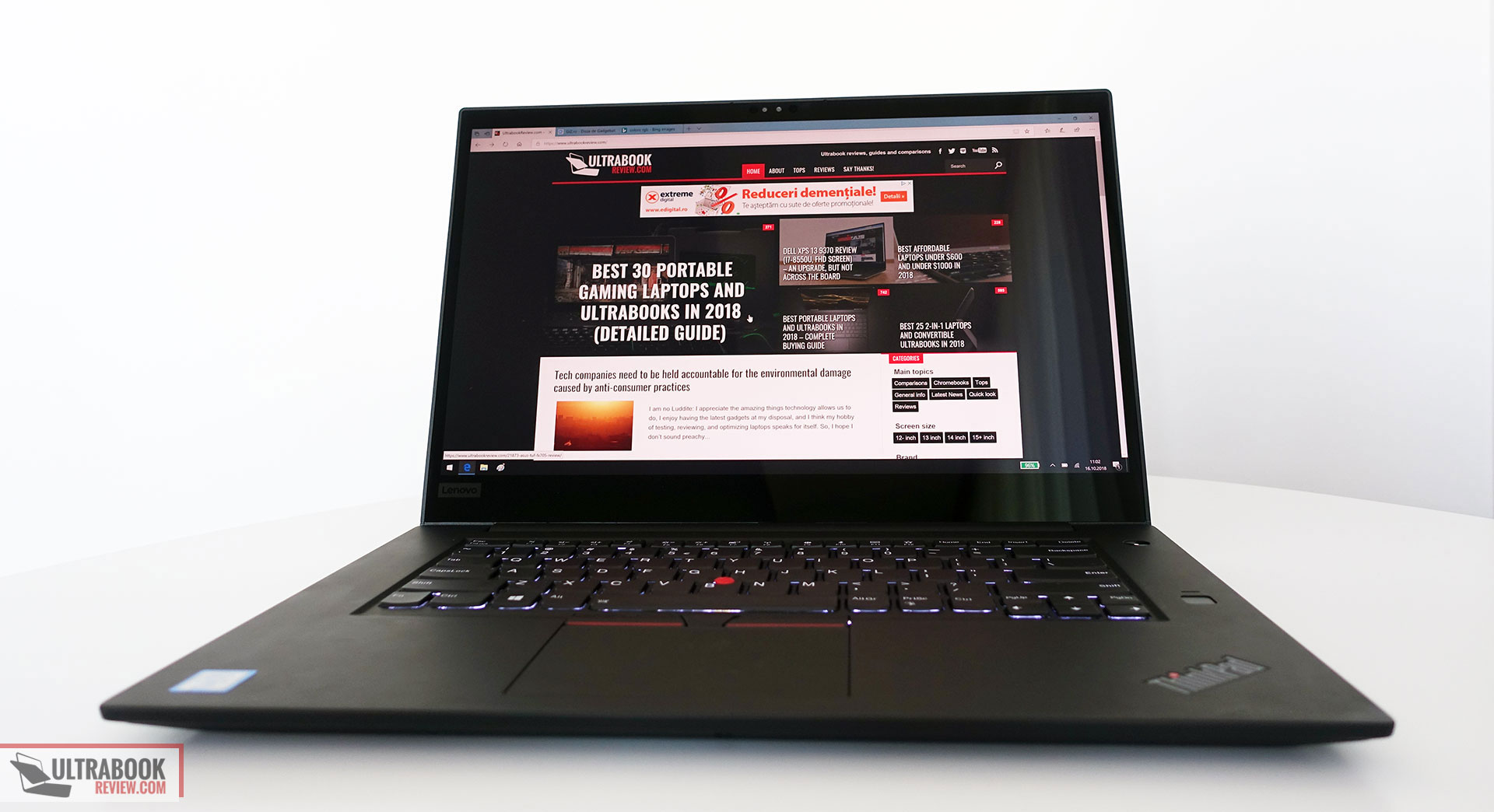 Last but not least, you should also consider the whole QC aspect of buying this laptop, or in fact any expensive laptop these days. If you've read through reviews of the X1 Carbon around the beginning of the year, they were all highly enthusiastic and for a good reason: in the ideal scenario, the X1 Carbon is an excellent ultraportable. However, due to the fact that Lenovo sources components from various manufactures, final retail products were available with various quality finishing, keyboards and screens, as well as various glitches with the wireless and finger-sensor, among others.
So what I'm saying is that you should proceed with caution. The X1 Extreme is expensive, more expensive than all the other Windows competitors, that's why QC needs to be spotless. So unless you're buying from places that would allow you to check out the product in person or easily return it if needed, I'd personally wait a few weeks for more buyer impressions to emerge, just to make sure the X1 Extreme is not going to suffer from similar inconsistencies and quality-control problems, as well as find out about all the quirks we and other reviewers might not have discovered during our limited time with the laptop.
This pretty much wraps up our review of the Lenovo ThinkPad X1 Extreme, but if you have anything to add, any comments or questions, just get in touch in the section below.