I've been busy with reviews the past few months and barely get to enjoy my new Zephyrus G14.  But this month, I got to play with the new Razer Blade 15 2022 model, so I'm pretty happy about that, mainly because the Blade 15 used to be my daily driver until last year and I get to see what I'm missing after my switch.
I always appreciate how much performance these Blades offer considering how small they are.  They do cost a lot, though, which has been a factor to consider for me over the past few years.  But this laptop certainly doesn't disappoint in the performance department.
This year, Razer even put in a couple more improvements to sweeten the deal.  There's a new fingerprint coating over the entire chassis and larger keyboard keycaps which certainly make a difference with everyday use.  The palmrest also has some better-looking speaker grills that will probably stay cleaner than on the previous models as they age.
These changes are good, but there are some serious concerns I have with this year's model.  Mostly it comes down to the overall value of the Blade 15 in today's market, now that I got to experience some of the other options available out there. And I think there are also a couple of key areas that should have been improved over what Razer decided to tackle.  Let's get into the details of this machine.
Specs as reviewed – Razer Blade 15 (2022)
Razer Blade 15 (2022)
Screen
15.6 inch, FHD 1920 x 1080 px, IPS, 360 Hz, 2ms, matte
Processor
Intel 12th-gen Alder Lake Core i7-12800H, 6C+8Ec/20T
Video
Intel Iris Xe + Nvidia GeForce RTX 3080 Ti with 16GB of DDR6 VRAM (80-105W)
with MUX, without GSync on this variant
Memory
32 GB DDR5-4800 (2x 16GB DIMMs)
Storage
1x 1TB M.2 NVMe gen4 (Samsung) + extra M.2 slot
Connectivity
Killer AX1690 Wifi 6E with Bluetooth 5.2
Ports
left: DC-in, 2X USB 3.2 Gen 2 Type A, 1x USB3.2 Gen 2 Type C, headphone/mic combo
right: lock, HDMI 2.1, 1x USB 3.2 Gen 2 Type A, 1x USB Type C with Thunderbolt 4, UHS-II SD Card reader
Battery
80 Wh, 230 W charger
Size
355 mm or 13.98" (w) x 235 mm or 9.25" (d) x 16.99 mm or .67" (h)
Weight
2.01 kg (4.4 lbs) + charger
Extras
backlit keyboard(RGB), FHD webcam with IR, stereo speakers, vapor chamber cooling
Design and construction
I don't need to go into too much detail on the design and construction on this one.  The 2022 Blade 15 looks a lot like the Blade 15 I just reviewed last year.  And the year before.  And the year before.  In fact, the design hasn't changed much since 2019.  So, needless to say, Razer is really satisfied with this design.  The big question is, is everyone else?
For me, I'm on the fence.  But before I get into the why, let's dig into what's changed.
First off, the chassis is the same overall shape and form factor as before.  The same aluminum unibody construction with nearly the same powder-coated anodized finish and is still black in color.  The only key difference this year is there is now an anti-fingerprint coating which will help reduce the smudges.
This coating works on the palm rests, but I still struggled with fingerprints on the lid.  I took my photos right when I got the device so I didn't have to worry about cleaning it.  But a while later, I took another shot to demonstrate how it got in just a week.

I think this coating affects my handling too.  It's a little slicker than before, although I don't have an old sample to compare directly with.  My 2019 Blade 15 has a skin on it, so it's an unfair comparison.  The good news is the device is fairly light though, so I never really felt like I was actually going to drop it.
The lid hasn't changed at all between designs and still has the same glowing Razer logo as before.  Not my favorite, and I wish they'd adopt what they do with the Blade Stealth and Book 13. Or just minimize the logo into something extremely small like what Lenovo does.  It's time to move on from gaudy gamer logos.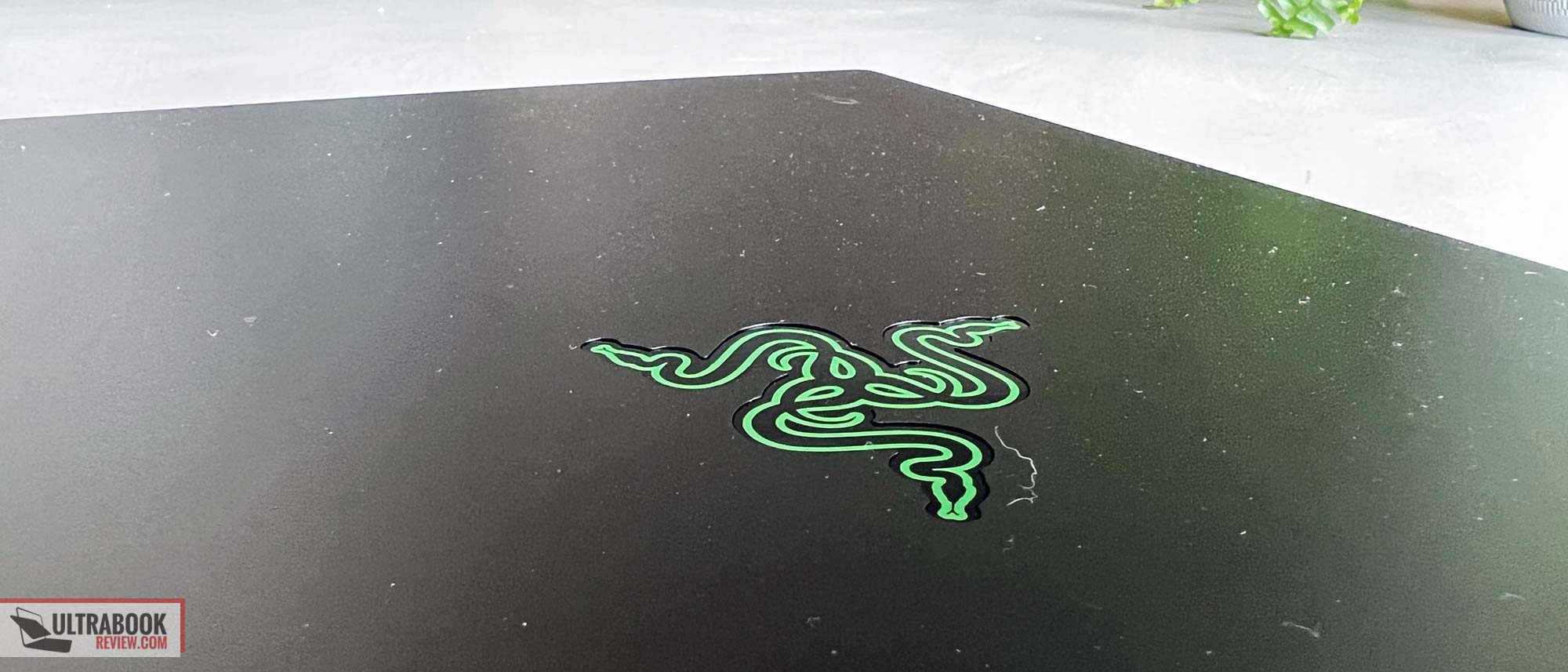 As usual, lifting that lid is a smooth one finger action.  This is no different than before either and should stay the same.  The screen size, bezels, and webcam all look the same.  The camera is an FHD shooter which is good too.
Down on the palm rest, it looks similar to before, but there are some subtle differences.  The speaker grills are no longer the screens they had in the past, and now are a bunch of laser-cut holes into the aluminum.  This should probably stay cleaner than before, provided you don't get oils from your skin on them like I did.
The power button also moved into the keyboard, where I would expect the Delete key to be.  I eventually got used to it, and at least they made sure pressing the power button didn't put the laptop to sleep by default.  I'll cover the keyboard in more detail in a later section.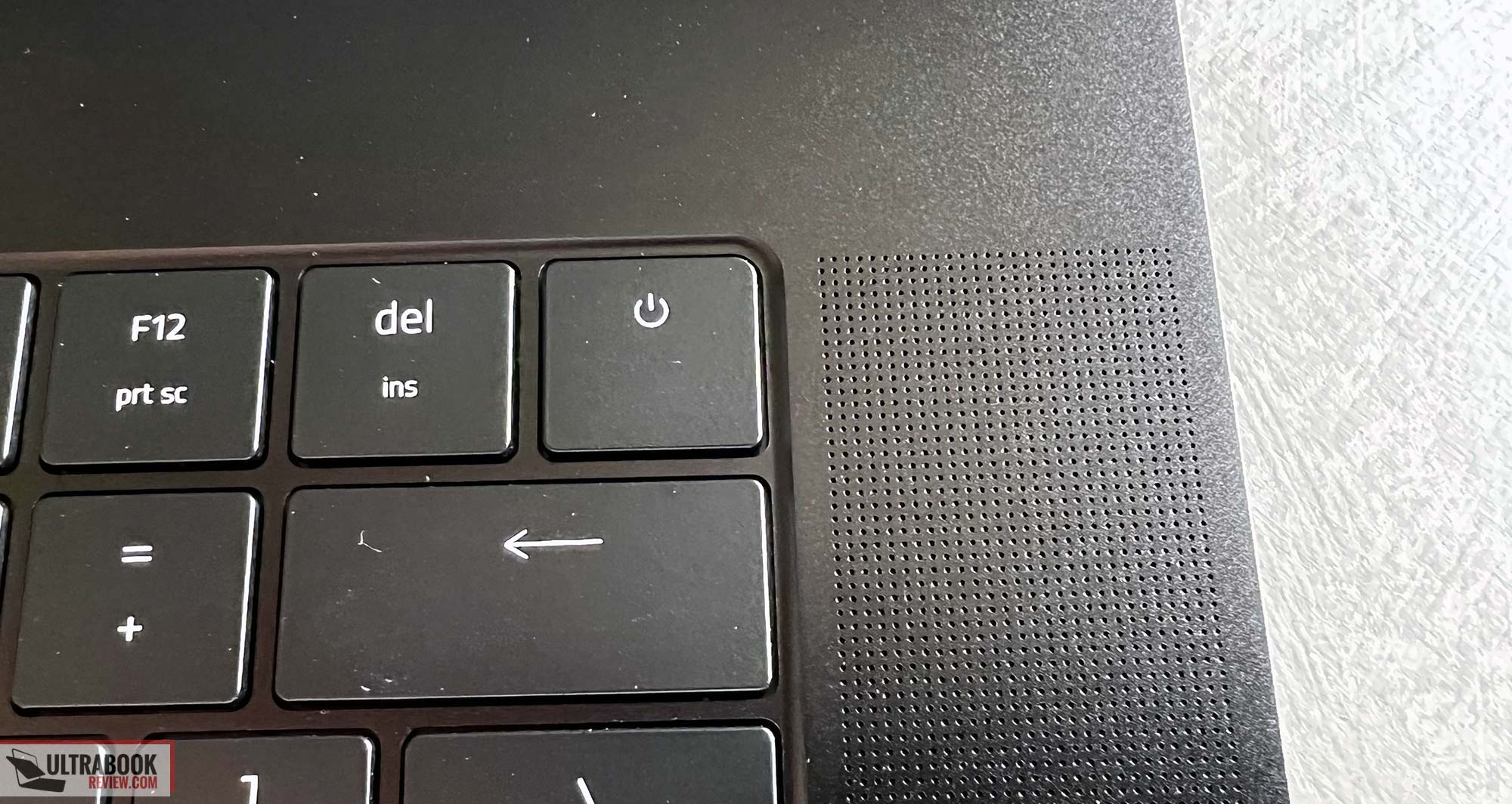 The bottom is slightly different, but it's effectively the same as before.  There are some large feet that work really well.  There's also some pretty good sized intakes for both the CPU and GPU on both sides.  And then there are these two smaller "intakes" below them.  But when I took the laptop apart, these were blocked off for some reason.  So I'm not really sure what the purpose of these are…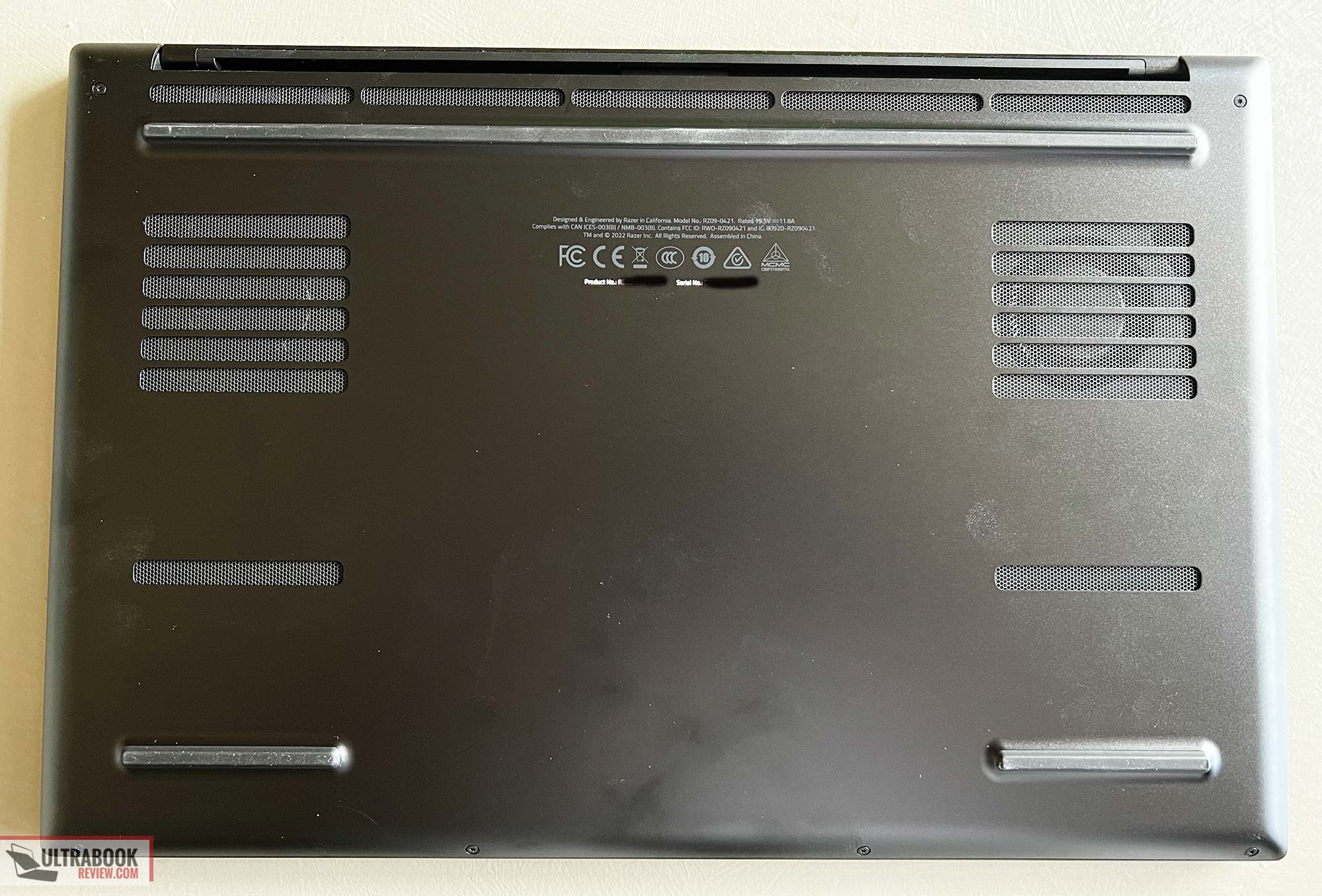 So with all that out, I'm good with all the subtle changes, except maybe the power button location.  But I need to be critical on the design this year, mainly because I feel like it's starting to get stale. Many of the competitors have figured out how to minimize fingerprints, have smaller bezels, and are more subtle with their logos, updates that I think would make a difference in this Blade as well.
Let's jump into the IO, which is pretty much the same as before, including the full sized card reader.  Very nice!  Also on the right hand side is a USB-A 3.2 port and a USB-C, which supports Thunderbolt 4.  There is also HDMI 2.1 and a Kensington lock.
The left side has two more USB-A 3.2 ports and another USB-C.  Both USB-C ports support charging, by the way.  The headphone/microphone jack and the power port are the same as before.
I think the power connection is fine, albeit a little snug. But I would like to see the cord change to come straight out instead of the sharp 90 degree turn they have now.  It's "technically" reversable but it's really not with actual use.
Keyboard and trackpad
If you've ever used a Razer Blade in the past 4 years, the keyboard on this generation should be very familiar and easy to adapt to.  The key feedback and travel are nearly spot on to the previous models, which is both good and bad in my opinion.
Point is this keyboard takes some getting used to in order to type on it properly.  And while it only took me a day or two to get back into the swing of it, others may feel differently.  I did use a Blade 15 as my daily driver for the better part of two years, so I have a little biased experience in using them.
But this year's model does come with a welcome improvement – larger keycaps.  This certainly cuts down on missing keystrokes and should help the user adapt better.  The layout is also mostly ideal, which I appreciate.  The only oddball key is the power button, which is now placed where Delete should be.
The chroma lighting is the same as in the previous models.  The per-key lighting is still the nicest looking RGB that you can get on a laptop, in my opinion.  There's really nothing else to say – it's about as good as it gets.
As much as I typed ok on this keyboard, I still would have liked it to be better.  Truth is, most of the competitor laptops I've been testing lately have very good keyboards in comparison, and those devices are about the same thickness.  Whether it be key travel, key feedback or a combination of both, I think there is still some room for improvement that Razer should take advantage of in future models, to stay with the competition.
The trackpad, on the other hand, is perfect just as it is.  It's the same as last year and is probably one of the best trackpads available on laptops.  It's large, glass and works flawlessly. Gestures and tracking worked great in every instance for me.  It's also positioned well where accidental brushes are infrequent; not that it matters, though, because the palm rejection works just fine.
Screen
The model I have on hand has a FHD 360Hz 1920 x 1080 px resolution screen.  It's not my favorite screen options available for this 2022 Blade 15, but it's not bad either.  If you play primarily high-fps games, perhaps this is the screen for you because you'll get the highest framerates possible at such a modest resolution.
The good news is the viewing angles are good.  And as per normal with Razer laptops, backlight bleed is at a minimum.  The screen brightness is also slightly above average, measuring about 325 nits at the center.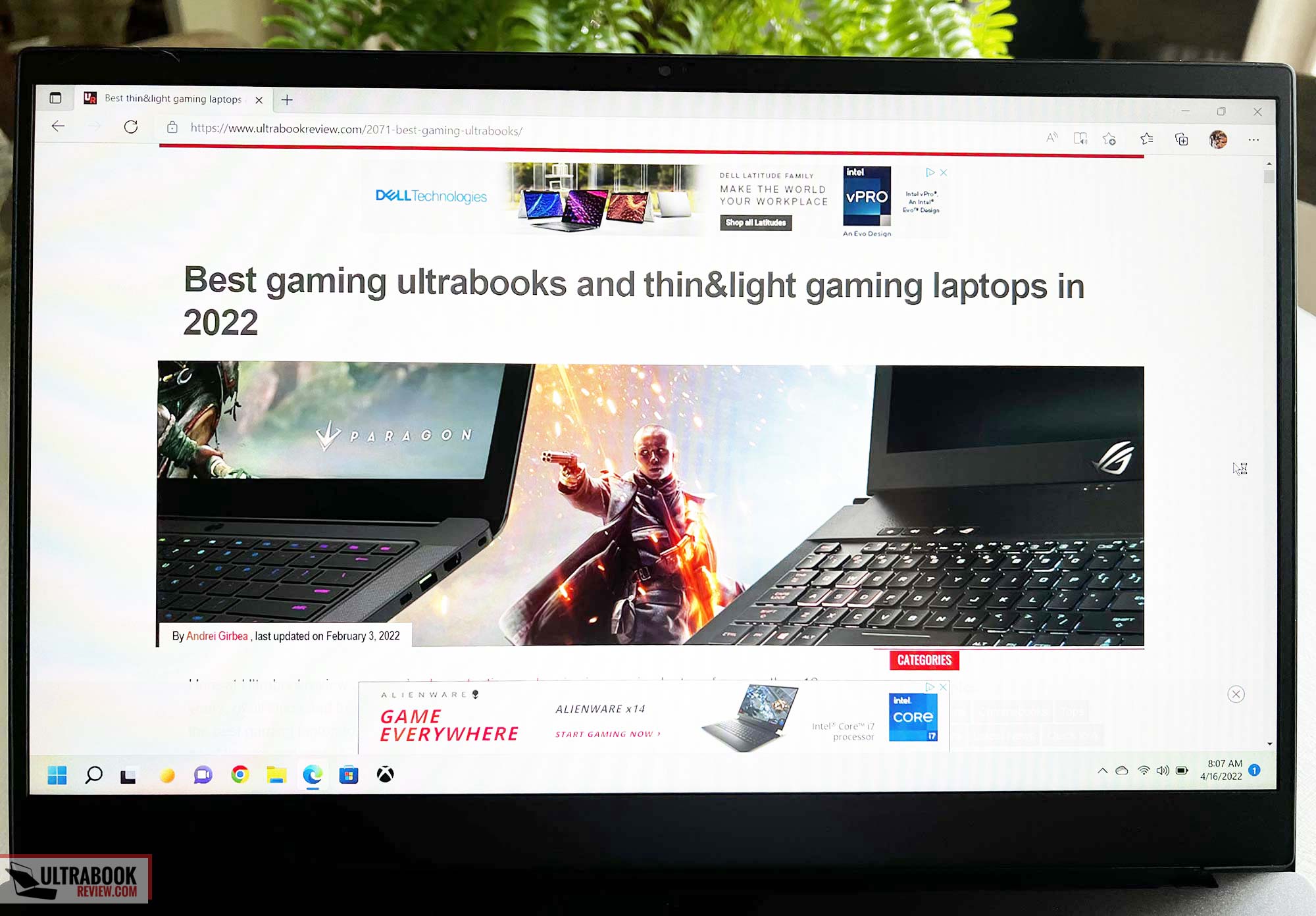 But compared to the other options available, the color gamut is just average.  Maybe even below average, considering the abundance of 100% DCI-P3 screens out there.  Like I said, fps players probably won't care.  But if you want more out of your screen, perhaps you should consider the QHD options Razer offers for this series.
I used my Xrite tool to measure the screen specifications.  Here's what I got:
Panel HardwareID: Unknown TL156VDXP02-0
Coverage: 100.1% sRGB, 70.9% DCI-P3, 69% AdobeRGB;
Measured gamma: 2.2;
Max brightness in the middle of the screen: 325 cd/m2 on power;
Contrast at max brightness: 1300:1
Native white point: 6611 K;
Black on max brightness: 0.25 cd/m2.
Sorry, but I couldn't identify the screen model on this one.  The specs ended up being pretty decent though.  A 1300:1 contrast ratio is pretty good for a FHD screen and this seems to be better than previous FHD panels Razer used in the past.
Color accuracy is also pretty good.  Although the gamut coverage is only 100% sRGB, you could still get by using this panel for color sensitive work.  It really just depends on your need for a higher gamut screen.
In the end, I think this is a fair-quality panel.  I wouldn't choose it as my option, especially with this GPU, but I appreciate having the choice of different types of screens as a buyer. For fast gaming performance, this is the one to go with. However, if you prefer crisper images with more colors, I'd go with the QHD panel instead.  And if you need even more resolution, Razer also offers a 4k panel.  It's just going to cost you…
Hardware and performance
The 2022 Razer Blade 15 is built on a 12th generation Intel Core i7-12800H processor, which has six performance cores and eight efficiency cores.  These efficiency cores are supposed to help with processing power in demanding loads, and with battery life with casual use.  More on that soon, but I didn't see much of an improvement.
The good news is the CPU is plenty fast enough for almost any task.  And on this model, it's paired with 32GB of DDR5 RAM.  These are 16GB sticks in 2 DIMMs, which are upgradeable to up to 64GB if desired.  32GB is more than enough for almost everyone, though.
Also included in this model is a Nvidia RTX 3080 Ti dGPU with 16GB of VRAM.  This is the fastest mobile option available to date.  Keep in mind that it's the power delivered to the GPU that counts, though.  On this model, you get up to 105W supplied to the GPU, with Dynamic Boost. There's also a MUX for uncompromised gaming performance.
The SSD is made by Samsung and is PCIe 4.0 compliant.  The speeds measured in my benchmark validate it – this thing is fast.  Personally, I'm not sure if I can ever tell the difference in a "slow" SSD anymore, but it's comforting to know that Razer are still offering the better drives available.
If you're looking to upgrade your SSD or RAM, Razer offers some space for it.  But getting the back cover off is a little trickier than in the past.  Instead of the usual 10 Torx screws, there are only six – two at the top and four at the bottom.  This is because they put some large ball and socket clips on the left and right-hand side.  Pulling hard will eventually release them, but sliding up while doing it is the way to go.  See the pictures for the mechanism.
Once you finally get the cover off, upgrading is easy for the most part.  You immediately get direct access to the Wifi card and RAM slots, although the ribbon cable for the screen partially covers the RAM.  It's easy to navigate around, though.
The SSD is similar to how they did it last year.  Instead of two separate slots, we get a stacked slot.  This is fine, but there is a limitation on the second SSD where you can only have chips on one side for it to fit properly.  I didn't have a spare to test, but I imagine there's probably little space in between.  I doubt heat would be an issue since you probably won't use both SSDs at once a whole lot, but if I were to do this, I would plan on using thermal pads in between.
All the internals actually are very similar to the 2021 model, only in slightly different locations.  The vapor chamber, fans, battery and even speakers all look the same.  Reassembly is simple too, just make sure you realign those top and side clips.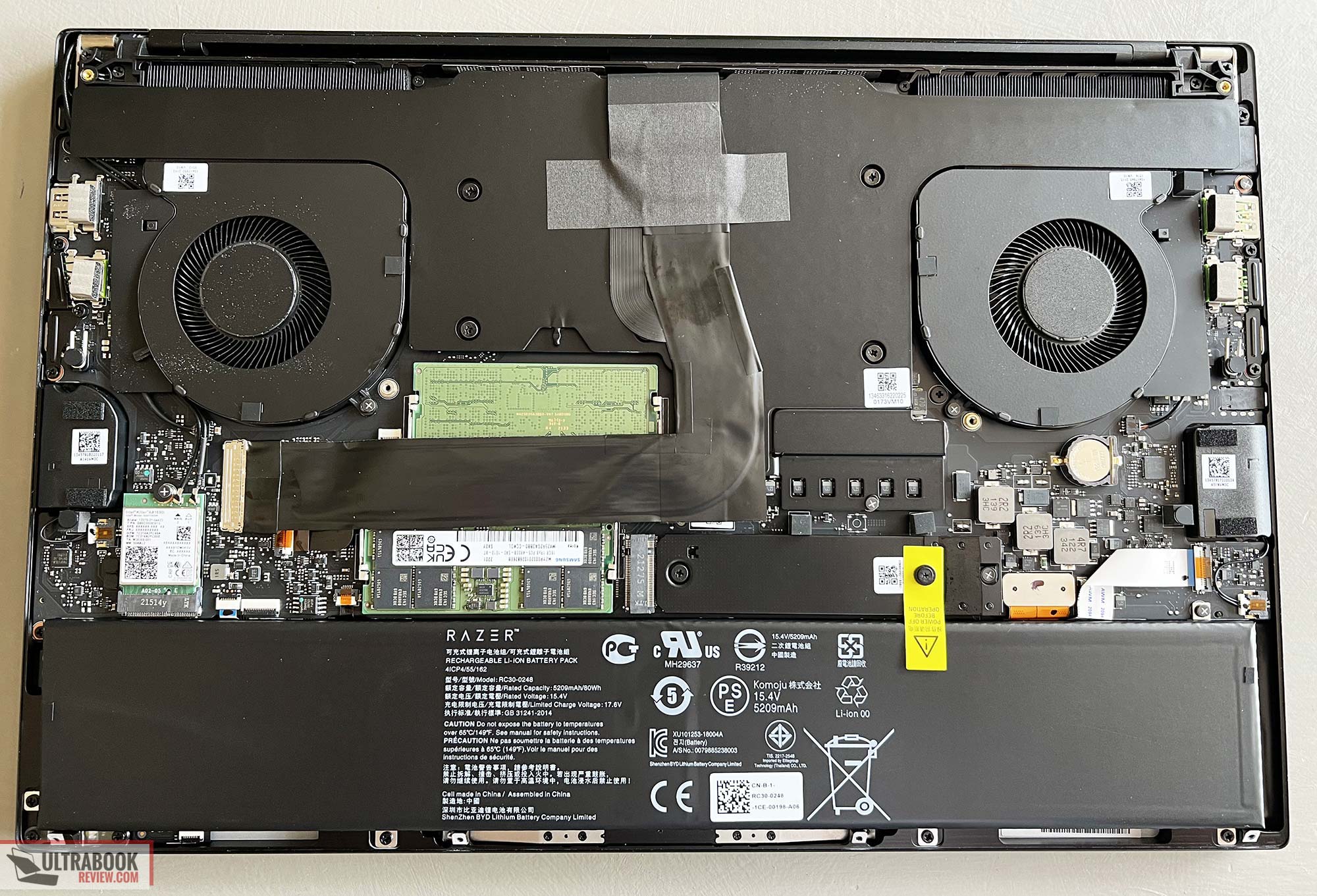 This laptop comes with Razer Synapse for power control settings.  There are three modes while plugged in: Balanced, Silent, and Custom, and access to the MUX settings.
The only way to maximize your settings is in Custom, which I'll demonstrate in my testing below.  Other than that, each mode has different stock power levels that the CPU and GPU are allowed.  See below for a chart on what each mode is capable of.
Silent
Balanced
Max settings in Custom
Battery
CPU
GPU
CPU
GPU
CPU
GPU
CPU
GPU
37/25W
90W
45/35W
95W
90/55W
105W
35W
55W
Knowing this, let's dig into the performance benchmarks now.  My first round of testing was in Manual with the CPU and GPU maxed out. The MUX is set to Discrete for this round.  Here are my results for my typical array of testing:
3DMark 13 – Fire Strike: 25011 (Graphics – 28531, Physics – 28770);
3DMark 13 – Time Spy: 11233 (Graphics – 10940, CPU – 13247);
3DMark 13 –CPU profile: max – 7679 16 – 7220, 8 – 5657, 4 – 3343, 2 – 1893, 1 -1010;
3DMark 13 – Port Royal (RTX) Graphics: 6897;
Uniengine Superposition – 1080p Extreme: 6807;
Uniengine Superposition – 1080p Medium: 20831;
GeekBench 5: Single-Core: 1805, Multi-core: 12829;
CineBench R15: OpenGL 218.68 fps, CPU 2487 cb, CPU Single Core 260 cb;
CineBench R23: CPU 14789 pts, CPU Single Core 1819 pts;
Next, I switched back to Optimus mode and kept the CPU and GPU maxed out on Custom.  Here are my results:
3DMark 13 – Fire Strike: 25098 (Graphics – 28906, Physics – 28540);
3DMark 13 – Time Spy: 11150 (Graphics – 10881, CPU – 12974);
3DMark 13 –CPU profile: max – 7850 16 – 7153, 8 – 5338, 4 – 3510, 2 – 1968, 1 -1010
3DMark 13 – Port Royal (RTX) Graphics: 6870;
Uniengine Superposition – 1080p Extreme: 6877;
Uniengine Superposition – 1080p Medium: 21193;
GeekBench 5: Single-Core: 1795, Multi-core: 12799;
CineBench R15: OpenGL 190.16 fps, CPU 2591 cb, CPU Single Core 261 cb;
CineBench R23: CPU 15744 pts, CPU Single Core 1801 pts;
Next I set the mode to Balanced.  Here were my results:
3DMark 13 – Fire Strike: 21837 (Graphics – 27128, Physics – 21479);
3DMark 13 – Time Spy: 9957 (Graphics – 9988, CPU – 9786);
3DMark 13 –CPU profile: max – 5345 16 – 4502, 8 – 3772, 4 – 2812, 2 – 1742, 1 -1006
3DMark 13 – Port Royal (RTX) Graphics: 6387;
Uniengine Superposition – 1080p Extreme: 6498;
Uniengine Superposition – 1080p Medium: 19649;
GeekBench 5: Single-Core: 1777, Multi-core: 9813;
CineBench R15: OpenGL 191 fps, CPU 1563 cb, CPU Single Core 252 cb;
CineBench R23: CPU 10273 pts, CPU Single Core 1769 pts;
Finally, here are my results after switching to Quiet mode:
3DMark 13 – Fire Strike: 17175 (Graphics – 25385, Physics – 16368);
3DMark 13 – Time Spy: 8616 (Graphics – 9365, CPU – 5931);
3DMark 13 –CPU profile: max – 3451 16 – 3352, 8 – 2878, 4 – 2236, 2 – 1506, 1 -889
3DMark 13 – Port Royal (RTX) Graphics: 6080;
Uniengine Superposition – 1080p Extreme: 5889;
Uniengine Superposition – 1080p Medium: 18420;
GeekBench 5: Single-Core: 1809, Multi-core: 8016;
CineBench R15: OpenGL 177.04 fps, CPU 1083 cb, CPU Single Core 233 cb;
CineBench R23: CPU 7743 pts, CPU Single Core 1602 pts;
Not bad really!
You can certainly see just how powerful that CPU is.  What's truly impressive is how well the laptop functions in the Silent mode.  Usually, this mode comes at a great sacrifice to the CPU, but it appears to have quite a bunch of horsepower here and still stay under 40dB fans.
I also did some testing in some games.  I took these readings in different performance options in Synapse with the MUX set to Optimus:
FHD – Max settings
FHD – Balanced
FHD – Quiet
Battlefield V
(DX 12, Ultra Preset, Ray-Tracing OFF)
138 fps avg, 53 fps 1% low
125 fps avg, 65 fps 1% low
100 fps avg, 52 fps 1% low
Battlefield V
(DX 12, Ultra Preset, Ray-Tracing ON)
82 fps avg, 63 fps 1% low
70 fps avg, 48 fps 1% low
73 fps avg, 30 fps 1% low
The Witcher 3: Wild Hunt
(DX 11, Ultra Preset, Hairworks On)
114 fps avg, 84 fps 1% low
105 fps avg, 72 fps 1% low
87 fps avg, 60 fps 1% low
The Witcher 3: Wild Hunt
(DX 11, Ultra Preset, Hairworks Off)
141 fps avg, 100 fps 1% low
128 fps avg, 78 fps 1% low
98 fps avg, 67 fps 1% low
Horizon Zero Dawn
(Ultra)
113 fps avg, 85 fps 1% low
105 fps avg, 80 fps 1% low
94 fps avg, 62 fps 1% low
Cyberpunk
(Ultra, Ray Tracing On) DLSS Off
45 fps avg, 39 fps 1% low
41 fps avg, 35 fps 1% low
34 fps avg, 26 fps 1% low
Cyberpunk
(Ultra, Ray Tracing On) DLSS Auto
70 fps avg, 61 fps 1% low
65 fps avg, 55 fps 1% low
56 fps avg, 38 fps 1% low
Cyberpunk
(Ultra, Ray Tracing Off)
79 fps avg, 68 fps 1% low
74 fps avg, 63 fps 1% low
68 fps avg, 59 fps 1% low
Valheim
(High preset)
76 fps avg, 54 fps 1% low
74 fps avg, 54 fps 1% low
72 fps avg, 39 fps 1% low
Pretty impressive results for the most part.  I did have a little trouble with Battlefield and Witcher 3, though.  With Battlefield V, I was getting 1% lows in the 10-20 range, and with Witcher 3, my fps was locked to 60fps.  Switching to borderless fixed it for both of them.
Once more, I'm particularly impressed with the performance on Quiet mode.  These are arguably some of the best results I've seen on a laptop in this mode.  If I were to keep this device, I'd probably spend most of my time in this mode or in Balanced.  Max settings was just way too noisy…
If you want a little extra boost, you can switch the MUX switch to Discrete mode.  I only tested one game in this since this has historically had a big impact on this game.  Your mileage may vary, though:
Battlefield V
(DX 12, Ultra Preset, Ray-Tracing OFF)
152 fps avg, 87 fps 1% low
135 fps avg, 61 fps 1% low
120 fps avg, 53 fps 1% low
While I am ok with the screen, I do think this GPU is a little overkill for it.  The QHD would have paired better with the RTX 3080 Ti, considering most of my benchmarks are well over 60 fps even at max settings.  But if you're a fps gamer, FHD is probably what you'll want to stick with, especially on the Discrete GPU mode.
Unfortunately, I don't have any reliable way to test QHD resolution to benchmark some games.  But looking back at my 2021 review, I did compare the synthetic benchmarks and found something interesting.  There's barely any difference in the GPU performance between the RTX 3080 Ti I have on hand and the RTX 3080 model of last year.
We're only looking at a 4-6% gain in graphics power here, over last year.  The CPU is roughly 30% faster, but for some games, that is going to have a negligible effect since most games will be bottlenecked by the GPU.  So if you're looking at the QHD version of this laptop, perhaps take a look at my QHD gaming benchmarks of last year and expect to get at least that level.
Overall I'm happy with the performance of this model.  It's pretty stellar, especially when you consider how compact the design is.  I am a little disappointed in the performance to cost ratio this year, but I'll get into more detail about that later.
Noise, Heat, Connectivity, speakers, and others
It looks like Razer is sticking with the same thermal solution that they used last year (and the years before).  A single vapor chamber is on top of the CPU and GPU, with two large fans used to keep them under control.  It worked well in the past, so they stuck with it.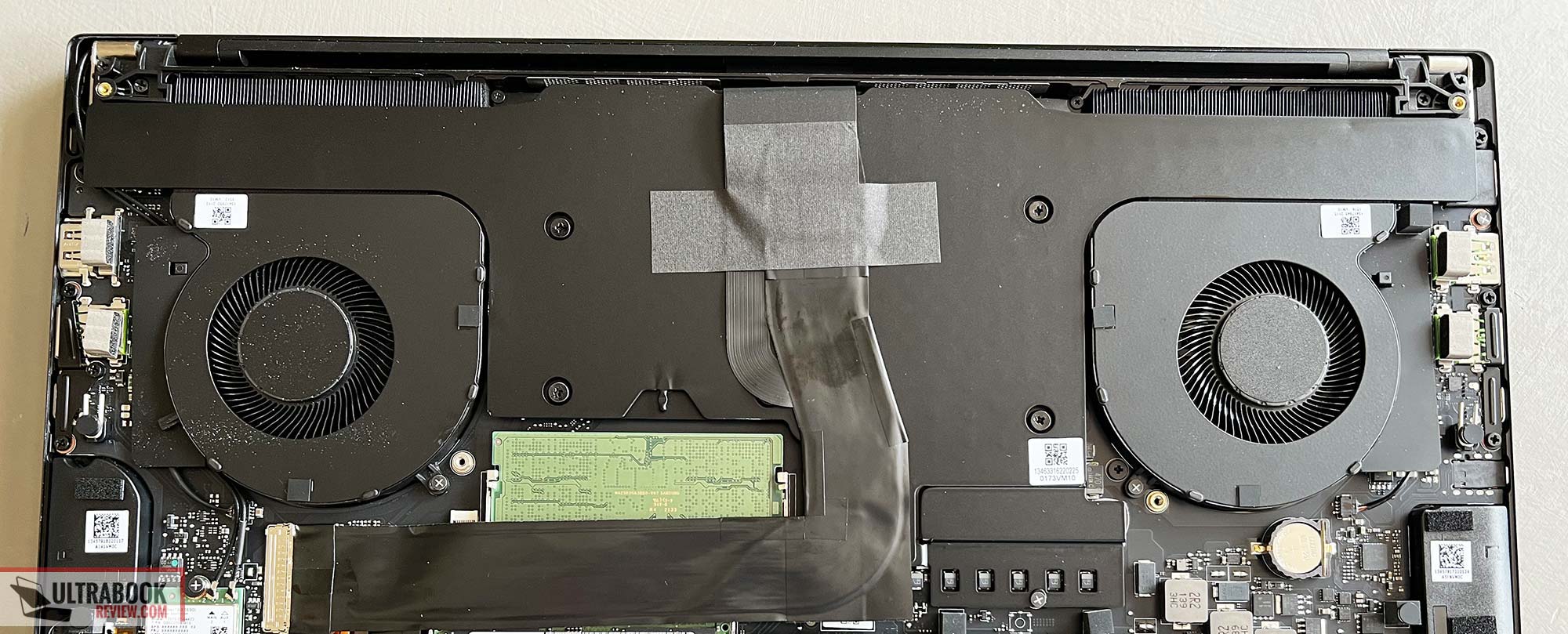 Overall, it's adequate.  But this year, the CPU is getting awfully hot, especially when you crank the CPU to max settings.  I constantly get spikes of up to 100C in that mode, which is pretty concerning.
I typically run this test with Horizon Zero Dawn, where I run the game for an extended period at each power profile.  The intent was to measure the differences in temperatures, as well as ambient noise levels from the fans.  Check it out:
| | | | |
| --- | --- | --- | --- |
| Mode | Manual (Max settings) | Performance | Quiet |
| CPU temps | 90C avg with 100C spike | 85C avg with 89C spike | 79C avg with 81C spike |
| GPU temps | 73C avg | 75C avg | 75C avg |
| Avg fan noise after stabilized temps | 50 dB | 42dB | 40dB |
| Game performance | 113 fps avg, 85 fps 1% low | 105 fps avg, 80 fps 1% low | 94 fps avg, 62 fps 1% low |
As you can see, maximum settings really make the CPU cook.  As soon as I saw this, I refrained from using it for the rest of my usage.  Luckily, all my benchmarks were done at this point.
Balanced mode was better.  Average CPU temps were still high at 85C, but this is much more what I'm used to seeing, especially with Intel processors in a thin chassis.  At least the spikes weren't in the 90s either.  Fan noise was noticeable. but tolerable in this mode too.
Quiet mode was my favorite by far.  Decent temperatures, quieter fans, and even good performance.  I almost wish they had a Quiet mode 2 to bring the fan noise down to 35dB in mixed loads, but that would have only been possible with a drop in performance.
External temperatures were no surprise to me.; they're the same as I've seen in the past.  This thing can get hot, for sure.  But it's a pretty thin metal chassis, and you're cranking a lot of wattage into these components, so it's going to build up over time.
So you pretty much can't game with this thing on your lap, unless you wear thick pants and don't care about sweating through them.  A laptop tray is all I use, and it did the trick just fine.  But while gaming with heavy sessions, my palms still got very warm.  And the SD keys were noticeably warmer than the WA keys.
On battery and while doing normal things, the laptop stays at good temperatures.  I had no discomfort, even using it with shorts.
Razer went back to the Killer Wifi module this year, model number AX1690.  It works well.  I didn't experience any drops, and I got download speeds as high as 640Mbps on my Wireless AC router.  This is a Wifi 6E card, but I don't have a way to test that fully.  Still, though, this is better than Killer cards I've seen in the past.  Replaceable too.
Bluetooth 5.2 is also included in the card, which works perfectly fine for me. I used it mostly with my Airpods, but I did test a controller for a short time.  No complaints there.
The speakers, on the other hand, are in desperate need of an ovehaul.  They are probably the same drivers that have been on the past 4 generations of this laptop.  They were fine in 2019, but I think it's time to keep up with the competition.  Every laptop that I've reviewed since mid-2021 has had better speakers than this Blade 15.
It's not the maximum volume wither – these can get pretty loud, measuring up to 85dB(A) on my sound meter.  But when I play my test song, it sounds like it's all highs and barely mids.  Bass is very lacking and almost non-existent on these speakers.  At least these are upward facing, but still.
The webcam is also the same as last year.  This is good, though.  It's Windows Hello enabled and FHD, with very crisp images in good lighting and fairly decent light correction.  I'd be ok using this for a conference call any time.
Battery life
The Razer Blade 15 has the same 80Whr battery that they had in the model I reviewed last year.  And given the similar hardware, I expect my battery life results to be similar as well.
I took a bunch of battery measurements with the screen set at 30% brightness, which is about 99 nits for this model.  I also manually set the screen to 60Hz.  Here's what I got under various situations:
11 W (~7 h 16 min of use)– idle, Quiet mode with battery saver on, screen at 0%, Wi-Fi ON, backlighting off;
20.6 W (~3 h 53 min of use) – text editing in Word/Excel with light internet use, screen at 30%, Wi-Fi ON;
15.9 W (~5 h 2 min of use)– 1080p 60hz Youtube fullscreen in Chrome, screen at 30%, Wi-Fi ON;
16.2 W (~4 h 56 min of use)– 1080p Netflix fullscreen video in Chrome, screen at 30%, Wi-Fi ON;
23.6 W (~3 h 23 min of use)– heavy browsing in Chrome,  screen at 30%, Wi-Fi ON;
59.4 W (~1 h 21 min of use)– Gaming – Witcher 3 60fps, screen at 50%, Wi-Fi ON.
Yup, pretty similar results to before.  These results are fine, but aren't all that great.  You can get some work done in 3 hours, sure.  But you should always consider at least keeping a USB charger in your bag, so you don't get caught with a dead battery while on the fly.  I'm not sure what the point of these efficiency cores in the Intel processor is, since the runtimes are the same as last year without them.
The power brick that comes with the laptop is the same one that they have been using for over 4 generations now.  It's 230w and reasonably compact.  The cords are plenty long, but the adapter is proprietary and is "technically" reversible.  Positioning it the "wrong" way will block your USB ports, though.
Price and availability
The model I have on hand is available on Amazon for $3599, which is $100 cheaper than MSRP on Razer's own website. This is insanely expensive, especially compared to last year's model with arguably similar specs.  The QHD version will run you another $100 extra, and the 4k 144Hz version will set you back $4000 – how convenient (4k for 4k).
Dropping down to an RTX 3070 Ti helps a little bit, with the QHD and FHD versions costing around $3k.  If you drop down further to the RTX 3060, the price is still a whopping $2500.
Follow this link for updated prices and configurations at the time you're reading this article.
I'm honestly a little blown away with these prices.  Razer has always been the more expensive brand, and they can usually defend their prices by having a niche product with a premium design.  But this is too far if you ask me.  You're looking at a $200-600 price increase over equivalent models from last year.  I'm just not seeing the extra value.
Final thoughts- 2022 Razer Blade 15
Like the previous models, I still think the Razer Blade is one of the best 15" laptops you can buy, especially if you're in the market for the thinnest gaming laptop possible.  With this 2022 Blade 15 generation, they kept the important parts of the design the same, while cramming some of the best hardware available now into a thin chassis.
The design is still premium, with a strong chassis and a thin and balanced feel to it.  The trackpad is amongst the best out there and even the keyboard is better than before, with the larger keycaps now.  Add in the best GPU with a powerful CPU controlled by the versatile power profiles, and you have a recipe for perfection.
But would I recommend buying it?
Sadly, no.  It's just too expensive now, and I just don't get why.  Referring back to the performance section where I mentioned how close this laptop performs compared to the RTX 3080 version of last year.  It really does, and that was $500 cheaper than this model here.  And if you look on Amazon now, it's only $2799.  So why not get that one?
It doesn't stop at the 3080 Ti model either.  The 3070 Ti model is $400 higher MSRP than the 3070 model last year, which is also on sale for $700 less now.  And even the 3060 model, which is the same GPU as in 2021, is $200 more than last year.  So basically, the CPU and the larger keycaps are the only significant changes over last year on that model.
If you're dying to have the latest tech and money is no object, sure, you can go for the latest model.  Perhaps stick with the 3070 Ti, though, since it's arguable more bang for the buck. But if you're money conscious, I would highly recommend checking out the Blade 15 models from last year, while they are still available and especially since they are on sale. I just don't think it's worth paying all this extra cash for just a faster CPU and barely faster GPU. Oh, and that's only if you plan to stick with a Blade, as otherwise there are a multitude of options from other brands to consider these days as well.
I'm sure I'll get a little flak for my take here, but hopefully, this helps you make an educated decision.  I'm open to hearing any counter-argument, though, especially if you can justify the cost on this one.  Please leave me a comment below.
Disclaimer:
Our content is reader-supported. If you buy through some of the links on our site, we may earn a commission.
Learn more.